Spirals, Circles and Arcs - Wonderful Handmade Wednesday on Indiemade
Posted February 14, 2017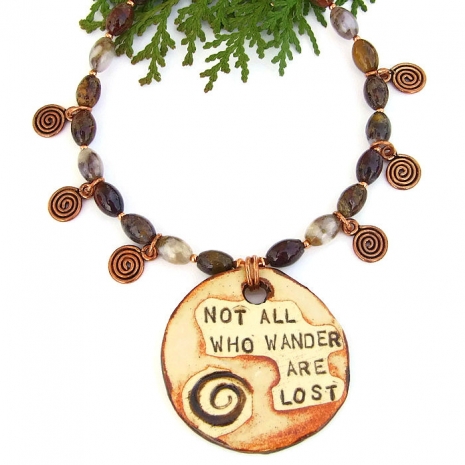 This week's Wonderful Handmade Wednesday on Indiemade features artisan design that feature spirals, circles and/or arcs. All three symbols were used as early as 38.000 BC in Europe, Africa, Australia and South America when ancient man began to carve into stone or paint cave walls in protected areas. It is possible that earlier hunter/gatherer peoples might have decorated their bodies and clothes or marked trees or features in the landscape but, if they did, evidence of that art has not survived.
Yellow Quartz and Blue Sodalite Petite Drop Earrings with Copper Wire Wrap Spirals Handmade by Pamela of Pebbles at My Feet
All three symbols have deep spiritual/religious meanings. Below are the definitions (as found in a dictionary) and the spiritual meaning for each:
Spiral: a design that winds in a continuous and gradually widening (or tightening) curve, either around a central point on a flat plane or about an axis so as to form a cone.
Spirals have been associated with the cycles of time and life: the seasons, the cycle of birth, growth, death, and then rebirth.
Circle: a round plane figure whose boundary (the circumference) consists of points equidistant from a fixed point (the center).
Circles have a universal, sacred and divine meaning. They represents the infinite nature of energy, and the inclusivity of the universe. The circle is also the symbol of boundary and enclosure, of completion and returning cycles
Arc: a part of the circumference of a circle or other curve
Arcs are symbols of the aspiration to rise above the struggle of matter and spirit, and represent bounty, triumph, expansion, and success.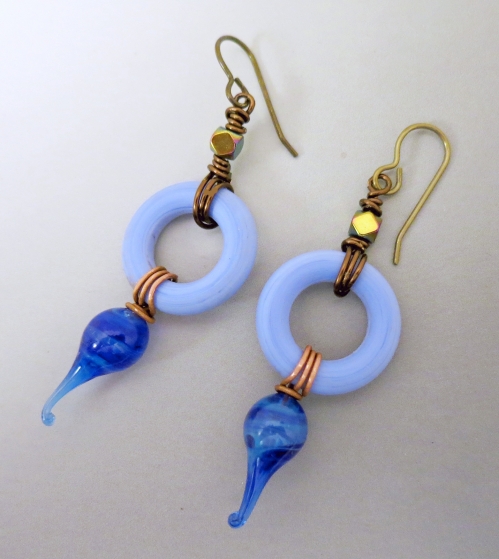 Periwinkle Blue Circle Hoops and Blue Lampwork Drop Earrings Handmade by Linda of Linda Landig Jewelry
And now for more spiral, circle and arc beauties! I hope you are delighted by the artisan handmade creations using one or more of the symbols and revel in the fact that these symbols, as ancient as they are, are still in use today. If something catches your eye, please click on the live link below the photo for more information. Enjoy.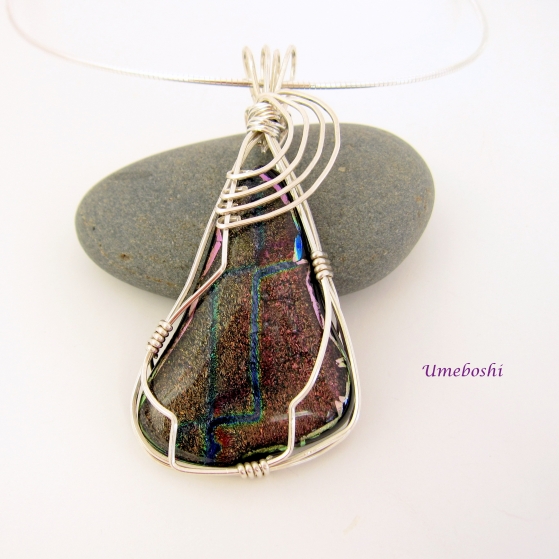 "Pendant of a Million Stars" Dichroic Glass Pendant with Argentium Silver Wire Wrapped Arcs by Jo of Umeboshi Jewelry Designs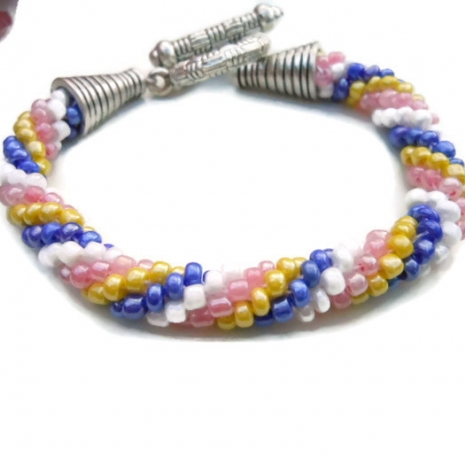 Crocheted Spiral Rope Bead Bracelet in Blue, Pink, Yellow and White Handmade by Cathy of Crafting Memories
Circle Saw Blade Art Note Cards, Set of 8, Handmade by Jacki of Christie Cottage
Pink Hand Knit Baby Booties in Crocodile Scale Arc Stitch with Purple Flower Rhinestone Buttons Handmade by Nancy of Nancy's Knots, Lace and More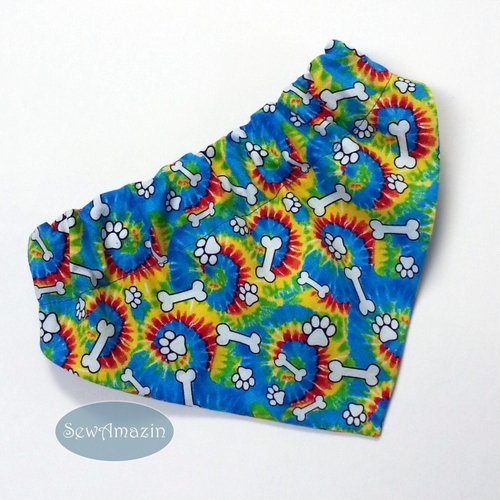 Colorful Tie Dye Doggie Bones, Paw Prints and Spirals Dog Bandana Handmade by Donna of SewAmazin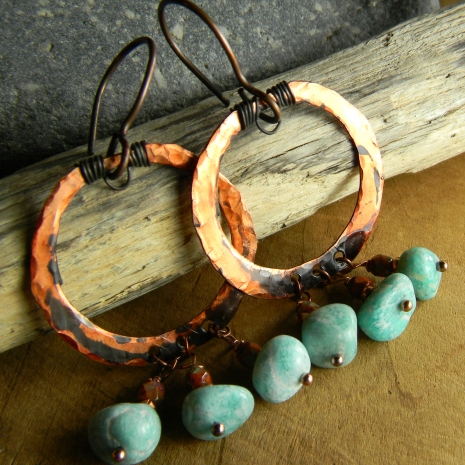 Rustic Copper Hoop Circles Earrings with Russian Russian Amazonite Nuggets Handmade by Gloria of Chrysalis Tribal Jewelry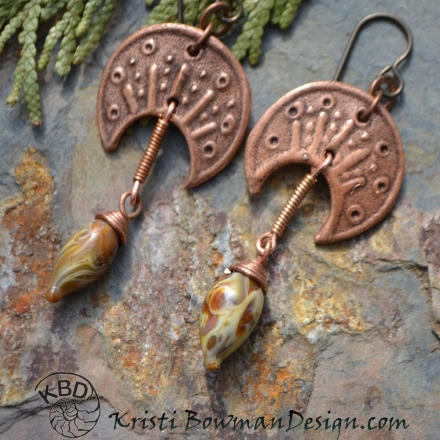 Arced Mayan Headdress Copper and Lampwork Earrings Handmade by Kristi of Kristi Bowman Design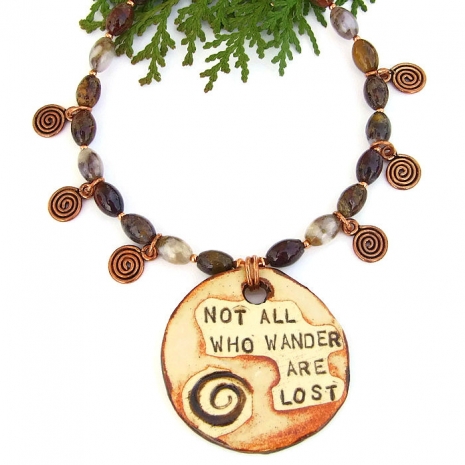 "Not All Who Wander Are Lost" Tolkien Inspired Pendant Necklace with Brown Agate and Spirals Handmade by Catherine of Shadow Dog Designs
I hope you have relished each and every one of these unique handmade creations featured above! If you would like to make my day and the day of the talented artists featured, please leave a comment. And any promotion you can do will be greatly appreciated. Thanks!
My contact information:
Indiemade shop: ShadowDogDesigns
Indiemade blog: ShadowDogDesigns' Blog
Artfire studio: ShadowDogDesigns
ArtFire Blog: ShadowDogDesigns' Blog
Google+: Catherine ShadowDog
Facebook: ShadowDogDesigns - Jewelry
Twitter: ShadowDogDesign
Pinterest: Shadow Dog Designs
Wanelo: ShadowDog
Rebelmouse: ShadowDogDesigns
Flickr: Shadow Dog Designs' Photostream
Beautifully Unique Handmade Jewelry
» Tagged:
arcs
,
artisan
,
baby booties
,
bracelets
,
ceramic
,
circles
,
crochet
,
dichroic
,
dog bandana
,
earrings
,
gemstones
,
gift ideas
,
handmade
,
handmade gift ideas
,
jewelry
,
knitting
,
necklaces
,
note cards
,
pendants
,
sewing
,
Shadow Dog Designs
,
ShadowDogDesigns
,
spirals
,
Tolkien
» Share: