Yellers, Browns and Goldens - Wonderful Handmade Wednesday on Indiemade
Posted November 2, 2016
The other day, as I was pondering the theme of this week's "Wonderful Handmade Wednesday" blog post, I ran across a very colorful quote from Roy Bean talking about autumn in the desert: "And Fall, with her yeller harvest moon and the hills growin' brown and golden under a sinkin' sun." Aha, I thought! The handmade theme of earthy yellers, browns and goldens was then set in my mind.
For those who are not too familiar with Roy Bean, you might be more familiar with what he called himself, "
Judge Roy Bean, Law West of the Pecos
." Or you might have seen the movie that was very loosely based on his colorful life,
The Life and Times of Roy Bean
, starring Paul Newman. Judge Bean held court sessions in his saloon, the Jersey Lily (named after an English actress with whom he was enamored but never met) in Langtry, Texas, situated on the northern bank of the Rio Grande River in a particularly desolate stretch of the Chihuahuan Desert of West Texas. He had a (mostly self-proclaimed) reputation as a "hanging judge," supposedly sentencing dozens to the gallows with a verdict of "Hang 'em first, try 'em later." However in "Judge Roy Bean Country," a book written by historian Jack Skiles, Bean threatened to hang hundreds, but "there's no evidence to suggest that Judge Roy Bean ever hung anybody." One or two were sentenced and taken to the gallows, but then allowed to escape. Except for an occasional murder, his cases consisted mostly of misdemeanor counts of drunkenness and the crimes of small time con men. He usually fined the men brought to court $2.00 and then pocketed the money himself. Roy spent most of his days sitting on the porch of his saloon within easy reach of his rifle. In his spare time, he served his customers, mostly railroad workers who he managed to cheat out of their change. On March 1903, Bean went on a drinking binge in Del Rio and died in his bed the following morning.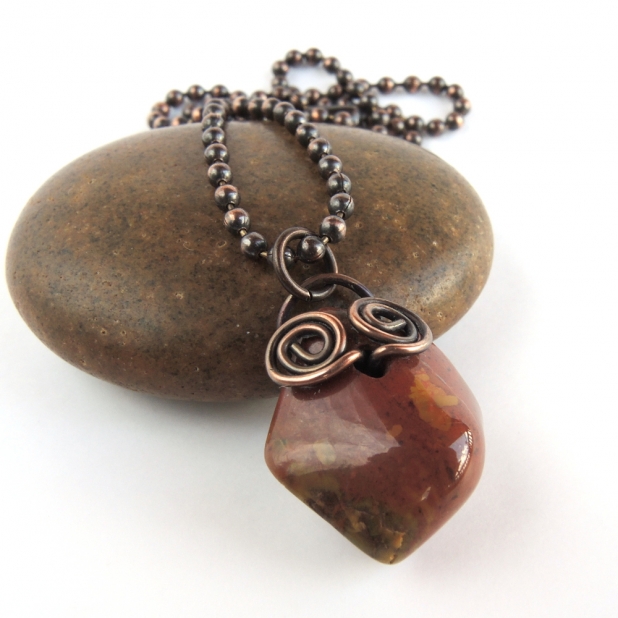 Red and Gold Jasper Nugget Wire Wrapped Necklace Handmade by Pamela of Pebbles at My Feet
Now that you now probably know more about Judge Roy Bean than you ever wanted to know, let's move onto the yellers, browns and goldens as seen by Judge Roy Bean in his stretch of desolate desert. I browsed the studios of artist friends and found the following handmade beauties.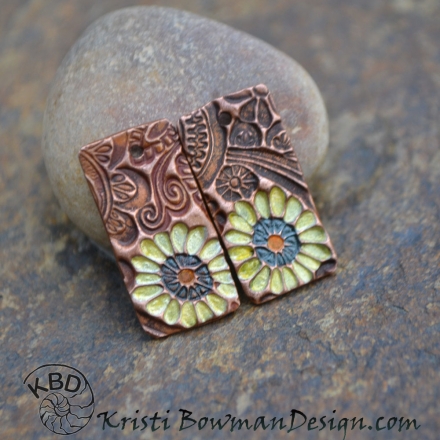 Yellow Black Eyed Susan Hand Painted Copper Rectangles, 1 pair, Handmade by Kristi of KristiBowmanDesign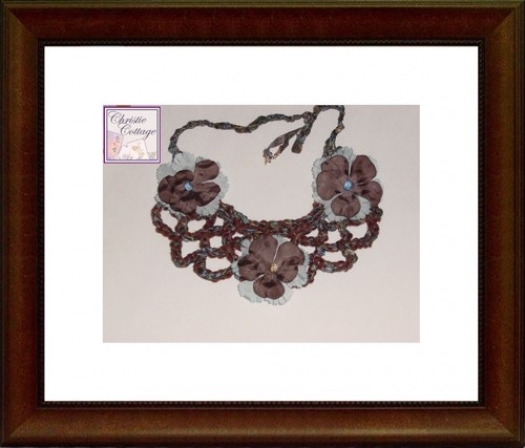 Crocheted Brown and Blue Beaded Flower Boho Bib Necklace Handmade by Jacki of Christie Cottage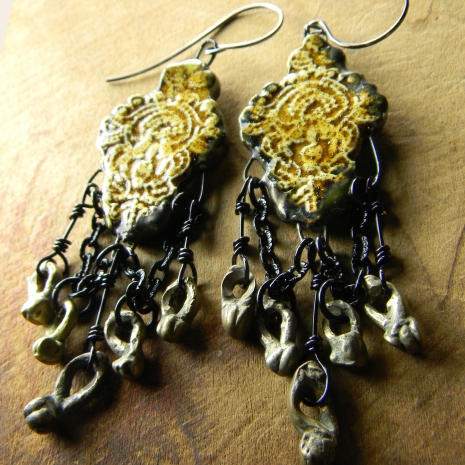 Gold Lace Ceramic Earrings with Black Chain and Igbo bead Dangles Handmade by Gloria of Chrysalis Tribal Jewelry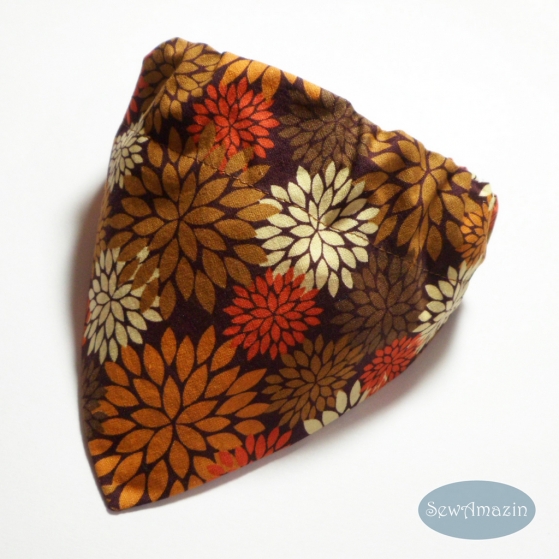 Autumn Mums Dog Bandana, Collar Slipcover or Scrunchie-style Handmade by Donna of SewAmazin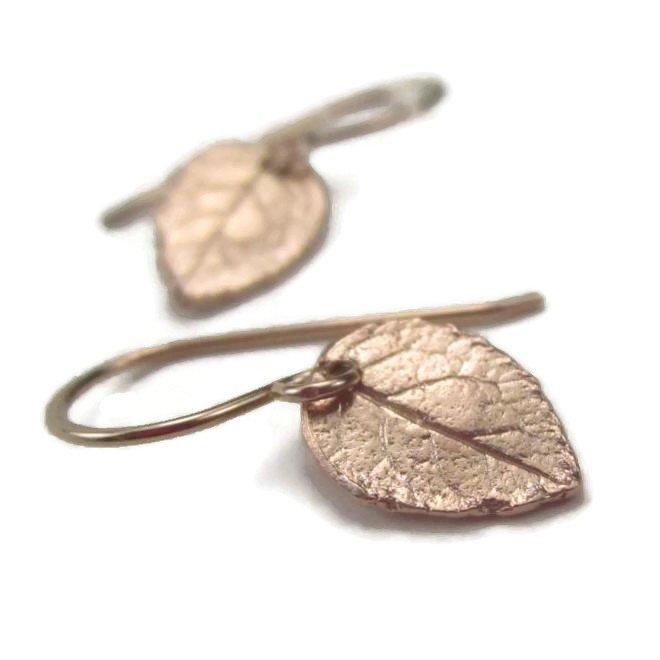 Tiny Rose Gold Leaf Earrings Handmade by Lin of Flaunt Designs Jewelry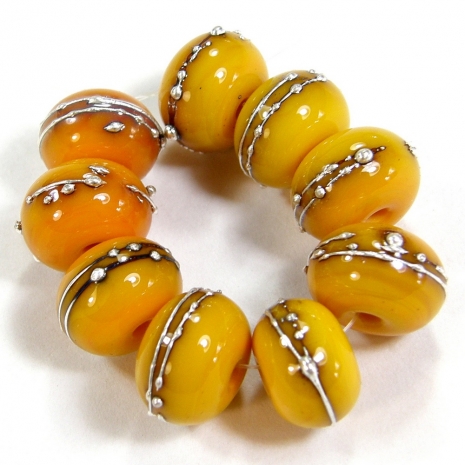 Opaque Medium Lemon Yellow Buttercup Lampwork Glass Beads with Fine Silver Handmade by Charlotte of Covergirlbeads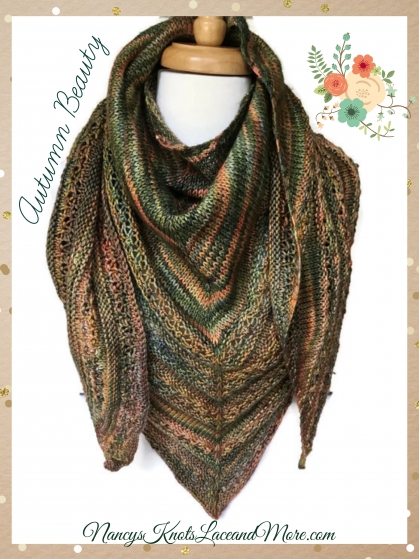 Triangle Lace Shawl Autumn Merino Wool Blend Malabrigo Rios Primavera Large Size Handmade by Nancy of Nancy's Knots, Lace and More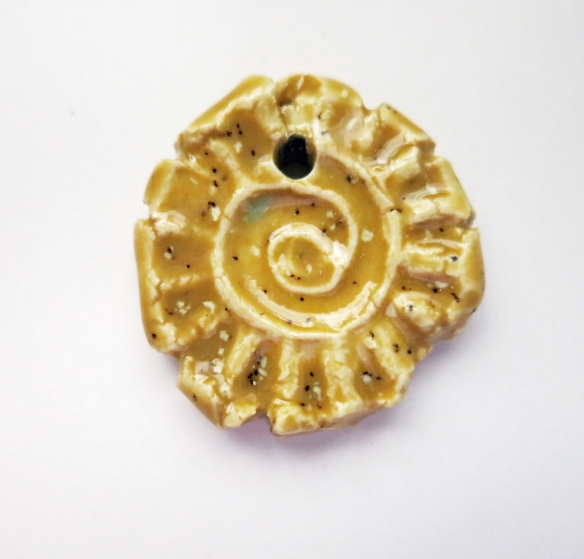 Speckled Gold Glazed Rustic Crusty Ceramic Spiral Pendant Handmade by Linda of Linda Landig Jewelry
Mine Cut Cognac and Honey Amber Necklace, Gemstone Beaded Jewelry Handmade by Catherine of Shadow Dog Designs
I hope you enjoyed these selections of yellwers, browns and godens inspired by Judge Roy Bean! If you would like to make my day and the day of the artists featured, please leave a comment. And any promotion you can do will be greatly appreciated. Thanks!
My contact information:
Indiemade shop: ShadowDogDesigns
Indiemade blog: ShadowDogDesigns' Blog
Artfire studio: ShadowDogDesigns
ArtFire Blog: ShadowDogDesigns' Blog
Google+: Catherine W
Facebook: ShadowDogDesigns - Jewelry
Twitter: ShadowDogDesign
Pinterest: Shadow Dog Designs
Wanelo: ShadowDog
Amazine: ShadowDogDesigns
Rebelmouse: ShadowDogDesigns
Flickr: Shadow Dog Designs' Photostream
Beautifully Unique Handmade Jewelry
» Tagged:
amber
,
artisan
,
autumn
,
boho
,
brown
,
ceramic pendant
,
copper
,
crocheted
,
dichroic
,
dog bandana
,
dogs
,
earrings
,
flowers
,
gemstones
,
golden
,
handmade
,
jewelry
,
Judge Roy Bean
,
knitted
,
lampwork
,
Langtry
,
leaves
,
necklaces
,
Roy Bean
,
Shadow Dog Designs
,
ShadowDogDesigns
,
shawl
,
spiral
,
yeller
» Share: