Shadow Dog Designs - New Handmade Necklace and Earrings Gift Ideas
Posted March 4, 2017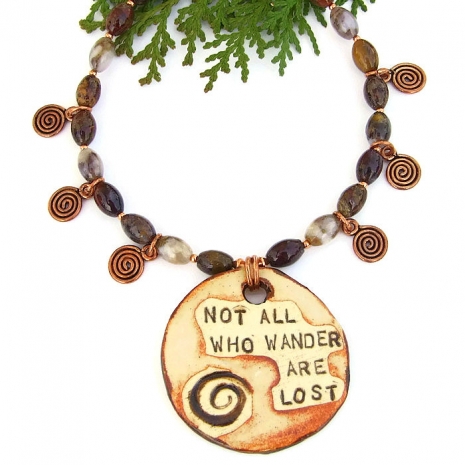 Fortunately the Muses have finally come back from an extended vacation (just in time) and I have been busy creating quite a few new necklaces and pairs of earrings. Many designs have a definite boho flair and some are supremely elegant. With the spring arts festival season quickly approaching, my handmade jewelry stock definitely needs to be replenished. There will be many more new jewelry listings in the coming weeks.
Without further ado, the following designs are all handmade by me and are one of a kind pieces. If something catches your eye and you want more information and photos, please click the live link under the pictures so you can be taken to the listing.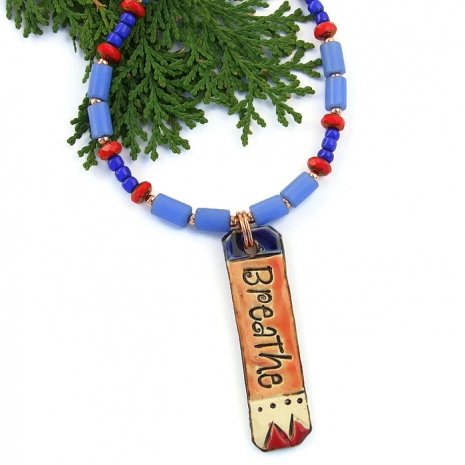 BREATHE - Breathe Yoga Pendant Necklace, Blue African Beads Red Czech Glass Artisan Handmade Jewelry - $55.00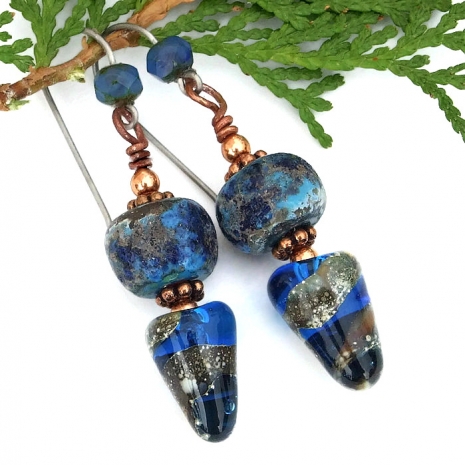 SUENOS AZULES - Blue Lampwork Spike Boho Earrings, Handmade Rustic Glass Artisan Dangle Jewelry - $35.00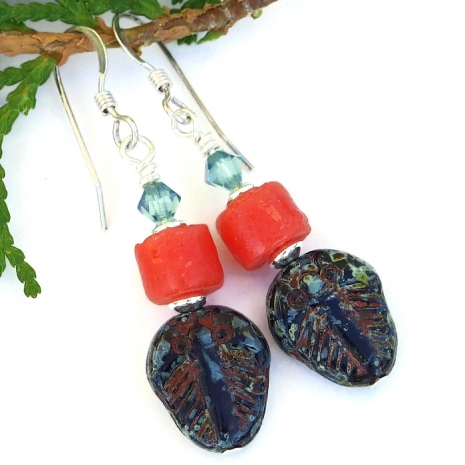 ANCIENT DAYS - Trilobite Handmade Earrings, Coral African Sandcast Beads Crystals Artisan Fossil Jewelry - $20.00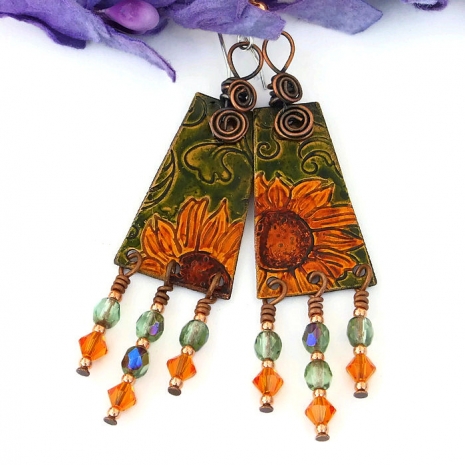 TOURNESOL - Sunflower Chandelier Boho Earrings, Artisan Green Orange Copper Spirals Handmade Jewelry - $40.00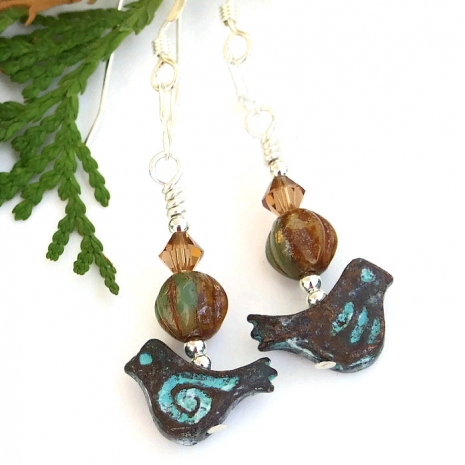 SWEET TWEETS - Rustic Bird Handmade Earrings, Mykonos Turquoise Patina Pewter Spirals Dangle Jewelry - $20.00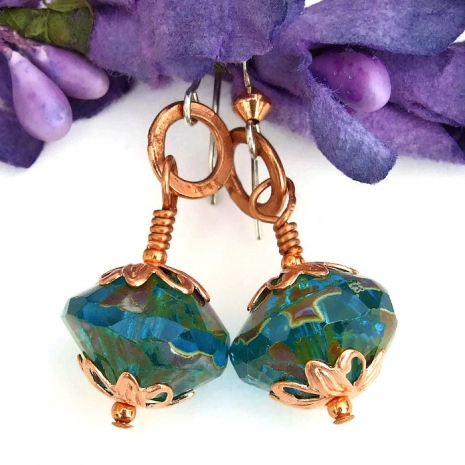 CARIBBEAN CALM - Aqua Teal Blue and Copper Handmade Earrings, Caribbean Czech Rivoli Saucer Artisan Jewelry - $25.00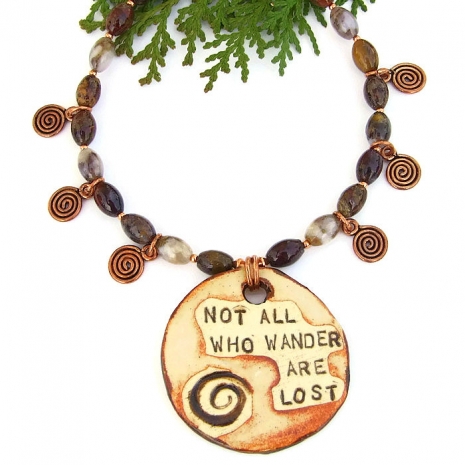 NOT ALL WHO WANDER ARE LOST - Not All Who Wander Are Lost Handmade Necklace, Tolkien Brown Agate Spirals Gemstone Jewelry - $60.00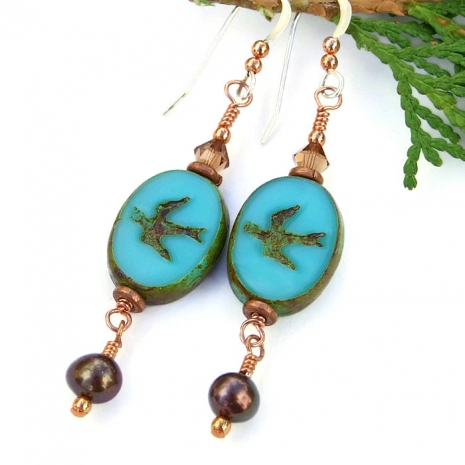 TOUCH THE SKY - Turquoise Blue Birds Handmade Earrings, Swallows Pearls Sterling Artisan Dangle Jewelry - $20.00
MONET'S WATER LILIES - Water Lilies Impressionist Lampwork Earrings, Monet Pewter Sterling Handmade Fashion Jewelry - $30.00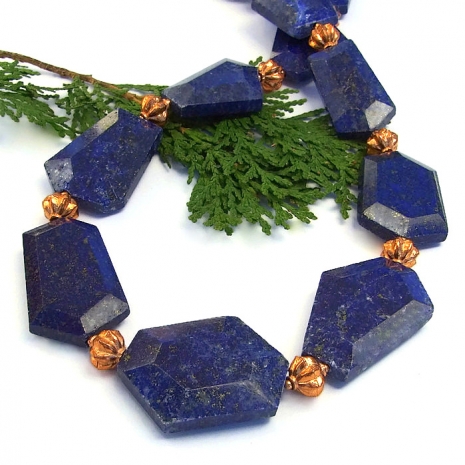 MY BLUE HEAVEN - Chunky Lapis Lazuli Gemstone Necklace, Blue Copper Artisan Handmade Statement Jewelry - $115.00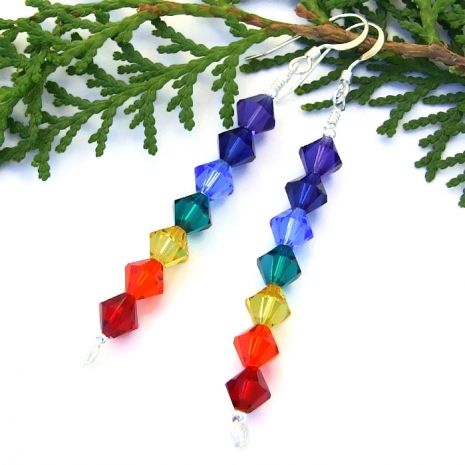 CONTEMPLATION - Chakra Rainbow Yoga Earrings, Handmade Swarovski Crystal Spirals Dangle Jewelry - $25.00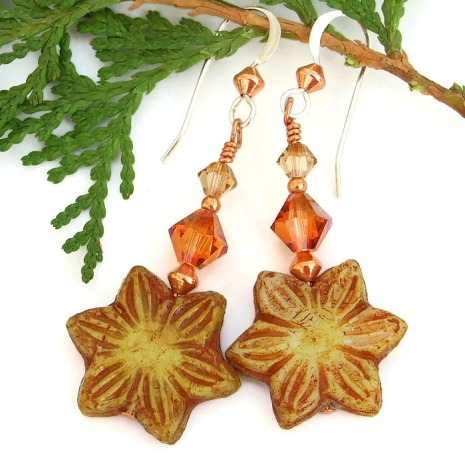 FULL OF SUNSHINE - Yellow Star Flower Handmade Earrings, Czech Glass Swarovski Crystals Summer Dangle Jewelry - $20.00
I hope you have enjoyed each and every one of these unique handmade creations! If you would like to make my day, please leave a comment. And any promotion you can do will be greatly appreciated. Thanks!
My contact information:
Indiemade shop: ShadowDogDesigns
Indiemade blog: ShadowDogDesigns' Blog
Artfire studio: ShadowDogDesigns
ArtFire Blog: ShadowDogDesigns' Blog
Google+: Catherine ShadowDog
Facebook: ShadowDogDesigns - Jewelry
Twitter: ShadowDogDesign
Pinterest: Shadow Dog Designs
Wanelo: ShadowDog
Rebelmouse: ShadowDogDesigns
Flickr: Shadow Dog Designs' Photostream
Beautifully Unique Handmade Jewelry
» Tagged:
African beads
,
bohemian
,
boho
,
copper
,
Czech glass
,
earrings
,
gemstones
,
gift ideas
,
handmade
,
handmade gift ideas
,
Indiemade
,
jewelry
,
lampwork
,
necklaces
,
one of a kind
,
Shadow Dog Designs
,
ShadowDogDesigns
,
sterling silver
,
yoga
» Share: