Just in Time for
*** CHRISTMAS IN JULY ***
FREE SHIPPING!
(U.S. Only)
Countdown to Christmas 2016 - Week 8 - Luxembourg
Posted November 8, 2016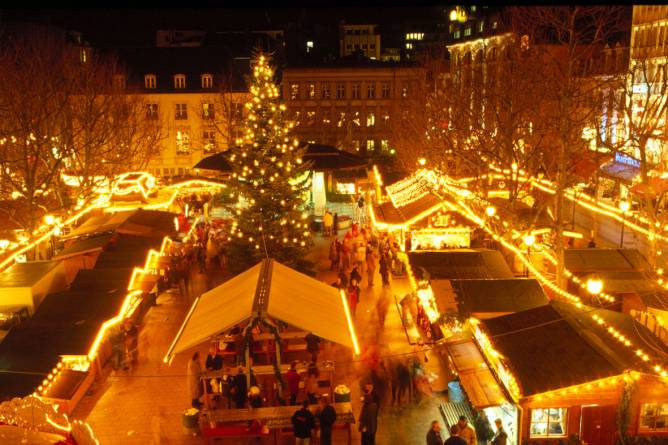 Chreschtmaart in Luxembourg City; photo courtesy of visitluxembourg.com
The Grand-Duche de Luxembourg is a very small independent country in Europe; it is just a little smaller than the U.S. state of Rhode Island. Germany is located to the east, France to the south, and Belgium to the west. From the beginning of December, streets and store windows in all major cities are richly decorated and lighted. Large Chrëschtbeemchen (Christmas trees) can be found most public squares. Outdoor Chrëschtmaart (Christmas markets) can be found throughout the country. From wooden huts that are set up in town squares, a wide variety of locally produced arts and crafts, such as candles, nutcrackers, Christmas tree decorations and manger scenes, are sold. Glühwein, a popular spiced wine served hot in special mugs, is a regular part of the menu at Christmas markets all through Europe. Foods to be purchased may include various soups (with or without Mettwurscht, a local sausage specialty), crepes, fresh bakery goods and Lëtzebuerger Grillwurscht, another type of sausage. Concerts are given in bandstands and on special stages set up for the Christmas markets. Local bands, brass quartets, string trios, choirs, and soloists all contribute to the holiday atmosphere. To get an idea of the beauty of the Christmas market in Luxembourg City, check out this short video: Luxembourg Christmas market . (My bags are packed!)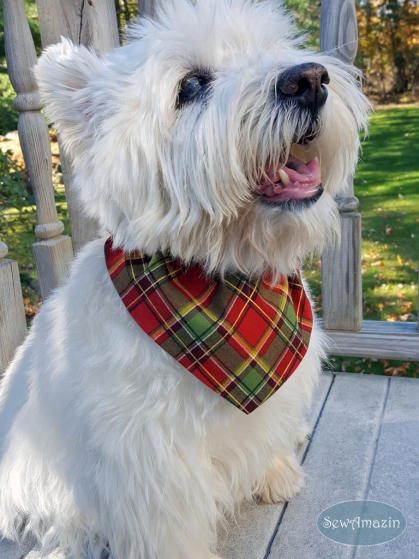 Christmas Peace Holiday Plaid Dog Bandana, Collar Slipcover or Scrunchie-style Handmade by Donna of SewAmazin
Most children in Luxembourg receive their gifts on St. Nicholas Day, December 6, from Kleeschen (another name for St. Nicholas). Unlike Father Christmas, Kleeschen wears a red bishop's mitre on his head and carries a bishop's crozier. He is accompanied by the Houseker, a fear-inspiring dark companion, and a donkey to carry all the gifts. For a week before St. Nicholas Day, children put their shoes or slippers in front of their bedroom door or on the windowsill and leave a plate of sweets (and sometimes a glass of liquor if it's a particularly cold night) on the kitchen or dining-room table. Plates of hay and carrots are also often left for the donkey. On the first nights, Kleeschen and his companion leave sweets and seasonal fruit, but on the night between December 5 and 6, toys and other gifts are left. Kleeschen rewards children who have been good and Houseker gives eng Rutt (a rod or switches) to children who have misbehaved.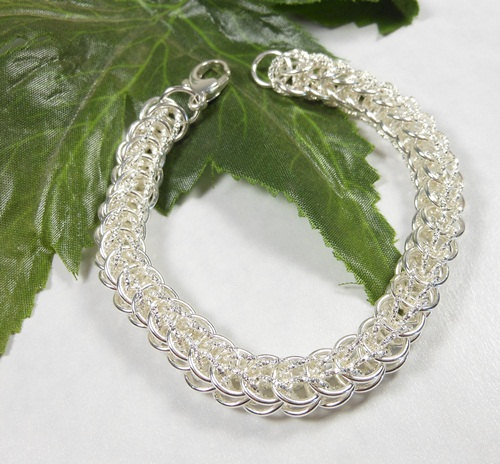 Sterling Silver Full Persian Chainmaille Bracelet Handmade by Cathy of CraftingMemories1
Since Luxembourg is primarily a Catholic country, most people celebrate Hellegerowend (Christmas Eve) with family and close friends. Families often gather around the Christmas tree and sing Christmas carols. Many attend Metten (Midnight Mass) on December 24 or Christmas mass on December 25. A particularly beautiful midnight mass is celebrated every year at Notre-Dame Cathedral in Luxembourg City and is often televised all over Europe. Many villages also stage Krëppespiller (nativity plays), performed by children.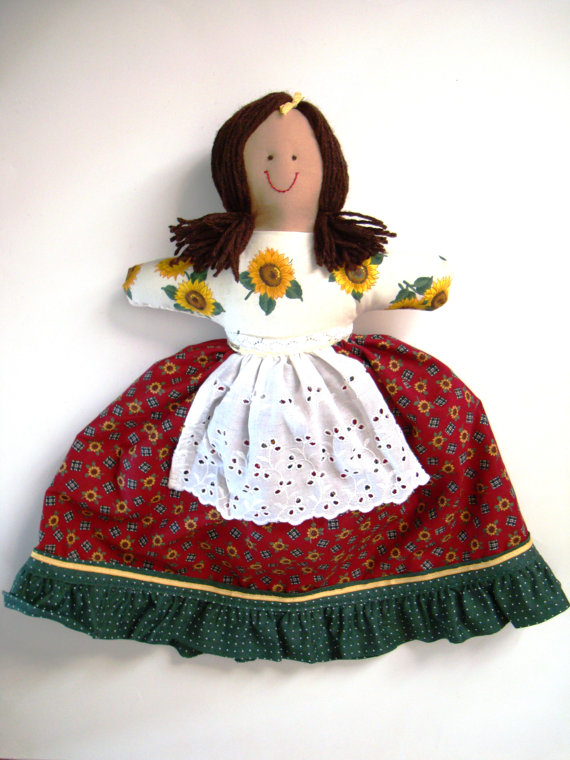 Topsy Turvy Handcrafted Doll OOAK Happy Face Sad Face Handmade by Anne of ennadoolf
After Midnight Mass, many families gather for a Christmas meal - or it might be served later on Christmas day, depending on the customs of the family. A traditional meal will have Träipen (black or blood pudding) served with mashed potatoes and applesauce. Other foods might include civet de lièvre (jugged hare), venison, turkey, seafood, fondue and Gromperekichelcher (potato pancakes). Dessert usually includes Stollen, a fruit loaf often laced with rum, and Bûche de Noël, an ice cream-cake confection covered with dark chocolate to resemble the appearance of a Yule log.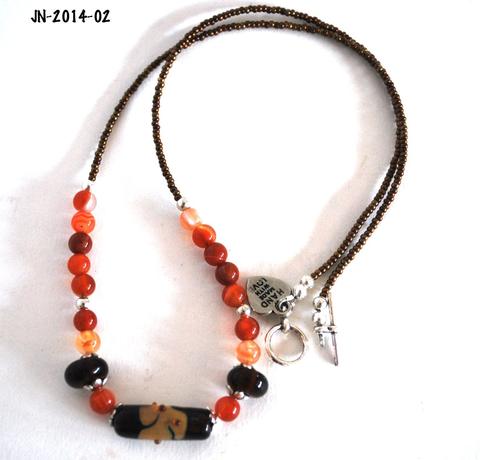 Lampwork Focal, Agate and Seed Bead Fashion Necklace Handmade by Julie and Blue of Blue Morning Expressions
After the meal, the family usually goes for a walk to visit with friends and relatives who are also strolling about and give the children a chance to play in the snow, if there is any. In many cities, towns and villages, concerts are given on the afternoon of December 25. The concerts are followed by a Christmas tree auction, the profits from which are given to charitable organizations.
Christmas greeting in Luxembourgish: "'Schéi Chrëschtdeeg an e gudde Rutsch an dat neit Joer." Literally translated it means, "Merry Christmas and a good slide into the New Year."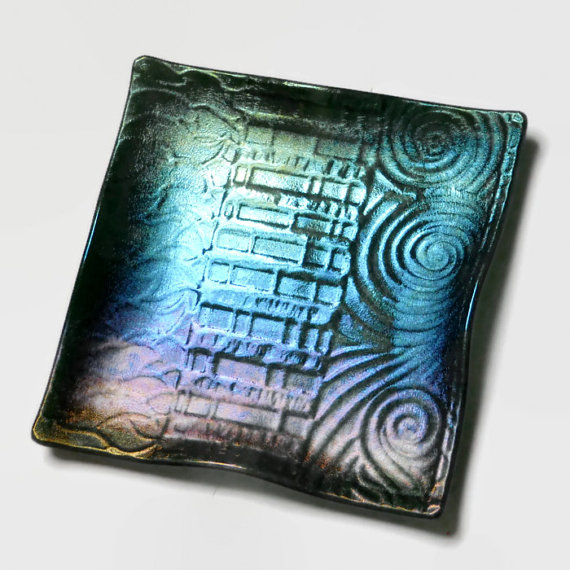 Blue and Purple Fused Art Glass Plate with Iridescent Geometric Pattern, 7 Inch Square, Handmade by Kellie of ResetarGlassArt
Now, onto the Countdown to Christmas 2016 - Week 8, filled with artisan handmade items (see above and below), perfect ideas for Christmas gift giving.
With the fast approaching gift giving season in mind, Julie and Blu of Blue Morning Expressions are hosting a twelve-week Countdown to Christmas 2016 on their The Blu Print blog. The twelve week time period was chosen to correspond with the Christmas carol "The Twelve Days of Christmas." This week, there were 60 shares by 20 artists showcasing a wide range of handmade gift ideas: jewelry of all types, pet themed gifts, crocheted and sewn beauties, favor tags, wooden items, a vintage postcard, glass business card holders, lampwork beads and a whole host of other items.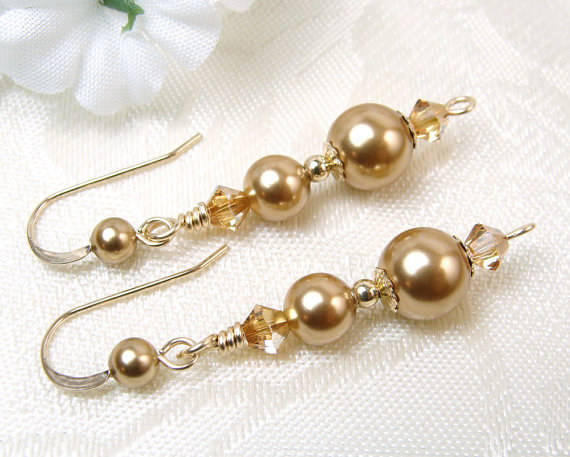 Gold Pearl and Swarovski Crystal Earrings Handmade by Mary of PrettyGonzo
Shop owners on Indiemade, ArtFire, Zibbet, Etsy, SupaDupa, stand alone websites and the like are welcome to share up to three gift items on the Countdown between Friday afternoon at 12:00 p.m. (Eastern time) and Sunday night at 11:59 p.m. Then a new collection of gift items will begin again the next Friday. This will continue until the second week in December. The items shared need to be G-rated.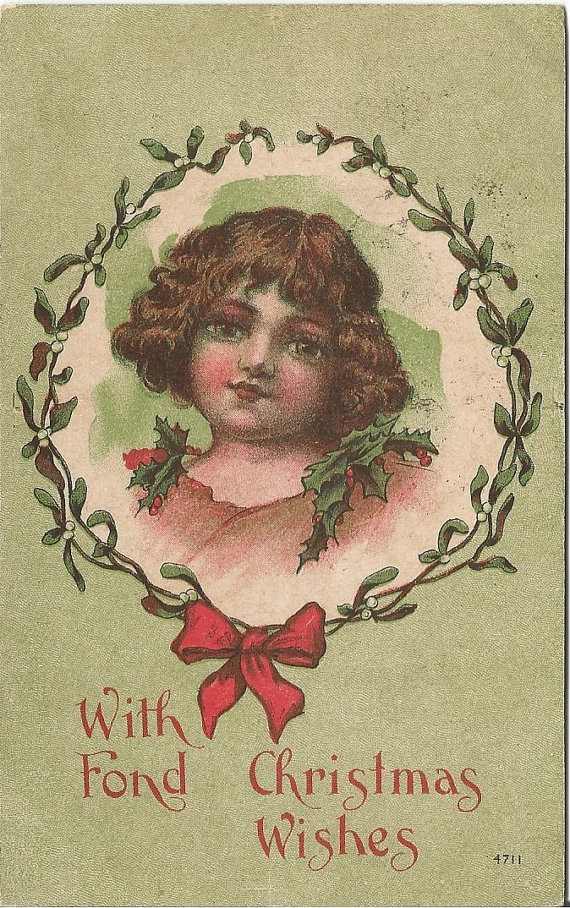 Green Irish Girl with Holly Leaves and Berries Framed with Mistletoe Vintage Christmas Postcard by Colleen of postcardsintheattic
If you share items on the Countdown to Christmas, you MUST promote the collection and EACH item on at least one social network site, preferably Pinterest where the items can be easily seen and then saved again. It's only fair to promote each of the participants who have promoted you!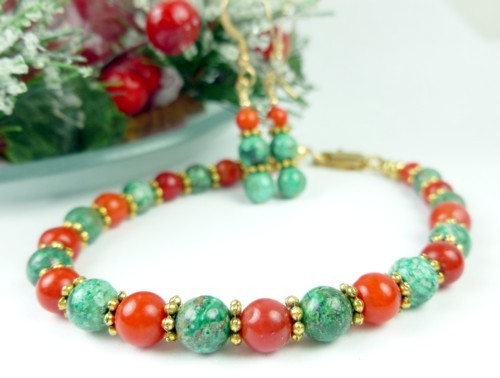 Green Chrysocolla and Red Coral Beaded Christmas Holiday Bracelet and Earring Set Handmade by Diane of DianesDangles
In addition to saving each item from the Countdown collection to my Pinterest board and Wanelo collection, I decided to share one item from each of the artists who participated. Here are the rest of the items I'm featuring this week, in an order that was arranged by assigning each item a number and then drawing numbers from my trusty "numbers" bowl. Enjoy!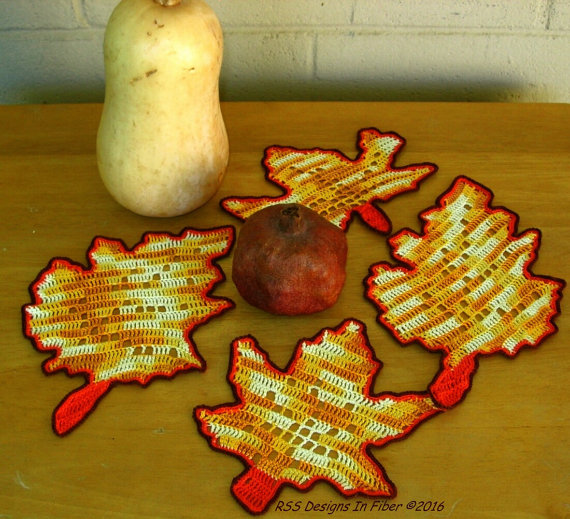 Fall Maple and Oak Leaf Coasters in Filet Crochet, Set of 4, Handmade by Ruth of RSSDesignsInFiber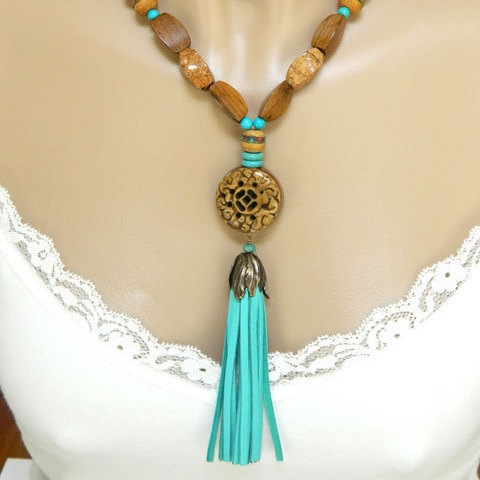 Leather Tassel and Wooden Necklace Handmade by Sharon of BlondePeachJewelry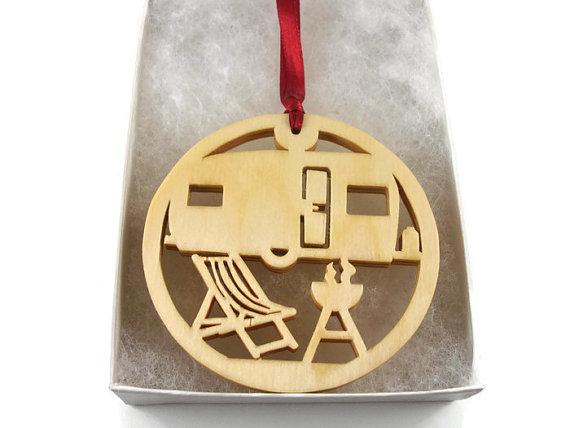 Backwoods Camping Scene With Campfire Christmas Ornament From Birch Wood Handmade By KevsKrafts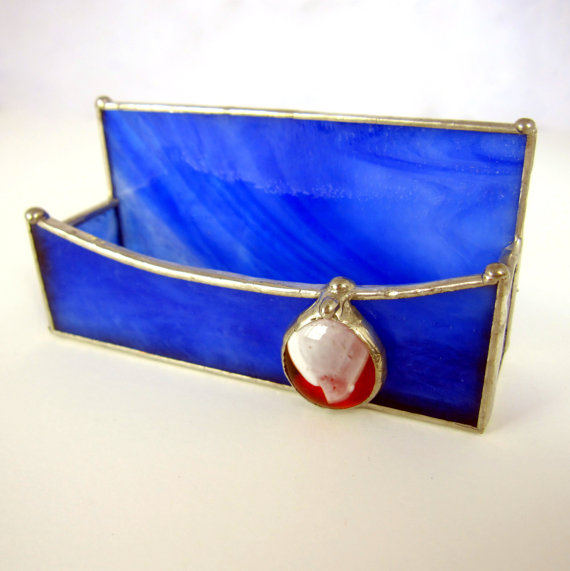 Stained Glass Business Card Holder in Blue with Red and White Nugget Handmade by Jo of 2GlassThumbs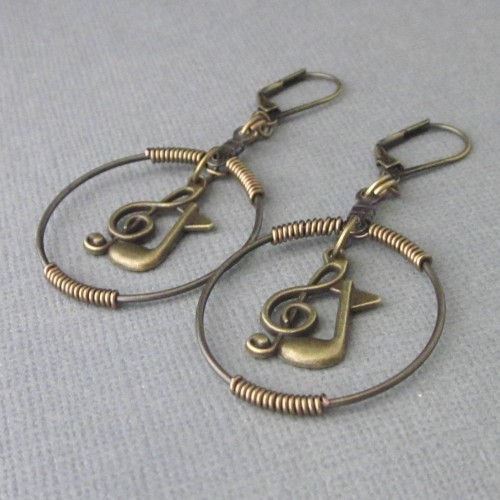 Brass and Bronze G Clef Music Note Hoop Lever Back Earrings Handmade by Connie of TheSingingBeader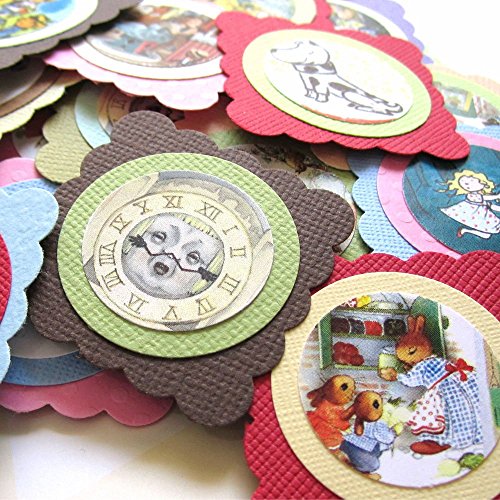 Children Storybook Square Favor Tags - Set of 24 - Handmade by Nat of Adore By Nat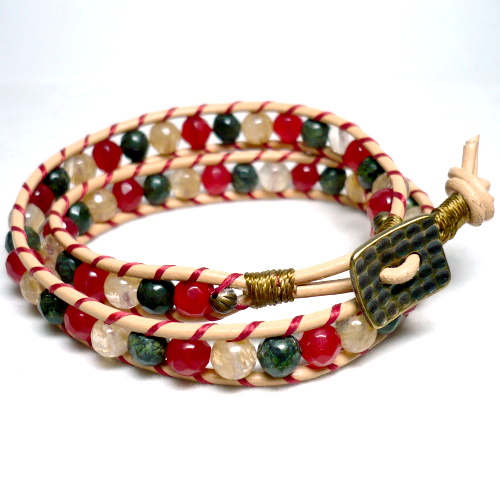 Christmas Multi Gemstone Double Wrap Tan Leather Bracelet Handmade by Kathy of KatsAllThat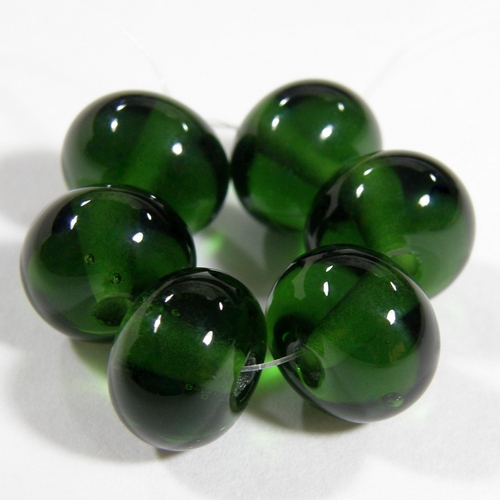 Glossy Transparent Sage Green Lampwork Glass Beads Shiny Handmade by Charlotte of Covergirlbeads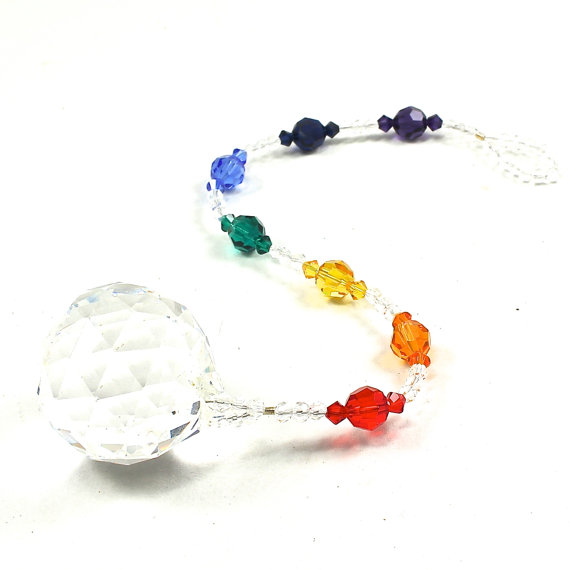 Seven Chakra Window Decoration / Mediation Suncatcher Handmade by Barbara of SolanaKaiDesigns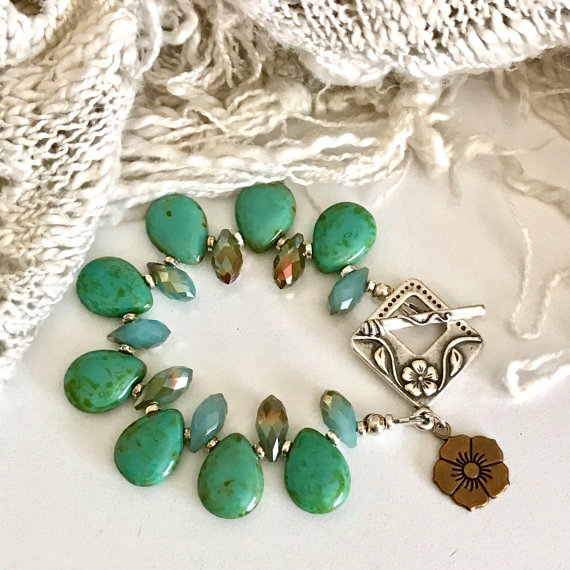 Turquoise Teardrop Victorian-style Bracelet Handmade by Linda of TreasuresOfJewels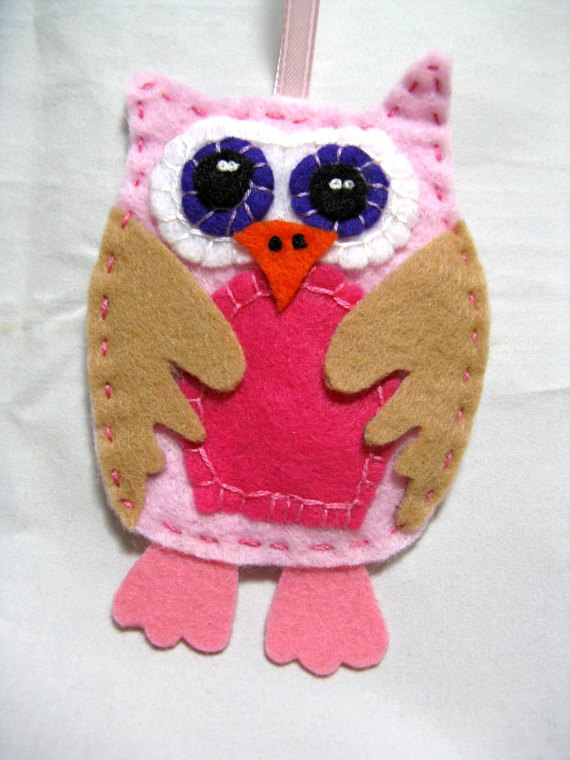 Felt Owl Christmas Ornament Handmade by Nancy of WyvernDesignsHome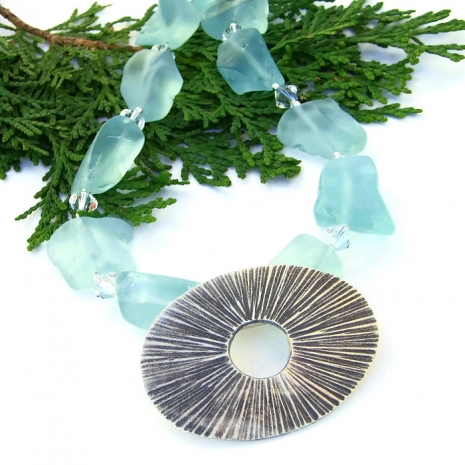 Thai Sunburst Pendant and Aqua Recycled Glass Necklace, Swarovski Crystals Jewelry Handmade by Catherine of Shadow Dog Designs
I hope you have enjoyed this sampling of some of the handmade gift items that can be found in the Countdown collection hosted by Julie and Blu of Blue Morning Expressions. To see all the items in the collection, please click here: Countdown to Christmas 2016 - Week 8. I hope that at least one, maybe more, items piqued your interest and made its way to your shopping list.
What will week 9 bring? MORE handmade and vintage beauties! I, for one, am looking forward to it!
If you are so inclined, please make my day and leave a comment (: Also any promotion will be greatly appreciated by everyone featured in this post. Thank you!
---
In case you missed the posts from the past weeks, here are links to take you there:
Countdown to Christmas - Week 1 - Norway
Countdown to Christmas - Week 2 - Italy
Countdown to Christmas - Week 3 - Ukraine
Countdown to Christmas - Week 4 - Kenya
Countdown to Christmas - Week 5 - Portugal
Countdown to Christmas - Week 6 - Iceland
Countdown to Christmas - Week 7 - Peru
---
» Tagged:
Blue Morning Expressions
,
BlueMorningExpressions
,
Christmas
,
Countdown
,
gift ideas
,
gifts
,
handmade
,
holiday shopping
,
holidays
,
Indiemade
,
Luxembourg
,
Shadow Dog Designs
,
ShadowDogDesigns
,
shopping
» Share: