Valentines Day at Shadow Dog Designs - Handmade Jewelry
Posted January 25, 2018

Since Valentine's Day is quickly approaching, I decided to share some handmade Valentine's inspired jewelry from my Shadow Dog Designs studio. Most are red and/or pink in color - but not all - and some have hearts. But most are not your "traditional" Valentine's earrings or necklaces; they are more geared for the woman who loves unique designs with a boho falir. The one of a kind pieces can be comfortably worn long after this year's Valentine's Day is past. But what a perfect gift any of the handmade jewelry featured below will make . . . long after the day itself is a fond memory!
If something catches your eye, please click on the photo or the live link below the photograph to be taken to the item. There you can read more about it and browse the additional photos. Enjoy!
FLOREANA - Valentines Hearts and Flowers Earrings, Copper Lampwork Rustic Pink Purple Boho Handmade Jewelry - $40.00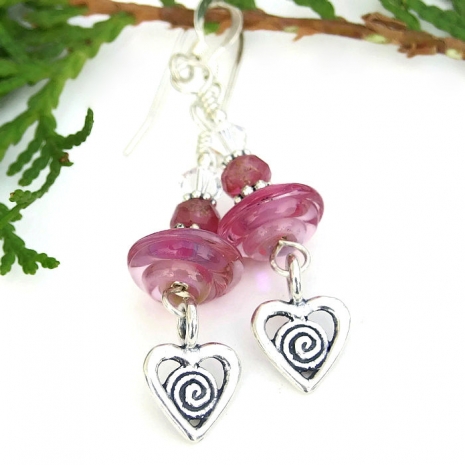 HEARTFELT - Hearts with Spirals Valentines Earrings, Pink Lampwork Swarovski Crystal Handmade Jewelry - $25.00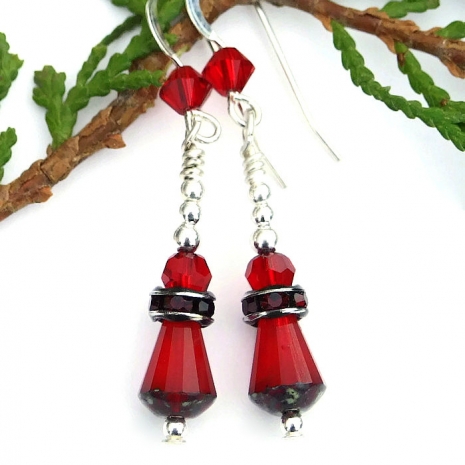 BLAZING RED - Valentines Red Earrings, Czech Glass Swarovski Crystals Sparkling Handmade Jewelry - $20.00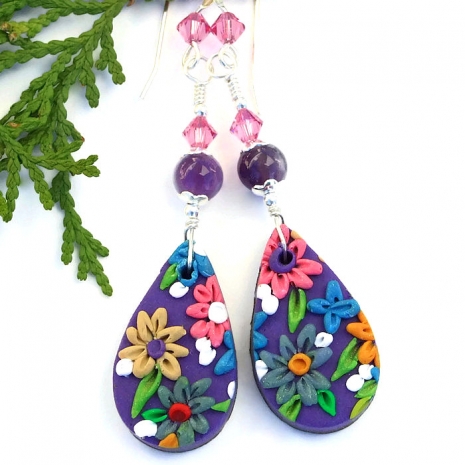 FLORAL FANTASY - Purple and Pink Flower Earrings, Polymer Clay Embroidery Floral Amethyst Handmade Jewelry - $30.00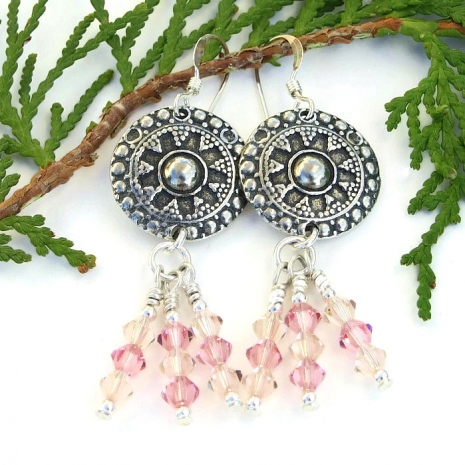 LA DOLCE VITA - Boho Shield Earrings with Swarovski Crystals, Pewter Peach Pink Handmade Jewelry for Women - $25.00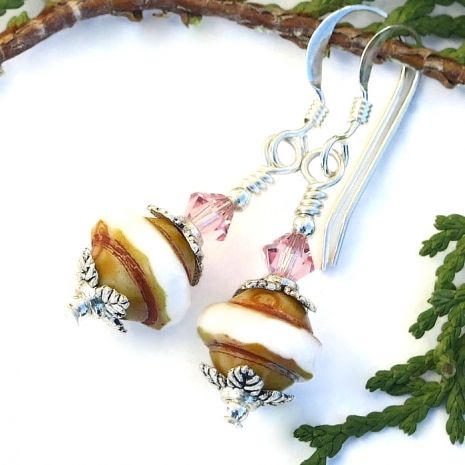 BLISSFUL - White and Brown Earrings with Pink Swarovski Crystals, Valentines Handmade Jewelry for Women - $20.00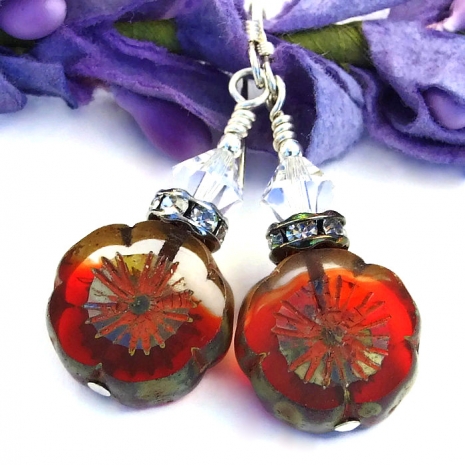 FLEUR - Red Flower Earrings, Handmade Pansy Glass Crystals Spring Summer Valentines Jewelry - $25.00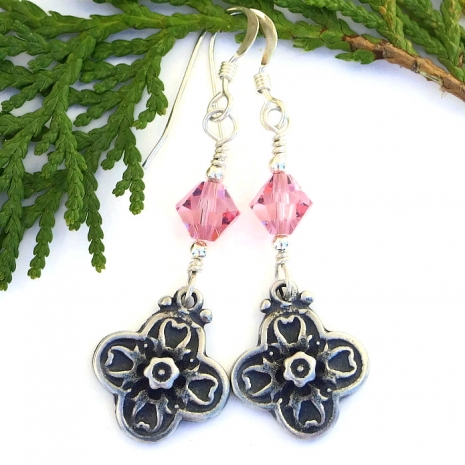 FOR HIS LOVE - Flower Cross Hearts Earrings, Floral Pink Swarovski Handmade Christian Valentines Jewelry - $20.00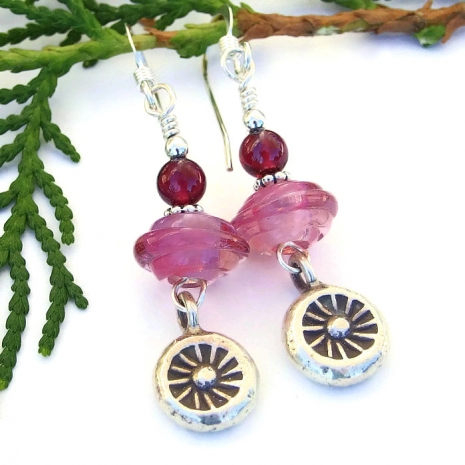 ENCHANTMENT - Thai Suns and Pink Lampwork Earrings, Valentines Garnet Silver Handmade Dangle Jewelry - $25.00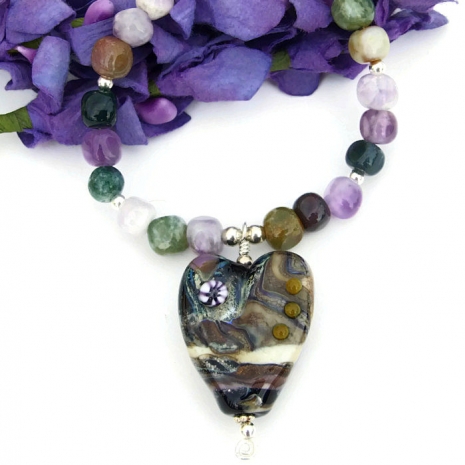 MI CORAZON - Valentines Heart Necklace, Lampwork Amethyst Aventurine Agate Handmade Gemstone Jewelry - $50.00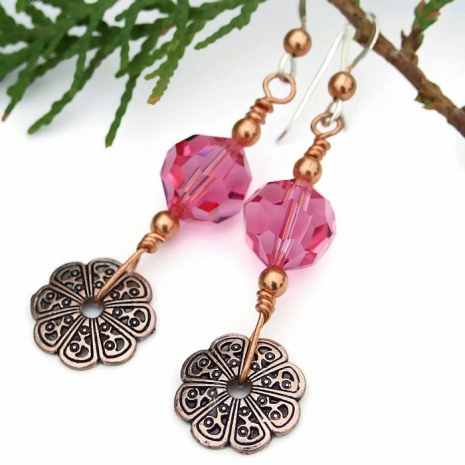 IRRESISTABLE - Filigree Flower Earrings, Valentines Copper Pink Swarovski Handmade Jewelry for Women - $25.00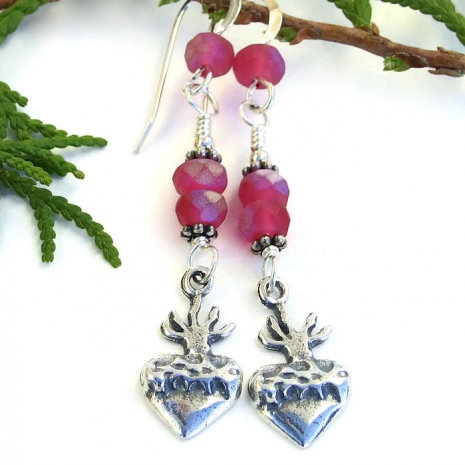 MIRACLES - Milagro Heart Earrings, Crown of Thorns Sacred Fire Pink Handmade Valentines Jewelry - $25.00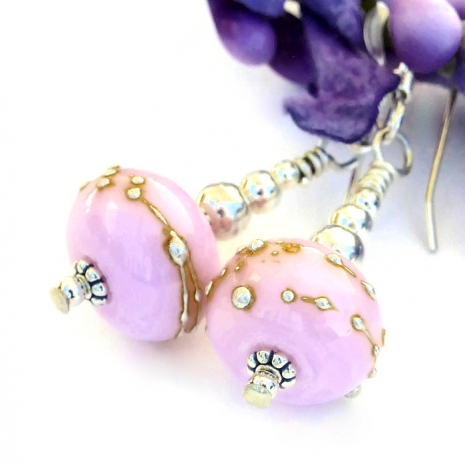 PINK AND PERFECT - Bubblegum Pink Valentines Earrings, Handmade Lampwork Fine Silver Jewelry for Women - $25.00
I hope you enjoyed each and every one of these unique handmade creations! If you would like to make my day and the day of the talented artists featured, please leave a comment. And any promotion you can do will be greatly appreciated. Thanks!
My contact information:


» Tagged:
artisan
,
boho
,
copper
,
crosses
,
Czech glass
,
earrings
,
filigree
,
flowers
,
gemstones
,
handmade
,
hearts
,
jewelry
,
lampwork
,
milagros
,
necklaces
,
one of a kind
,
pink
,
polymer clay
,
red
,
Shadow Dog Designs
,
ShadowDogDesigns
,
Swarovski crystals
,
Thai Hill Tribes
,
Valentine's Day
,
Valentines
» Share: