Second Category, Third Item - Wonderful Handmade Wednesday on Indiemade
Posted August 30, 2017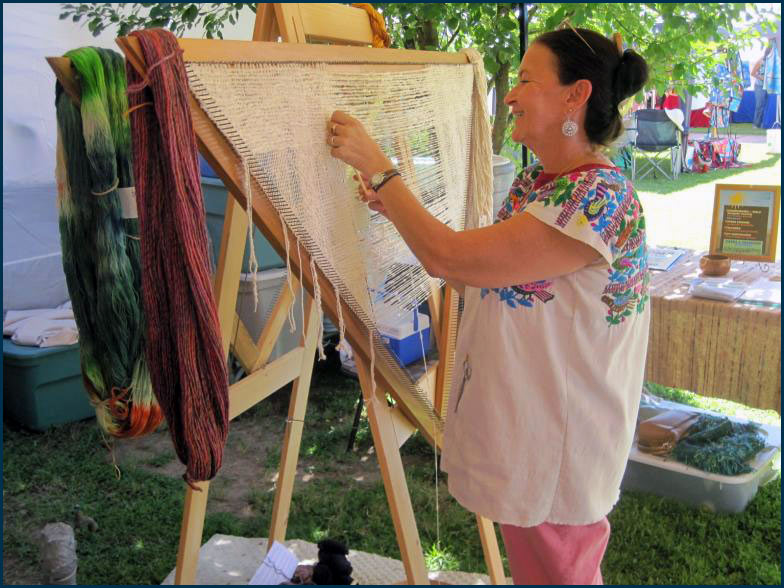 The Franciscan Festival of Fine Arts at the Holy Cross Retreat Center is this Labor Day weekend, Saturday and Sunday. The Retreat Center has been operational for 60 years. However, some of the buildings in the compound are over 100 years old. It's so peaceful there and feels like you step back in time, especially when you see Father Tom walking around in his full cassock with a large, wooden rosary tied around his waist, chatting with as many people as he can. The juried festival itself has been held yearly for almost 20 years and is a "go to" festival for local people and the many who might drive from Tucson, Albuquerque or beyond to buy beautiful artisan handcrafted items. If you are in the Las Cruces, NM or El Paso, TX area, please stop by - I will be selling my jewelry there. For more information, here is a link: Franciscan Festival of Fine Arts.
Since I'm up to my elbows in getting ready for the Franciscan Festival, the theme for this week's Wonderful Handmade Wednesday on Indiemade is "Second Category, Third Item." As the name implies, the third item in the second category in each shop is featured (as of when I typed this). I love doing this type of post because the huge variety is always so random and so much fun. I hope you enjoy each and every artisan handmade beauty featured here. If something catches your eye, please click on the photo or the link below the photo to be taken to the artist's shop for more photos and information.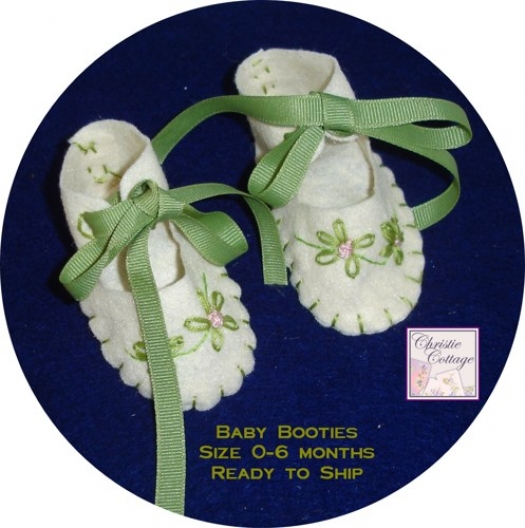 Size 0-6 Months Cream and Green Baby Booties Handmade by Jacki of Christie Cottage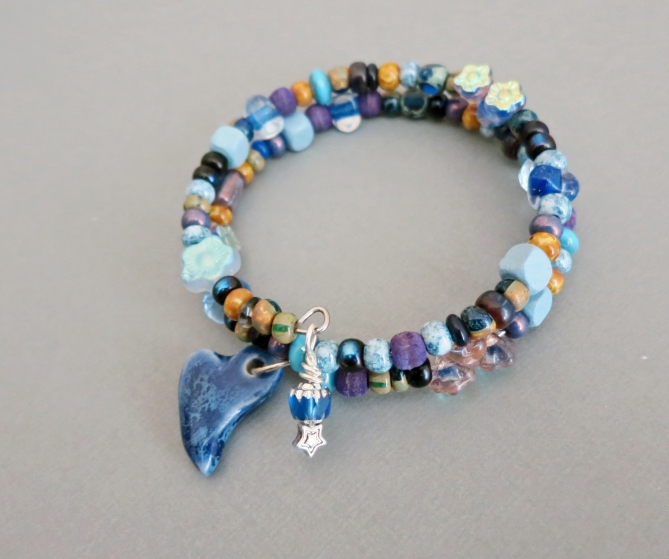 Ceramic Heart Charm Memory Wire Bracelet Handmade by Linda of Linda Landig Jewelry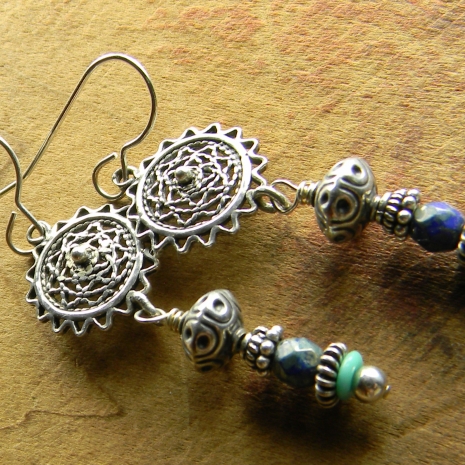 Boho Sterling Silver Earrings with Tribal Blue Drops Handmade by Gloria of Chrysalis Tribal Jewelry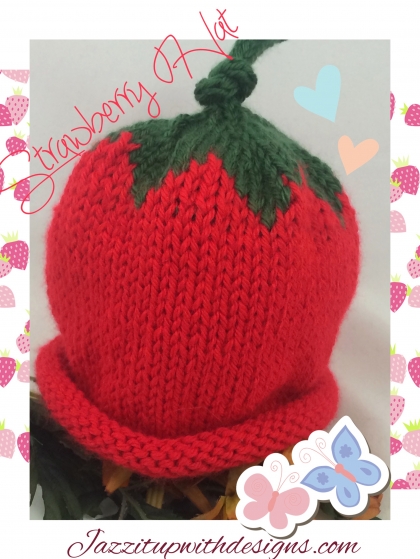 Red and Dark Sage Green Hand Knit Strawberry Hat, 3-6 Months, Handmade by Nancy of Nancy's Knots, Lace and More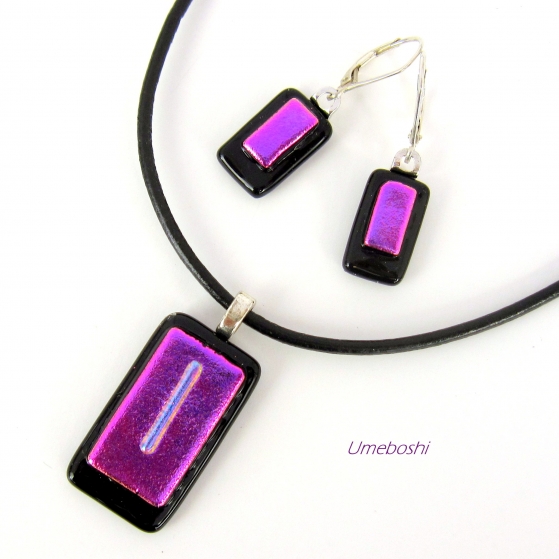 Fuchsia Pink and Black Fused Dichroic Glass Jewelry Set, Pendant and Earrings, Handmade by Jo of Umeboshi Jewelry Designs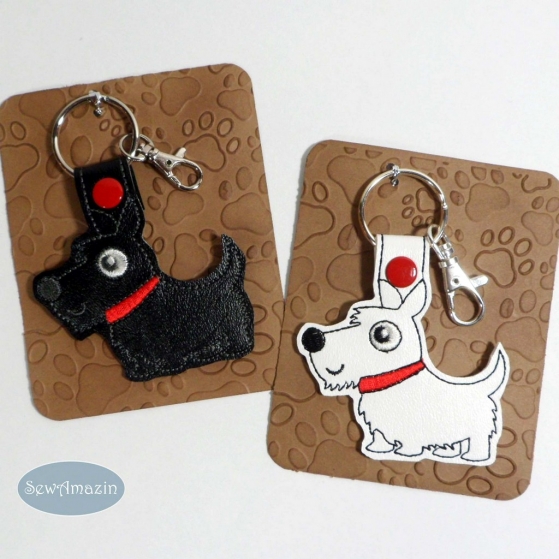 Black or White Scottie Dog, Westie Terrier Key Fob, Purse Charm, Handmade by Donna of SewAmazin
Fluorite Pebble Earrings Crafted in Sterling Silver Handmade by Pamela of Pebbles at My Feet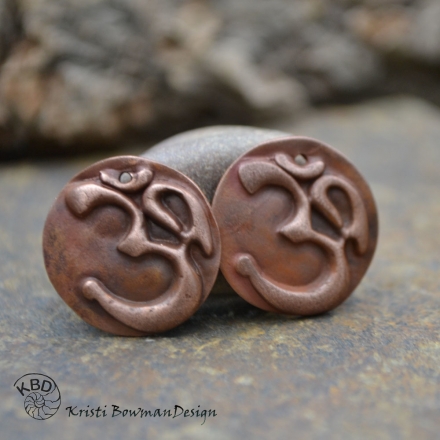 Copper Om Pair, 1 pair, Handmade by Kristi of Kristi Bowman Design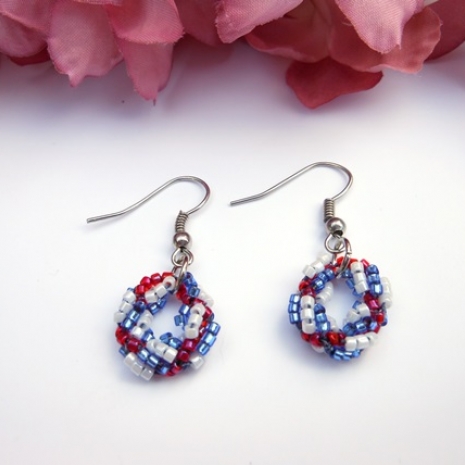 Patriotic Red White and Blue Beaded Wreath Earrings Handmade by Cathy of CraftingMemories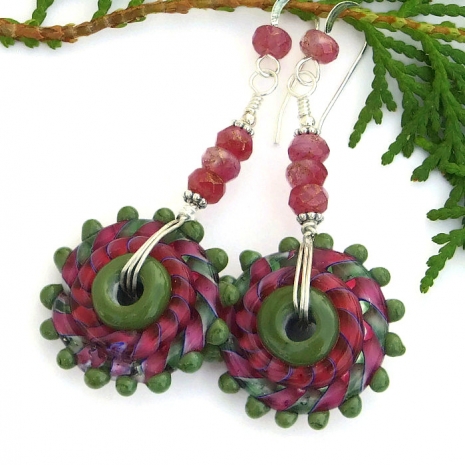 Pink and Green Whirlygig Lampwork Earrings with Czech Glass Handmade by Catherine of Shadow Dog Designs
I hope you have enjoyed each and every one of these unique artisan handmade creations! If you would like to make my day and the day of the talented artists featured, please leave a comment. And any promotion you can do will be greatly appreciated. Thanks!
My contact information:
Indiemade shop: ShadowDogDesigns
Indiemade blog: ShadowDogDesigns' Blog
Artfire studio: ShadowDogDesigns
ArtFire Blog: ShadowDogDesigns' Blog
Google+: Catherine ShadowDog
Facebook: ShadowDogDesigns - Jewelry
Twitter: ShadowDogDesign
Pinterest: Shadow Dog Designs
Wanelo: ShadowDog
Rebelmouse: ShadowDogDesigns
Flickr: Shadow Dog Designs' Photostream
Beautifully Unique Handmade Jewelry
» Tagged:
artisan
,
baby booties
,
baby hat
,
beads
,
bracelets
,
copper
,
dichroic glass
,
dogs
,
earrings
,
Franciscan Festival
,
gemstones
,
handmade
,
handmade jewelry
,
Holy Cross Retreat Center
,
jewelry
,
key fobs
,
knitting
,
lampwork
,
Om
,
pendants
,
Shadow Dog Designs
,
ShadowDogDesigns
» Share: