Purple is Perfect for Spring - Wonderful Handmade Wednesday on Indiemade
Posted March 16, 2016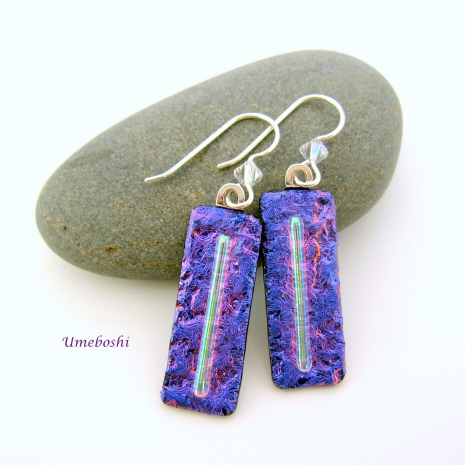 Over the centuries, purple has been regarded as the color of royalty and is also thought of as a color of creativity. It also has a softer side being one of the first colors of spring that pops up in its many hues and shades on flowers. It is near the top of my list of favorite colors, as are the two colors that combine to make purple. Many, many people, especially women according to research, have a passion for the color purple, and I can see why with its oh-so-rich color! I decided to do a bit of research about the color purple and share a bit of what I found. And, also shared, are beautiful handmade artisan creations featuring purples.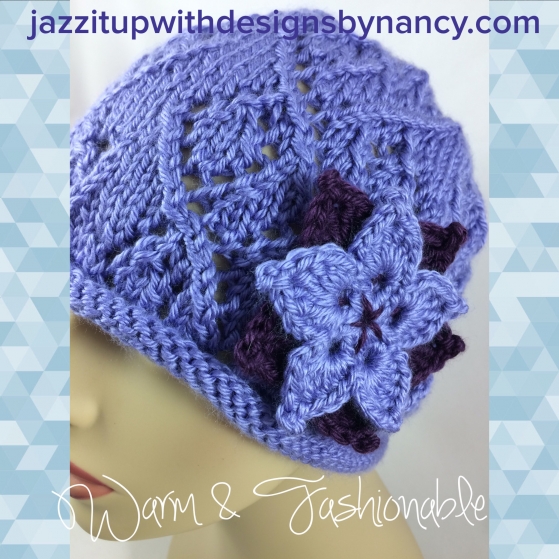 Lavender Ladies Hat Lacy 2-tier Flower Deep Purple Caron Simply Soft Handmade by Nancy of Jazz it Up with Designs by Nancy
Purple is a combination of blue and red, the warmest and coolest colors. Red is filled with dynamic, active energy and blue is the opposite, a cooling and calming color. Because of the combination of the two colors, purple is said to enhance creative energies and is associated with inspiration and imagination. It is considered by many artists to be the perfect color!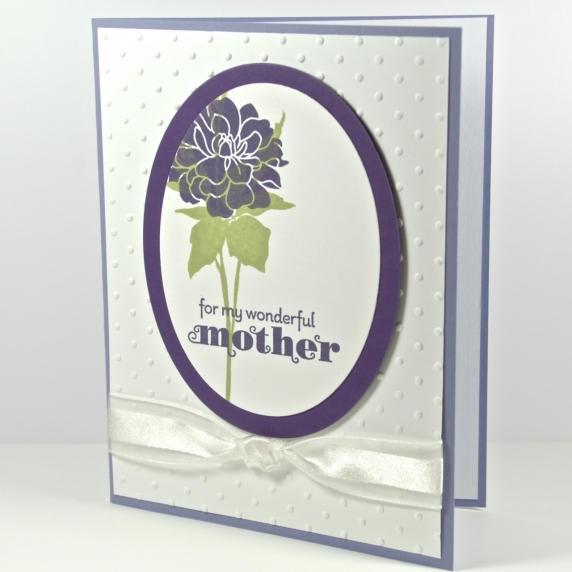 Purple Flower Greeting Card For Mother's Day Handmade by Lisa of Cards by Li Be!
Purple used to be called "Tyrian purple". Tyre was an ancient Phoenician seaport (located in present day Lebanon) from about 2000 BC through the Roman period. A purple dye was extracted from a mollusc found on the shores of the city. Because of the time consuming process used to extract the dye, only the very wealthy could afford fabric dyed "Tyrian purple". Alexander the Great and the kings of Ptolemaic Egypt all wore Tyrian purple. The imperial robes of Roman emperors were Tyrian purple trimmed in metallic gold thread and the badge of a Roman Senator was a stripe of Tyrian purple on their white toga. In present day, because it also represents wisdom and valor, the United States awards a Purple Heart to soldiers wounded in battle.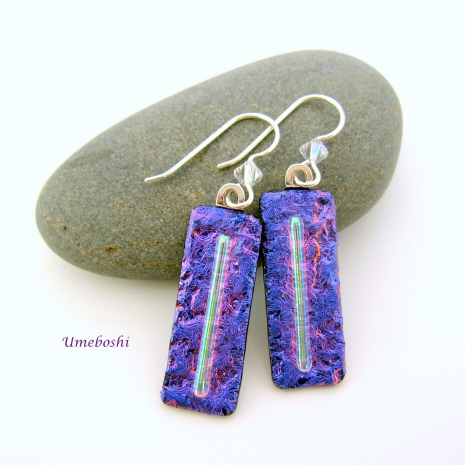 Outrageous Purple "Razzle Dazzle" Dangling Dichroic Fused Glass Earrings Handmade by Jo of Umeboshi Jewelry Designs
In color psychology, it is said that if purple or violet is your favorite color, you are sensitive and compassionate, understanding and supportive, thinking of others before yourself. You are the person others come to for help. Being needed motivates you but sometimes you allow people to take advantage of you. You are a gentle and free spirit. With your feelings that run deep, you can be quite sensitive to hurtful comments from others, although you would never show it.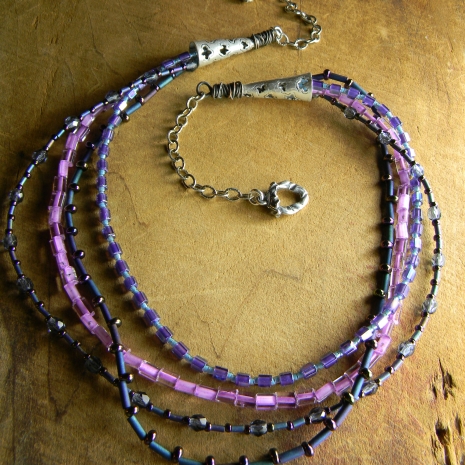 Mystical Purple Necklace Sterling Silver Celestial Lilac Violet Iris Bohemian Jewelry Handmade by Gloria of Chrysalis Tribal Jewelry
Purple is also the color of spirituality and is often used in meditation. It is said if you surround yourself with purple, you will have peace of mind, although too much purple can cause moodiness. It helps us find our power within - not the power that dominates people, but a power rooted in connection to Spirit. Violet is associated with the seventh or crown chakra, the chakra used to communicate with our spiritual nature. It is also found quite often in Nature, in orchid, lilac, violet and lavender colored flowers.
Here are more artisan creations featuring the color purple: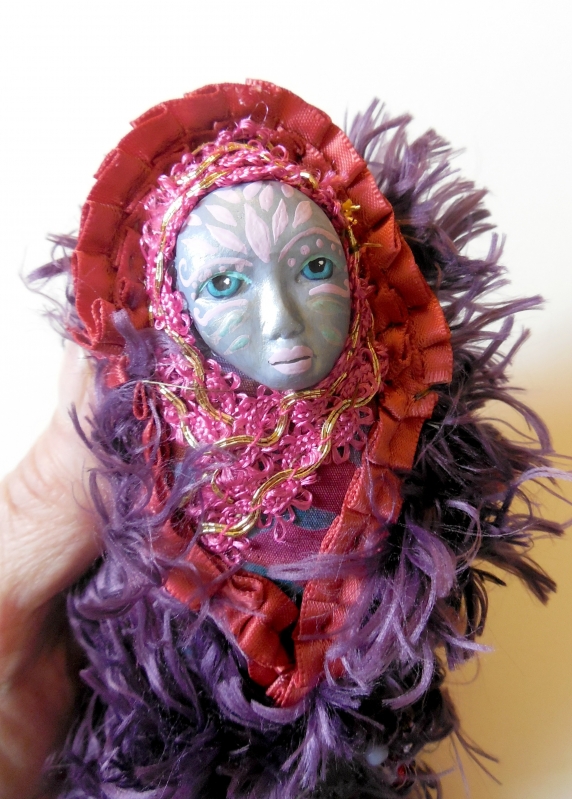 Purple Cloth and Clay "Creating Self" Miniature Spirit Doll by Jeanne of Jeanne Fry Art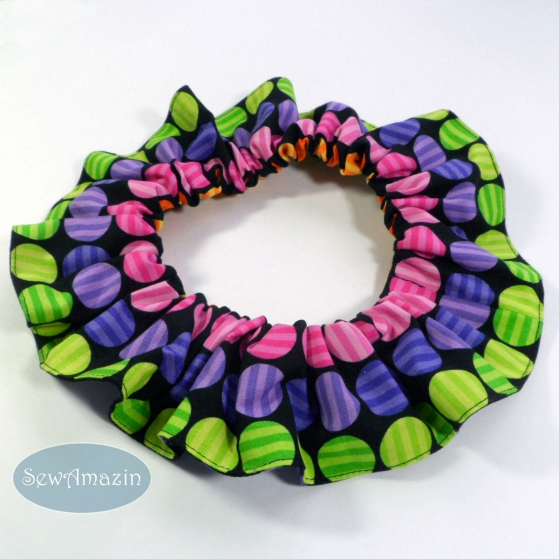 Purple, Pink and Green Party Time Circles Spots Dots Pet Scrunchie Neck Ruffle Handmade by Donna of SewAmazin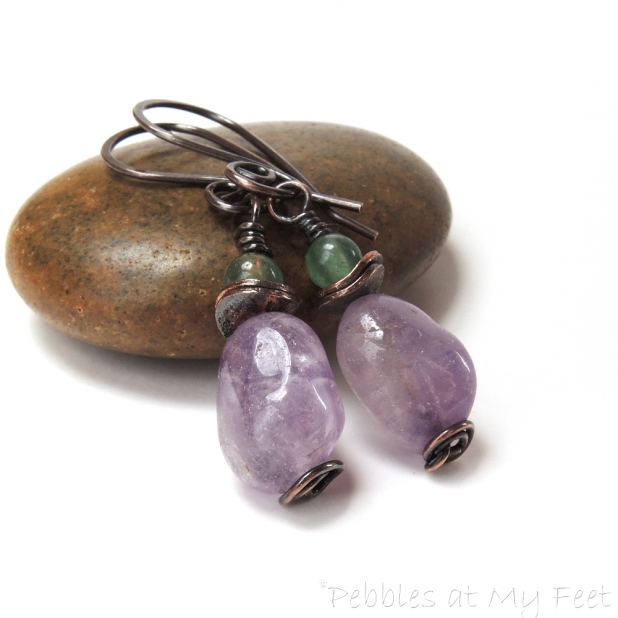 Purple Amethyst and Green Aventurine Natural Stone Earrings Set in Rustic Dark Copper Handmade by Pamela of Pebbles at My Feet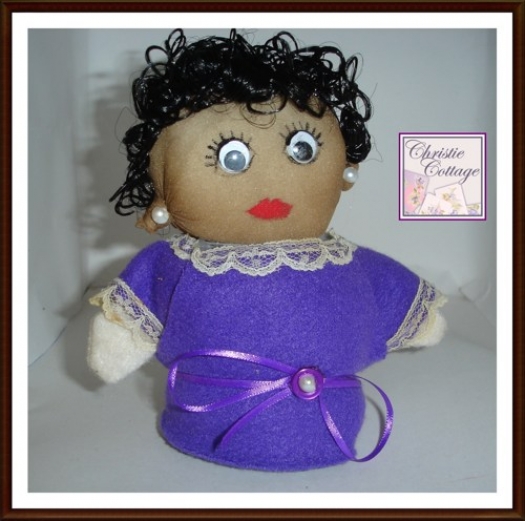 Purple Dressed Headache Honey Pincushion Doll Handmade by Jacki of Christie Cottage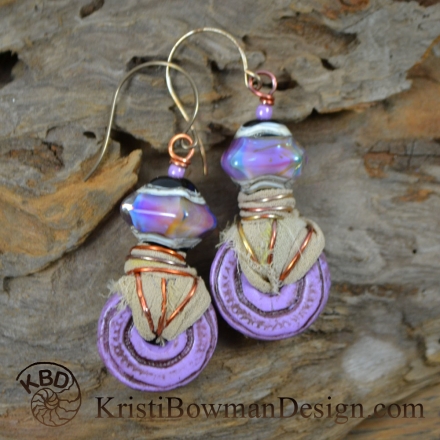 Purple Polymer Clay Disc Sari Silk Wrapped Earrings Handmade by Kristi of KristiBowmanDesign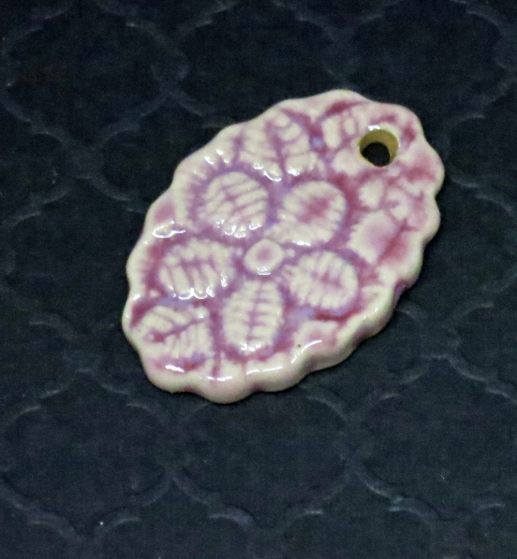 Lilac Ceramic Pendant with Purple Lace Flower Pattern Handmade by Linda of Linda Landig Jewelry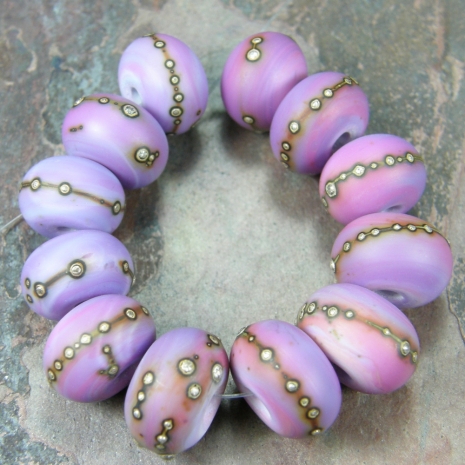 Premium Purple (EDP) Opaque Lampwork Glass Beads Handmade by Charlotte of Covergirlbeads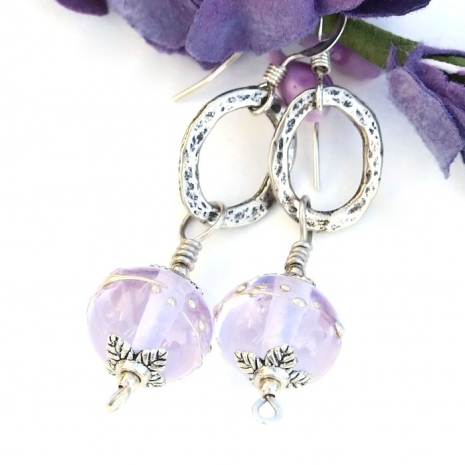 Lavender to Blue Lampwork Earrings, Rustic Sterling Silver Ovals Artisan Jewelry Handmade by Catherine of Shadow Dog Designs
I hope you enjoyed these selections! If you would like to make my day and the day of the artists featured, please leave a comment. And any promotion you can do will be greatly appreciated. Thanks!
My contact information:
Indiemade shop: ShadowDogDesigns
Indiemade blog: ShadowDogDesigns' Blog
Artfire studio: ShadowDogDesigns
ArtFire Blog: ShadowDogDesigns' Blog
Google+: Catherine W
Facebook: ShadowDogDesigns - Jewelry
Twitter: ShadowDogDesign
Pinterest: Shadow Dog Designs
Wanelo: ShadowDog
Amazine: ShadowDogDesigns
Rebelmouse: ShadowDogDesigns
Flickr: Shadow Dog Designs' Photostream
SHADOW DOG DESIGNS
Beautifully Unique Handmade Jewelry
for the Discerning Woman
» Tagged:
artisan
,
cards
,
ceramic
,
dichroic
,
dog
,
earrings
,
gifts
,
glass
,
handmade
,
hats
,
Indiemade
,
jewelry
,
knitting
,
lampwork
,
Mothers Day
,
necklaces
,
pendants
,
pincushion
,
purple
,
ruffle
,
Shadow Dog Designs
,
ShadowDogDesigns
,
spirit doll
» Share: