Not All Those Who Wander Are Lost . . .
Posted December 31, 2015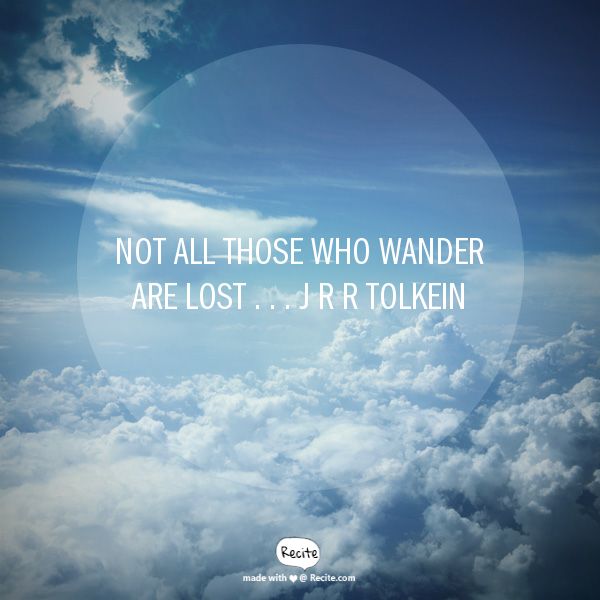 I love quotes . . . always have, always will. Sometimes a particularly meaningful or beautiful set of words will stop me in my tracks as I ponder the significance. The quote will be read over and over again, mulled over and over again, and then committed to memory (hopefully). The power of words never fails to amaze me. And the power of words can be very scary when they espouse bigotry and hate. I have a rather large "Words of Wisdom and Profundity" board on Pinterest. No hate there . . . although a great quote I love says, "A truly great library has something to offend everyone." So maybe some people will find something offensive in it. Hey, it is what it is.
This morning I ran across a fun site, called ReciteThis.com, where you can take your favorite quotes and make "posters" of them using various templates. The templates are fairly limited, but I sure had fun with it. Below are a few of my favorite quotes turned into "works of art" by me!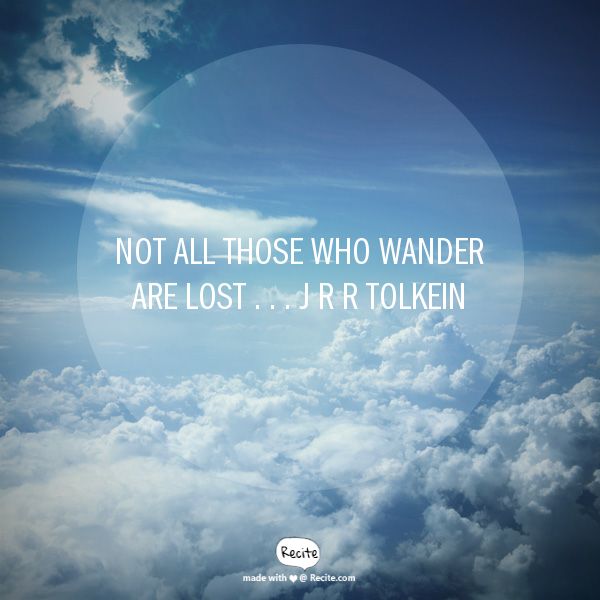 Being a huge J.R.R. Tolkein fan, this is my all time favorite quote - in fact I wear it every day on a cuff with the words stamped on it. It is from the poem "All that Glitters is not Gold", describing Aragorn, son of Arathorn, from the "Lord of the Rings" trilogy. Here is the poem:
All that is gold does not glitter,
Not all those who wander are lost;
The old that is strong does not wither,
Deep roots are not reached by the frost.
From the ashes a fire shall be woken,
A light from the shadows shall spring;
Renewed shall be blade that was broken,
The crownless again shall be king.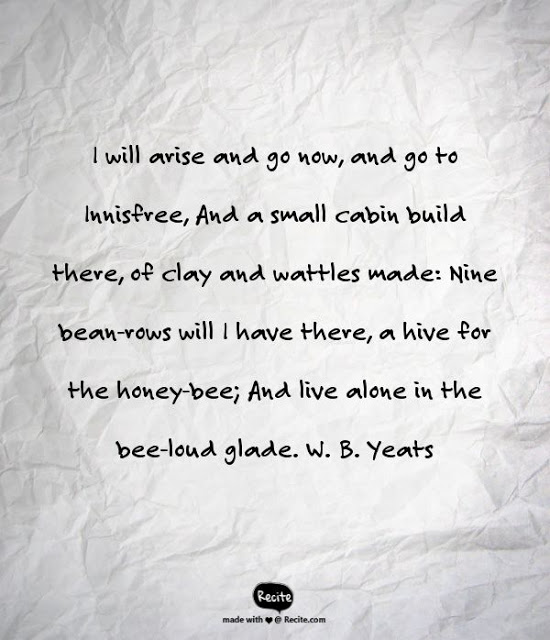 And "The Lake Isle of Innisfree", by W.B. Yeats, is my all time favorite poem. The idea of living "alone in a bee-loud glade" sounds VERY appealing to me.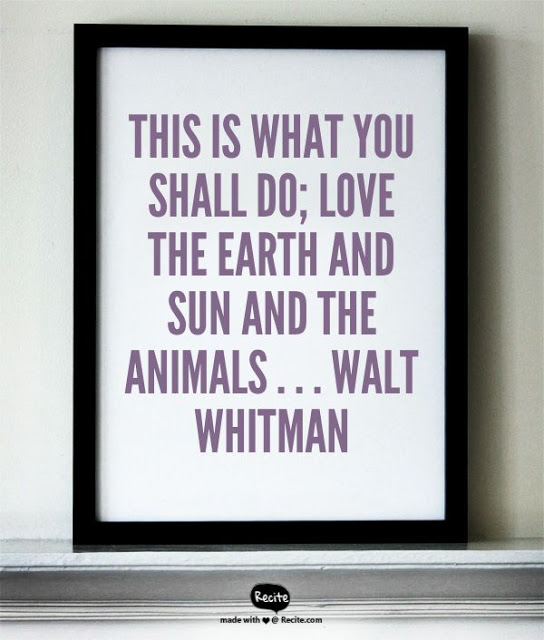 Such true words by Walt Whitman. Here is the entire quote: This is what you shall do . . .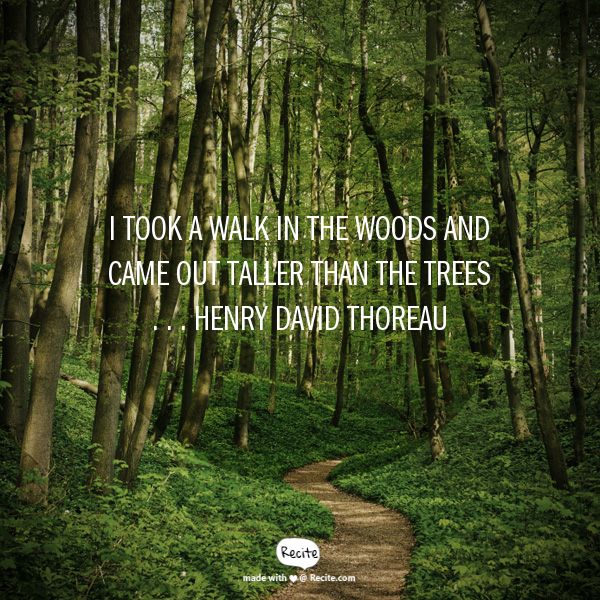 We used to live in a forest in Northern Virginia. This is the way I felt when finishing my wandering through the beauty. Have to love Henry David Thoreau. In fact, I named a parakeet after him - hope he would be honored!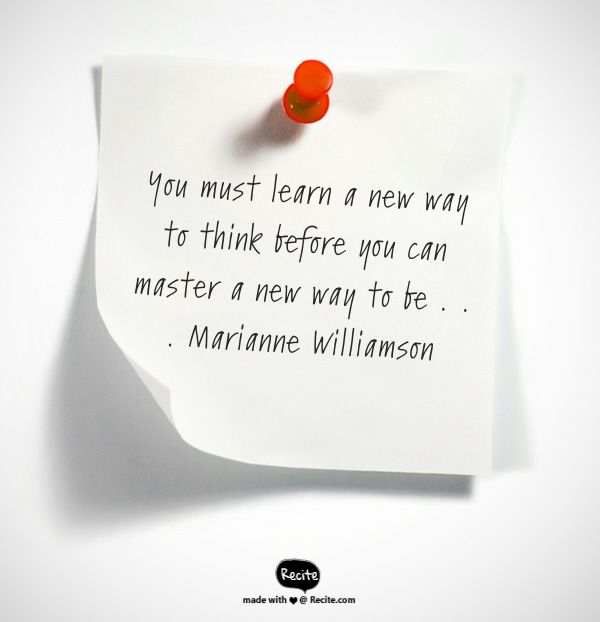 It was hard to pick a favorite quote from Marianne Williamson, but this is a favorite. This one is also beautiful: "The practice of forgiveness is our most important contribution to healing the world."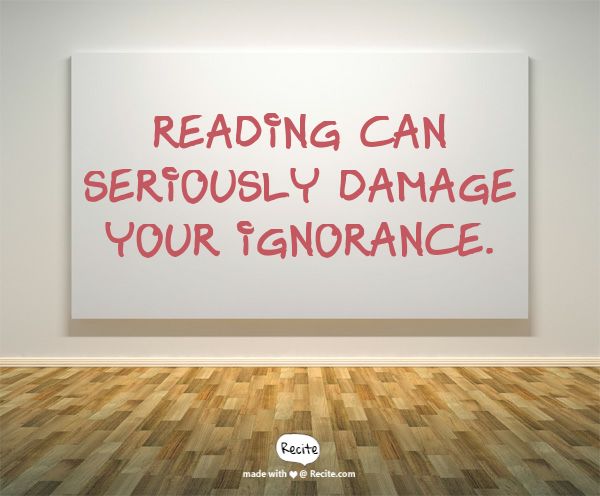 Oh, yes!!! Being an avid reader (always have 2-3 books by the bed in the process of being read), this is perfect for our society who seems to only get their information from sound bites now.
So there you have it, my quote masterpieces created with the help of ReciteThis.com. Check it out and make your own meaningful posters.
I hope you enjoyed these selections! If you would like to make my day and the day of the artists featured, please leave a comment. And any promotion you can do will be greatly appreciated. Thanks!
My contact information:
Indiemade shop: ShadowDogDesigns
Indiemade blog: ShadowDogDesigns' Blog
Artfire studio: ShadowDogDesigns
ArtFire Blog: ShadowDogDesigns' Blog
Google+: Catherine W
Facebook: ShadowDogDesigns - Jewelry
Twitter: ShadowDogDesign
Pinterest: Shadow Dog Designs
Wanelo: ShadowDog
Amazine: ShadowDogDesigns
Rebelmouse: ShadowDogDesigns
Flickr: Shadow Dog Designs' Photostream
Beautifully Unique Handmade Jewelry
» Tagged:
Innisfree
,
Lord of the Rings
,
Marianne Willimson
,
posters
,
quotes
,
ReciteThis
,
Shadow Dog Designs
,
ShadowDogDesigns
,
Thoreau
,
Tolkein
,
Whitman
,
Yeats
» Share: