New Handmade Earrings and Necklaces by Shadow Dog Designs
Posted December 27, 2017

It has been several months since I last shared a blog of my newest handmade jewelry. Between participating in art shows, traveling, my birthday, our anniversary, other commitments and trying to stock my Indiemade shop for the Christmas buying season, the time just sped right on by. Seems time goes quicker and quicker each and every year! Whew! Anyway, I finally pulled together this post to share of my newest earrings and necklaces, six of each. They are all one of a kind pieces and handmade from the heart. If a piece catches your eye, please click on the photo or the live link below the photo to be taken to the item for more information and pictures. I hope you enjoy the beauties below: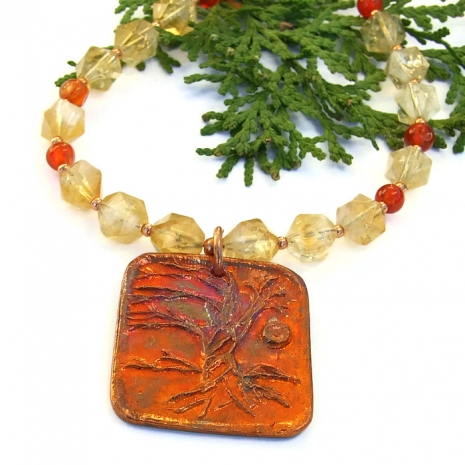 WORLD TREE - Tree of Life Yggdrasil Copper Pendant Necklace, Star Cut Citrine and Carnelian Handmade Jewelry - $75.00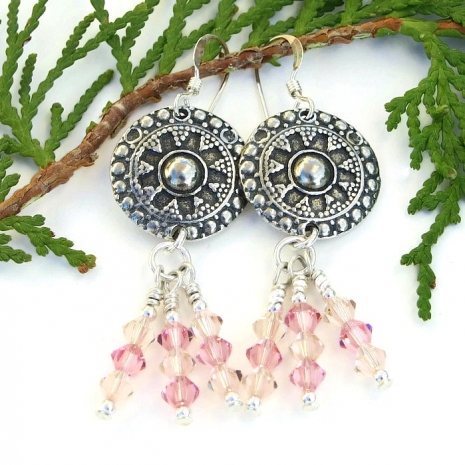 LA DOLCE VITA - Boho Shield Earrings with Swarovski Crystals, Pewter Peach Pink Handmade Jewelry for Women - $25.00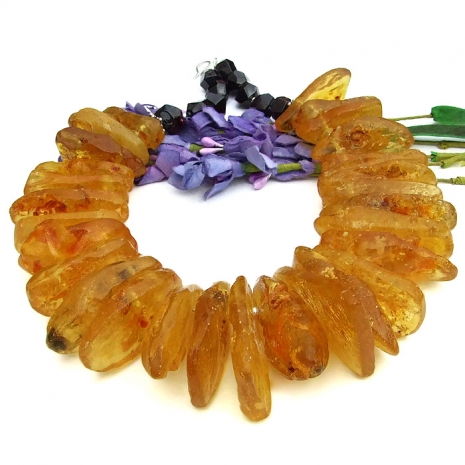 AMBER DREAMS - Golden Amber and Red Garnet Chunky Bib Necklace, Boho Handmade Gemstone Statement Jewelry - $265.00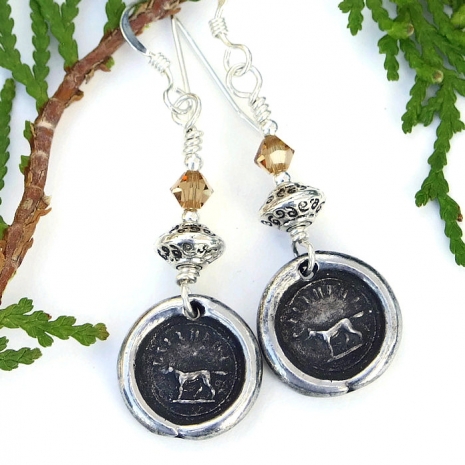 FAITHFUL - Faithful Dog Rescue Earrings, Pewter Swarovski Crystal Meaningful Handmade Jewelry - $25.00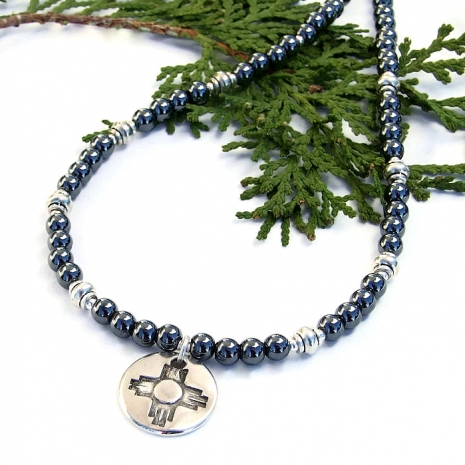 ZIA SUN - Zia Sun Symbol and Hematite Necklace, Sterling Pewter Southwest Handmade Jewelry - $55.00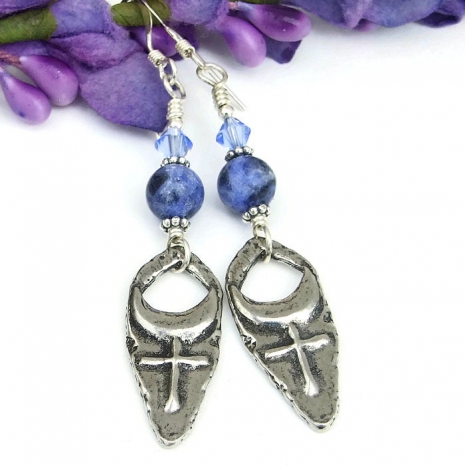 CROSS AND MOON - Cross and Moon Earrings, Pewter Sodalite Swarovski Crystals Mystical Handmade Jewelry - $35.00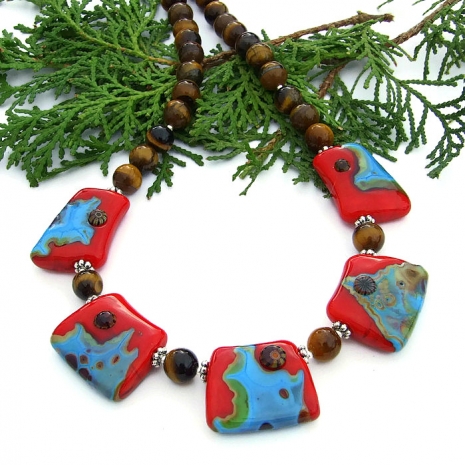 MEET ME IN SEDONA - Turquoise and Red Southwest Necklace, Lampwork Tigers Eye Handmade Statement Jewelry - $165.00
MEOW - Meow Cat Earrings, Ceramic Mykonos Czech Glass African Bead Agate Handmade Boho Jewelry - $30.00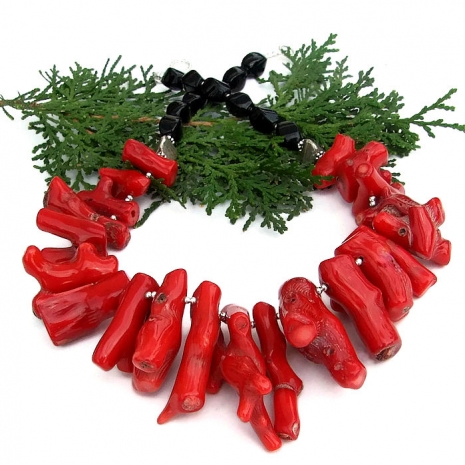 ATLANTEAN TREASURE - Red Coral AND Black Onyx Bib Necklace, Organic Handmade Chunky Statement Jewelry - $135.00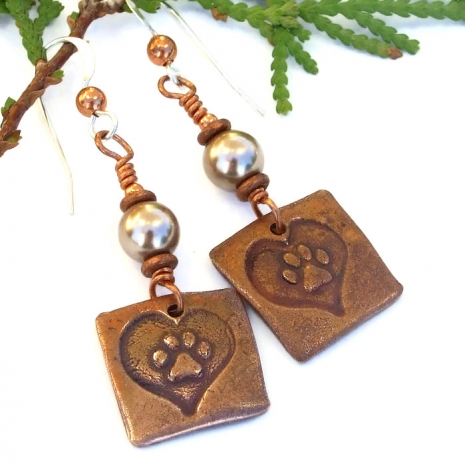 LOVE MY DOG - Dog Rescue Paw Prints and Hearts Earrings, Copper Swarovski Pearl Handmade Jewelry - $30.00
LOBO - Carved Wolf Head Totem Necklace, Bone and Black Onyx Handmade Jewelry - $60.00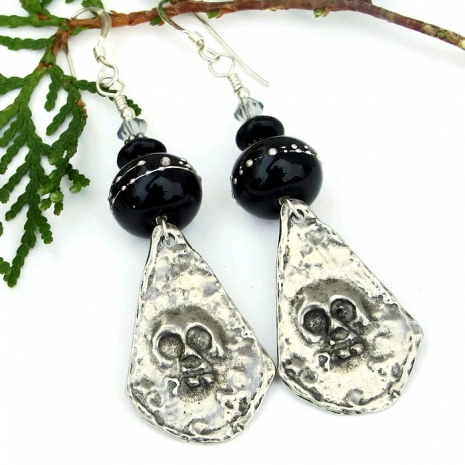 GOTH GOODNESS - Goth Skull Earrings, Pewter Black Lampwork Halloween Day of the Dead Handmade Jewelry - $40.00
I hope you enjoyed each and every one of these unique handmade creations! If you would like to make my day, please leave a comment. And any promotion you can do will be greatly appreciated, as well. Thanks!
» Tagged:
amber
,
boho
,
cats
,
cross
,
dog rescue
,
dogs
,
earrings
,
garnet
,
gemstones
,
Goth
,
handmade
,
jewelry
,
lampwork
,
moon
,
necklaces
,
paw prints
,
red coral
,
Shadow Dog Designs
,
ShadowDogDesigns
,
shields
,
skulls
,
Swarovski crystals
,
Tree of Life
,
wolf
,
Zia
,
Zia sun
» Share: