Please Enjoy
*** FREE SHIPPING ***
(First Class Mail - U.S. Only)
A Moment of Zen - Three for Thursday
Posted May 8, 2019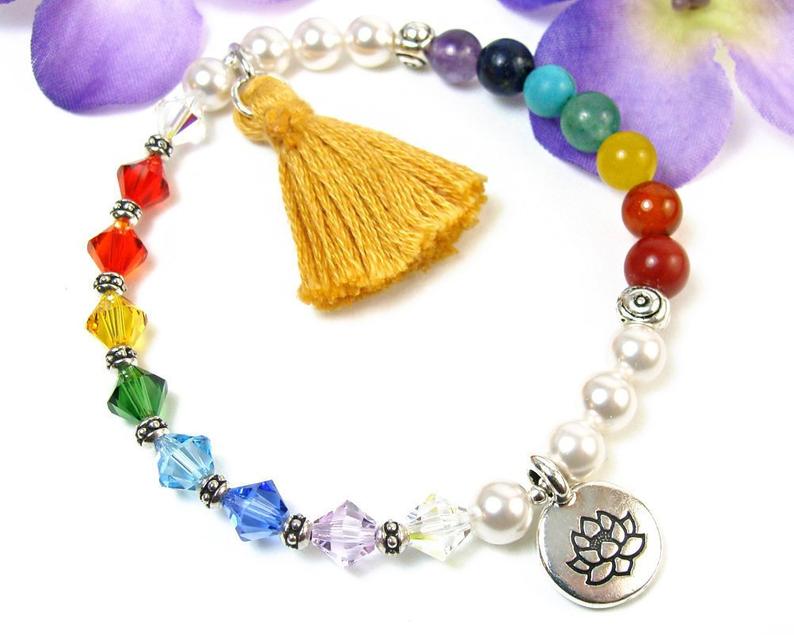 Anyone who knows me well knows that I love to garden, mainly growing flowers. There is so gloriously fundamental about putting my hands in the living soil and planting something that will benefit bees, butterflies and/or hummingbirds (my way to decide what to plant - plus drought tolerance once established is a must since we live in the Chihuahuan Desert). Planting and tending to the plants is my meditation and I experience many moments of Zen when I feel deeply connected to myself, to others and to Mother Earth.
Just what is "Zen?" It's to explain, especially when it is often tossed around so carelessly in popular culture (maybe like I just did above). Zen is an authentic spiritual tradition, a path to an awakening: awakening to / realizing who we really are, and awakening the aspiration to serve others and take responsibility for all of life. Zen is believed to be our true nature expressing itself moment by moment.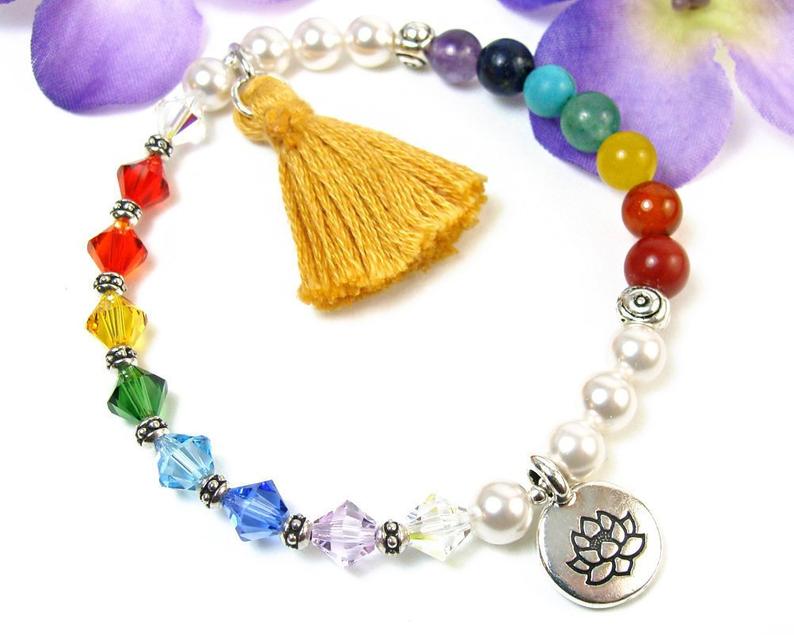 Tasseled Mala-Inspired Crystal Chakra Yoga Bracelet with Lotus Charm Handmade by Mary of PrettyGonzo
About 2,500 years ago, the Indian prince Siddhartha Gautama, who came to be known as Shakyamuni Buddha and was the founder of Buddhism, revealed this path toward awakening. The word "Buddha" simply means "awakened one." He taught that we can all awaken and that, fundamentally, we are all buddhas - we just need to be awakened. Sometime around 450-500 A.D., Bodhidharma was born and became known as the "first Ancestor of Zen." He brought Buddhism to China but faced scepticism there at first since he said that Buddhist scriptures were only a guide for achieving enlightenment and that enlightenment itself can only be attained by practicing Dhyana or Zazen (seated meditation). At the heart of Bodhidharma's teaching of authentic Zazen meditation-based Buddhism is attending to the body, breath and mind. Probably Bodhidharma's most famous dictum, "Point directly at the human mind, see its nature, and become Buddha," is essential to the Zen spirit.
With all that in mind, I decided to dedicate this newest blog, A Moment of Zen, to beautiful Zen-inspired jewelry created by three handmade artisans. The artists featured are: Mary of PrettyGonzo; Kathy of KatsAllThat; and me, Catherine of Shadow Dog Designs. I hope you enjoy these wonderful creations.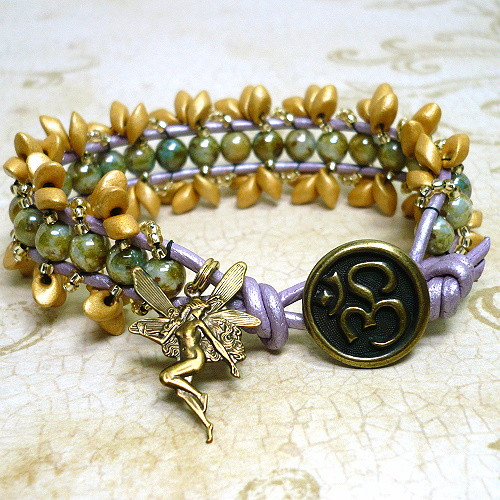 Om and Fairy Gold Magatama, Green Druk and Lilac Leather Beadwoven Bracelet Handmade by Kathy of KatsAllThat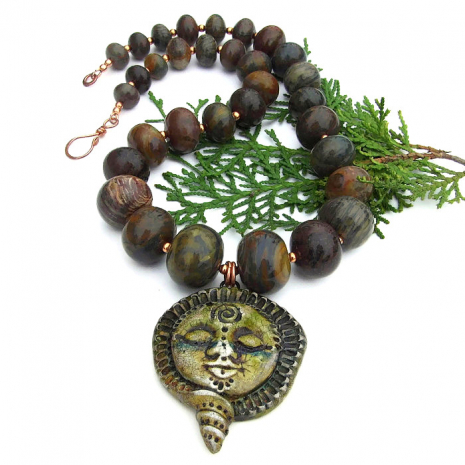 Peaceful Goddess and Spiral Pendant Necklace with Earthy Jasper Handmade by Catherine of Shadow Dog Designs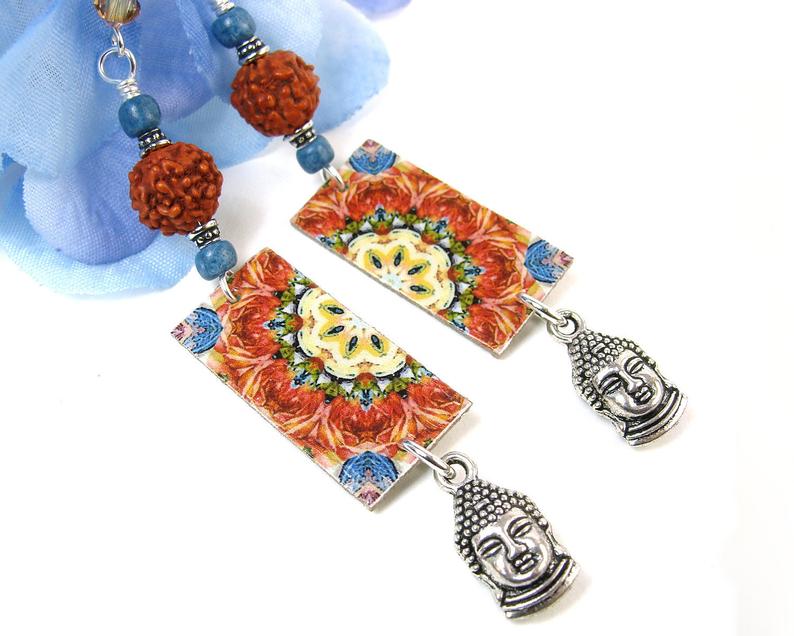 Colorful Mandala Earrings with Buddha Charms and Rudraksha Seeds Handmade by Mary of PrettyGonzo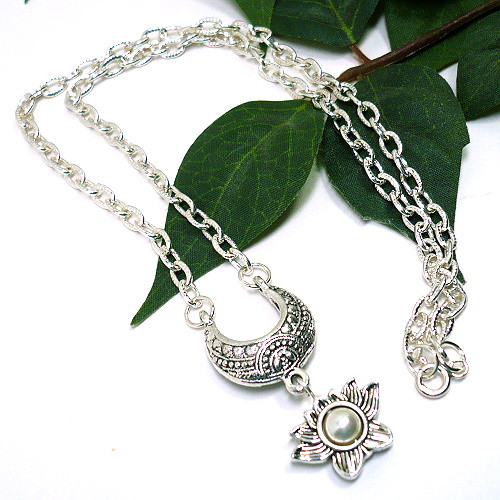 White Lotus Flower Crescent Pendant on Textured Silver-plated Chain Handmade by Kathy of KatsAllThat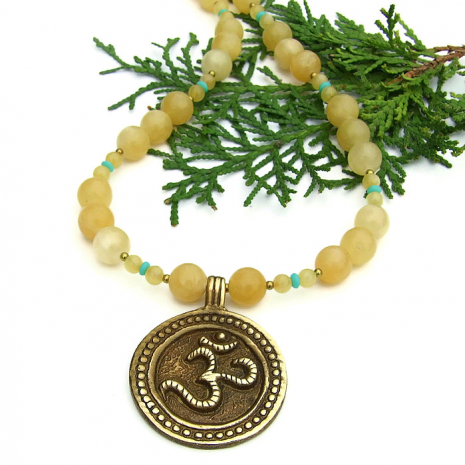 Brass Om Aum Pendant Yoga Necklace with Yellow Aragonite Gemstones and Turquoise Czech Glass Handmade by Catherine of Shadow Dog Designs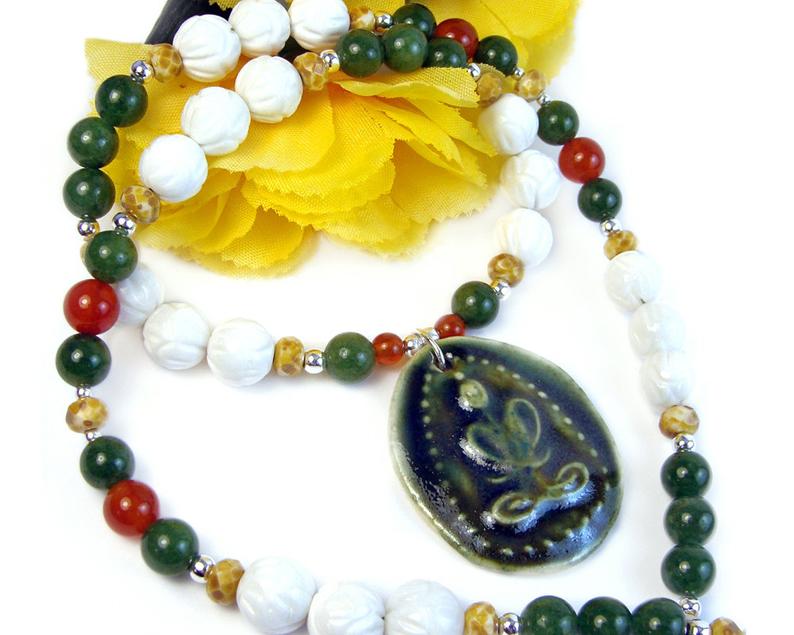 Buddha Beaded Tribal Necklace with Shell, Carnelian and Jade Handmade by Mary of PrettyGonzo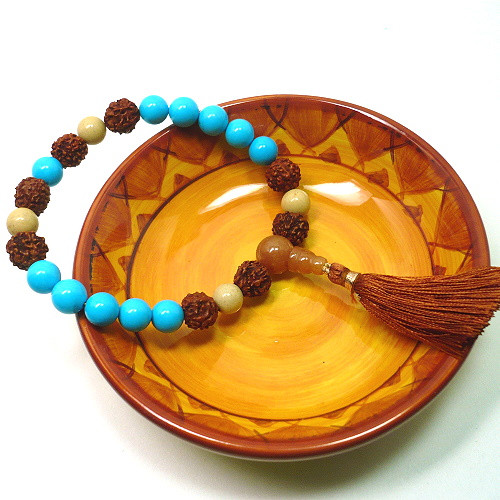 Mala Prayer Tassel Bracelet with Rudraksha Seeds, Blue Turquoise and Camel Jasper Handmade by Kathy of KatsAllThat
Turquoise and Copper Czech Glass Lotus Blossom Yoga Earrings with Swarovski Crystals Handmade by Catherine of Shadow Dog Designs
I certainly hope you enjoyed each and every one of these unique, handmade, Zen-inspired creations! If you would like to make my day and the day of the talented artists featured, please leave a blog comment. And any promotion you can do will be greatly appreciated. Thanks!
My contact information:


» Tagged:
aragonite
,
Aum
,
Bodhidharma
,
bracelets
,
brass
,
Buddha
,
carnelian
,
chakra
,
Czech glass
,
earrings
,
fairy
,
gemstones
,
goddess
,
handmade
,
jasper
,
jewelry
,
KatsAllThat
,
lotus
,
madalas
,
mala
,
meditation
,
necklaces
,
Om
,
pendant
,
PrettyGonzo
,
rudraksha
,
Shadow Dog Designs
,
ShadowDogDesigns
,
Shakyamuni Buddha
,
Siddhartha Gautama
,
spiral
,
Swarovski crystals
,
Three for Thursday
,
turquoise
,
yoga
,
Zen
» Share: