CHRISTMAS IN JULY
+++ FREE SHIPPING +++
(U.S. Only)
Handmade Earrings and Necklaces for Mothers Day - New Jewelry by Shadow Dog Designs
Posted April 13, 2018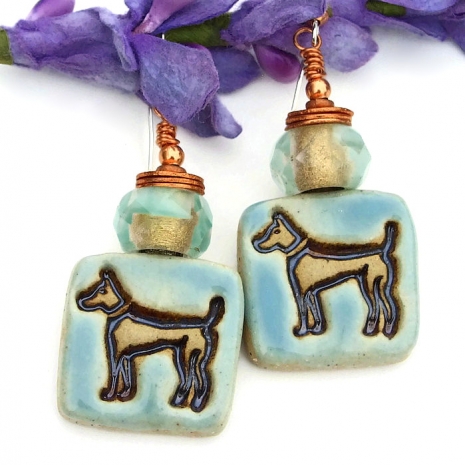 It has been almost a month since I last shared my newest Shadow Dog Designs handmade necklaces and earrings. Where does the time go? Most of my time has been spent getting ready for art shows and then selling at art shows. My first was last weekend, the Kermezaar Art Festival, with two more big shows this month. Fortunately my stock of jewelry is pretty good, but I always like to have at least a few new things for each show. Will continue with creating new pieces as soon as this is posted.
Anyway, here are the newest earrings and necklaces, all handmade and all one of a kind. Any of these will be a perfect Mother's Day jewelry gift - something handmade from the heart. If something catches your eye, please either click on the link or on the photo to be taken to the item in my shop. Enjoy!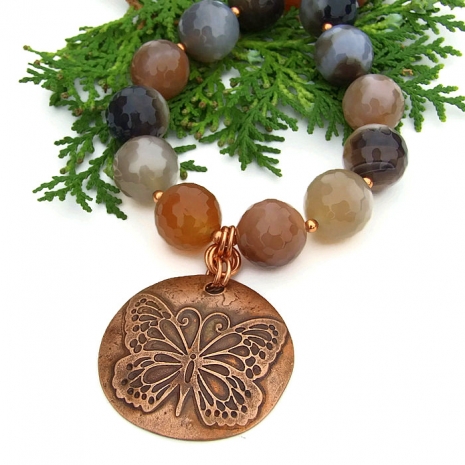 MARIPOSA - Butterfly Necklace, Chunky Copper Agate Handmade Statement Jewelry - $125.00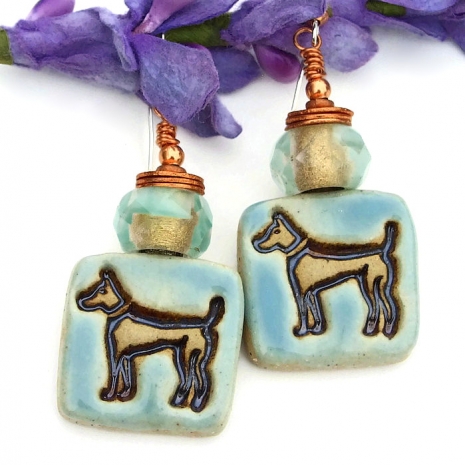 MY BEST FRIEND - Ceramic Dog Rescue Earrings, Aqua Brown Copper Handmade Jewelry Women - $30.00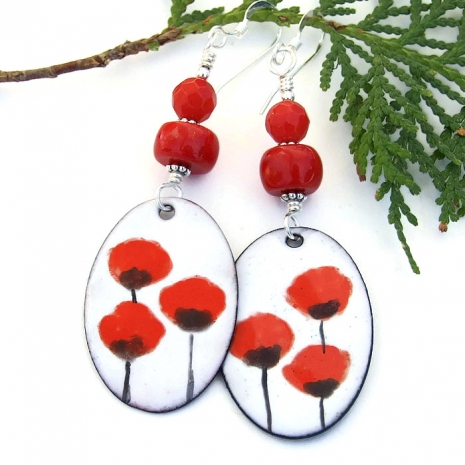 RED POPPIES - Red and White Poppy Flower Earrings, Enamel Coral Summer Handmade Jewelry - $40.00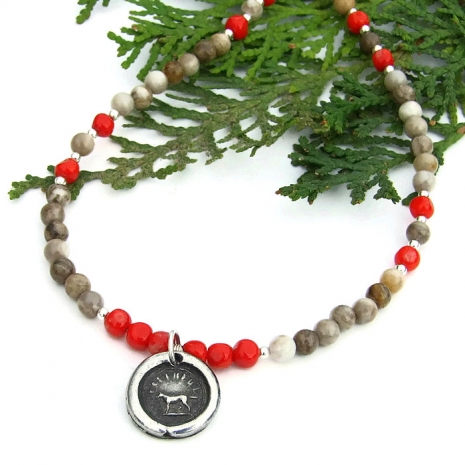 FAITHFUL - Faithful Dog Rescue Necklace, Pewter Jasper Red Coral Handmade Jewelry - $40.00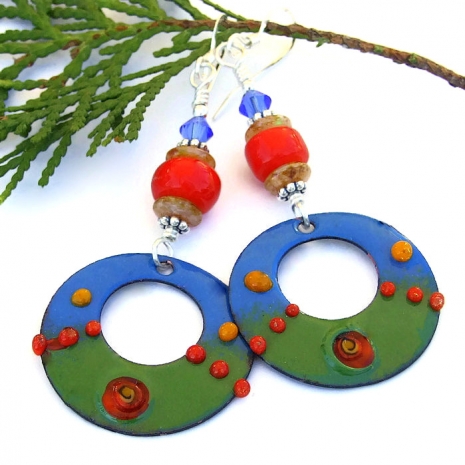 POPPY FIELDS - Boho Hoop Earrings, Enamel Blue Green Red Yellow Handmade Jewelry - $40.00
POP OF PINK - Frosted Pink Lampwork Earrings, Ruby Swarovski Handmade Spring Jewelry - $25.00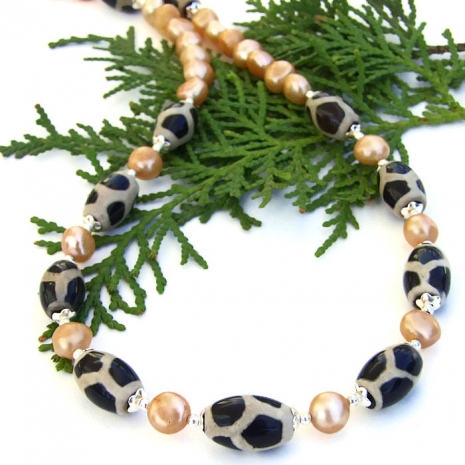 SERENGETI WINDS - Giraffe Pattern Etched Agate Necklace, Pearls Handmade Tribal Jewelry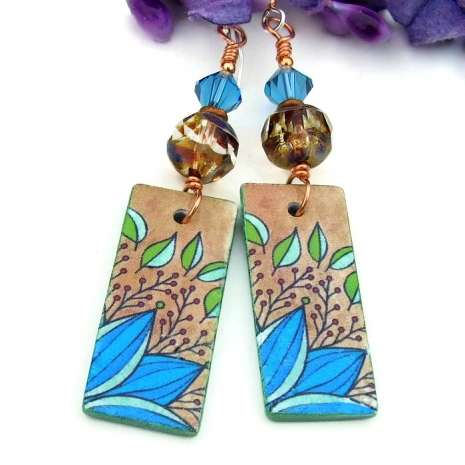 LEAF ME ALONE - Turquoise and Tan Leaf Foliage Earrings, Polymer Clay Handmade Jewelry - $30.00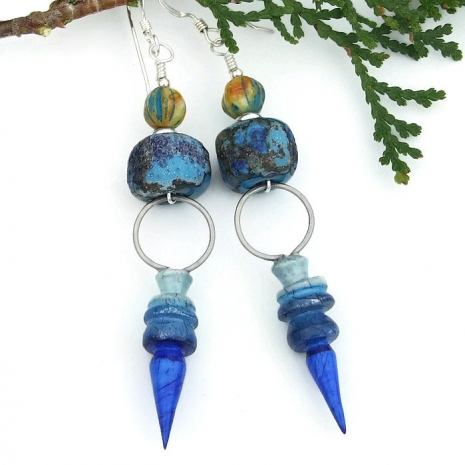 BLUE SPIKES - Blue Spike Earrings, Rustic Lampwork Boho Coachella Handmade Jewelry - $35.00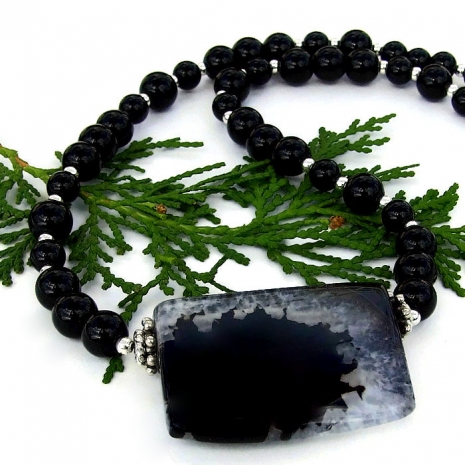 SUPERNOVA - Supernova Agate Necklace, Black Jasper Handmade Gemstone Jewelry Women - $70.00
BLUE JEANS TANGO - Blue and Turquoise Boho Copper Earrings, Swarovski Handmade Jewelry Gift - $25.00
SPRING BEAUTIES - Flower Earrings, Pewter Purple Pink Green Swarovski Handmade Jewelry - $35.00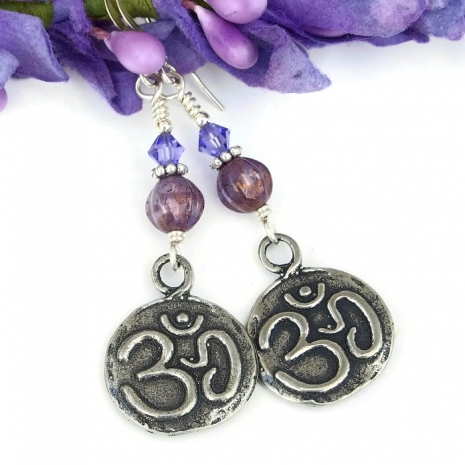 AUM - Om Aum Lotus Yoga Earrings, Pewter Purple Meaningful Handmade Jewelry - $20.00
I hope you enjoyed each and every one of these unique handmade creations! If you would like to make my day, please leave a blog comment. And any promotion you can do will be greatly appreciated. Thanks!
My contact information:
» Tagged:
agate
,
Aum
,
blue
,
boho
,
butterfly
,
ceramic
,
copper
,
dog rescue
,
dogs
,
earrings
,
enamel
,
faithful
,
flowers
,
gemstones
,
giraffe
,
handmade
,
hoops
,
jasper
,
lampwork
,
leaves
,
lotus
,
necklaces
,
Om
,
pearls
,
pink
,
polymer clay
,
poppies
,
red
,
red poppies
,
Shadow Dog Designs
,
ShadowDogDesigns
,
spikes
,
supernova
,
Swarovski crystals
» Share: