Please Enjoy
*** FREE SHIPPING ***
(First Class Mail - U.S. Only)
Gift Ideas for a Handmade Mothers Day - Week 2
Posted March 20, 2018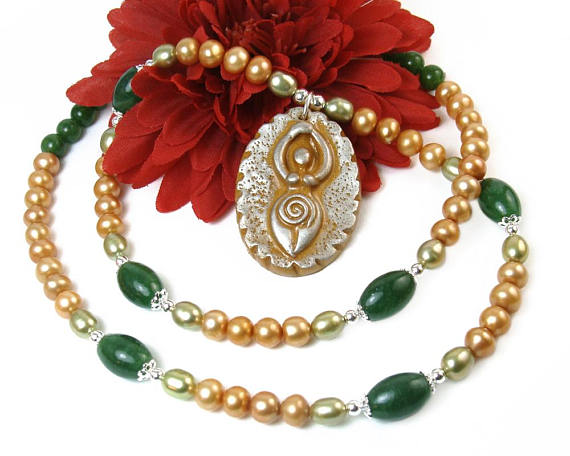 What wonderful handmade beauties were shared this week on the Mother's Day Countdown 2018 - Week 2, hosted by Julie of Blue Morning Expressions on her The Blu Print blog. Since Mother's Day will be here before you know it, on May 13, this is the perfect time to start thinking about (and buying a gift) for your Mom. Browse all the wonderful handmade shares for this week - many of them one of a kind designs - visit the shops of the artists featured and buy your Mom something that was handmade from the heart.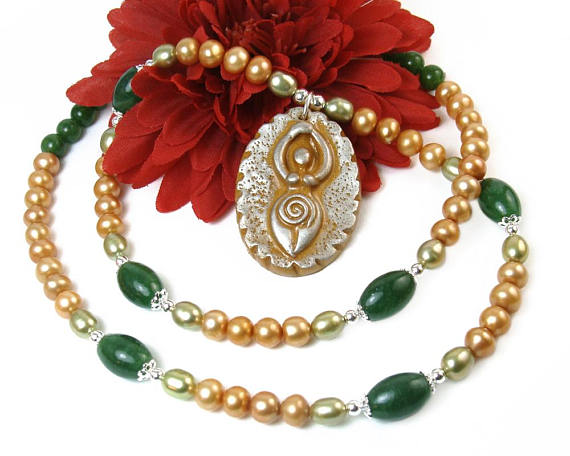 Mother Goddess Unique Statement Necklace Handmade by Mary of PrettyGonzo
If you have a studio or shop on Indiemade, ArtFire, Zibbet, StoreEnvy, SupaDupa, Etsy, stand alone websites and the like, you are invited to share up to three Mother's Day gift items on the on the Mother's Day Countdown 2018 collection between Friday at 12:00 noon EST until midnight the following Sunday night. Then a brand new collection of gift ideas will start the next Friday, and so on, until the weeks are finished and Mother's Day is here! By the way, the items shared need to be G-rated.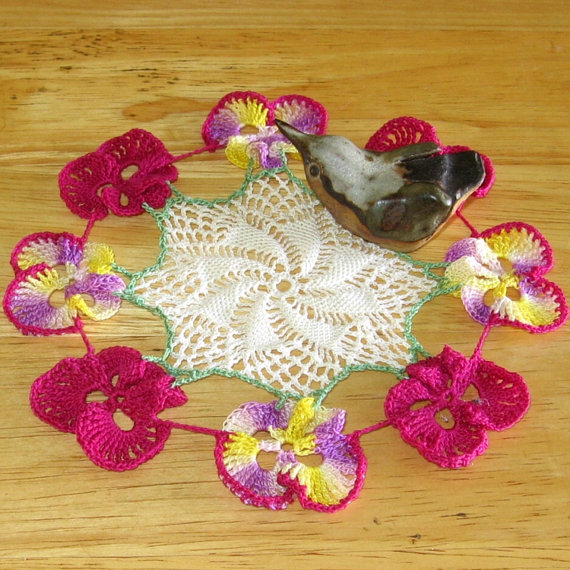 Hand Crocheted Pansy Flower Lace Doily Decor Handmade by Ruth of RSSDesignsInFiber
When you participate in the Mother's Day Countdown, important backlinks are provided to your items. This will help make you more easily found by the Google gods. If you share items, you MUST promote each item in the countdown collection. That is only fair. Pinterest and/or Wanelo are preferred since everyone can see the items and it is easy to save off of them. Twitter, Facebook and G+ just do not provide the ability to find items as easily to share again. It would be great if you would provide your Pinterest / Wanelo / Twitter and/or blog links in the comment section on Julie's blog. And it would also be much appreciated to "blog hop" the Countdown on your blog since that provides even more backlinks. And make comments on the blogs - that helps everyone, as well!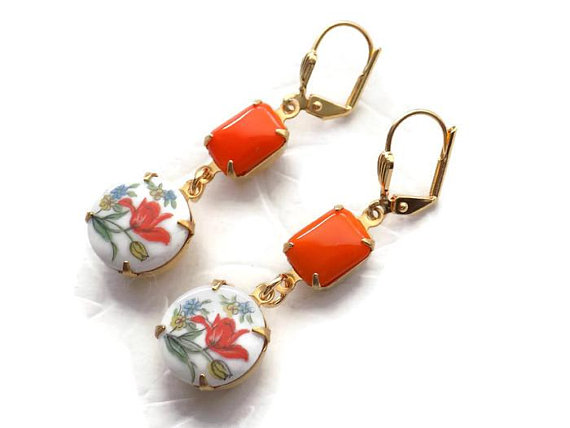 Summer Orange Flower Dangle Earrings Handmade by Linda of TreasuresofJewels
In addition to saving all the items shared in the Countdown onto my new Mother's Day Countdown 2018 Pinterest board and Wanelo collection, as in Countdown's past, I decided to share one item from each of the various artists who participated on my Indiemade blog. This will be a perfect time to pull out a sheet of paper and a pen or pencil (or get your computer bookmarks ready) and begin your shopping list. Above all, however, have fun!
Here are the rest of the wonderful handmade items from this week's Mother's Day Countdown - Week 2 in the order drawn from my trusty numbers bowl: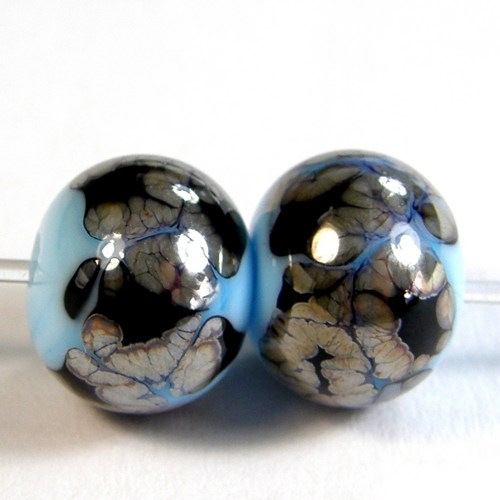 Light Sky Blue Lampwork Beads with Black Webs and Metallic Sheen Handmade by Charlotte of Covergirlbeads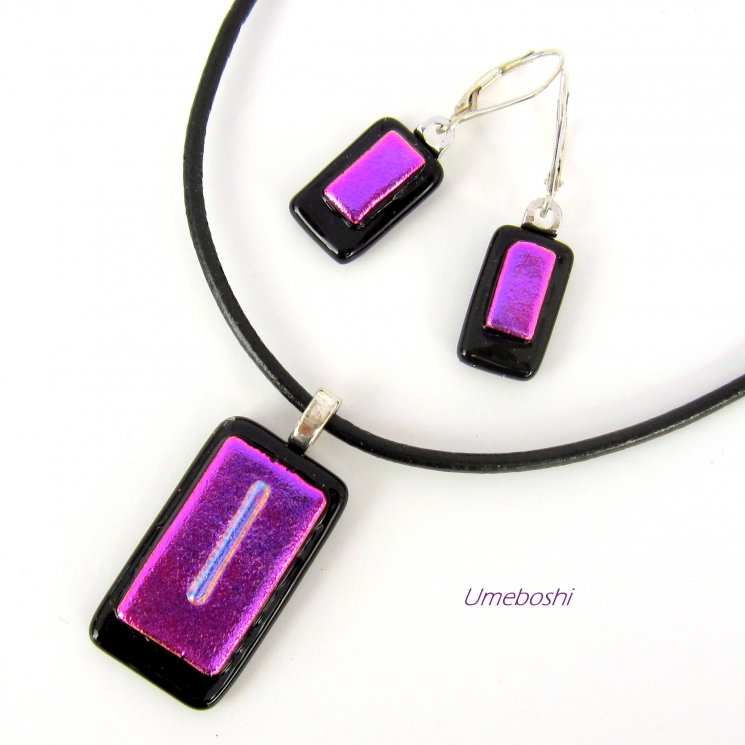 Fuchsia Pink and Black Fused Dichroic Glass Jewelry Set, Pendant and Earrings, Handmade by Jo of Umeboshi Jewelry Designs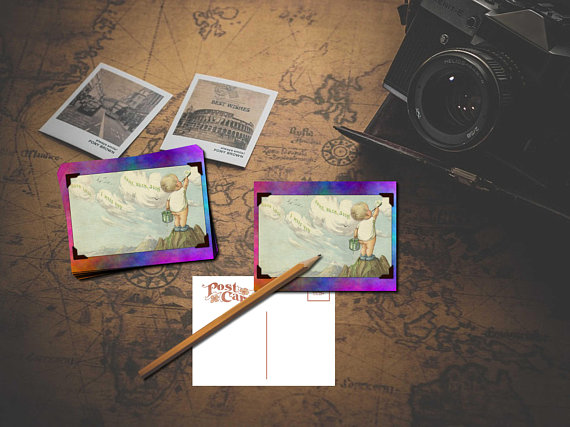 Bare Bottomed Baby Painting the Clouds "Good Luck "I miss you" Vintage Look Postcard Set, 12 Cards, Handmade by Colleen of postcardsintheattic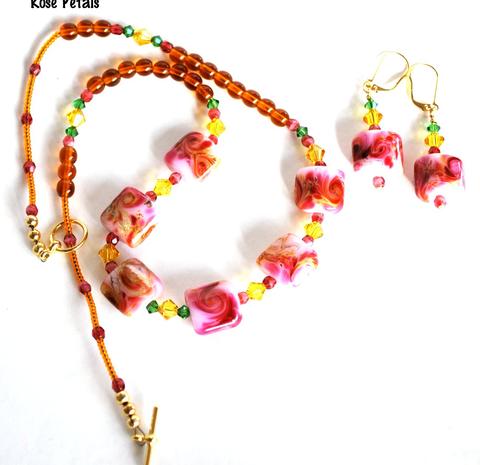 Pink and Yellow Beaded Jewelry Set with Swarovski Crystals and Lampwork Beads Handmade by Julie of Blue Morning Expressions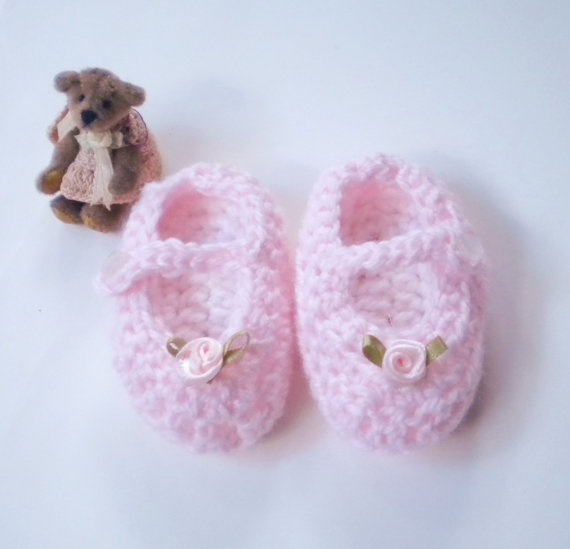 Crocheted Newborn Baby Girl Maryjanes Shoes, Petal Pink with White Insoles and Pink Satin Rose Handmade by Pamela of MagdaleneKnits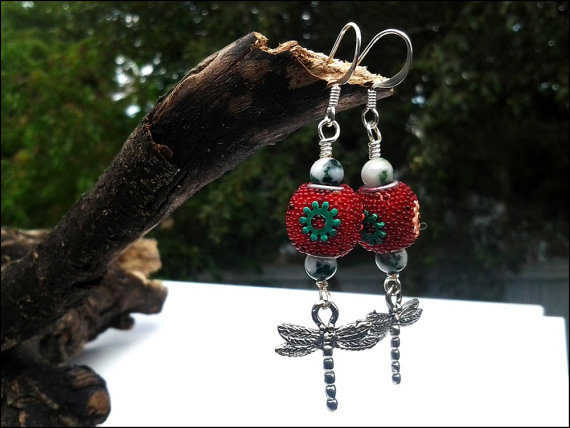 Red Bead with Yellow and Orange Flower Dragonfly Dangle Earrings Handmade by Kathy of Lady Green Eyes Jewelry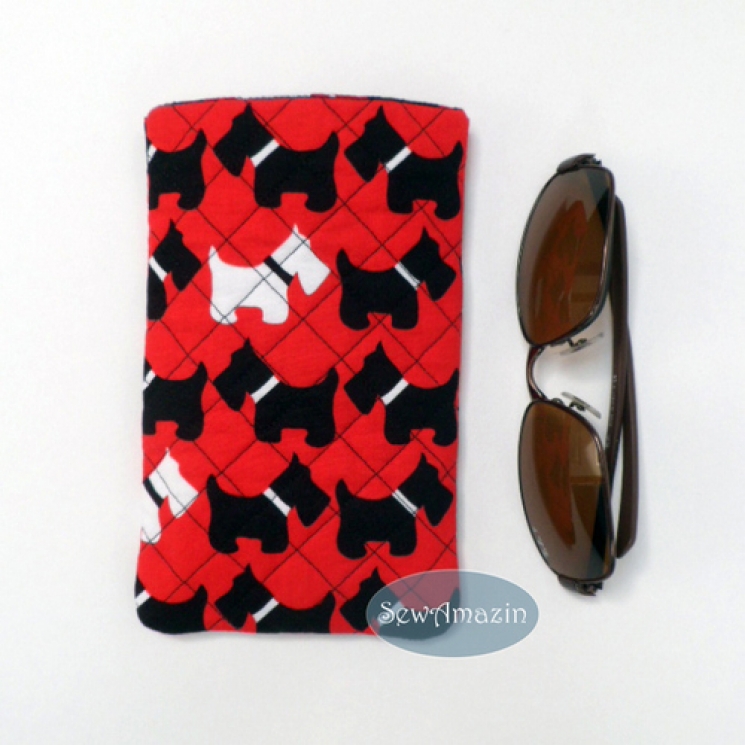 Scottish Terrier Sunglass Case or Cell Phone Pocket, Red Scottie Dogs, Handmade by Donna of SewAmazin
Bohemian Tribal Necklace Jewelry Set Handmade by Sharon of BlondePeachJewery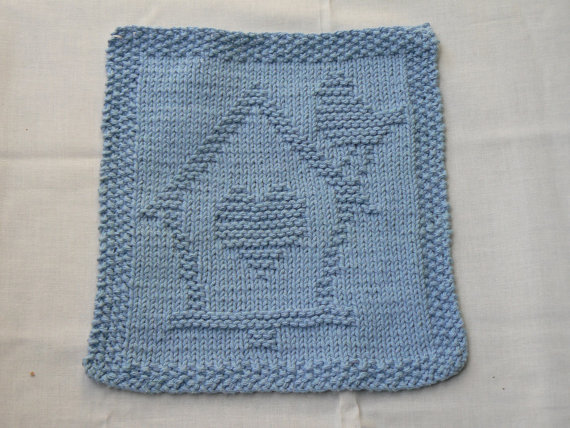 Hand Knitted Blue Birdhouse With Heart Picture Dishcloth or Washcloth Handmade by Sharon of HollyknitterCreation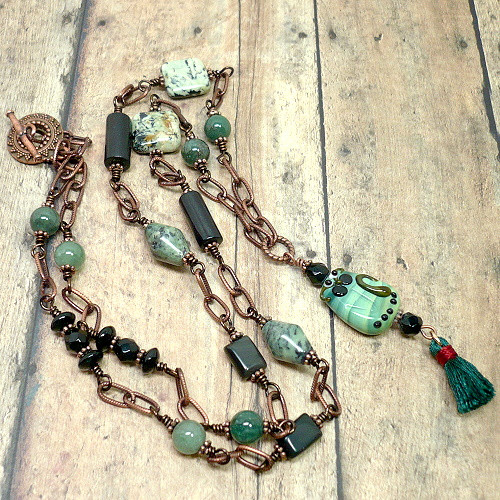 Cat Lampwork Pendant and Green Jade, Aventurine and Jasper Copper Long Boho Necklace Handmade by Kathy of KatsAllThat
Wire Wrapped Hoop Dagger Spike Earrings Handmade by Connie of Thesingingbeader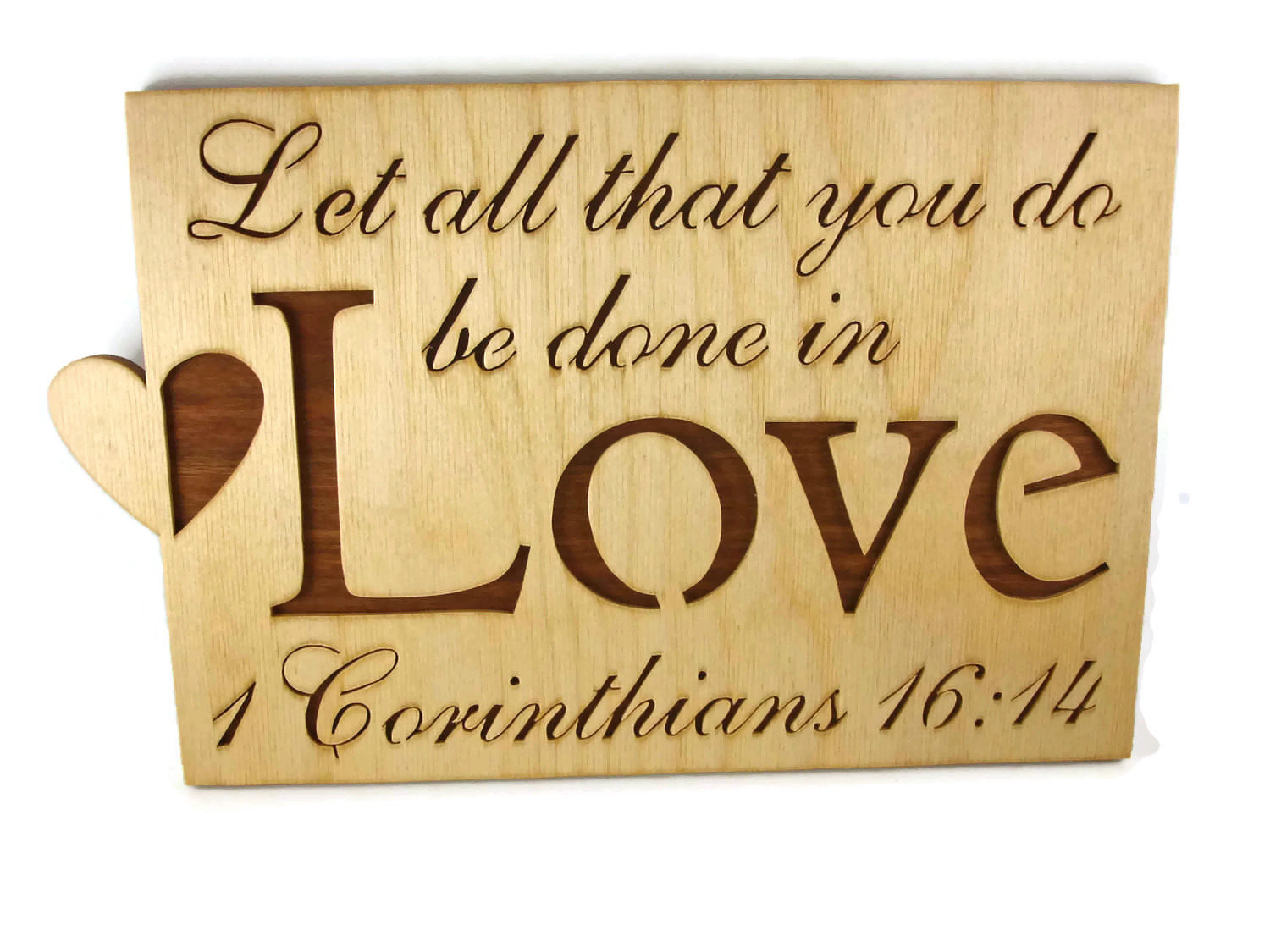 1 Corintians 16:14 Love Bible Passage Wall Hanging Plaque Handmade by Kevin of KevsKrafts
Blue Tree of Life Necklace Handmade by Linda of Linor Store Jewelry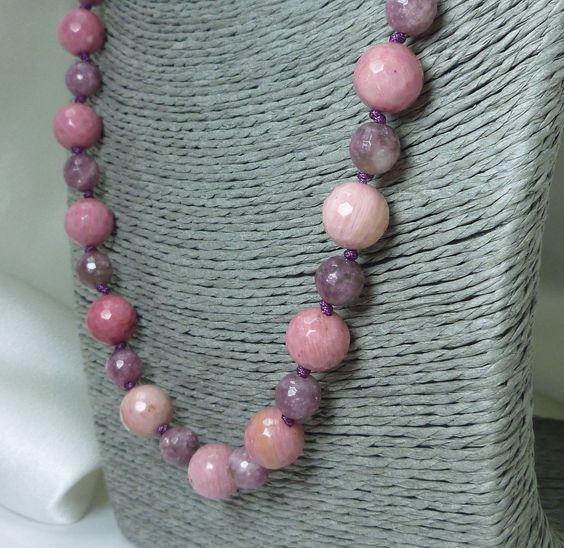 Rhodonite and Lepidolite Round Gemstone Beaded Necklace Handmade by Diane of DianesDangles Jewelry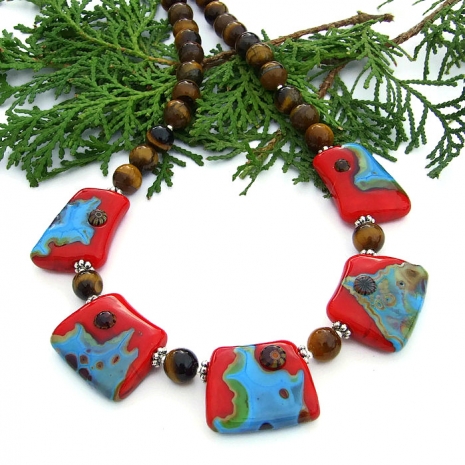 Turquoise and Red Lampwork Southwest Statement Necklace Handmade by Catherine of Shadow Dog Designs
This is but a small sampling of all the creations shared in the collection. To see all the items shared in the collection, be sure to click here: Mother's Day Countdown 2018 - Week 2. Hopefully one (or more!) of the handmade and vintage items will make its way to your Mom on this Mother's Day.
If you would like to make my day and the day of the artist's featured, please leave a comment. Any and all promotion you can do for this blog post will be benefit us all and will be greatly appreciated.
I hope you enjoyed each and every one of these unique handmade creations! If you would like to make my day and the day of the talented artists featured, please leave a comment. And any promotion you can do will be greatly appreciated. Thanks!
---
For more handmade Mother's Day gift ideas, here are the choices made in the weeks past:
---
My contact information:


» Tagged:
baby shoes
,
birdhouse
,
Blue Morning Expressions
,
BlueMorningExpressions
,
cat
,
crochet
,
dichroic
,
dogs
,
doily
,
dragonfly
,
earrings
,
flowers
,
gemstones
,
goddess
,
handmade
,
jewelry
,
lampwork
,
love
,
maryjanes
,
Mother's Day
,
Mothers Day
,
necklace
,
pendant
,
postcards
,
Shadow Dog Designs
,
ShadowDogDesigns
,
Southwest
,
spikes
,
sunglasses
,
terriers
,
Tree of Life
,
tribal
,
washcloth
,
wooden
» Share: