Eclipse Blues - Wonderful Handmade Wednesday
Posted August 23, 2017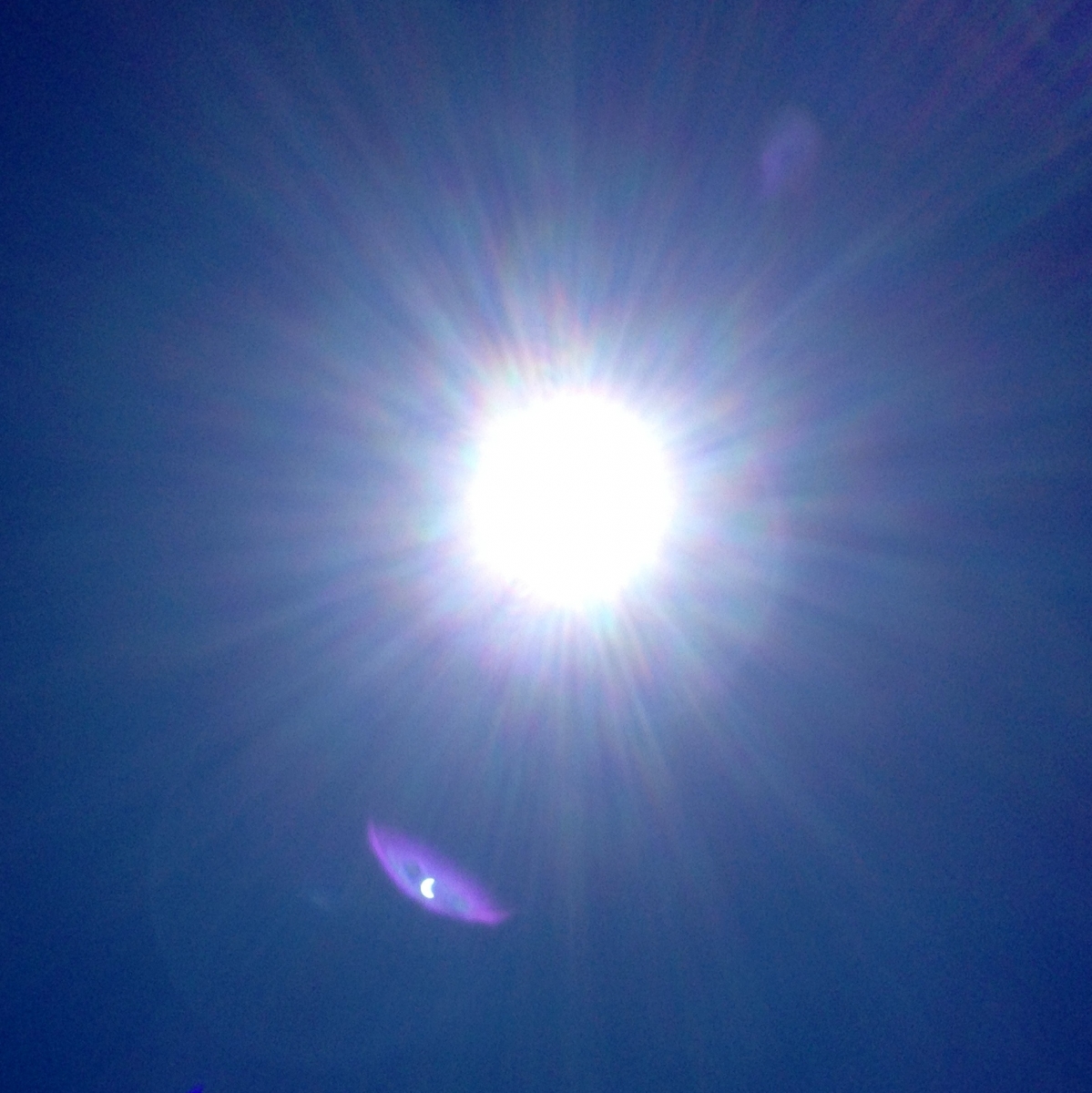 Yesterday, I was flying back home from Dallas right as the eclipse was happening in far West Texas. Unfortunately, the sun was right above the plane, so I couldn't see any of it. But I was able to see the ground (something like 40,000 feet below) slowly growing darker. Although since the eclipse was only about 65% in my area of the world, it didn't get anywhere as dark as a full eclipse. But what was interesting was watching the sky as the sun dimmed and then grew brighter - what beautiful shades of deep, rich blues showed up and then slowly dissolved into the more normal paler sky blues. The colors looked almost velvety if you could just reach out and touch them!
The photo above is the one and only photo I took yesterday towards the end of the eclipse. I just pointed my old iPhone at the sun and clicked, hoping the sun wouldn't fry the lense. Not a great photo by any means - the sun doesn't even look like it is eclipsing with all the "light leakage." It wasn't until I downoaded the photo on the computer that I noticed the lense flare with a clear eclipse shape in it, which is what the sun actually looked like at that time. Yay! But look at the sky . . . what an amazing color!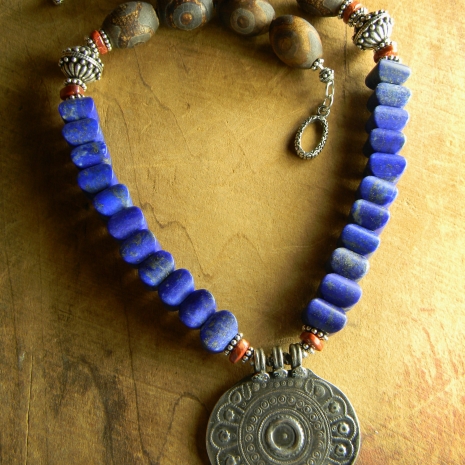 Tribal Repousse Pendant Necklace with Lapis Lazuli, Red Jasper and Sterling Silver Handmade by Gloria of Chysalis Tribal Jewelry
As you have probably figured out by now, the theme of this week's Wonderful Handmade Wednesday has to do with the blues I witnessed on the flight. I found plenty of Eclipse Blues handmade beauties in the shops of Indiemade artist friends, representing many of the blues seen in the eclipse sky. I hope you enjoy each and every one!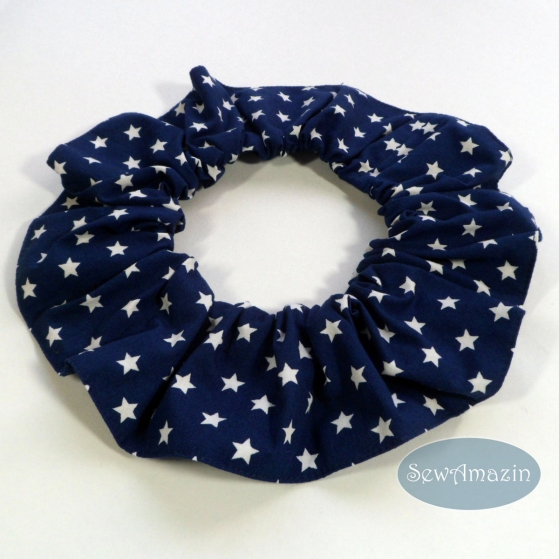 Blue and White Stars Patriotic Dog Scrunchie Neck Ruffle, 16" Neck, Handmade by Donna of SewAmazin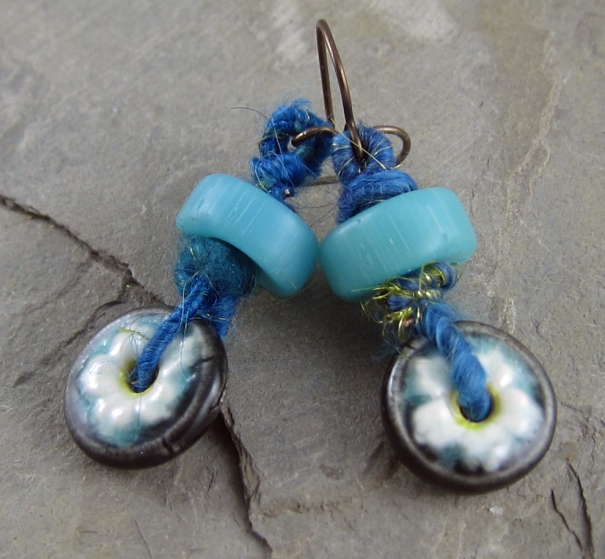 Ceramic Flower Earrings with Vintage Turquoise Glass and Wooly Wire Fiber Handmade by Linda of Linda Landig Jewelry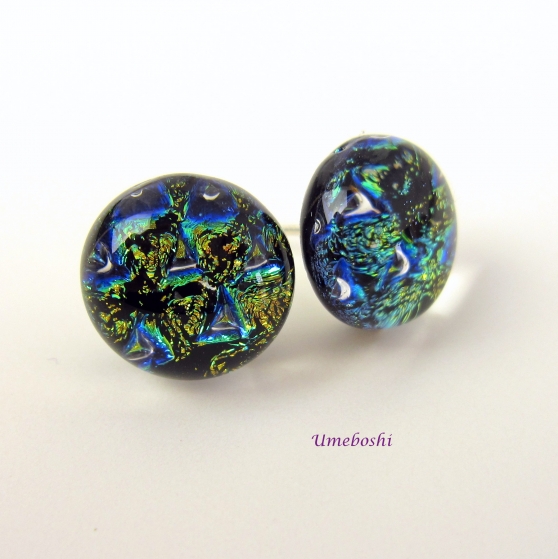 "Blue Lightning" Fused Dichroic Glass Post Stud Earrings Handmade by Jo of Umeboshi Jewelry Designs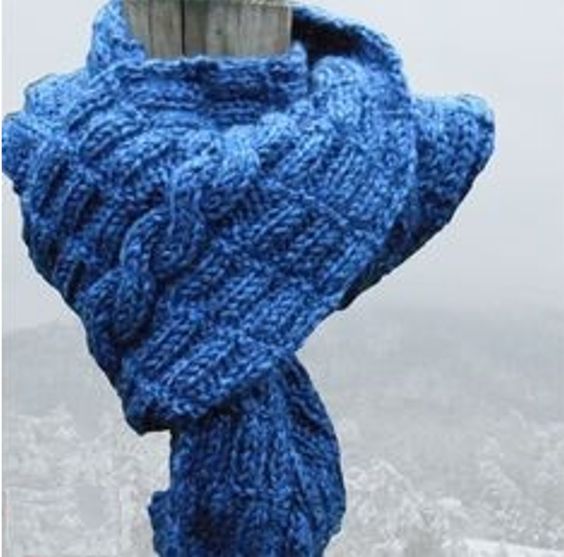 Hand Knit Cable Pattern Olympic Blue Scarf Handmade by Cathy of CraftingMemories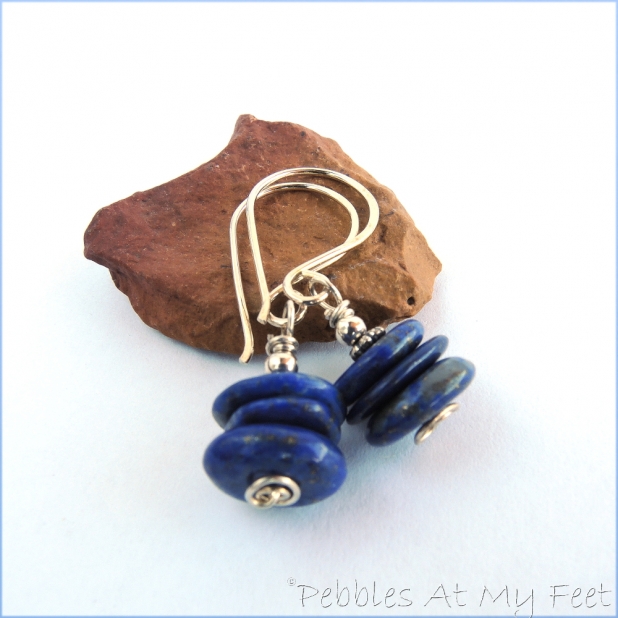 Blue Lapis Lazuli Drop Earrings with Sterling Silver Handmade by Pamela of Pebbles at My Feet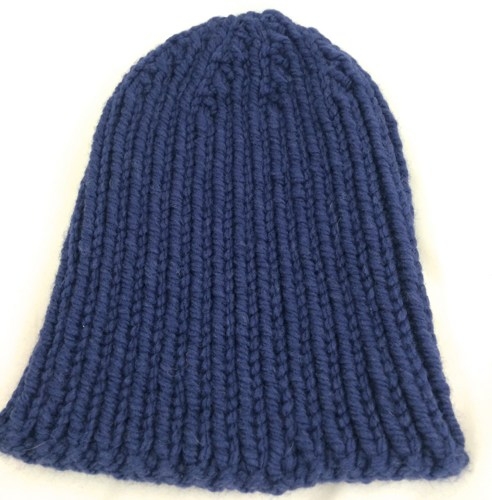 Blue Unisex Hand Knit Hat / Beanie Handmade by Nancy of Nancy's Knots, Lace and More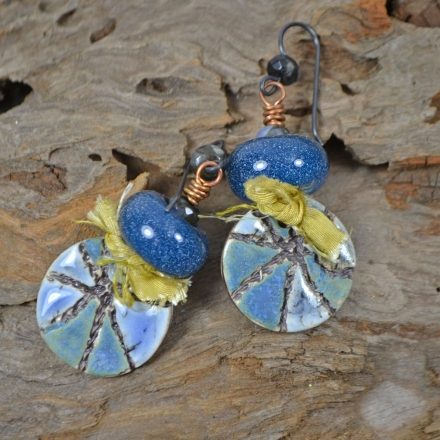 "Sun and Sky" Lampwork Glass, Porcelain and Sari Silk Earrings Handmade by Kristi of Kristi Bowman Design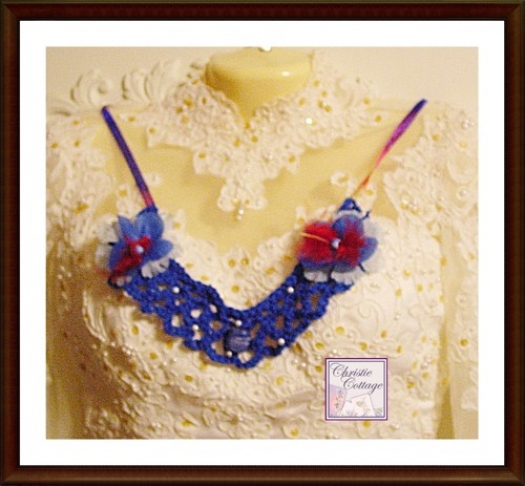 Crocheted Boho Bib Necklace with Feathers and Blue Agate Handmade by Jacki of Christie Cottage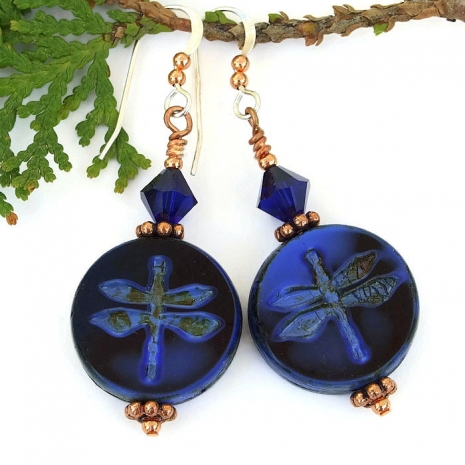 Indigo Blue and Black Czech Glass Dragonfly Earrings with Swarovski Crystals Handmade by Catherine of Shadow Dog Designs
I hope you have enjoyed each and every one of these unique Eclipse Blues handmade creations! If you would like to make my day and the day of the talented artists featured, please leave a comment. And any promotion you can do will be greatly appreciated. Thanks!
My contact information:
Indiemade shop: ShadowDogDesigns
Indiemade blog: ShadowDogDesigns' Blog
Artfire studio: ShadowDogDesigns
ArtFire Blog: ShadowDogDesigns' Blog
Google+: Catherine ShadowDog
Facebook: ShadowDogDesigns - Jewelry
Twitter: ShadowDogDesign
Pinterest: Shadow Dog Designs
Wanelo: ShadowDog
Rebelmouse: ShadowDogDesigns
Flickr: Shadow Dog Designs' Photostream
Beautifully Unique Handmade Jewelry
» Tagged:
beanie
,
blue
,
blues
,
dog ruffle
,
earrings
,
eclipse
,
gift ideas
,
hand knit
,
handmade
,
handmade gift ideas
,
hat
,
jewelry
,
necklaces
,
scarf
,
Shadow Dog Designs
,
ShadowDogDesigns
» Share: