The Earth Laughs in Flowers - Wonderful Handmade Wednesday on Indiemade
Posted February 28, 2017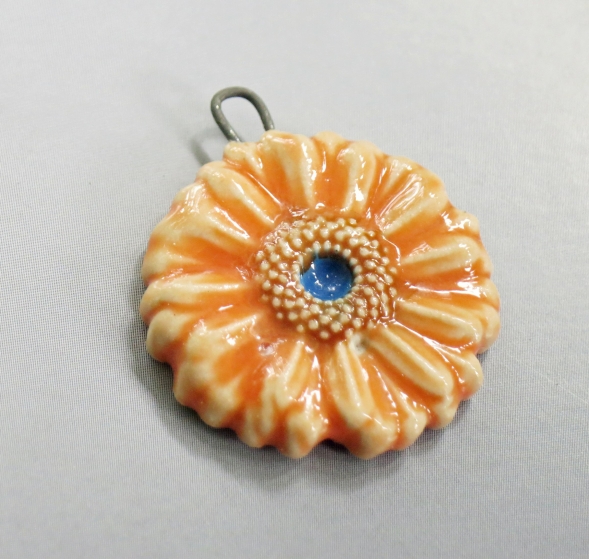 The weather has been unusually warm here in the Desert Southwest (sorry about that to my northern friends!). Winter was only a glancing blow a few times. Since the days have been warm with plenty of sunshine, the grass in the back yard is beginning to green up and some fruit trees are already blooming, masses of pale pink and white flowers. One of my geraniums is blooming, the hot fuchsia color is so welcome, and the hardy roses are putting on lovely reddish new growth. Am sure they will be in full bloom in several weeks. And, happily, the much beloved Spanish lavender is setting buds. Soon the cacti and other native desert plants will be in full bloom - maybe not the showiest of flowers, but gorgeously sublime nonetheless.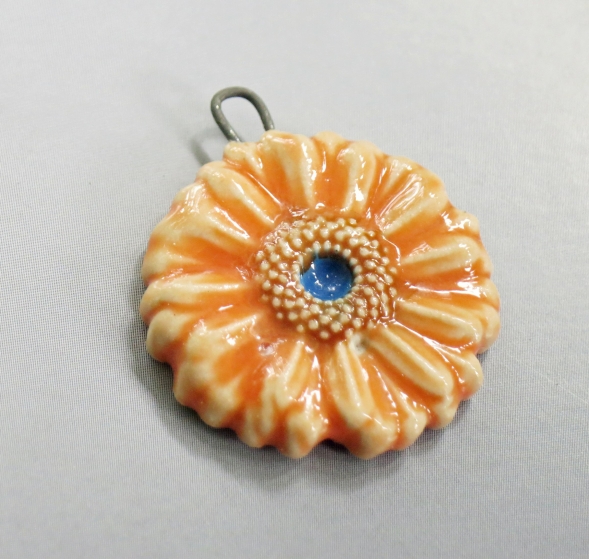 Melon Orange and Blue Ceramic Daisy Flower Pendant Handmade by Linda of Linda Landig Jewelry
The flowers that are already blooming and the musings of what is to come kept leading me to Ralph Waldo Emerson's quote: "The earth laughs in flowers." Yes, it does! The artisan handmade beauties, many of which are one of a kind creations, in this week's Wonderful Handmade Wednesday on Indiemade are all flower themed in some way, from actual flowers in the design to a floral color or a garden name. If something particularly catches your eye, please be sure to click on the live link below the photo for more pictures and information. I hope you rejoice in each and every handpicked flower item shared here.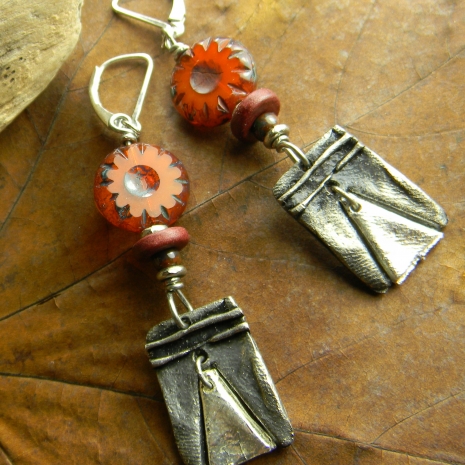 Orange Czech Flowers and Rustic Pewter Boho Earrings Handmade by Gloria of Chrysalis Tribal Jewelry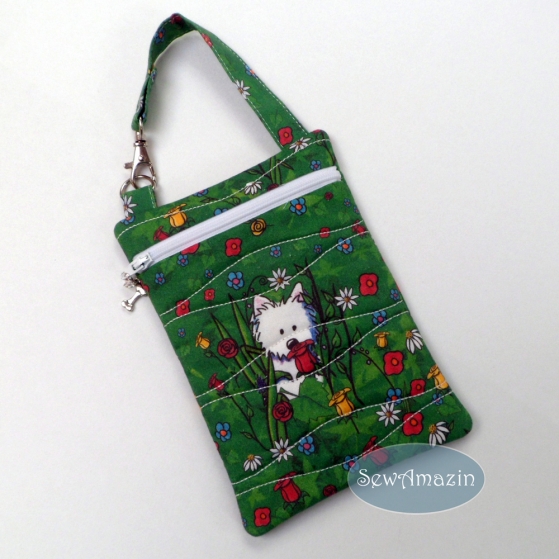 Flower Garden Westie Quilted Gadget Case, Zippered Bag - Custom Order - Handmade by Donna of SewAmazin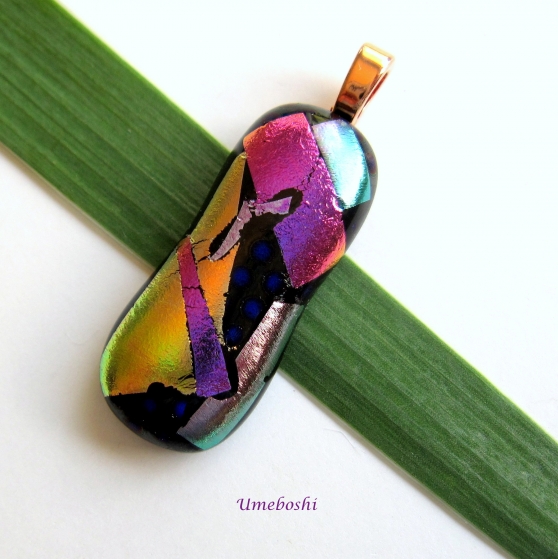 "Le Jardin" Flower Colored Dichroic Glass Pendant Handmade by Jo of Umeboshi Jewelry Designs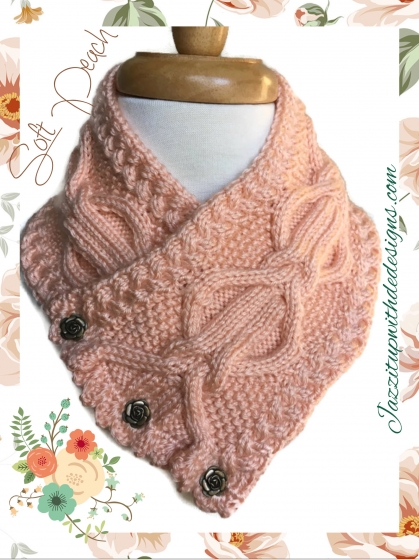 Womens Hand Knit Peach Neckwarmer with Cable Twist and Rose Buttons Handmade by Nancy of Nancy's Knots, Lace and More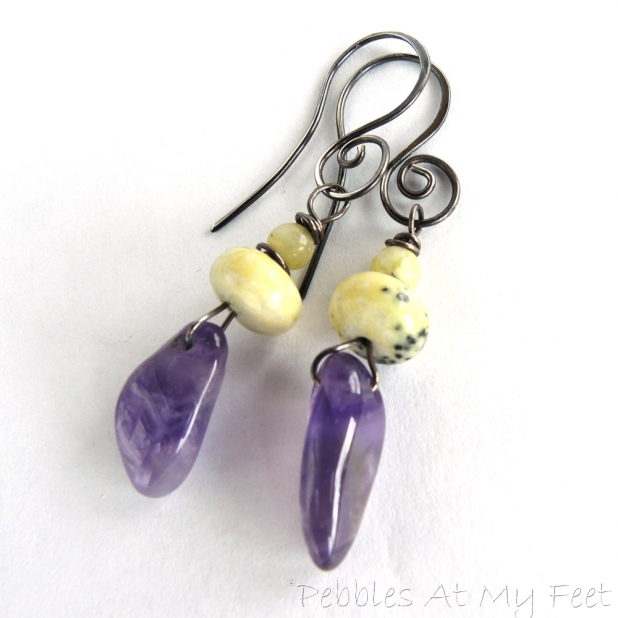 Summery Wildflower Meadow Colored Amethyst and Serpentine Wire Wrapped Earrings Handmade by Pamela of Pebbles at My Feet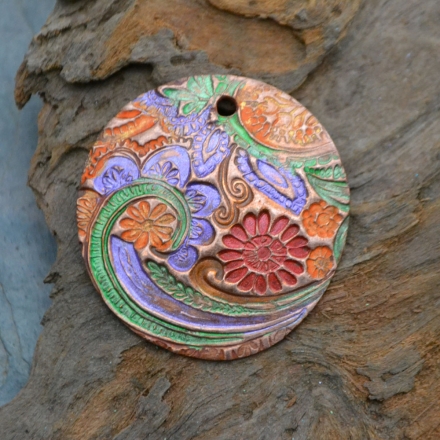 Large Flower Garden Copper Pendant Component Handmade by Kristi of KristiBowmanDesign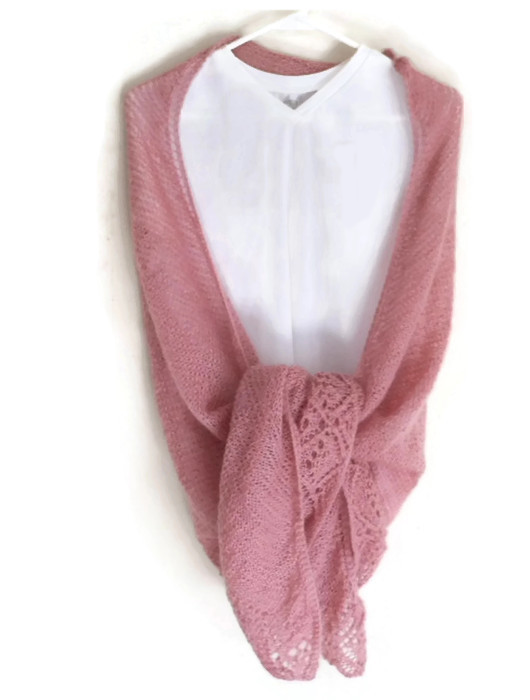 Vintage Rose Color Hand Knit Lace Shawl Handmade by Cathy of CraftingMemories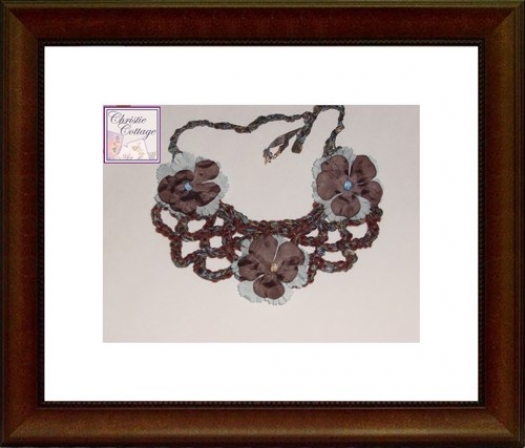 Crocheted Brown and Blue Beaded Flower Boho Bib Necklace Handmade by Jacki of Christie Cottage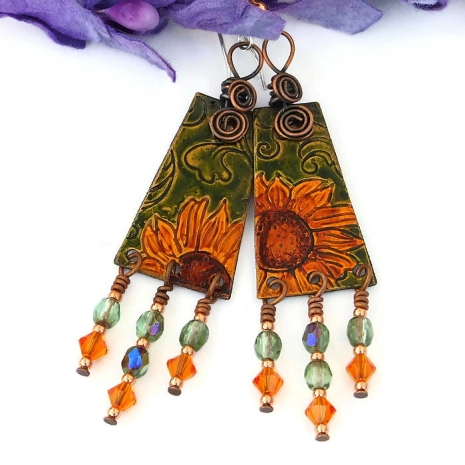 Orange and Green Copper Sunflower Boho Chandelier Earrings with Crystals Handmade by Catherine of Shadow Dog Designs
I hope you have enjoyed each and every one of these unique "The Earth Laughs in Flowers" handmade creations! If you would like to make my day and the day of the talented artists featured, please leave a comment. And any promotion you can do will be greatly appreciated. Thanks!
My contact information:
Indiemade shop: ShadowDogDesigns
Indiemade blog: ShadowDogDesigns' Blog
Artfire studio: ShadowDogDesigns
ArtFire Blog: ShadowDogDesigns' Blog
Google+: Catherine ShadowDog
Facebook: ShadowDogDesigns - Jewelry
Twitter: ShadowDogDesign
Pinterest: Shadow Dog Designs
Wanelo: ShadowDog
Rebelmouse: ShadowDogDesigns
Flickr: Shadow Dog Designs' Photostream
Beautifully Unique Handmade Jewelry
» Tagged:
artisan
,
boho
,
ceramic
,
copper
,
dichroic
,
dogs
,
earrings
,
floral
,
floral gift ideas
,
flower gift ideas
,
flowers
,
gemstones
,
gift ideas
,
handmade gift ideas
,
jewelry
,
knitting
,
necklace
,
neckwarmer
,
pendant
,
sewing
,
Shadow Dog Designs
,
ShadowDogDesigns
,
shawl
,
sunflowers
» Share: