CHRISTMAS IN JULY
+++ FREE SHIPPING +++
(U.S. Only)
Countdown to Christmas 2016 - Week 7 - Peru
Posted November 1, 2016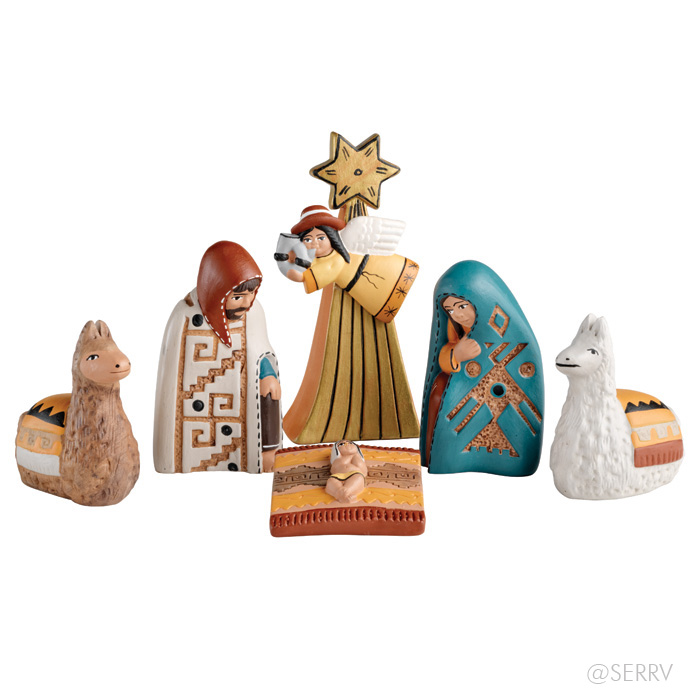 Traditional Peruvian Nativity; photo courtesy of Serrv - Creating Connections
Christmas traditions in Peru date back to 1535 to when the country was pillaged by the Spaniards (although the native Quechuans in the Andes have always maintained a strong cultural identity). Due to the huge Spanish influence, the majority of the population practices Catholicism to this day. Peru is south of the equator so December is actually the first month of summer. Since the first day of summer comes just shortly before Christmas, on December 21, Christmas decorations with a snow motif is somewhat peculiar to most people (unless you live in the highlands of the Andes, of course). This is why the traditional Santa Claus, dressed in heavy red coat, pants, hat and boots and hat, is not much of a tradition in Peru. Additionally, the Peruvian government banned Santa Claus in 1972 because they believed that he was a depiction of western capitalism, greed and an anti-Christian myth.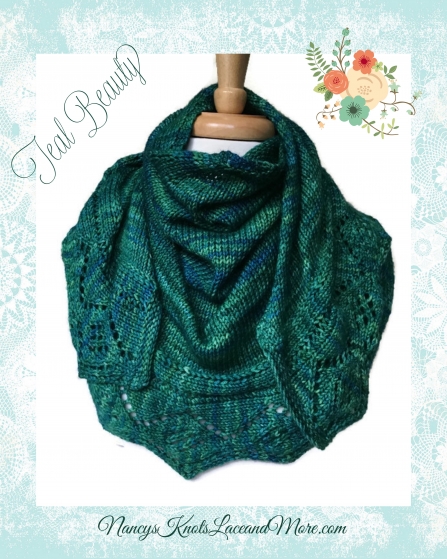 Teal Ladies Lace Shawl Handknit Malabrigo Rios Yarn Solis Small Medium Crescent Handmade by Nancy of Nancy's Knots, Lace and More
Christmas trees are becoming more common in Peru - they can be seen in most main city and town squares during December, as well as in some households. But the major focus of Christmas decorating in the typical Peruvian home is the pesebre or nativity scene, set up in a front room or living room during December. Most pesebres feature intricate detailing and made out of pottery or carved from wood or huamanga stone. These scenes are often large, sometimes taking up an entire wall, and feature Jesus, Mary, Joseph, the Three Wise Men and other nativity figures. An Andean twist on the typical nativity scene is often seen, with llamas and alpacas replacing the more Biblical images of donkeys, oxen and camels. The pesebres are kept up until La Bajada de los Reyes, the arrival of the Three Wise Men on January 6. On December 24, the Plaza de Armas, Cusco's main square, hosts the annual Santuranticuy ("selling of saints"), a traditional market in which native Quechuan artists and artisans from across the country sell handcrafted pesebres and related religious representations. This market has been going on for several centuries. Christmas presents are placed around the household pesebre, left there by El Nino Jesus (Baby Jesus).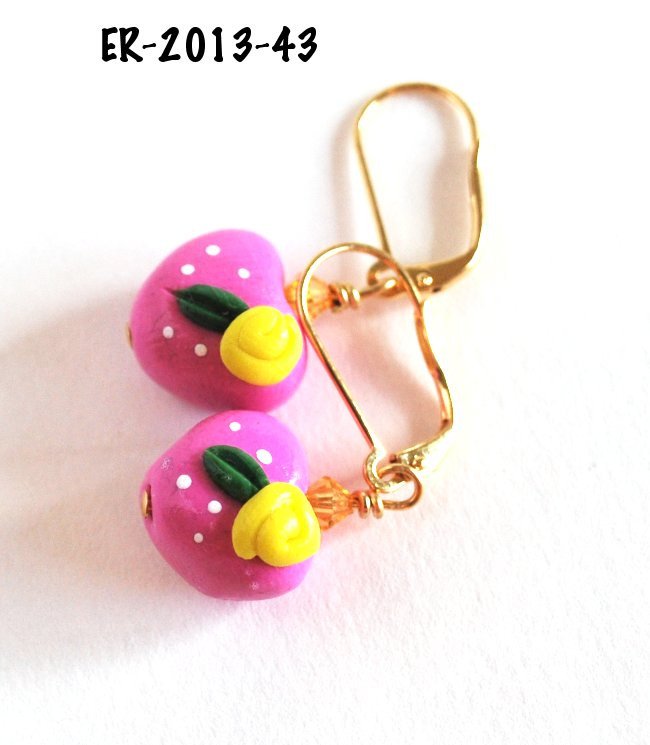 Polymer Clay Pink Hearts Goldtone Earrings Handmade by Julie and Blu of BlueMorningExpressions
Another form of decoration is a portable nativity, called a retablo. Retablos are three-dimensional scenes, normally contained within a rectangular box with two doors on the front. They are for sale in markets and souvenir shops throughout the year, especially in the Andean regions of Peru. The scenes contained within a retablo may depict historic or religious events or simple scenes of everyday life, but Christmas retablos typically depict the manger scene.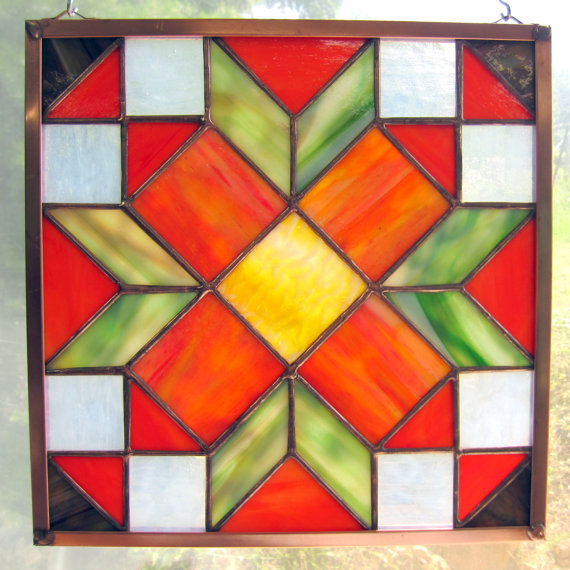 High Summer Garden Bouquet Stained Glass Quilt Square Handmade by Jo of 2GlassThumbs
In Peru, the biggest day of the holidays is Noche Buena (Good Night) on December 24. Families come together and take a stroll in their town's or village's main square, listening to choirs sing and visiting homes of other family and friends. At about 10 p.m., church bells throughout Peru ring, calling people to attend a Misa de Gallo (Rooster's Mass). After church, fireworks are set off, men pass around cold bottles of beer and presents are opened (except in some Andean communities when the presents are opened on January 6). Women put the finishing touches on the Cena de Navidad (Christmas dinner). At midnight, a brindis (toast) is made, the adults toast the Baby Jesus with champagne or other alcoholic beverages and children raise their glasses of hot chocolate. Then the feasting begins.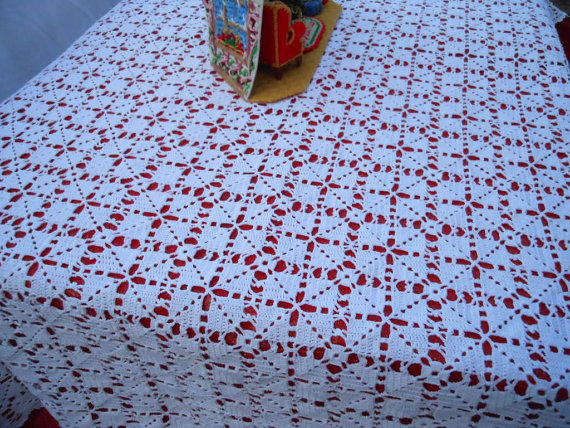 Hand Crocheted Winter White Tablecloth by Cathy of CraftingMemories1
The main item in a traditional Christmas dinner is Peruvian roast turkey, although lechón (roast suckling pig) is a close second. Other regional variations exist, such as fish dishes on the coast, a classic Andean pachamanca (grilled meat and vegetables cooked in an earth oven) in the highlands or a gallina silvestre al horno (roasted wild chicken) in the jungle. Vegetables, salads, applesauce (a favorite holiday dish) and tamales are common additions to the Christmas meal. For dessert, panetón, a sweet bread loaf of Italian origin filled with raisins and candied fruits, is eaten. Peruvians eat their panetón with hot chocolate, a traditional Christmas drink throughout the country, even in the sweltering heat of the jungle. Peruvian hot chocolate is made from scratch from rich, dark chocolate and flavored with cloves and cinnamon. Social events, called chocolotadas, in which people gather to drink hot chocolate, take place all during the Christmas season.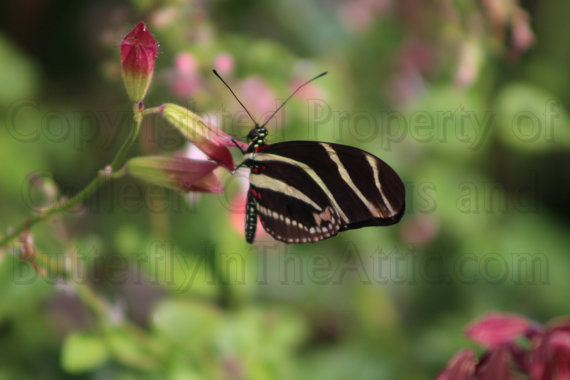 Black and White Zebra Butterfly on Scarlet Flower Photograph by Colleen of ButterflyInTheAttic
With dinner over, the kids are sent to bed. For most adults, however, the Noche Buena celebration is just beginning. Many families have big house parties that include music and dancing. In order to prepare their homes for the festivities, living rooms and dining rooms will be cleared of furniture in order to transform them into dance floors. Gifts are often given during the party. Traditionally, when a gift is given, the two people hug, kiss each other on the cheek and say gracias (thank you) before the person receiving the gift tears into the wrapping paper. Of course, after celebrating all night long (some parties last until day break), most sleep late into the morning or afternoon of December 25.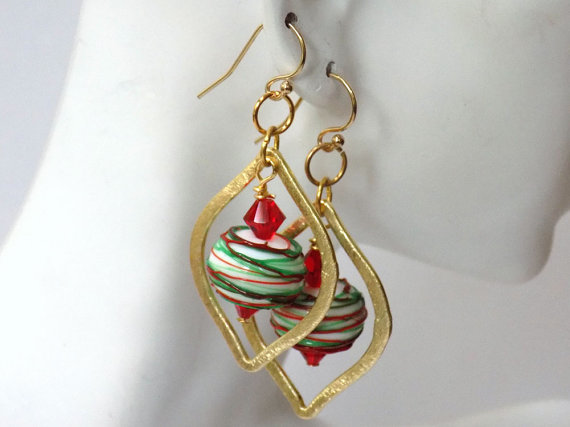 Red and Green Christmas Earrings Gold Dangle Handmade by Sharon of BlondePeachJewelry
In Chumbivilcas Province near Cusco, December 25 is the day for Takanakuy (Quechua for "to hit each other"). The festival consists of dancing and of individuals fighting. The purpose of the fighting is to settle conflicts with an individual, friend, family member or to settle territorial conflicts that have come up throughout the year. The style of fighting used during the celebration is similar to martial arts, involving quick kicking and punching. The procession to the fighting site starts with a high-pitched falsetto notes sung by male singers. Once the site is reached, those fighting call out their opponents by their first and last name. They then proceed to the middle of the circle and start the fight. The men (or women) fighting must wrap their hands with cloth before the fight. Biting, hitting those on the ground, or pulling hair is not allowed during the fight. The winner is selected based upon a knockout or intervention by the official. There are amateur officials who carry whips in order to maintain the crowd under control. At the start and at the end of the fight, the opponents must shake hands or give each other a hug. If the loser of the fight disagrees with the outcome, he or she can appeal for another fight.
Traditional "Merry Christmas" in Spanish: Feliz Navidad
"Merry Christmas in Quechuan: Sumaq kausay kachun Navidad qampaq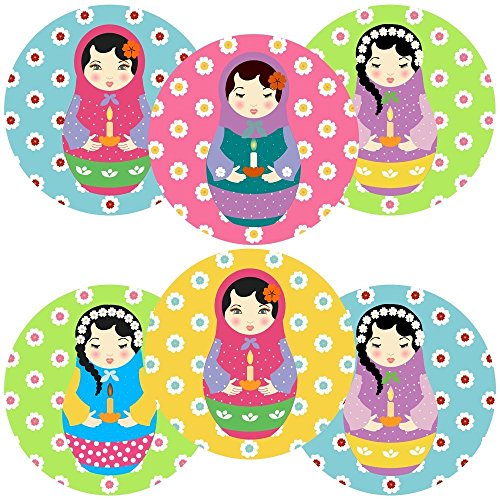 Russian Doll Matryoshka Stickers - Set of 50 - Handmade by Nat of Adore by Nat
Now, onto the Countdown to Christmas 2016 - Week 7, filled with artisan handmade items (see above and below), perfect ideas for Christmas gift giving.
With the fast approaching gift giving season in mind, Julie and Blu of Blue Morning Expressions are hosting a twelve-week Countdown to Christmas 2016 on their The Blu Print blog. The twelve week time period was chosen to correspond with the Christmas carol "The Twelve Days of Christmas." This week, there were 66 shares by artists of a wide range of handmade gift ideas: jewelry of all types, pet themed gifts, crocheted and sewn beauties, stickers, wooden items, photography, lampwork beads, stained glass, fused glass and a whole host of other items.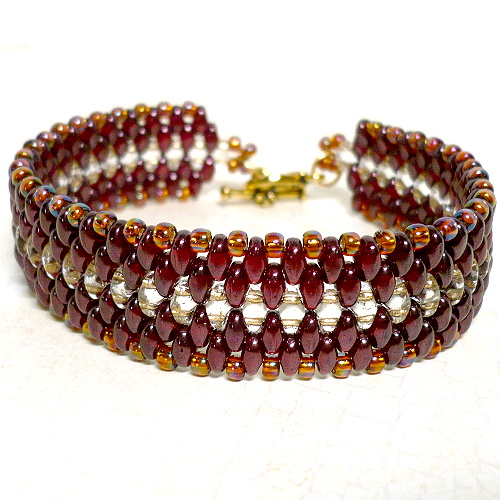 Red Wine and Dark Amber Beadwoven Cuff Boho Bracelet Handmade by Kathy of KatsAllThat
Shop owners on Indiemade, ArtFire, Zibbet, Etsy, SupaDupa, stand alone websites and the like are welcome to share up to three gift items on the Countdown between Friday afternoon at 12:00 p.m. (Eastern time) and Sunday night at 11:59 p.m. Then a new collection of gift items will begin again the next Friday. This will continue until the second week in December. The items shared need to be G-rated.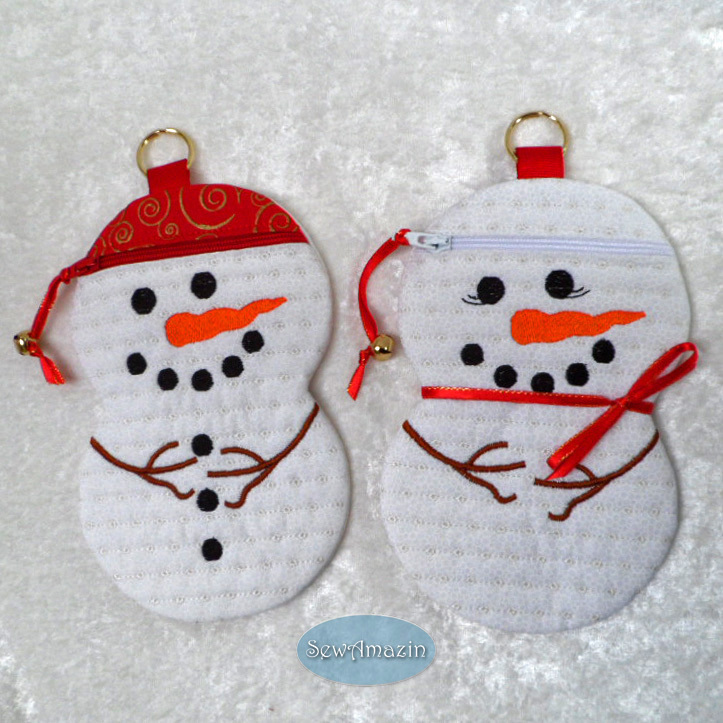 Red and Gold Snowman Cases, Padded Phone Case, Stocking Stuffer, Grab Bag Gift Handmade by Donna of SewAmazin
If you share items on the Countdown to Christmas, you MUST promote the collection and EACH item on at least one social network site, preferably Pinterest where the items can be easily seen and then saved again. It's only fair to promote each of the participants who have promoted you!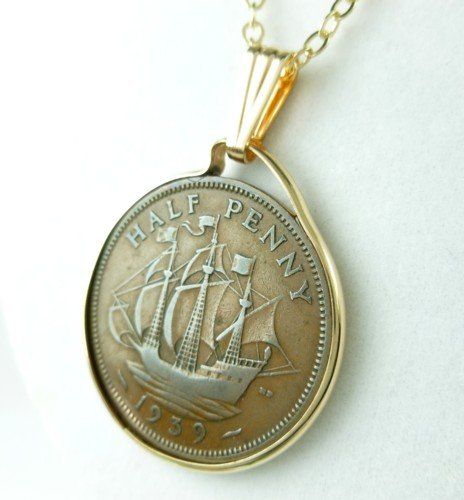 British Half Penny Coin Pendant George VI Golden Hind Ship Gold Filled Handmade by Diane of beadsouk
In addition to saving each item from the Countdown collection to my Pinterest board and Wanelo collection, I decided to share one item from each of the artists who participated. Here are the rest of the items I'm featuring this week, in an order that was arranged by assigning each item a number and then drawing numbers from my trusty "numbers" bowl. Enjoy!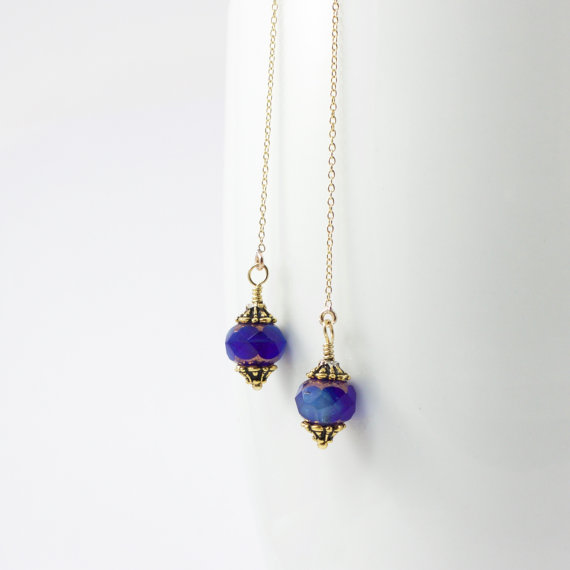 Blue and Gold Threader Earrings with Chain Handmade by Barbara of SolanaKaiDesigns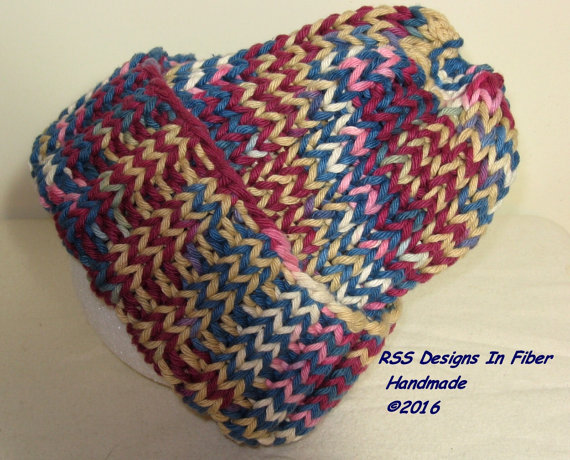 Chunky Knit Hat Primitive Americana Color, Handmade by Ruth of RSSDesignsInFiber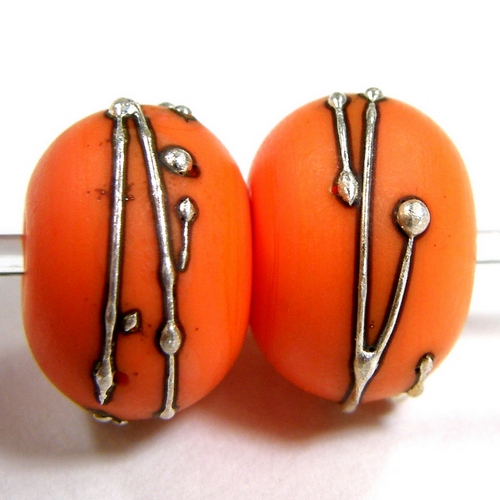 Etched Halloween Cool Orange Lampwork Glass Beads with Fine Silver Handmade by Charlotte of Covergirlbeads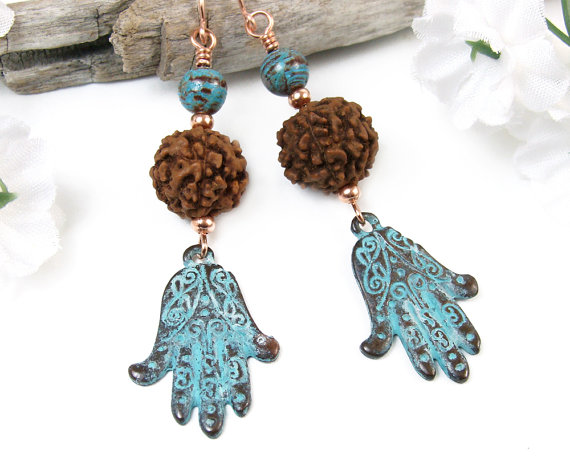 Hamsa Hand Yoga Earrings with Rudraksha Seeds Handmade by PrettyGonzo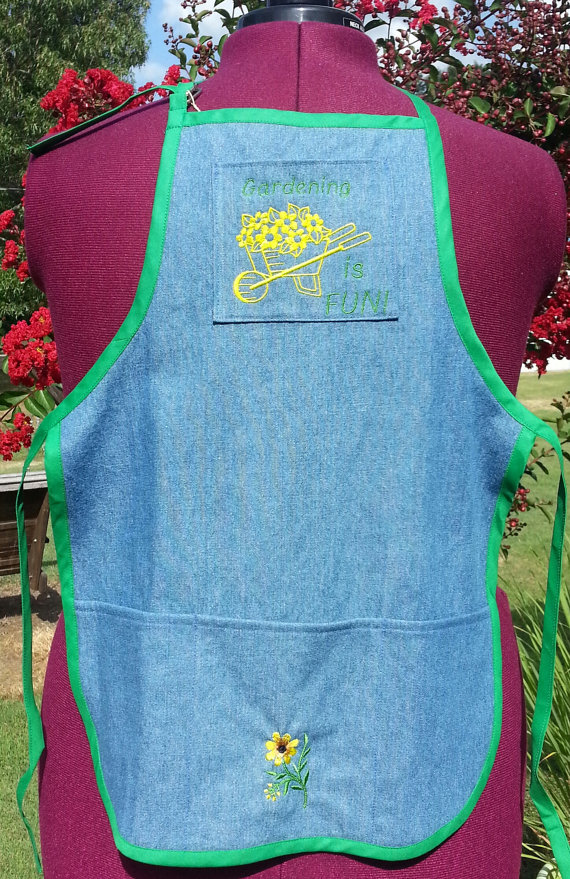 Child's Full Embroidered Gardening Denim Apron by Mary of SimpleEmbroiderySew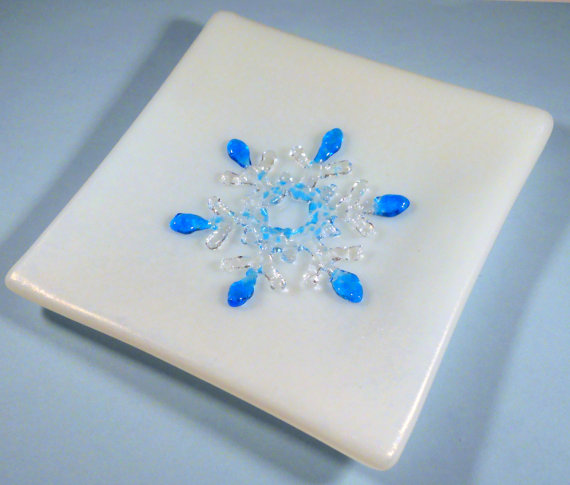 White Iridescent Art Glass Plate with Turquoise Blue Snowflake, 5 Inch Square, Handmade by Kelli of ResetarGlassArt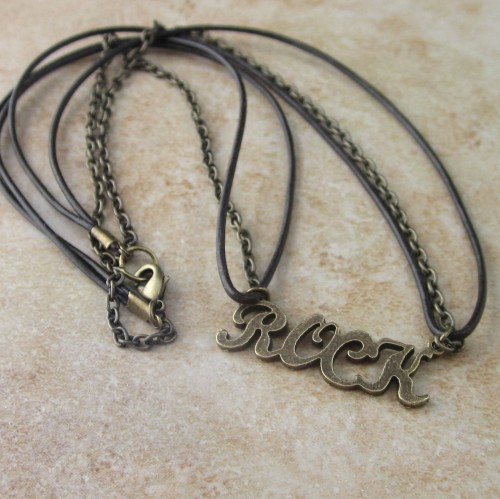 Word Rock Short Choker Necklace Antiqued Bronze Chain Leather Cord Handmade by Connie of TheSingingBeader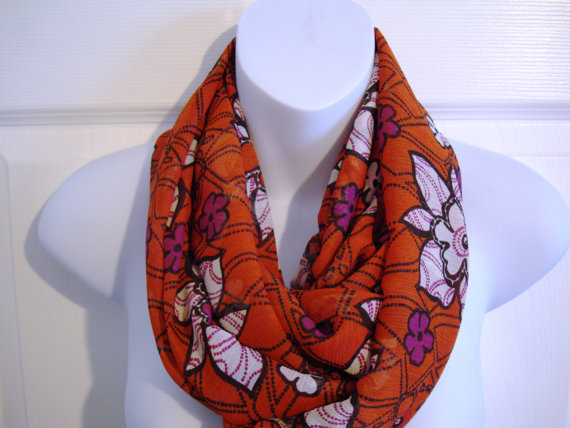 Red Floral Print Infinity Womens Scarf Handmade by Anne of ennadoolf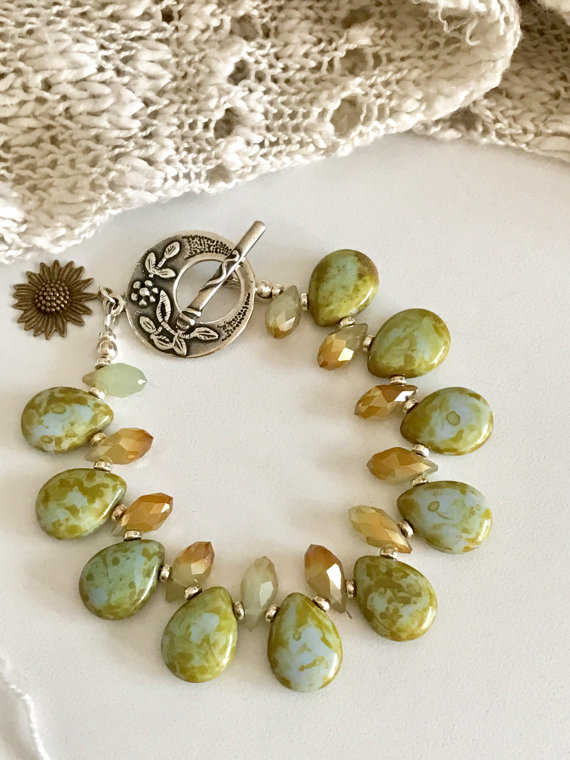 Earthy Picasso Teardrop Bracelet Handmade by Linda of TreasuresofJewels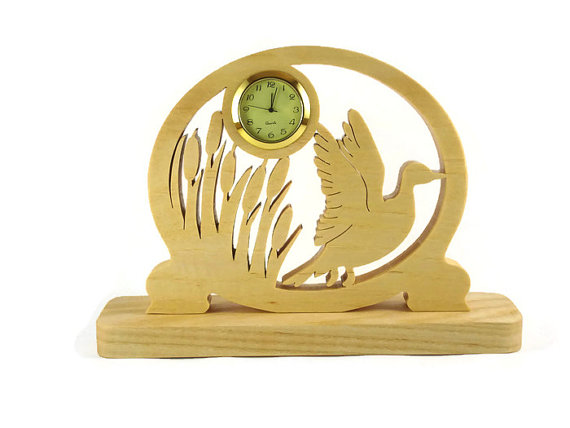 Duck Taking Flight Desk Or Shelf Clock From Ash Wood Handmade By KevsKrafts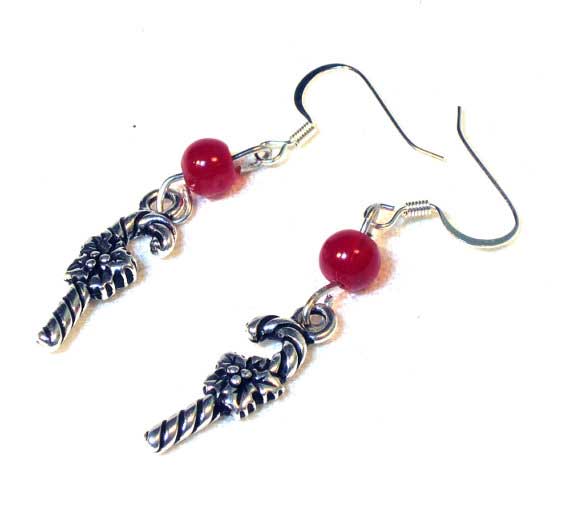 Candy Cane Earrings Handamde by Linda of lindab142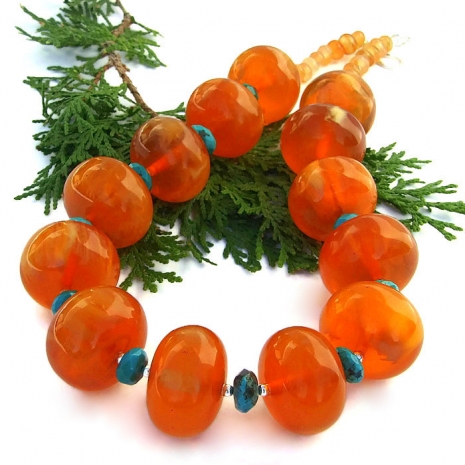 Chunky Amber Copal and Turquoise Statement Necklace with Sterling Silver Handmade by Catherine of Shadow Dog Designs
I hope you have enjoyed this sampling of some of the handmade gift items that can be found in the Countdown collection hosted by Julie and Blu of Blue Morning Expressions. To see all the items in the collection, please click here: Countdown to Christmas 2016 - Week 7. I hope that at least one, maybe more, items piqued your interest and made its way to your shopping list.
What will week 8 bring? MORE handmade and vintage beauties! I, for one, am looking forward to it!
If you are so inclined, please make my day and leave a comment (: Also any promotion will be greatly appreciated by everyone featured in this post. Thank you!
---
In case you missed the posts from the past weeks, here are links to take you there:
Countdown to Christmas - Week 1 - Norway
Countdown to Christmas - Week 2 - Italy
Countdown to Christmas - Week 3 - Ukraine
Countdown to Christmas - Week 4 - Kenya
Countdown to Christmas - Week 5 - Portugal
Countdown to Christmas - Week 6 - Iceland
---
My contact information:
Indiemade shop: ShadowDogDesigns
Indiemade blog: ShadowDogDesigns' Blog
Artfire studio: ShadowDogDesigns
ArtFire Blog: ShadowDogDesigns' Blog
Google+: Catherine W
Facebook: ShadowDogDesigns - Jewelry
Twitter: ShadowDogDesign
Pinterest: Shadow Dog Designs
Wanelo: ShadowDog
Amazine: ShadowDogDesigns
Rebelmouse: ShadowDogDesigns
Flickr: Shadow Dog Designs' Photostream
Beautifully Unique Handmade Jewelry
» Tagged:
Blue Morning Expressions
,
BlueMorningExpressions
,
Christmas
,
Countdown
,
gift ideas
,
gifts
,
handmade
,
holiday shopping
,
holidays
,
Indiemade
,
Peru
,
Shadow Dog Designs
,
ShadowDogDesigns
,
shopping
» Share: