Countdown to Christmas 2016 - Week 6 - Iceland
Posted October 25, 2016
Jólasveinarnir (Yule Lads) - photo courtesy of Iceland 24
In Iceland, Christmas (called Yule or Jól) festivities start at 6 pm on Christmas Eve, December 24th, and last until Twelfth Night (Epiphany, January 6th). In the high north, Christmas is linked to ancient traditions related to the winter solstice, called Yule. Celebrations took place on a full moon during the time of year when the day was shortest. Not much is known about how the feast was celebrated then except that Icelandic chieftains were in the habit of inviting scores of people to Yule drinking and eating feasts. Later, Yule was superseded by the celebration of the birth of Christ with the coming of Christianity around 1000 AD.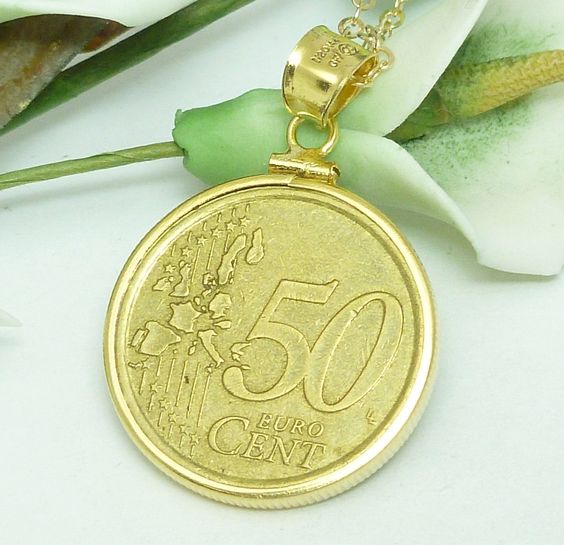 Italy 50 cent 2002 Euro Coin Pendant 14 kt Gold Filled Bezel Handmade by Diane of beadsouk
The preparations for Christmas are as important as the festivities themselves to many people and have been that way for centuries. The weeks leading up to Christmas have been called either Christmas Fast or Advent. Starting on the fourth Sunday before Christmas, people were not supposed to eat any meat and those weeks were used as a time for both spiritual and worldly preparations for the arrival of Christmas. In the rural society of old, the most important task was the preparation of the autumn wool and the knitting of woollen garments. The workers who finished their allotment were rewarded with new Christmas clothes and new sheepskin shoes by their employer. Those who did not finish, got no new clothes and might be preyed upon and devoured by the Jólakötturinn (the Yule Cat). It was important to be properly dressed at Christmas! Having a new set of clothes (and maybe a haircut) is still a tradition in Iceland, although most clothes today are bought and not handmade.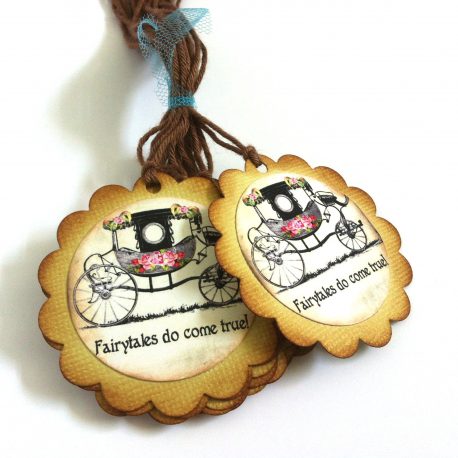 Fairy Tales Wedding Favor Tags – Fairytales Do Come True - Handmade by Nat of Adore By Nat
During the month of December, modern shops and shopping centers are filled with people buying the perfect Christmas gift(s). However, the custom of giving Yule gifts in Iceland is a fairly modern notion. Chieftains of old, both in Iceland and abroad, exchanged ornate and costly gifts at Yule. It was also common, from ancient times onwards, to present the poor with gifts of food at Christmastime. Ordinary people, however, were not in the habit of giving Christmas presents until the 19th century. A Christmas tradition of giving a candle to children, and sometimes to everyone in the household, dates back to the early part of that century. One of the tasks that had to be accomplished before Christmas was the moulding of candles from sheep drippings. Since these candles were rather expensive and gave out much better light than that from fish-oil lamps that were used every day, it was a very festive moment when the candles were distributed. As the 19th Century progressed, Christmas presents became more and more common. Around that time specific advertisements started appearing in newspapers. The oldest one on record is from 1866 where the New Testament is advertised as a perfect Christmas gift for children and young people.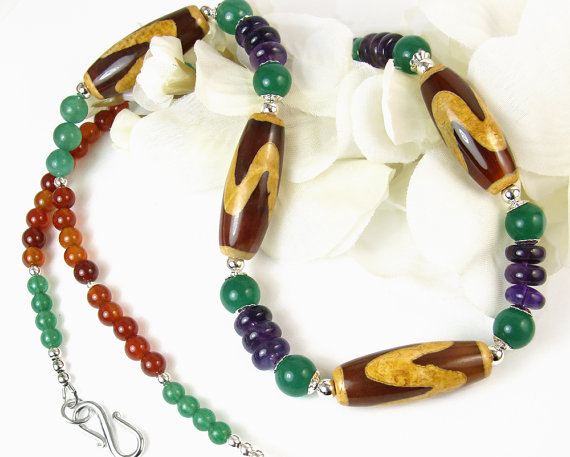 Tribal Tibetan Dzi Necklace with Purple Amethyst, Green Stone and Carnelian Handmade by Mary of PrettyGonzo
Christmas cleaning is an important custom. Some people clean every cupboard, nook and cranny and wash everything that can be washed; others might only change the bedding and wash the floor. Once the house is clean, a Christmas bath is a necessity - you don't want to be dirty putting on the new Christmas clothes! Christmas cleaning is not a new custom in Iceland - it dates back for centuries. Since in those days people did not have access to all the cleaning materials and running water that modern people now have, the cleaning was different then. A few days before Christmas, all clothing and bedding had to be hand-washed. This posed certain problems, as many people did not own a change of bedding or clothing, and therefore had to wait on the bed while the clothes and bedding were washed and dried. People hoped for a good "dry" – a "poor man's dry" – so that the clothes would be dry enough to wear again soon. After that the furniture was cleaned, along with the floors. Wooden floors were usually cleaned with sand and the earthen floors swept. Food containers were washed, and the cutlery and other metal objects in the home were polished with ash. Then it was time to clean the family members. Water was heated on the fire, poured into a tub, and people either bathed in the tub or washed from head to toe with a washcloth.
Blue Riverstone, Brown Agate and Saddle Leather Double Wrap Bracelet Handmade by Kathy of KatsAllThat
On the night before December 12th it is customary for Icelandic children to put one of their shoes on a window sill with the hope that the Jólasveinarnir (Yule Lads), who come into town, one on each night leading up Christmas, will visit and leave a gift. The first Yule Lad is Stekkjarstaur (Sheep-Cote Clod) and the last to come to town on December 24 is Kertasnikir (Candle Stealer). The children must earn the small gifts by being well behaved, or else they run the risk of finding only a potato in their shoe. For a list of the Yule Lads and their unique traits, click here: Yule Lads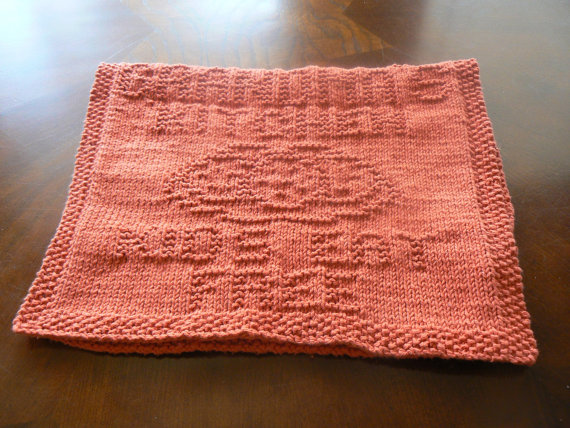 Gorgeous Grandma's Goodies Hand Knit Cotton Dish Towel Oven Hanger Handmade by Sharon of HollyknitterCreation
As was mentioned earlier, Christmas celebrations start at 6 pm on Christmas Eve. Many people start the festivities by attending Mass, but others sit down to their Christmas dinner when the church bells have rung Christmas in. Since Christmas Eve is considered a family celebration, most Icelandic families tend to spend that time together and the traditional Christmas dinner is served then (although it can be served on Christmas Day depending on the family). Traditional main courses are hangikjöt (smoked lamb), hamborgarhryggur (salted pork rib) and various types of game, especially ptarmigan stew, lundi (puffin, sometimes lightly smoked) and roast greylag goose where these are available. These are usually accompanied by a béchamel or mushroom sauce, boiled potatoes and peas, pickled beetroot or red cabbage and jam. A traditional dessert, called jólagrautur (Yule pudding) is served, a rice pudding with raisins and topped with ground cinnamon and sugar.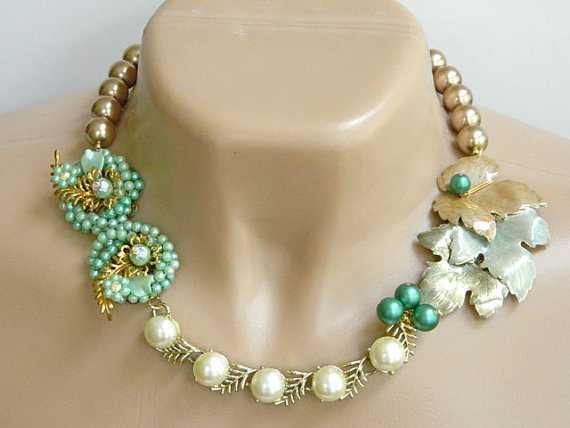 Pearl, Green and Gold Statement Necklace Handmade by Sharon of BlondePeachJewelry
Many parties are hosted on Christmas Day through Twelfth Night, which provides opportunities for families and friends to spend time together and share good food and drink. Cards and board games are often played. On Annar Jóladagur (Boxing Day, December 26) public entertainment (which is considered inappropriate on Christmas Eve/Day) is now allowed and there is much dancing in the streets. Gamlárskvöld (New Year's Eve) is one of the most important nights of the year in Iceland since there are several magical traditions that are supposed to happen on it: cows are able to talk, seals take on human form, the dead rise from their graves, and the Huldufólk (elves) move house. Bonfires have been lit on Gamlárskvöld since the late 1700s and big fireworks displays bring in the New Year. This is called sprengja út árið or 'blowing out the year'. Þrettándinn (Epiphany, January 6th) is the last day of Yule, celebrated with bonfires and Huldufólk dances. Many of the magical traditions associated with New Year's Eve are also supposed to happen at Þrettándinn.
Merry Christmas/Yule/Jól in Icelandic is Gleðileg jól.
Red Rose Coordinating Bracelet and Earring Set Handmade by Julie and Blu of Blue Morning Expressions
Now, onto the Countdown to Christmas 2016 - Week 6, filled with artisan handmade items (see above and below), perfect ideas for Christmas gift giving.
With the fast approaching gift giving season in mind, Julie and Blu of Blue Morning Expressions are hosting a twelve-week Countdown to Christmas 2016 on their The Blu Print blog. The twelve week time period was chosen to correspond with the Christmas carol "The Twelve Days of Christmas." This week, there were 60 shares by artists of a wide range of handmade gift ideas: jewelry of all types, pet themed gifts, crocheted and sewn beauties, favor tags, wooden items, photography, lampwork beads and a whole host of other items.
Fire Orange Berries Hang from a Tree in Southern California Photograph / Wall Art Handmade by Colleen of ButterflyintheAttic
Shop owners on Indiemade, ArtFire, Zibbet, Etsy, SupaDupa, stand alone websites and the like are welcome to share up to three gift items on the Countdown between Friday afternoon at 12:00 p.m. (Eastern time) and Sunday night at 11:59 p.m. Then a new collection of gift items will begin again the next Friday. This will continue until the second week in December. The items shared need to be G-rated.
If you share items on the Countdown to Christmas, you MUST promote the collection and EACH item on at least one social network site, preferably Pinterest where the items can be easily seen and then saved again. It's only fair to promote each of the participants who have promoted you!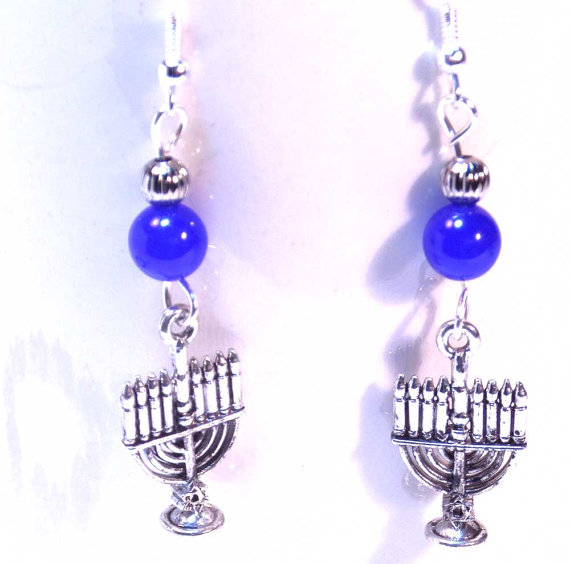 Chanukah Earrings with Menorah Charms Handmade by Linda of lindab142
In addition to saving each item from the Countdown collection to my Pinterest board and Wanelo collection, I decided to share one item from each of the artists who participated. Here are the rest of the items I'm featuring this week, in an order that was arranged by assigning each item a number and then drawing numbers from my trusty "numbers" bowl. Enjoy!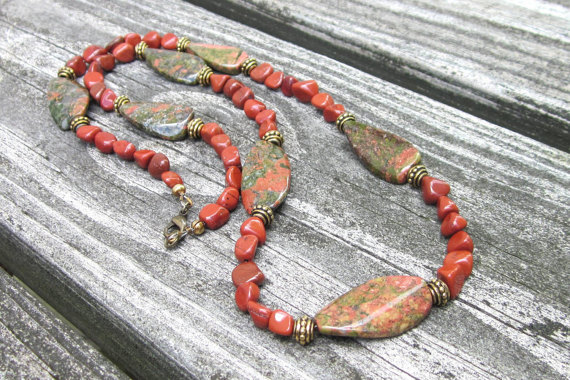 Unakite and Red Jasper Gemstone Necklace Handmade by Connie of Thesingingbeader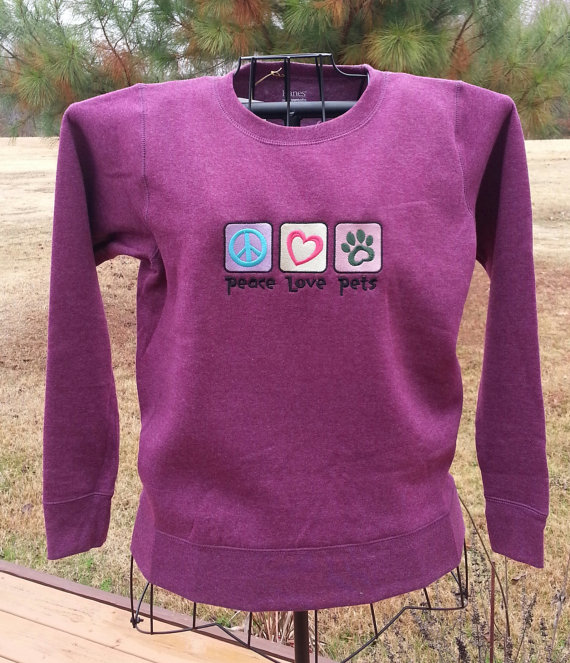 Peace, Love, Pets Embroidered Womens Sweatshirt - Small - Handmade by Mary of SimpleEmbroiderySew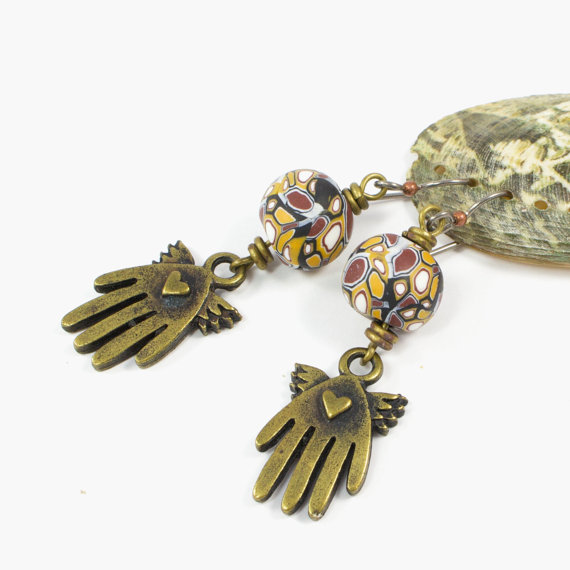 Unique Heart In My Hand Wing Earrings Handmade by Barbara of SolanaKaiDesigns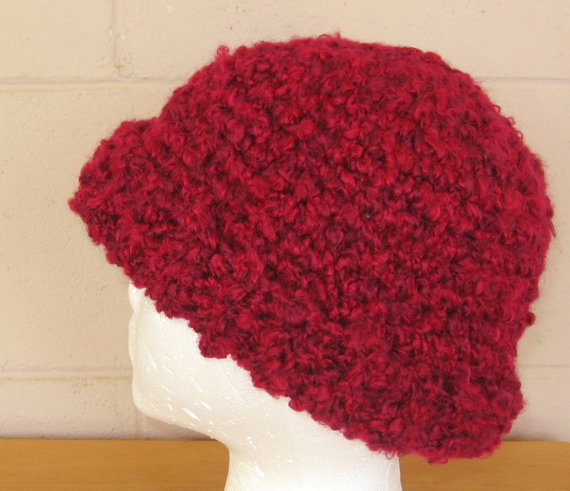 Ribbed Cuff Winter Hat in Wine Red Soft Boucle Yarn Handmade by Ruth of RSSDesignsInFiber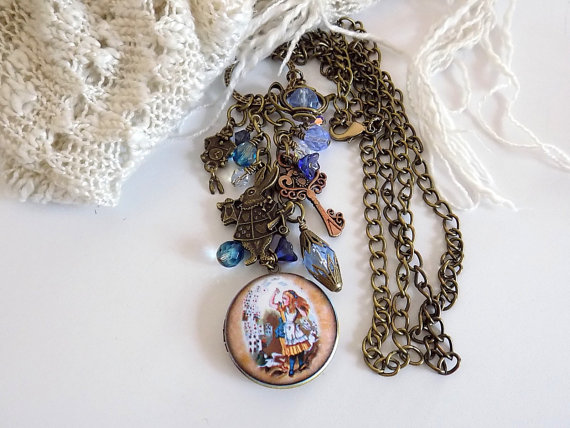 Alice in Wonderland Charm Necklace Handmade by Linda of TreasuresofJewels
Kelly Green Tartan Plaid Pet Scrunchie Neck Ruffle Handmade by Donna of SewAmazin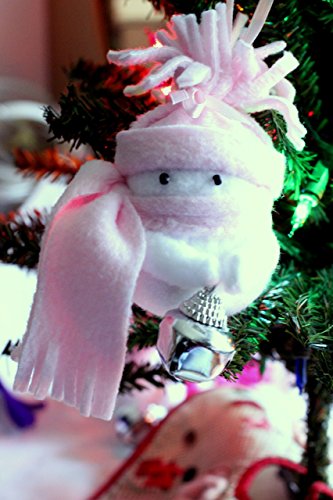 Fleece Snowman Christmas Ornament Handmade by Nancy of Wyverndesigns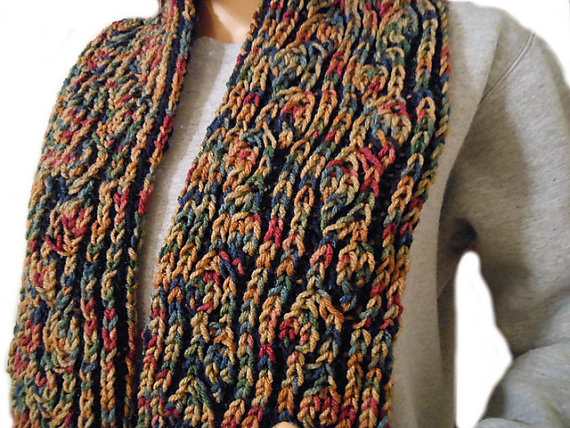 Hand Knit Autumn Scarf Handmade by Cathy of CraftingMemories1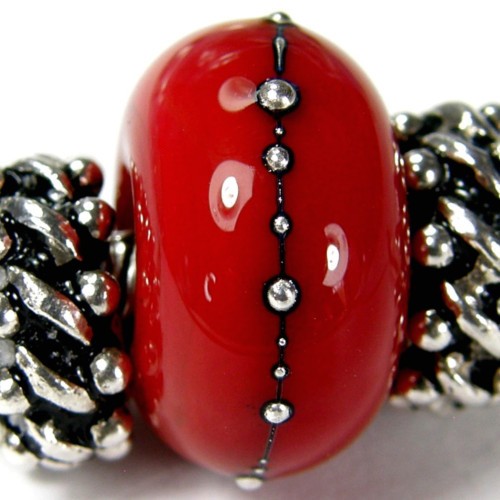 Red Art Glass Charm Large Hole Lampwork Slider Bracelet Bead Silver Handmade by Charlotte of Covergirlbeads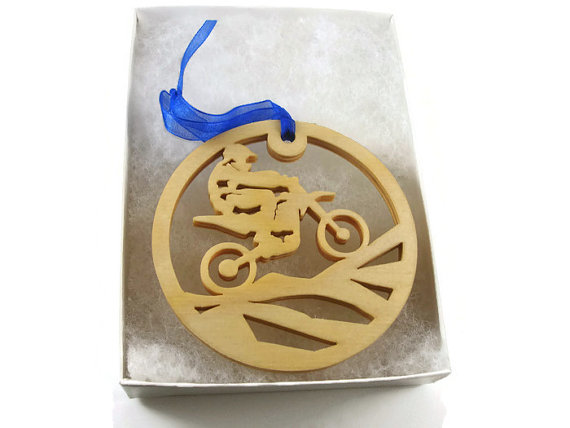 Motocross Dirtbike Motorcycle Christmas Ornament Handmade From Birch Wood By KevsKrafts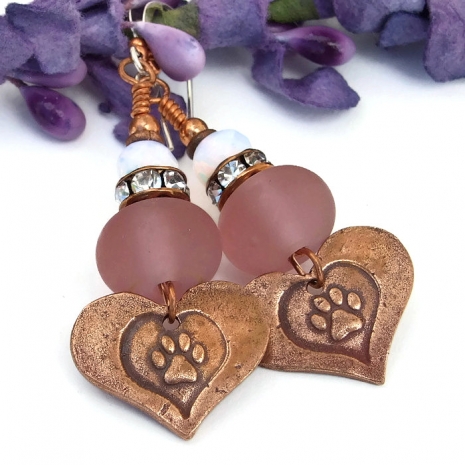 Copper Dog Paw Print and Hearts Dog Rescue Earrings Handmade by Catherine of Shadow Dog Designs
I hope you have enjoyed this sampling of some of the handmade gift items that can be found in the Countdown collection hosted by Julie and Blu of Blue Morning Expressions. To see all the items in the collection, please click here: Countdown to Christmas 2016 - Week 6. I hope that at least one, maybe more, items piqued your interest and made its way to your shopping list.
What will week 7 bring? MORE handmade and vintage beauties! I, for one, am looking forward to it!
If you are so inclined, please make my day and leave a comment (: Also any promotion will be greatly appreciated by everyone featured in this post. Thank you!
---
» Tagged:
Blue Morning Expressions
,
BlueMorningExpressions
,
Christmas
,
Countdown
,
gift ideas
,
gifts
,
handmade
,
holidays
,
Iceland
,
Indiemade
,
Shadow Dog Designs
,
ShadowDogDesigns
,
shopping
» Share: