Countdown to Christmas 2016 - Week 5 - Portugal
Posted October 18, 2016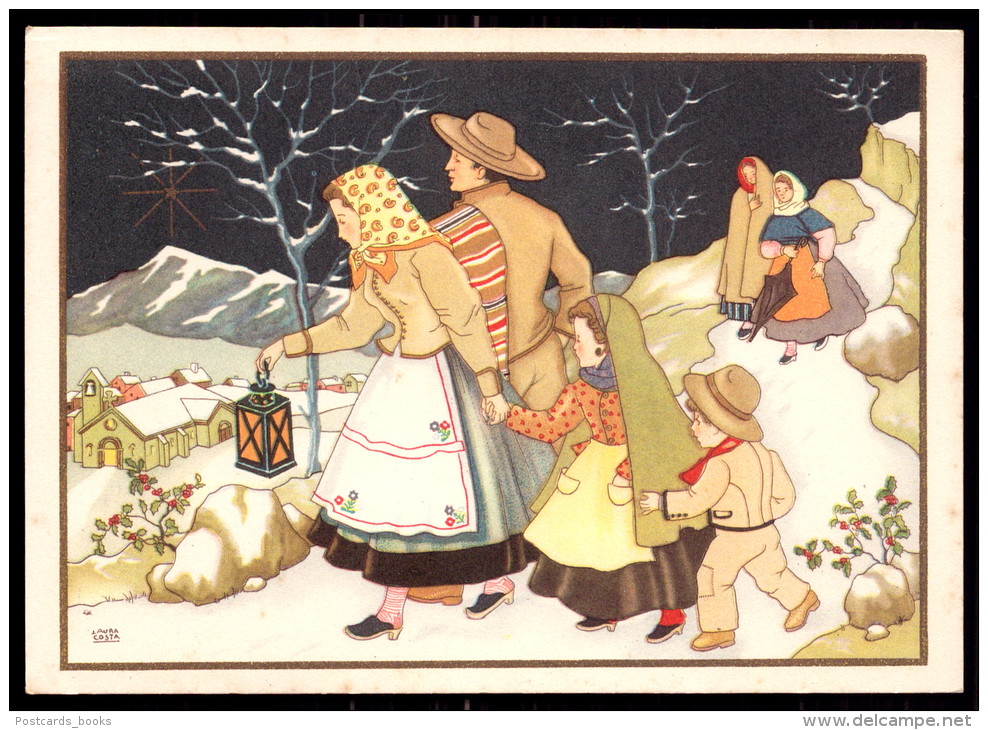 In Portugal, Christmas is celebrated with festive fun, but since it is a predominantly Catholic country, there is also much solemnity to the holiday. A family Christmas tradition is setting up the presépio (nativity scene), the representation of Christ's birth in the stable at Bethlehem. While some families keep the creche simple, displaying only the Holy Family, many set up elaborate scenes, including the Three Kings, shepherds and the sheep, angels, other animals, lakes (made with mirrors) and hills (made with stones, moss, and clay). The materials used to decorate the presépio are traditionally collected by the children. A few days before Christmas Eve, the Baby Jesus is taken out of the manger.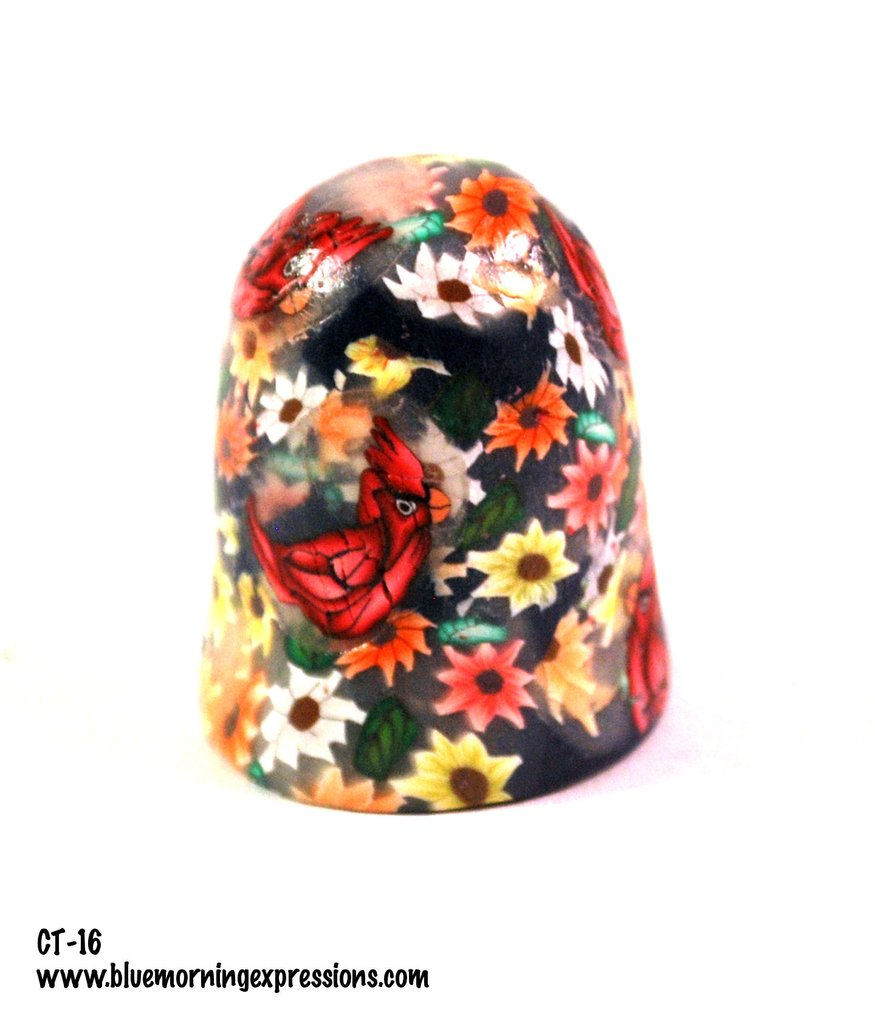 Flower Garden and Cardinal on a Navy Blue Porcelain Thimble Handmade by Julie of Blue Morning Expressions
The traditional Christmas Eve meal, called Ceia de Natal, usually consists of codfish with boiled cabbage and potatoes with other vegetables and boiled potatoes. Secondary dishes might include shellfish, but no meat. Several desserts are usually served: filhoses (fried pumpkin dough); rabanadas (similar to French toast); aletria (a vermicelli sweet with eggs) and azevias (round cakes made of a crust filled with a mixture of chickpeas, sugar, and orange peel). Another traditional dessert is Bolo Rei, a fruitcake having two possibly tooth cracking surprises in them. One is a little gift such as a fake ring, a little doll, or a medal. The other is a raw broad bean. The person who gets the bean is supposed to buy the Bolo Rei the next Christmas.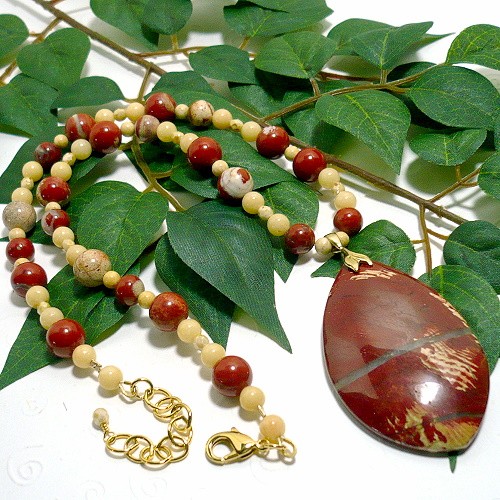 Red Bend Jasper, Cream Riverstone and Czech Beige Crystal Gemstone Necklace Handamde by Kathy of KatsAllThat
After the meal, people go to church for the Misso do Galo (Mass of the Rooster) service. During the service a statue of Baby Jesus is brought out, and everyone lines up to kiss the feet of the statue . It is then put in the the presépio.
Before leaving for Misso do Galo, parents secretly put the Baby Jesus back in the manger in their own house and put gifts under the Christmas Tree. That way, the Baby Jesus will 'miraculously' be in his manger by the time the family returns home. Children run to check the nativity scene as soon as they enter the house as no baby Jesus means no presents!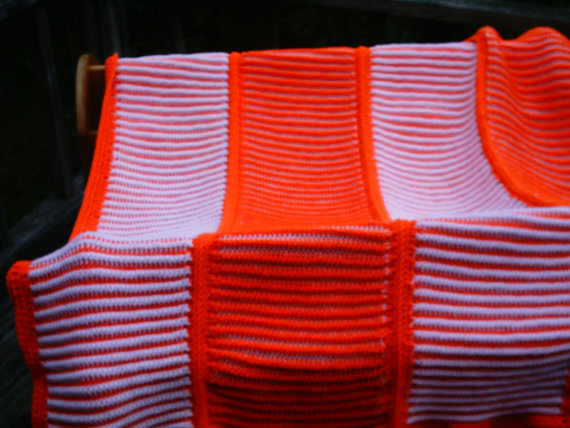 Crocheted Orange and White Lapghan Afghan Handmade by Cathy of CraftingMemories1
Once the families return from Misso do Galo, the gifts that were "left" by either Pai Natal (Father Christmas) or the Baby Jesus are opened. A light meal, called consoada (comforted), is eaten. Historically, people spent Christmas Eve Day in church, praying and fasting. After mass, families would gather at home and eat a light meal consisting of fish – therefore they would be comforted after a day of fasting. Extra places at the table are set for alminhas a penar (the souls of the dead). In some areas crumbs are left on the hearth for these souls, a custom derived from the ancient practice of entrusting seeds to the dead in hopes that they will provide a bountiful harvest. Souls are given food gift with the hope of the family doing well in future. In some areas of Portugal, the table is left uncleared after eating; dead family members might appear later and eat the leftovers.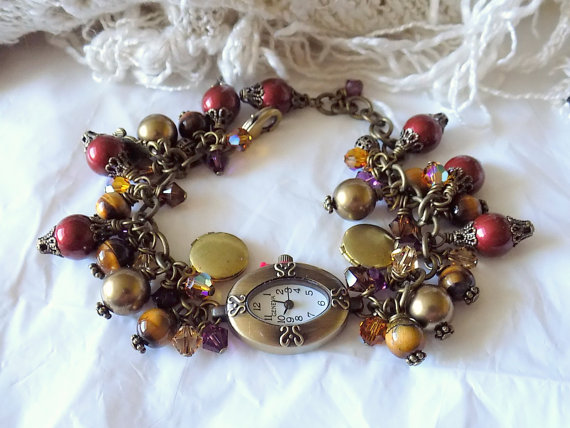 Victorian Style Tigers Eye Beaded Women's Watch Bracelet Handmade by Linda of TreasuresofJewels
Later in the day, a traditional Christmas dinner is served. It might start with small portions of lutefisk or corn pudding. Honey roasted ham, roasted turkey, Portuguese sausage and a variety of shellfish can also be served along with a variety of vegetables, including rutabagas and turnips. Cakes, fried cookies, nuts and other goodies are also served. Traditionally the mian meat was goat or lamb in northern Portugal and pork in the south of the country.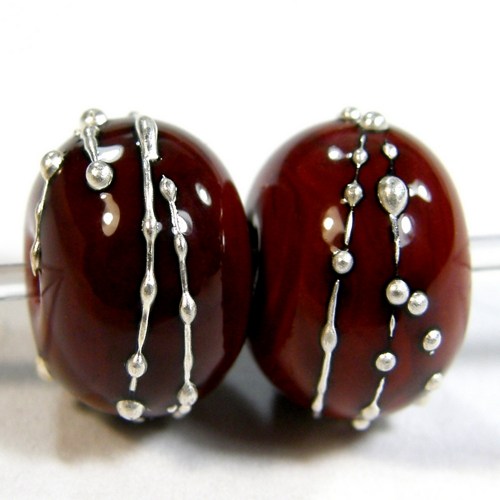 Red Flint Lampwork Glass Beads with Fine Silver Handmade by Charlotte of Covergirlbeads
After Christmas Day and continuing into the first weeks of January, groups of people will go from house to house with an image of the baby Jesus in his manger singing the Janeiras (January) songs. The opening song usually asks the owner of the house for food and drink. The owner invites the singers in to warm up and to help themselves to a spread of snacks, such as dry figs with walnuts inside them, cheese and chorizo and, maybe, some wine or brandy. If you do not open your door, or your food and drink doesn't meet what is expected (especially if you're wealthy), the singers will sing songs mocking you. Normally, however, after enjoying the food, the January singers will sing a song of thanks, praising the generosity of the hosts and praising the beauty of any single daughters.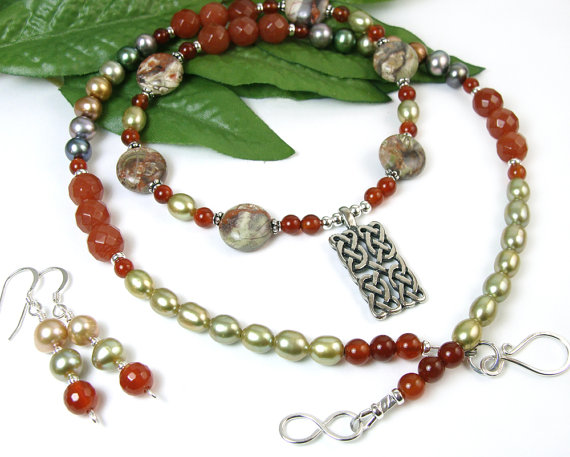 Celtic Knot Pendant Necklace Set with Peacock Jasper, Carnelian and Green and Multicolor Pearls Handmade by Mary of PrettyGonzo
On Epiphany Eve (January 5), children fill their shoes with carrots and straws and keep them along a windowsill or near a doorways. The horses of the Three Wise Men would be lured by the tasty treats. The Three Wise Men would then leave treats for the children in the displayed shoes. Children wake up in the morning to collect the gifts and the goodies consisting usually of candied fruits and sweet breads. Some families put one shoe (sapatinho) of each child next to the kitchen chimney (since most kitchens in Portugal have one) or next to the fireplace instead of a stocking.
Feliz Natal or Boas Festas - "Merry Christmas" in Portuguese.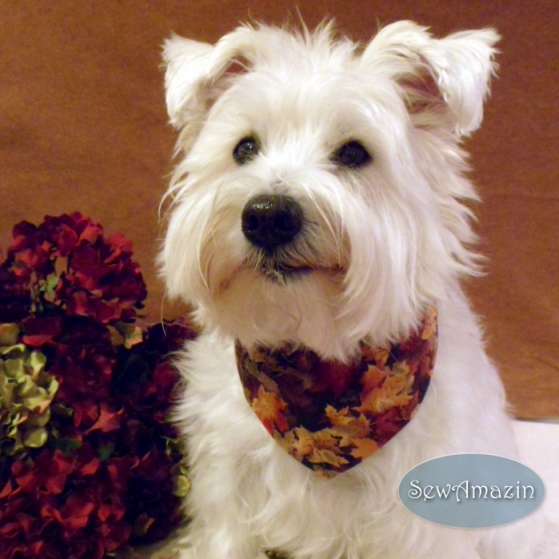 Maple Leaves Autumn Dog Bandana, Collar Slipcover or Scrunchie Style Handmade by Donna of SewAmazin
Now, on to the Countdown to Christmas 2016 - Week 5, filled with artisan handmade items (see above and below), perfect ideas for Christmas gift giving.
With the fast approaching gift giving season in mind, Julie and Blu of Blue Morning Expressions are hosting a twelve-week Countdown to Christmas 2016 on their The Blu Print blog. The twelve week time period was chosen to correspond with the Christmas carol "The Twelve Days of Christmas." This week, there were 54 shares by artists of a wide range of handmade gift ideas: jewelry of all types, pet themed gifts, crocheted and sewn beauties, favor tags and stickers, wooden items, photography, polymer clay beads, lampwork beads and a whole host of other items.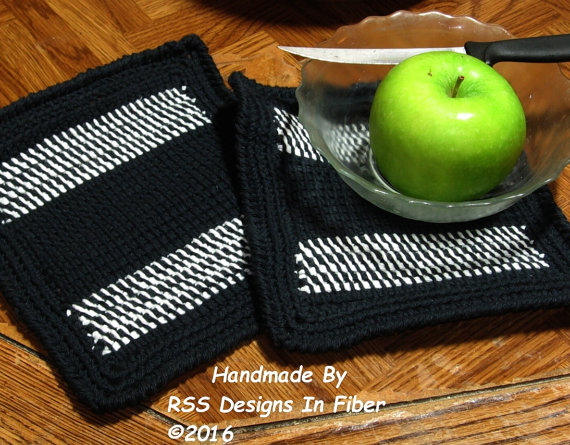 Hand Crocheted Black and White HotPads or Potholders, Set of 2, Handmade by Ruth of RSSDesignsInFiber
Shop owners on Indiemade, ArtFire, Zibbet, Etsy, SupaDupa, stand alone websites and the like are welcome to share up to three gift items on the Countdown between Friday afternoon at 12:00 p.m. (Eastern time) and Sunday night at 11:59 p.m. Then a new collection of gift items will begin again the next Friday. This will continue until the second week in December. The items shared need to be G-rated.
If you share items on the Countdown to Christmas, you MUST promote the collection and EACH item on at least one social network site, preferably Pinterest where the items can be easily seen and then saved again. It's only fair to promote each of the participants who have promoted you!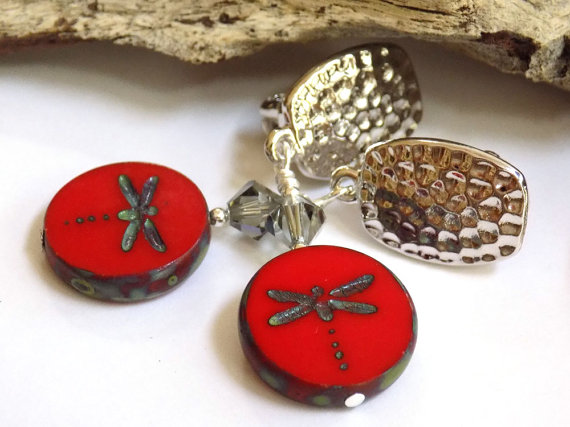 Red Dragonfly, Silver and Swarovski Crystal Dangle Earrings Handmade by Sharon of BlondePeachJewelry
In addition to saving each item from the Countdown collection to my Pinterest board and Wanelo collection, I decided to share one item from each of the artists who participated. Here are the rest of the items I'm featuring this week, in an order that was arranged by assigning each item a number and then drawing numbers from my trusty "numbers" bowl. Enjoy!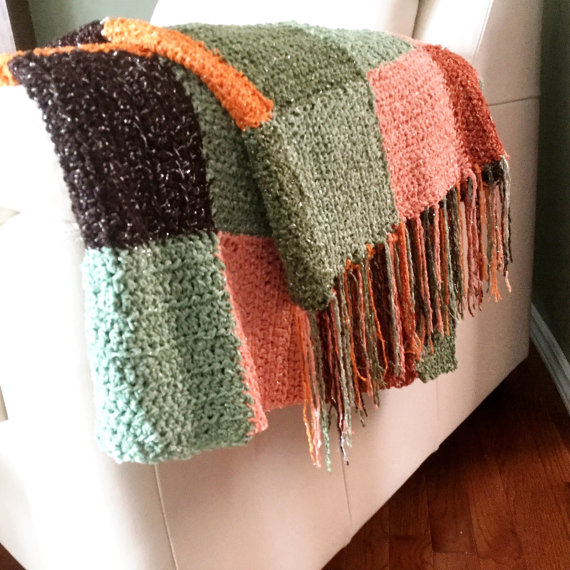 Green, Brown, Orange, Peach and Rust Throw Blanket / Afghan with Fringe and Sparkles Handmade by Anne of ennadoolf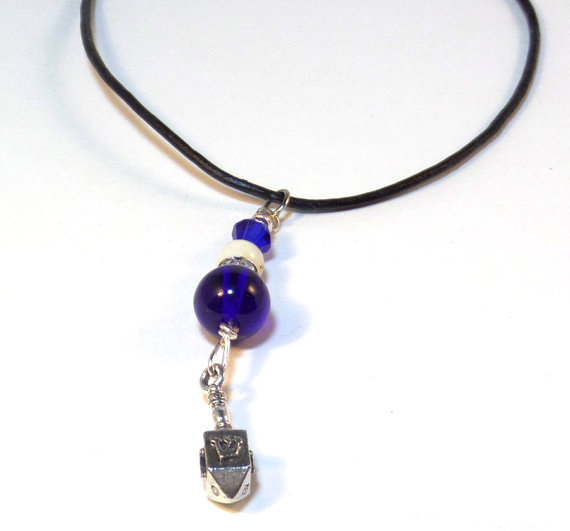 Hanukkah Necklace / Dreidel Necklace Handmade by Linda of lindab142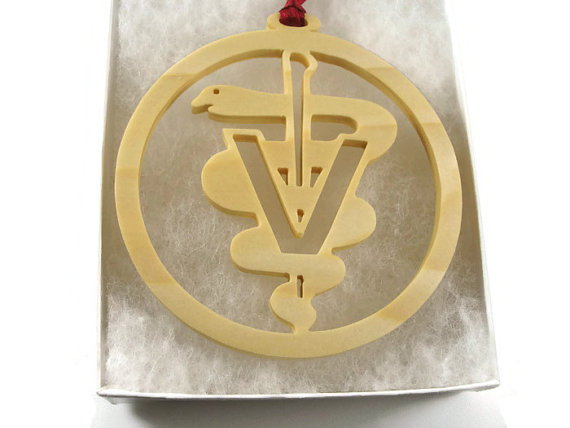 Veterinarian Christmas Ornament From Poplar Wood Handmade by KevsKrafts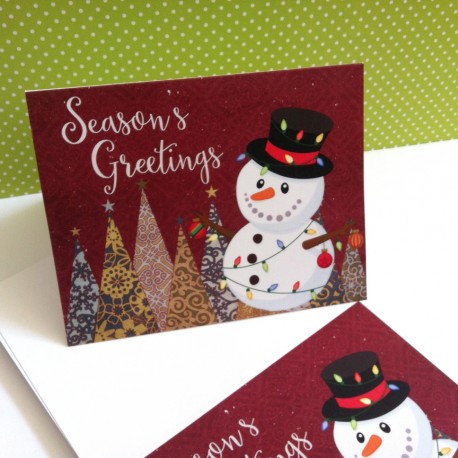 Snowman Christmas Cards with Season's Greetings Phrase Handmade by Nat of Adore by Nat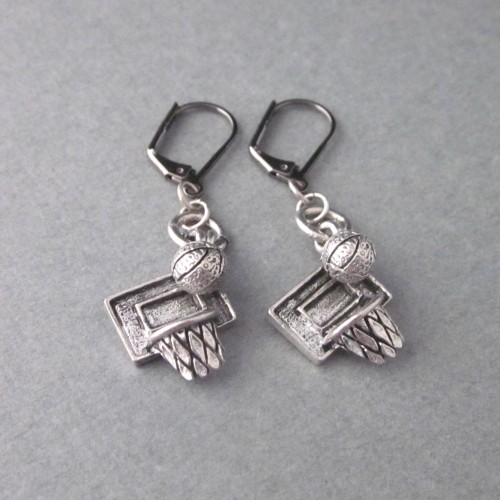 Dimensional Basketball Hoop Sports Jewelry Earrings Antiqued Silver by Connie of TheSingingBeader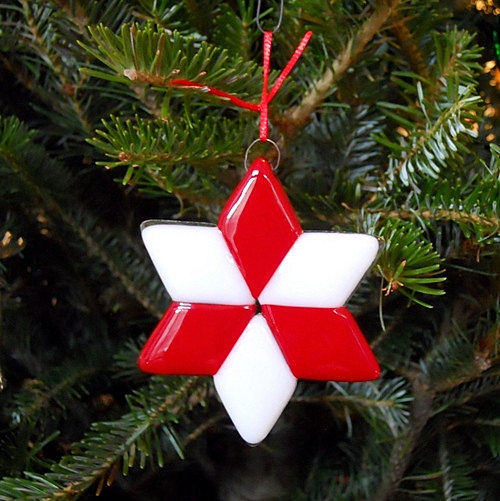 Red and White Star Christmas Ornament, Fused Glass, 3.5 Inch, Handmade by Kellie of ResetarGlassArt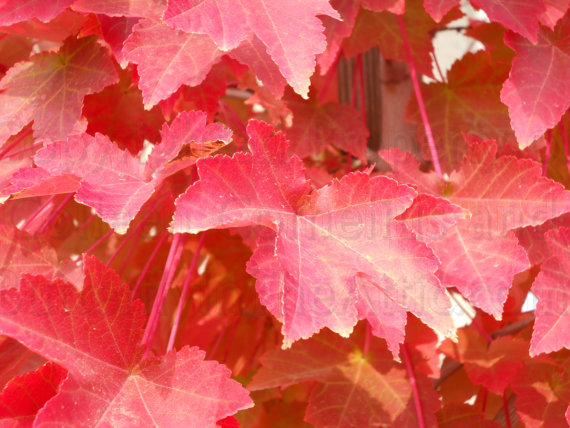 Brilliant Candy Apple Red Sugar Maple Leaves in California Photograph Handmade by Colleen of ButterflyInTheAttic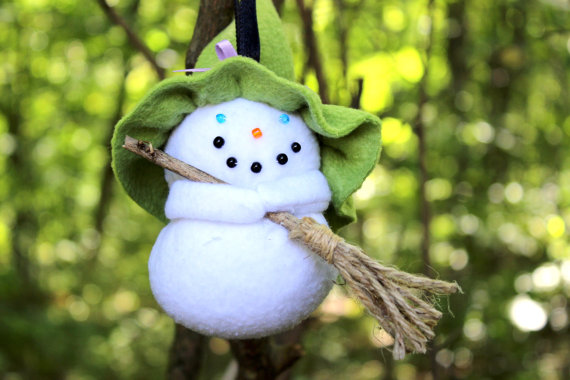 Pointy Hat Gang Witch Ornament Handmade by Nancy of WyvernDesignsHome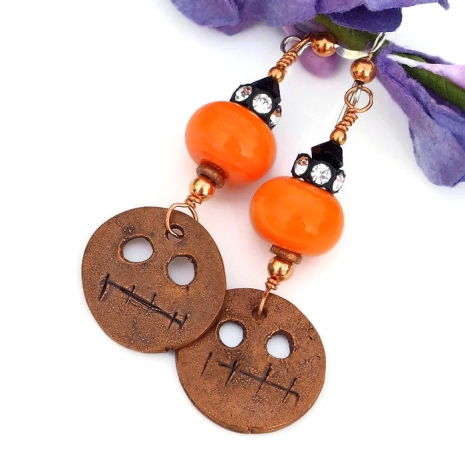 Halloween Copper Ghoul and Orange Lampwork Earrings Handmade by Catherine of Shadow Dog Designs
I hope you have enjoyed this sampling of some of the handmade gift items that can be found in the Countdown collection hosted by Julie and Blu of Blue Morning Expressions. To see all the items in the collection, please click here: Countdown to Christmas 2016 - Week 5. I hope that at least one, maybe more, items piqued your interest and made its way to your shopping list.
What will week 6 bring? MORE handmade and vintage beauties! I, for one, am looking forward to it!
If you are so inclined, please make my day and leave a comment (: Also any promotion will be greatly appreciated by everyone featured in this post. Thank you!
---
In case you missed the posts from the past weeks, here are links to take you there:
Countdown to Christmas - Week 1 - Norway
Countdown to Christmas - Week 2 - Italy
Countdown to Christmas - Week 3 - Ukraine
Countdown to Christmas - Week 4 - Kenya
---
» Tagged:
Blue Morning Expressions
,
BlueMorningExpressions
,
Christmas
,
Countdown
,
gift ideas
,
gifts
,
handmade
,
holidays
,
Indiemade
,
Portugal
,
Shadow Dog Designs
,
ShadowDogDesigns
,
shopping
» Share: