Countdown to Christmas 2016 - Week 4 - Kenya
Posted October 11, 2016
Since Kenya is predominantly a Christian country (approximately 82%), the celebration of Christmas is very important. A few days before Christmas, a mass migration of people from the cities and other parts of Kenya is made, back to the villages of their parents' home in the "upcountry." Family members and relatives all congregate to celebrate. For many people, this is the only time of the year they have the chance to see their families, so it is a very important time to reconnect.
Fun Knitted Stripe Ankle Socks Handmade by Cathy of CraftingMemories1
Markets and shops, such as the market on Jogo Road in Nairobi, are filled with people buying and selling chickens, goat, pigs and various other foodstuffs for holiday meals. Decorating shop fronts, mango trees, churches, and homes with balloons, ribbons, green plants and small local trees (to serve as the Christmas trees) is common. Even though the equator runs through Kenya, some shops decorate their fronts with fake snow. Whatever the decorations, however, they are much more modest than in the West.
Tree of Life Pendant, Green Turquoise, Freshwater Pearls and Wooden Beads Necklace Handmade by Mary of PrettyGonzo
By December 24, everyone has usually gathered in the rural family home. The house is decorated in the morning with flowers and a Cyprus tree. Smalls gifts are sometimes exchanged but, since few people can afford what is seen as frivolous gifts or toys (and there are very few places to buy them in the rural areas), a new set of clothes to be worn to the Christmas church service is the most common gift. Other gifts might include school books, soap, cloth, candles, blankets, shoes and other practical goods. In Kenya, the emphasis on Christmas is more on the religious aspect of celebrating the birth of Jesus and reconnecting with family than it is on gift giving (although this is beginning to change).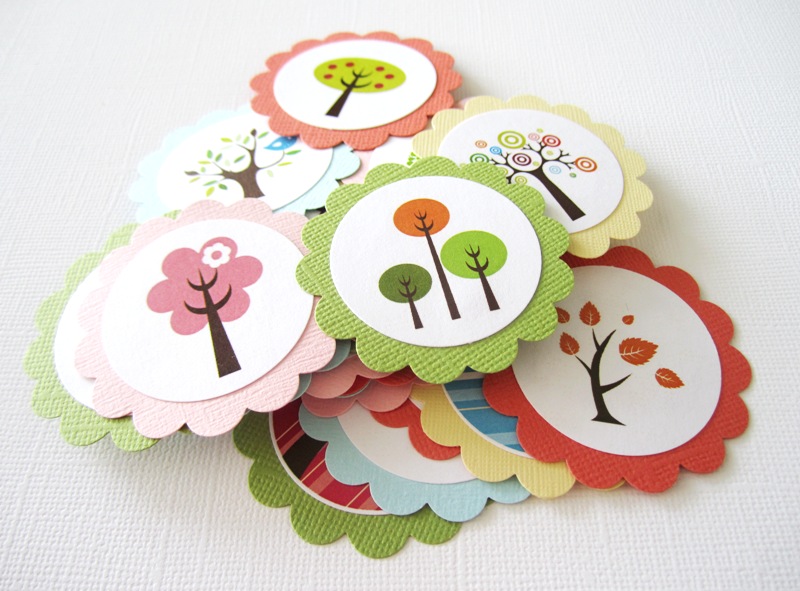 Tree and Bird Favor Tags for Gift Embellishment Handmade by Natalie of Adore by Nat
Midnight mass (in some churches starting at 6:00 p.m. and continuing well past midnight!) is attended and is filled with the singing of traditional tribal songs and Christmas carols. Children recite poems about the birth of Jesus Christ, short Nativity plays are given and dances are performed. Concerts are also appreciated. At the end of the performances, the children are given sweets or other small gifts. People wish their friends Heri ya Krismasi ("Merry Christmas" in Swahili) with a response of Wewe pia ("you, also").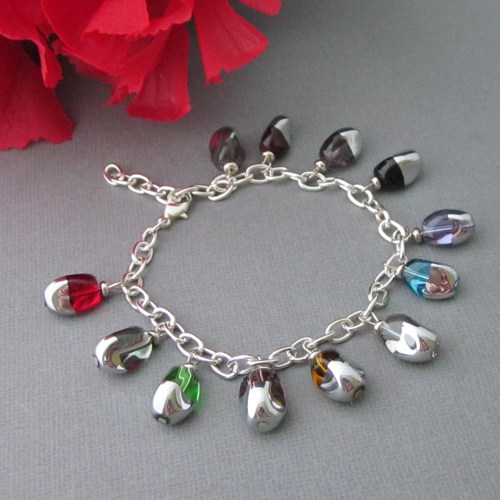 Unusual Multicolored Charm Bracelet Silver Tipped Glass Beads Adjusts Handamde by Connie of TheSingingBeader
On return back to the house, the party starts. Lots of singing takes place, starting with the traditional songs of the family's tribe and finishing with Christmas carols, as the large meal is prepared. Depending on the wealth of the family and the number of people to be served, a chicken, goat, sheep, or bull is slaughtered and roasted, although goat is the meat of choice in Kenya. Nyama choma (roast meat) is traditionally on the menu served with kachumbari (tomato and onion salad) and ugali (cornmeal mush). Pilau is popular, a rice dish with goat (and other meats) and spices. Chapati, a flat bread, is also served to scoop up the meats. A Kenyan fruit cake (started 6 weeks beforehand) and puddings are served. Plenty of family-brewed beer is consumed before, during and after the meal. In addition to the family, it is custom for neighbors to drop in for a Christmas Day visit and to sample the food.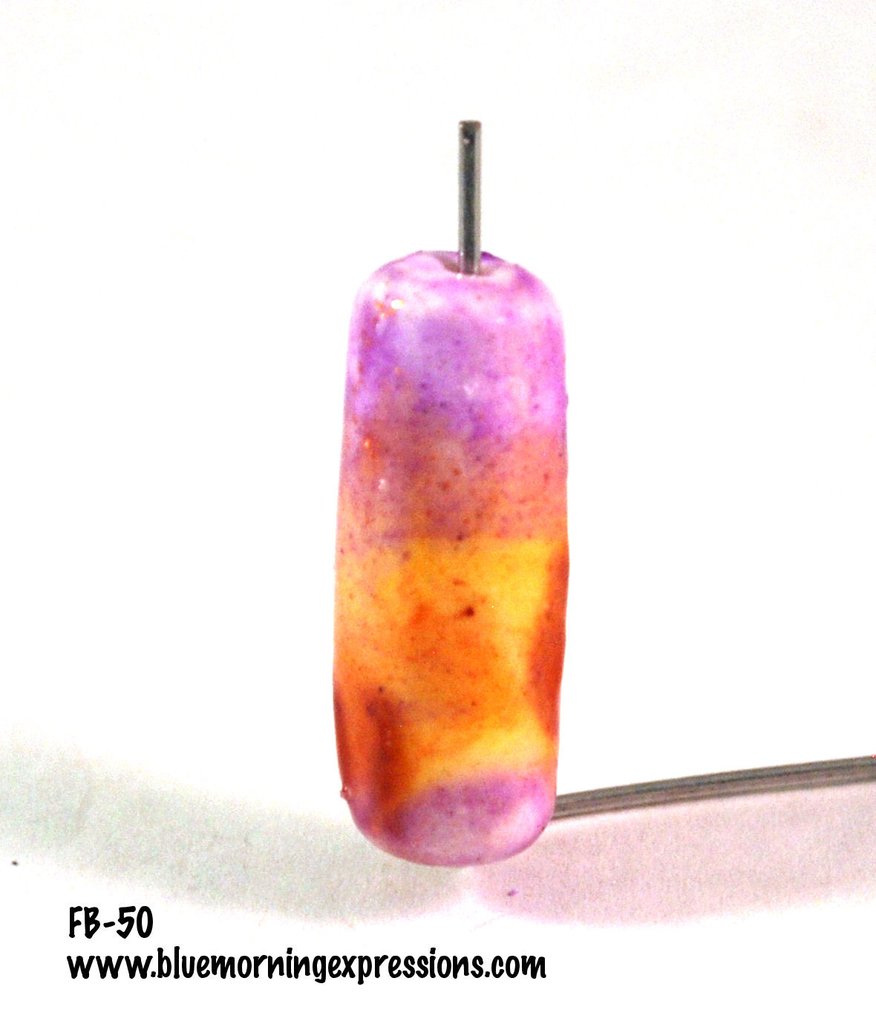 Pale Purples and Vibrant Yellows Handmade Polymer Clay Focal Bead by Julie of Blue Morning Expressions
Boxing Day, December 26, is also a national holiday and is used as the day for curing hangovers. A gravy-like soup made from the goat's blood and bone is a typical and sworn-by hangover cure. I've read it's not as bad as it sounds … yeah, right!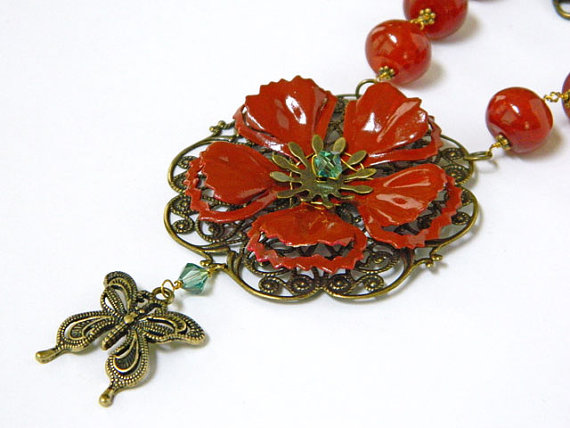 Orange Flower Statement Necklace Handmade by Sharon of BlondePeachJewelry
Now, on to the Countdown to Christmas 2016 - Week 4, filled with artisan handmade items (see above and below), perfect ideas for Christmas gift giving.
With the fast approaching gift giving season in mind, Julie and Blu of Blue Morning Expressions are hosting a twelve-week Countdown to Christmas 2016 on their The Blu Print blog. The twelve week time period was chosen to correspond with the Christmas carol "The Twelve Days of Christmas." This week, there were 54 shares by artists of a wide range of handmade gift ideas: jewelry of all types, pet themed gifts, crocheted and sewn beauties, favor tags and stickers, wooden items, photography, polymer clay beads, lampwork beads and a whole host of other items.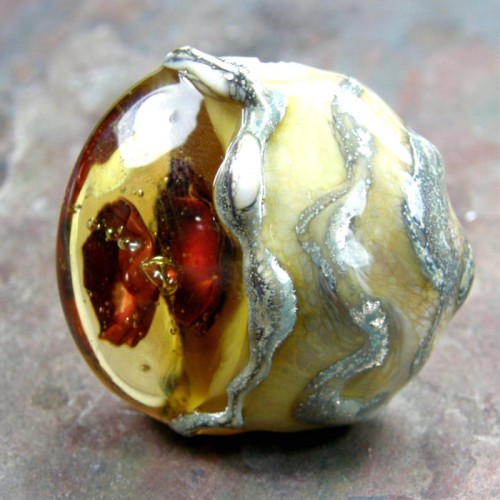 Ivory, Copper Discs and Amber Pressed Lampwork Glass Lentil Handmade by Charlotte of Covergirlbeads
Shop owners on Indiemade, ArtFire, Zibbet, Etsy, SupaDupa, stand alone websites and the like are welcome to share up to three gift items on the Countdown between Friday afternoon at 12:00 p.m. (Eastern time) and Sunday night at 11:59 p.m. Then a new collection of gift items will begin again the next Friday. This will continue until the second week in December. The items shared need to be G-rated.

If you share items on the Countdown to Christmas, you MUST promote the collection and EACH item on at least one social network site, preferably Pinterest where the items can be easily seen and then saved again. It's only fair to promote each of the participants who have promoted you!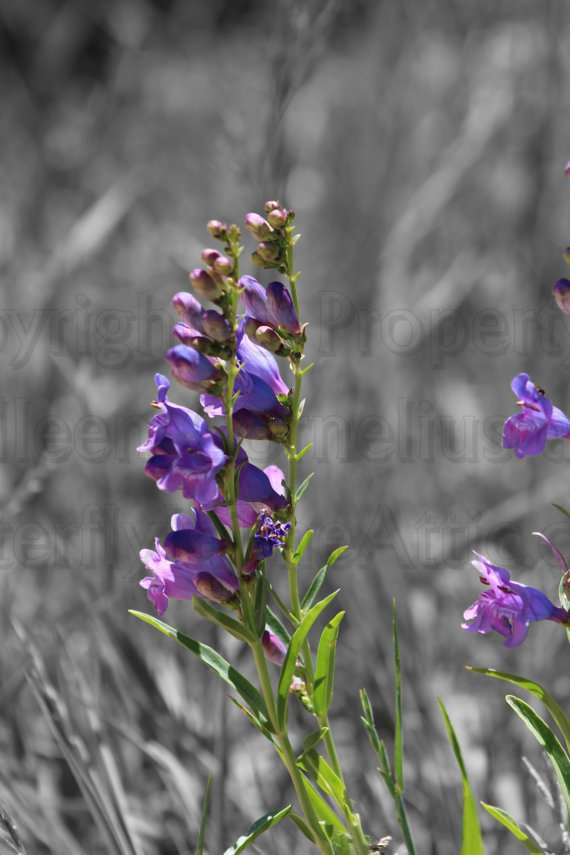 Bright Purple Beardstongue and Hayseed on Black & White Photograph Handmade by Collen of ButterflyintheAttic
In addition to saving each item from the Countdown collection to my Pinterest board and Wanelo collection, I decided to share one item from each of the artists who participated. Here are the rest of the items I'm featuring this week, in an order that was arranged by assigning each item a number and then drawing numbers from my trusty "numbers" bowl. Enjoy!
Natural Serpentine Gemstone Round Sterling Pendant Green Pink Handmade by Diane of dianesdangles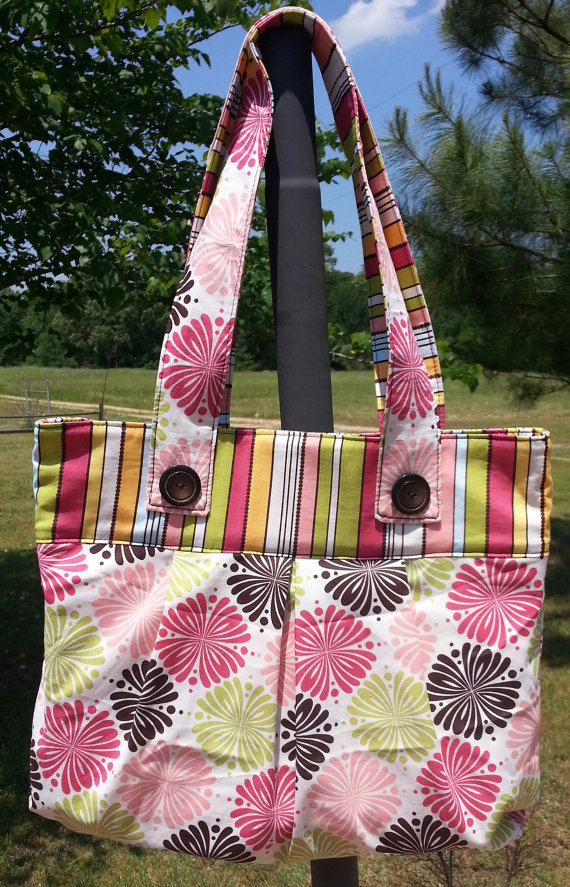 Shades of Mauve, Green, and Brown Handmade Fabric Handbag Handmade by Mary of SimpleEmbroiderySew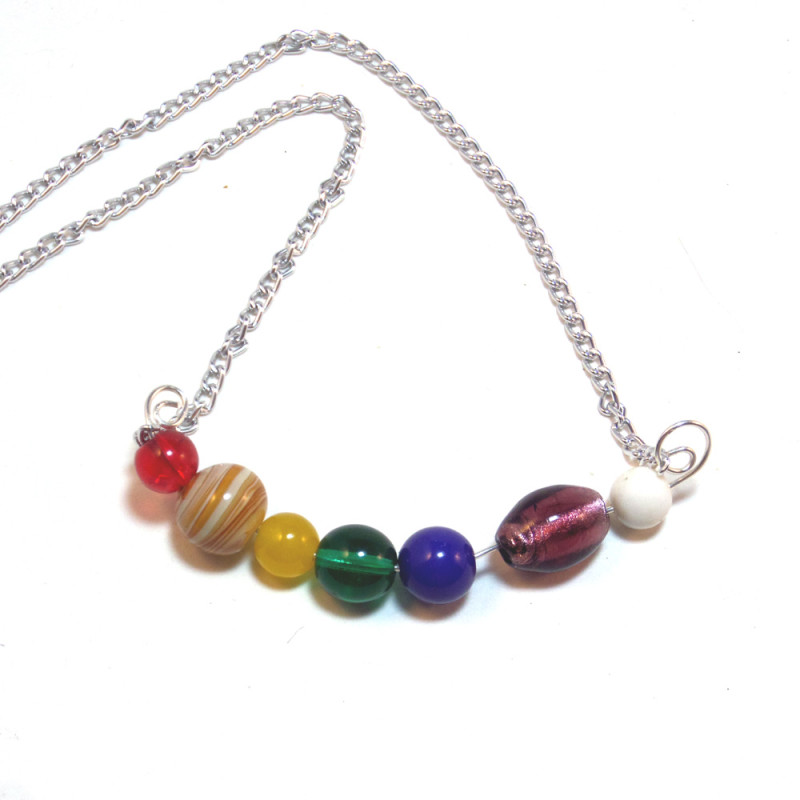 Chakra Necklace Handmade by Linda of Linor Store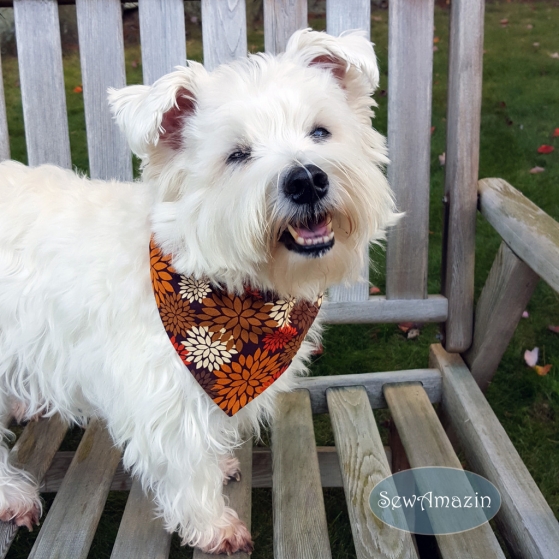 Autumn Mums Dog Bandana, Collar Slipcover or Scrunchie Style, Handmade by Donna of SewAmazin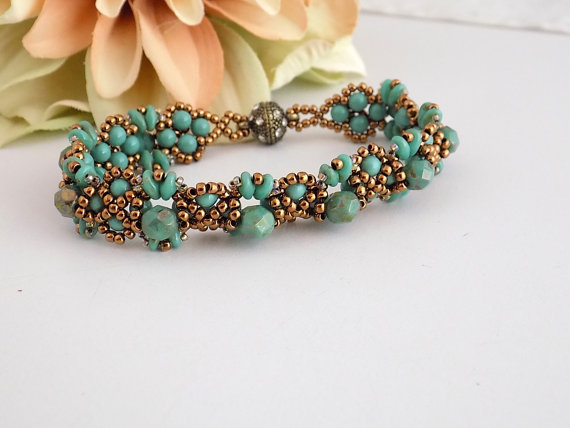 Victorian Style Beadwoven Jade Pearl, Turquoise and Bronze Bracelet Handmade by Linda of TreasuresofJewels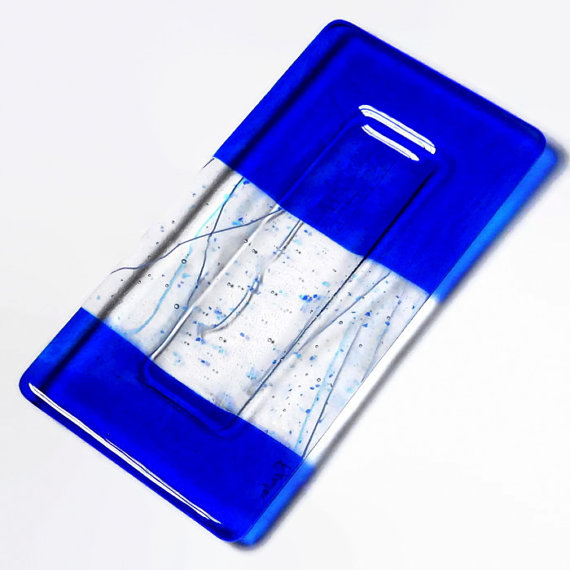 Cobalt Blue Fused Art Glass Plate with Stringer Accents, 12 x 7, Handmade by Kellie of ResetarGlassArt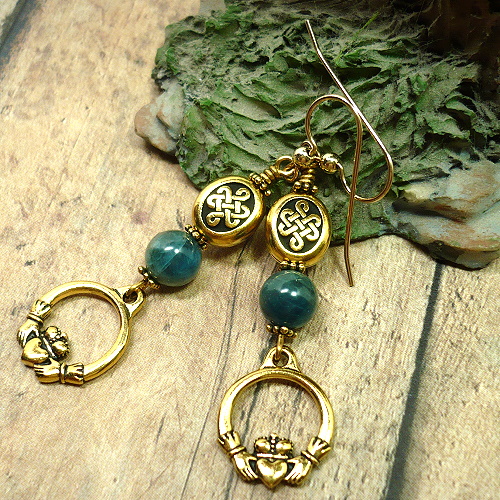 Blue Green Apatite and Gold Irish Claddagh Eternity Knot Earrings Handmade by Kathy of KatsAllThat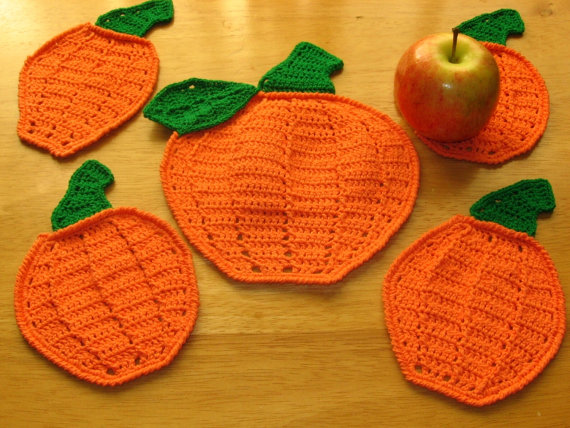 Hand Crocheted Pumpkin Coaster Set, Made to Order 5 Piece Set, Handmade by Ruth of RSSDesignsinFiber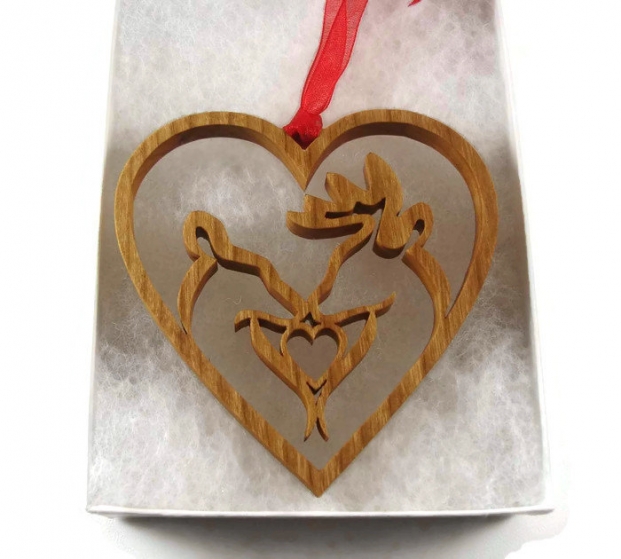 Deer Couple In Heart Shape Christmas Ornament From Cherry Wood Handmade by KevsKrafts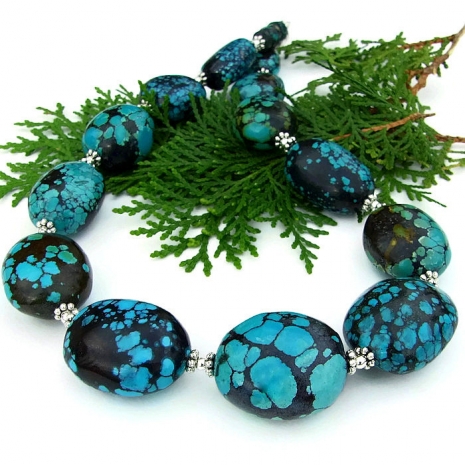 Genuine Turquoise Statement Necklace, Chunky Southwest Gemstone and Sterling Jewelry Handmade by Catherine of Shadow Dog Designs
I hope you have enjoyed this sampling of some of the handmade gift items that can be found in the Countdown collection hosted by Julie and Blu of Blue Morning Expressions. To see all the items in the collection, please click here: Countdown to Christmas 2016 - Week 4. I hope that at least one, maybe more, items piqued your interest and made its way to your shopping list.
What will week 5 bring? MORE handmade and vintage beauties! I, for one, am looking forward to it!
If you are so inclined, please make my day and leave a comment (: Also any promotion will be greatly appreciated by everyone featured in this post. Thank you!
---
In case you missed the posts from the past weeks, here are links to take you there:
Countdown to Christmas - Week 1 - Norway
Countdown to Christmas - Week 2 - Italy
Countdown to Christmas - Week 3 - Ukraine
» Tagged:
Blue Morning Expressions
,
BlueMorningExpressions
,
Christmas
,
Countdown
,
gift ideas
,
gifts
,
handmade
,
holidays
,
Indiemade
,
Kenya
,
Shadow Dog Designs
,
ShadowDogDesigns
,
shopping
» Share: