Countdown to Christmas 2016 - Week 3 - Ukraine
Posted October 4, 2016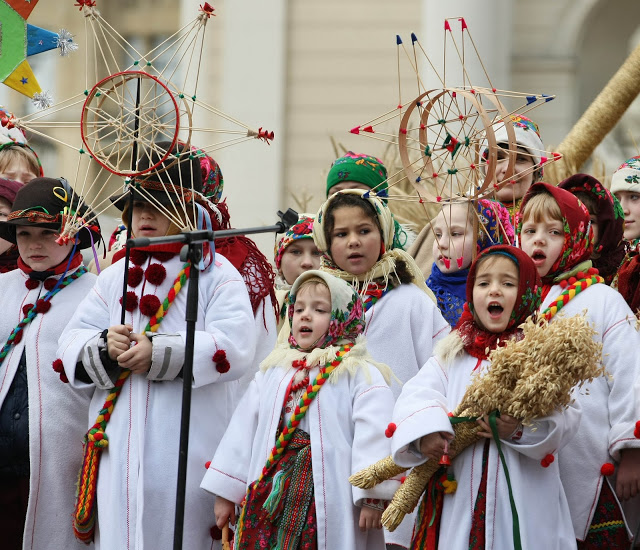 Christmas caroling in Ukraine
Even from a very early age, I have always been fascinated with words and languages. When I was in college, I took several languages, including Russian. Russian was challenging, especially trying to learn the Cyrillic alphabet and wrap my tongue around and pronouncing words with a string of strangely placed consonants. But what made the class VERY special was our instructor. I don't remember her last name but her first was Natasha and she was from Ukraine, then a part of the Soviet Union. She was very kind and very understanding with a great sense of humor. We all loved to listen to her stories of growing up and the family traditions. She and her family had a very hard life but the countryside itself sounded enchanting. And I'm sure we learned to speak Russian with a Ukrainian accent! So I have always had a fascination with Ukraine (and am so sad about what is happening there right now). So, Natasha, wherever you might be right now, you inspired this edition of the Countdown to Christmas.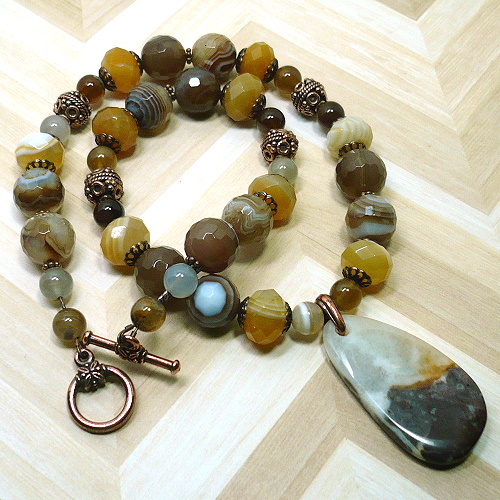 Chunky Brown and Yellow Botswana Agate with Copper Necklace Handmade by Kathy of KatsAllThat
The majority of Ukrainians who identify with a church are primarily Orthodox Christians who still follow the Julian calendar. Because of that, Orthodox Christian churches in central and eastern Europe and other parts of the world celebrate Christmas Eve and Christmas Day on Jan. 6 and 7, two weeks behind the Gregorian calendar Christmas. When Ukraine was part of the former Soviet Union, Christmas Day was not a public holiday but Christmas traditions were not forgotten, many based on pre-Christian pagan customs. After Ukraine gained its independence in 1991, Christmas Day, once again became a public holiday.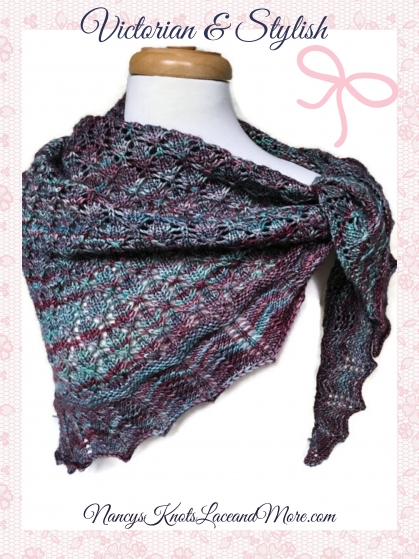 Merino Wool Triangle Shawl in Turquoise Purple Blend Ladies Wrap Malabrigo Rios Yarn Handmade by Nancy of Nancy's Knots, Lace and More
Ukrainian Christmas Eve is the last meatless meal of Advent and is known as Sviaty Vechir (Holy Supper). Some families celebrate Christmas Eve with a 12 course dinner, each course representing one of Christ's apostles. But, according to a ancient pagan traditions, each course of the meal represented a full moon that took place during the lunar year. While the women are busy preparing the multicourse meal, the children are assigned the task of decorating the Novorichna Jalynka (Christmas tree) traditionally always incuding a spider and spider web ornament. The children are also tasked to watch the night sky for the first star (signifying the Wise Men). Since only light snacking was allowed during the day, the first star is greeted with enthusiasm so the meal can begin. The table is set with the best linens and china, along with a didukh (a sheaf of wheat tied with a ribbon, symbolizing family ancestors and the importance of the grain in Ukraine) along with a bread known as kolach (a braided bread with 3 rings placed on top of another to symbolize the Holy Trinity). An extra place is usually set for departed family members and/or the Christ Child. Before anything is eaten, prayers are recited and the kolach is broken and dipped in honey (and often grated garlic) and shared with each member of the family, from eldest to youngest, with wishes for good health and prosperity in the coming year. Honey represents the sweetness of life while the garlic represents the bitterness.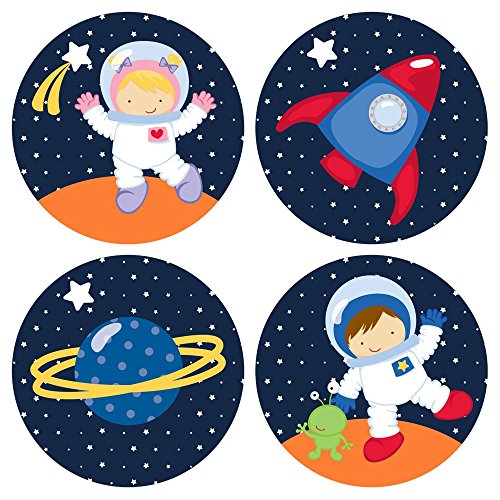 Outer Space Stickers for Boys and Girls Favor Labels, Set of 50, Handmade by Nat of adorebynat
A traditional Ukrainian Christmas Eve dinner contains no meat, eggs or dairy since it is a meatless Advent meal. Here is a traditional 12 course meal, which, of course, can vary from family to family: oplatky (Christmas Wafers) with honey; wine; soljanke (mushroom soup); pagach (cabbage bread); bobalky (balls of sweet bread); fish (usually herring or salmon gravlax), beans, peas, sauerkraut; mixed dried fruits or stewed prunes; assorted fresh fruits; mixed nuts; nut and poppy seed rolls; rozky (nuts, apricot, or prune filled bread rolls); and, coffee.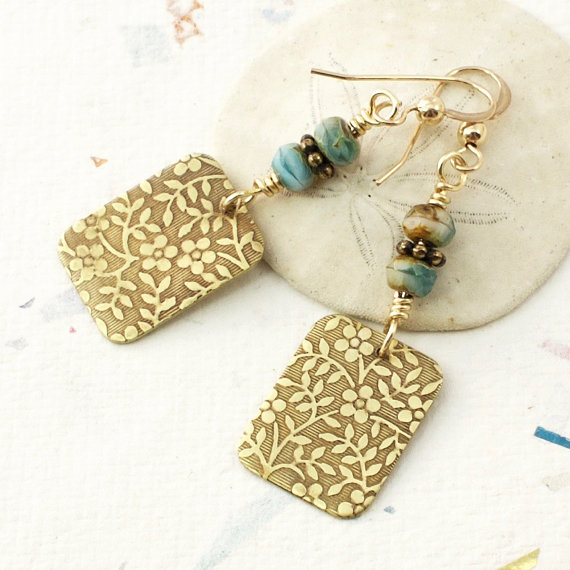 Flower Patterned Light Blue and Gold Earrings Handmade by Barbara of SolanaKaiDesigns
After dinner, Christmas carols are sung and poems are recited by the children. Some presents are exchanged but most are left to be opened on Christmas Day. In the old days, gifts were not given on Christmas Eve except for candy and other sweets. Traditionally gifts were given on December 19, Ukrainian St. Nicholas Day, by Did Moroz (Father Frost) or Svyatyy Mykolay (St. Nicholas). On the way to midnight mass, it is traditional to greet people by saying, "Dobryj vechir, sviaty vechir, dobrym liudiam na zdorovja" ("Good evening, holy evening, to good people for good health"). At the church service, the young children leave a gift at the manger. These gifts are later handed out to the needy children of the congregation.

Of course, a Christmas Day meal is eaten often containing: rollmopsy (rolled herring appetizer), kutia (sweet grain pudding), borshch (Ukrainian beetroot soup), vushka (small dumplings with mushrooms), various meat dishes, varenyky (dumplings with cabbage and potatoes), nalysnyky (cheese crepes), holubtsi z khlibnoho (beet leaf rolls with bread dough filling), holubtsi (stuffed cabbage roll), wigilia (fruit compote dessert) and many other dishes.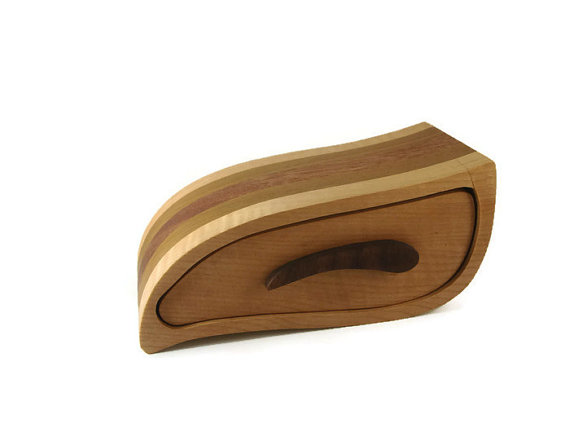 Wave Style Jewelry Or Trinket Bandsaw Box Handmade by Kevin of KevsKrafts
Christmas week, January 7-14, is an important family holiday for many Ukrainians. It is customary for some people to dress up, visit the homes of relatives and friends, sing Christmas songs (such as the beautiful Kolyadka - this version sung by the Monks Choir of Kiev Pechersk Monastery) and wish each other blessings. Other Christmas activities might include puppet shows of the Nativity, holiday concerts and Christmas fairs. In some villages in western Ukraine ancient folk performances are held, the fight of Good and Evil. Some people dress up as monsters with pelts and horns and run through the village trying to scare people. After that monsters run to a special place on the outskirts of the village where they fight with all people of the village and finally are defeated. Scarecrows are burned in a big fire and the villagers dance around the fire. Evil is defeated and the village will be prosperous for the coming year.
щасливого Різдва (Shchaslyvoho Rizdva) - "Merry Christmas" in Ukrainian
Lampwork Glass Beads Opaque Etched Medium Lemon Yellow Silver Handmade by Charlotte of Covergirlbeads
Now, on to the Countdown to Christmas, filled with artisan handmade items (see above and below), perfect gift ideas for Christmas, whether Ukranian or not.
With the fast approaching gift giving season in mind, Julie and Blu of Blue Morning Expressions are hosting a twelve-week Countdown to Christmas 2016 on their The Blu Print blog. The twelve week time period was chosen to correspond with the Christmas carol "The Twelve Days of Christmas." This week, there were 60 shares by artists of a wide range of handmade gift ideas: jewelry of all types, knitted shawls, pet themed gifts, crocheted and sewn beauties, favor labels, wooden items, photography, polymer clay thimbles, lampwork beads and a whole host of other items.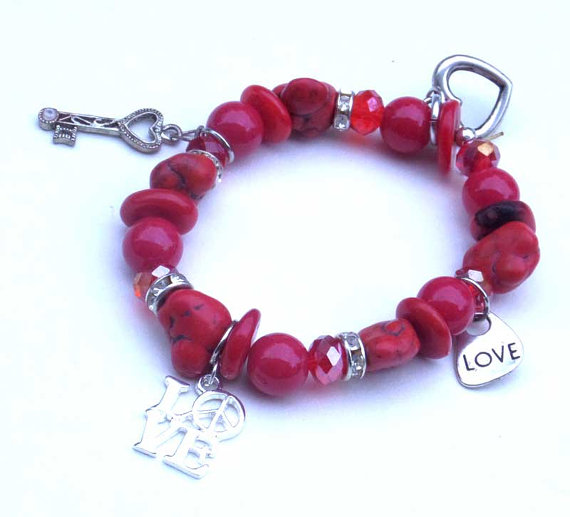 Red Love Charm Bracelet Handmade by Linda of Lindab142
Shop owners on Indiemade, ArtFire, Zibbet, Etsy, SupaDupa, a stand alone website and the like are welcome to share up to three gift items on the Countdown between Friday afternoon at 12:00 p.m. (Eastern time) and Sunday night at 11:59 p.m. Then a new collection of gift items will begin again the next Friday. This will continue until the second week in December. The items shared need to be G-rated.

If you share items on the Countdown to Christmas, you MUST promote the collection and EACH item on at least one social network site, preferably Pinterest where the items can be easily seen and then saved again. It's only fair to promote each of the participants who have promoted you!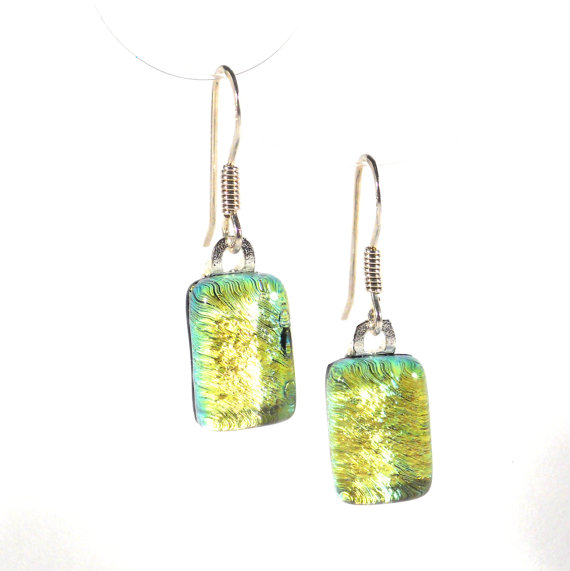 Yellow Gold Dichroic Fused Glass Dangle Earrings Handmade by Kellie of ResetarGlassArt
In addition to saving each item from the Countdown collection to my Pinterest board and Wanelo collection, I decided to share one item from each of the artists who participated. Here are the rest of the items I'm featuring this week, in an order that was arranged by assigning each item a number and then drawing numbers from my trusty "numbers" bowl. Enjoy!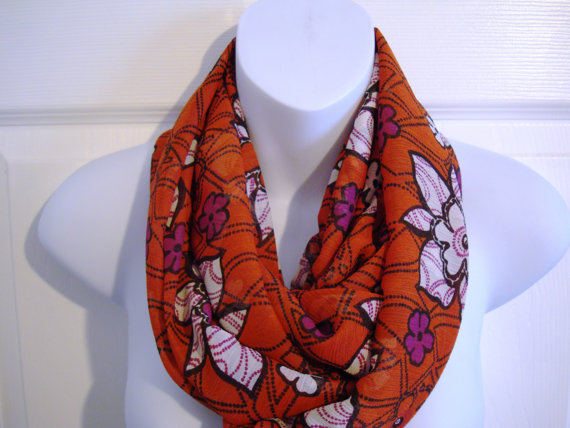 Women's Red Floral Print Infinity Scarf Handmade by Anne of ennadoolf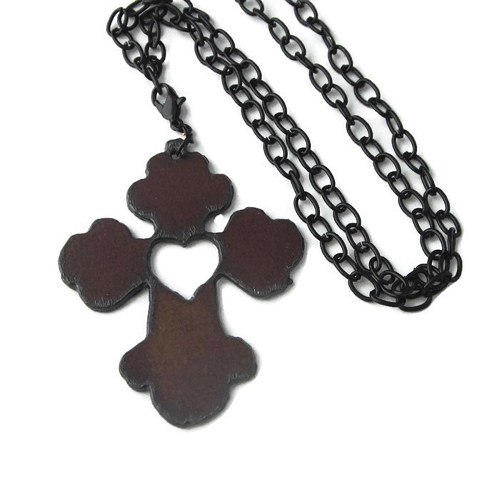 Brown Rust Black Large Steel Cross Pendant Cut Out Heart Long Adjusts Handmade by Connie of TheSingingBeader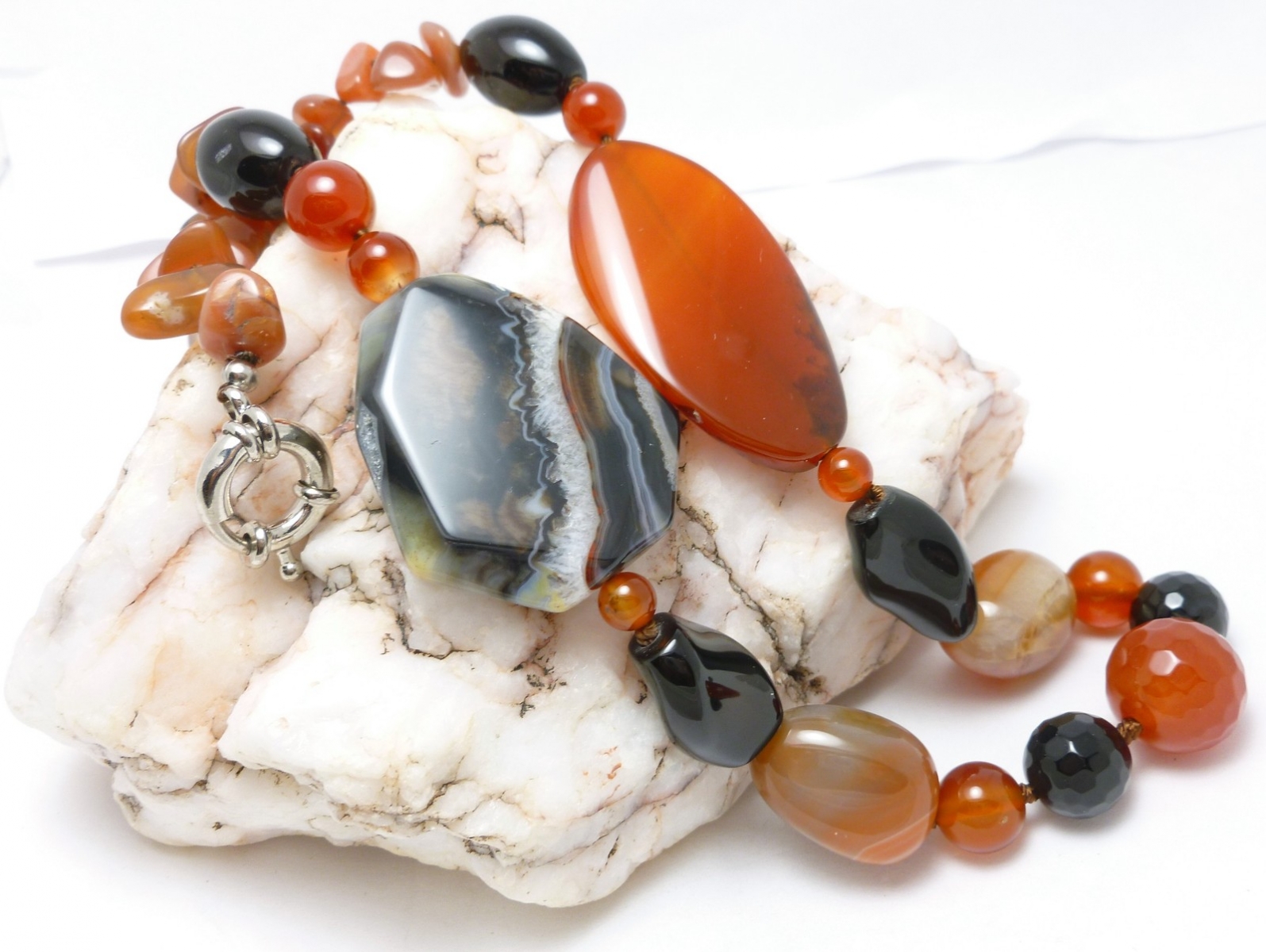 Agate Red Carnelian Black Onyx Large Bold Gemstone Beaded Necklace Handmade by Diane of dianesdangles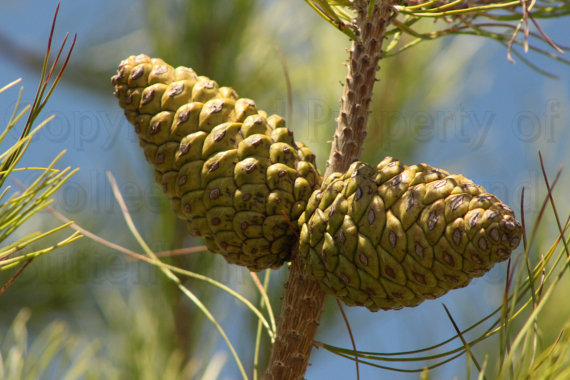 Photograph Close Up of Bright Lime Green Pine Cones Handmade by Colleen of ButterflyInTheAttic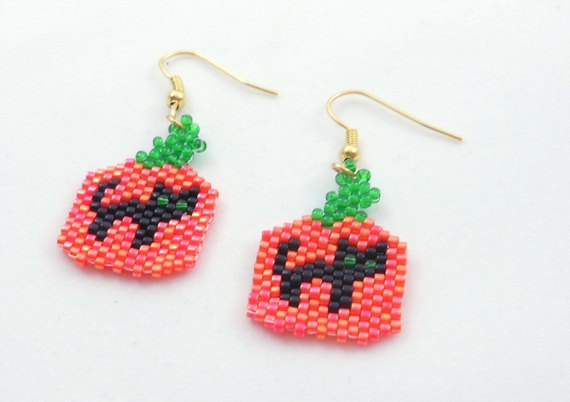 Brick Stitch Beaded Halloween Pumpkin and Cat Earrings Handmade by Cathy of CraftingMemories1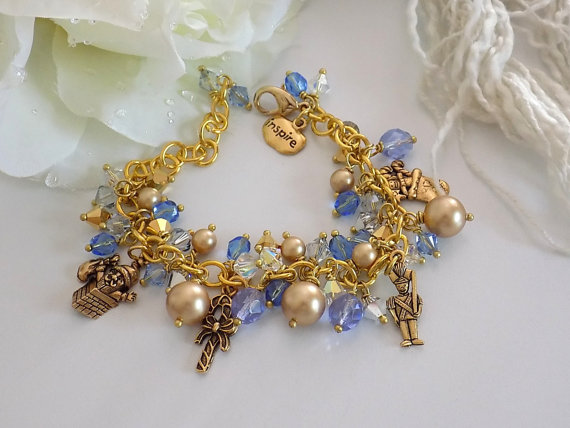 Gold Charms and Sapphire Christmas Bracelet Handmade by Linda of TreasuresofJewels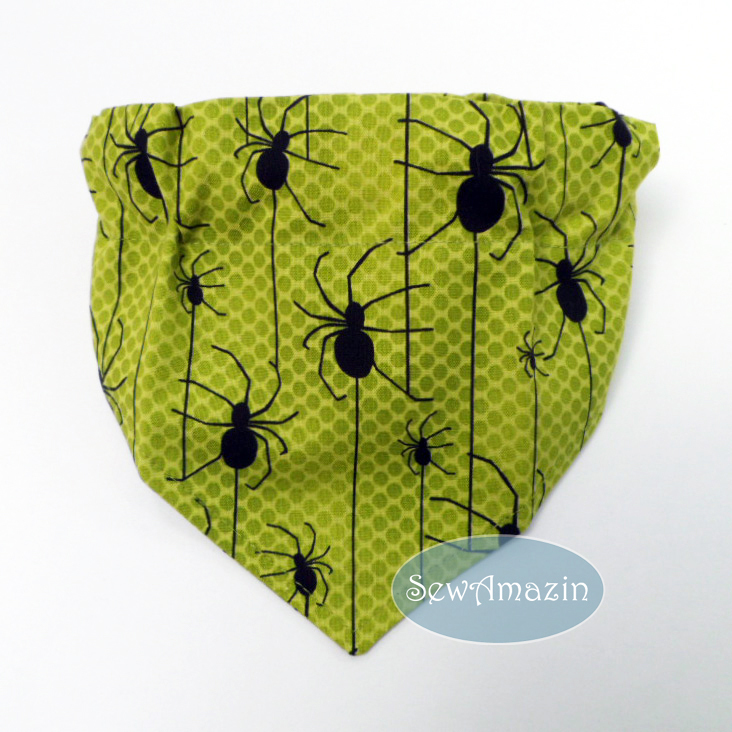 Black Spiders Halloween Dog Bandana, Collar Slipcover Style Handmade by Donna of SewAmazin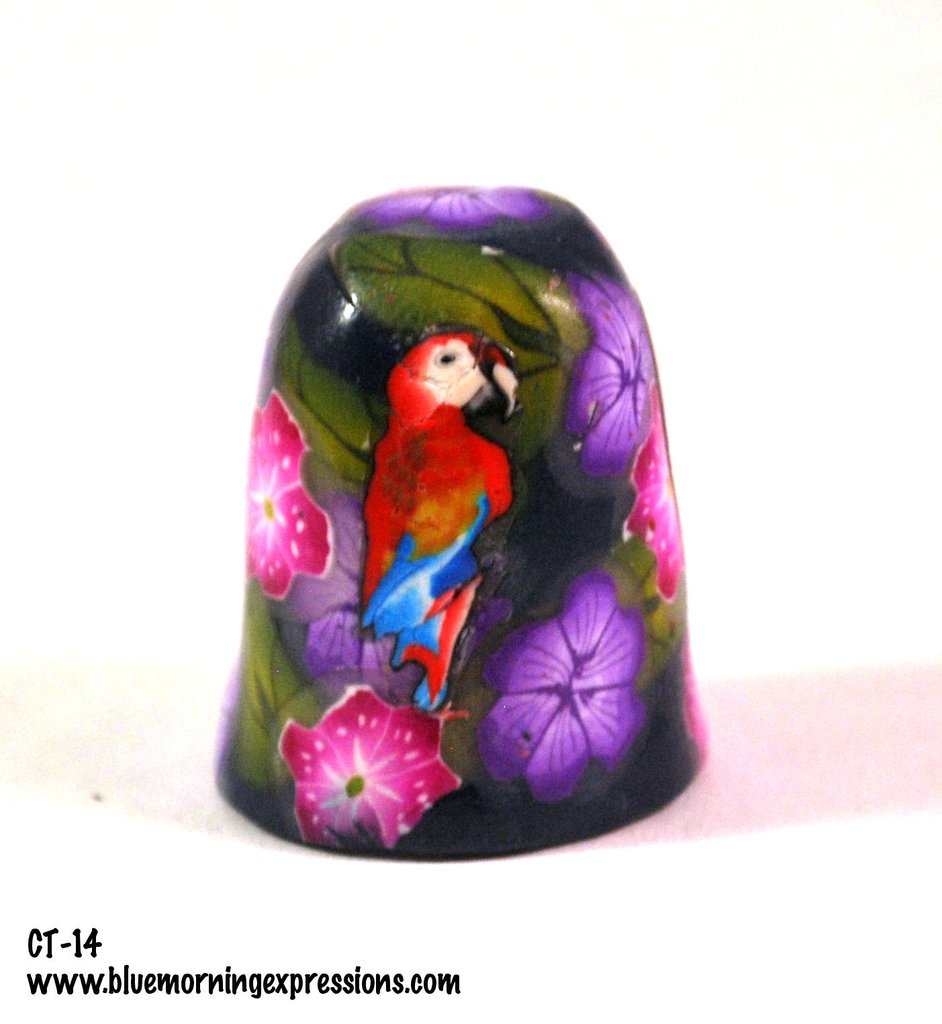 Collectible Thimble with a Parrot and Flowers Handamde by Julie and Blu of Blue Morning Expressions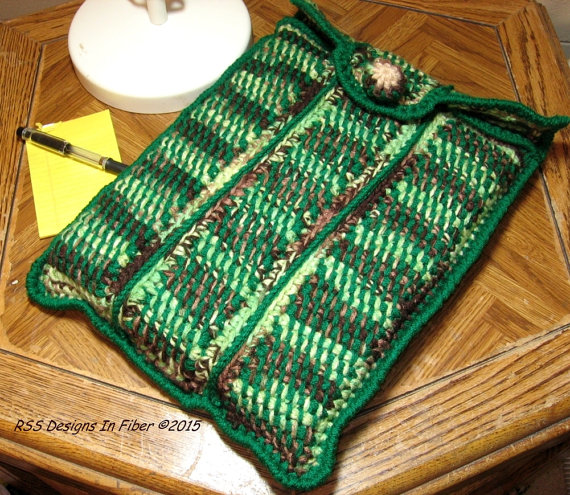 Crocheted Protective Laptop Sleeve in Earthy Colors Handmade by Ruth of RSSDesignsinFiber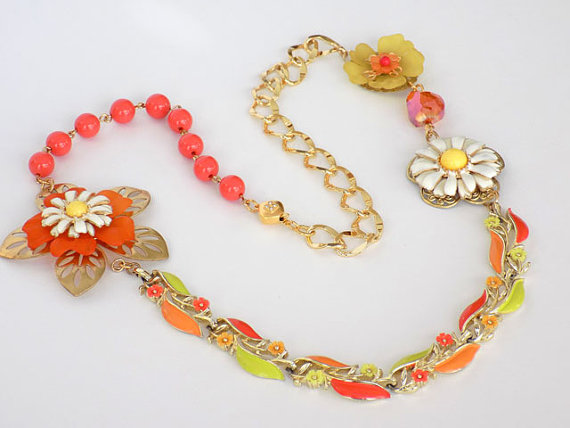 Long Orange Daisy Statement Necklace from Repurposed Jewelry by Sharon of BlondePeachJewelry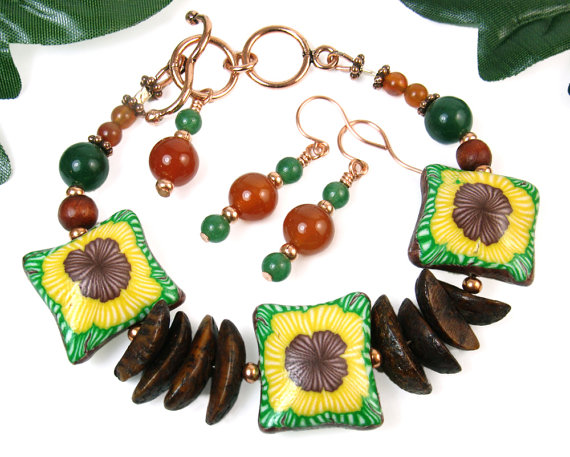 Polymer Clay Floral Beads, Betel Seeds, Gemstones and Wooden Beads Bracelet and Earrings Set by Mary of Pretty Gonzo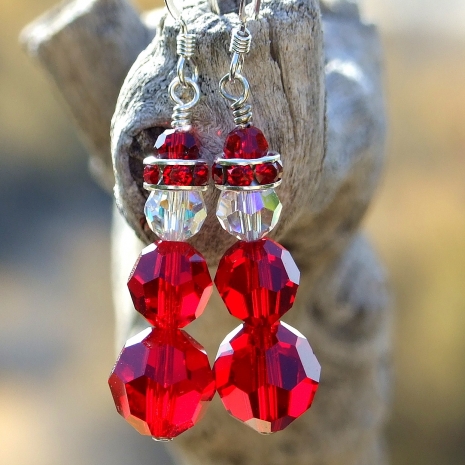 Swarovski Crystal Santa Christmas Earrings, Siam Red Holiday Jewelry Handmade by Catherine of Shadow Dog Designs
I hope you have enjoyed this sampling of some of the handmade gift items that can be found in the Countdown collection hosted by Julie and Blu of Blue Morning Expressions. To see all the items in the collection, please click here: Countdown to Christmas 2016 - Week 3. I hope that at least one, maybe more, items piqued your interest and made its way to your shopping list.
What will week 4 bring? MORE handmade and vintage beauties! I, for one, am looking forward to it!
If you are so inclined, please make my day and leave a comment (: Also any promotion will be greatly appreciated by everyone featured in this post. Thank you!
---
In case you missed the posts from the past weeks, here are links to take you there:
Countdown to Christmas - Week 1 - Norway
Countdown to Christmas - Week 2 - Italy
---
» Tagged:
Blue Morning Expressions
,
BlueMorningExpressions
,
Christmas
,
Countdown
,
gift ideas
,
gifts
,
handmade
,
holidays
,
Indiemade
,
Shadow Dog Designs
,
ShadowDogDesigns
,
shopping
,
Ukraine
» Share: