Countdown to Christmas 2016 - Week 10 - Latvia
Posted November 22, 2016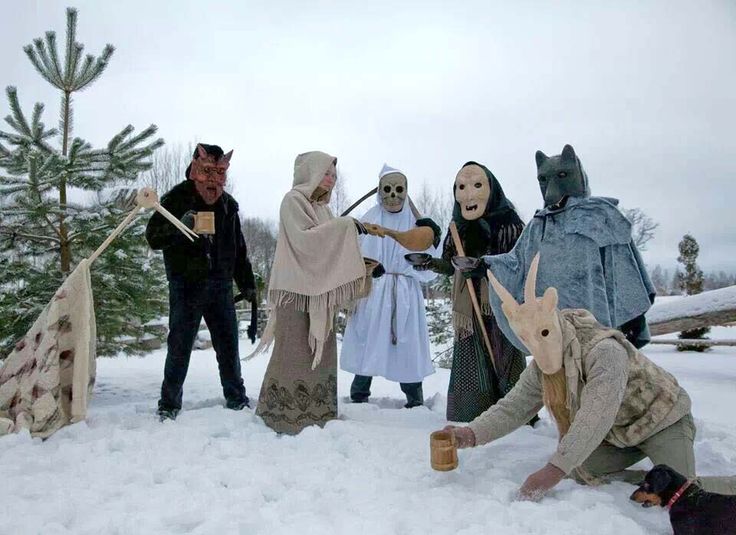 Ziemassvetki mumming in Latvia; photo courtesy Vienkocu Parks
The Republic of Latvia is one of the three Baltic states in Northern Europe. Despite the main religion being Christianity, many traditions survive from the ancient pagan celebrations of the Ziemas saulgrieži (winter solstice), the longest night of the year. The people of the Baltics were the last pagans of Europe, until the German crusaders arrived in the 13th century. Over the centuries the old pagan traditions, characteristic to many Northern European countries, have blended and mixed with the Christian ones and are celebrated during Ziemassvētki, literally meaning winter festival, but also used to denote Christmas. Since the winter solstice and Christmas happen very close together, the rebirth of the Sun Maiden is celebrated on December 25, along with the birth of the Christ Child. Ziemassvētki is a mix of ethnic, religious and modern traditions all about light coming back into life.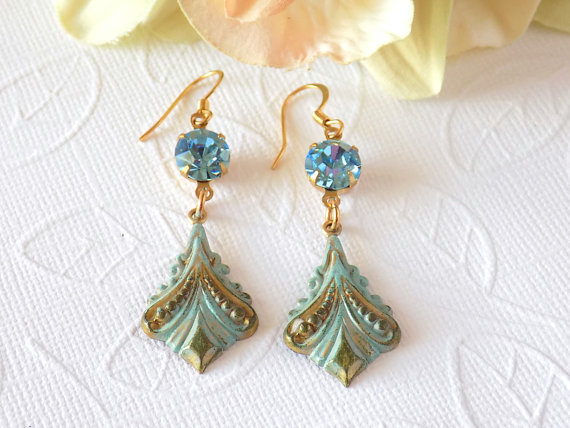 Art Nouveau Aqua Patina Dangle Earrings Handmade by Linda of TreasuresofJewels
For Ziemassvētki, homes are decorated with evergreens, most commonly fir branches and fir trees. Traditional decorations are made from straw, colored yarn, bird feathers, as well as dried flowers or dried fruit, with candles used as the light source. A more natural and subtle beauty is created instead of the modern-day brightly colored and sparkly decorations. Even though the Germans lay claim to the original Christmas tree, the first documented use of an evergreen tree for Christmas and New Year celebrations dates back to 1510 in the medieval town square of Riga, the capital of Latvia. A tree was placed and decorated in front of the House of Blackheads, a guild for unmarried German merchants in Riga. A tree has been erected in that legendary spot every year since then.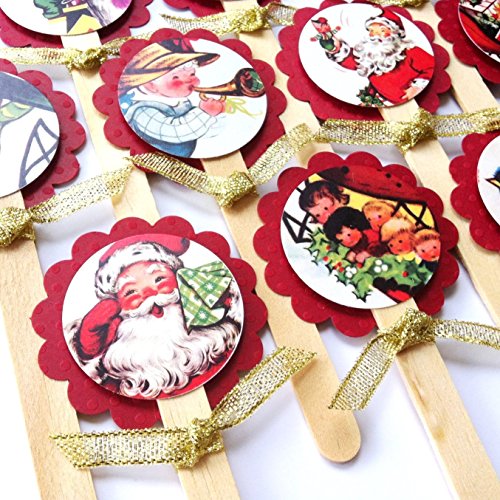 Vintage Inspired Christmas Cupcake Toppers - Set of 12 - Handmade by Nat of Adore By Nat
For Latvians, Ziemassvētki is the time when all family comes together. December 24th is usually very peaceful and is when families go to Christmas Eve church services. While at church, Ziemassvētku vecītis ("Christmas old man" who looks suprisingly just like Santa Claus) brings small gifts and places them under the tree. The gifts might be opened after church or on Christmas Day. It is a tradition in many families that the person who receives a gift must recite a short poem or sing a song. Before Christmas, children spend time learning the poem(s) they will have to recite to get their gifts. Sometimes a song on a musical instrument can be played or a dance performed.
Golden Tigers Eye Gemstone Statement Necklace Handmade by Sharon of BlondePeachJewelry
In Latvia the family, close relatives and friends join together for the Christmas feast which might be eaten after church on December 24 or on December 25. A Ziemassvētki meal traditionally consists of 12 foods, usually including: a pork roast (in times past, a whole roasted pig head), grūdenis (pig's head boiled with barley), pelēkie zirņi ar speķīti (boiled grey peas with bacon washed down with kefir), shtoveti kaaposti (stewed saurkraut), small pies, cabbage & sausage, pirāgi (bacon rolls), piparkūkas (gingerbread) and skrīveru gotina (caramel candy). German gluhwine, a hot wine drink, is often part of the meal. It is very important to eat boiled grey peas during the meal because legend says if you eat them you won't have to cry the next year.
Custom Pet Portrait Drawings Handmade by Cathy of CraftingMemories1
The best-known Latvian Ziemassvētki tradition is a custom that goes by several names depending on where you are in Latvia: budēļi, ķekatas or kaļadas. It translates to "mumming" or "masking." Mummers wear an assortment of masks and costumes, the most traditional looking like bears, horses, goats, haystacks, gypsies, devils, living corpses (delightful!) and Death. People dress up in their costumes, paying special efforts not to be recognized, and go from house to house singing, dancing and playing games. The masque procession is believed to bring luck for the households that are visited, scaring away evil spirits. The mummers are usually warmly welcomed, feasted and given small gifts. By the way, it is thought that if you dance with Death, you become his friend and will not die the next year. Check out this mummers video: Latvian winter solstice masking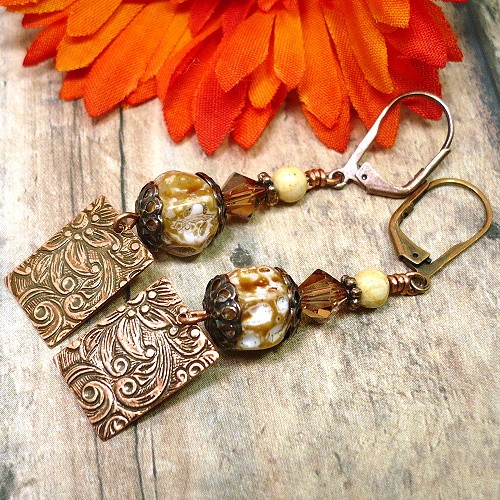 Czech Rose Gold Picasso Copper Floral Crystal Topaz Dangle Earrings Handmade by Kathy of KatsAllThat
Another tradition that is believed to scare away evil spirits, as well as to bring fertility and good luck, is the rolling or pulling of the yule log. The log, usually a sturdy oak with attached ropes, is rolled through the village or town to gather all the failures, the bad thoughts and bad deeds of the passing year. At the end of the procession the yule log is burned in a bonfire symbolically burning all the misfortune and sorrow to make a fresh start for the new year. The rolling of the yule log is a joyous event and often includes some singing and dancing. Check out this video of a log pull in Riga: Pagan Log Pull - Winter Solstice Celebration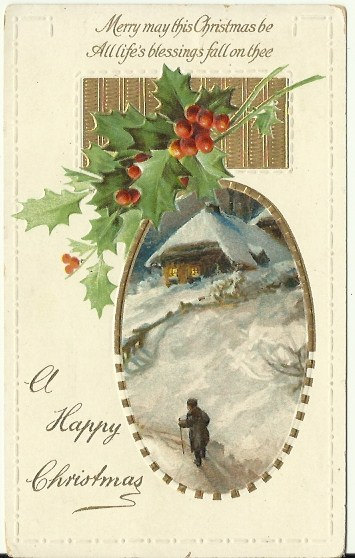 "A Happy Christmas" 1911 Antique Christmas Postcard by Colleen of postcardsintheattic
Ziemassvētki is seen as the perfect time for predicting and / or influencing the future. Some traditions include:
Want to know who you will marry? Stand with your back to a fireplace and bend forward to look into the fire through your legs and you might see him.

Want to know if you will have a good harvest next year? The more stars you can count in the sky on the solstice night, the better your crops will be.

Want to have a lot of money? Find yourself a black cat and carry it around the church.
​
Happy Christmas in Latvian – Priecīgus Ziemassvētkus!
Cobalt Blue Lampwork Glass Bead With Silver Large Hole Slider Charm Bead Handmade by Charlotte of Covergirlbeads
Now, onto the Countdown to Christmas 2016 - Week 10, filled with artisan handmade items (see above and below), perfect ideas for Christmas gift giving.
With the fast approaching gift giving season in mind, Julie and Blu of Blue Morning Expressions are hosting a twelve-week Countdown to Christmas 2016 on their The Blu Print blog. The twelve week time period was chosen to correspond with the Christmas carol "The Twelve Days of Christmas." This week, there were 60 shares by artists of a wide range of handmade gift ideas: jewelry of all types, pet themed gifts, crocheted and sewn beauties, favor tags, paintings, photography, vintage items, lampwork beads and a whole host of other items.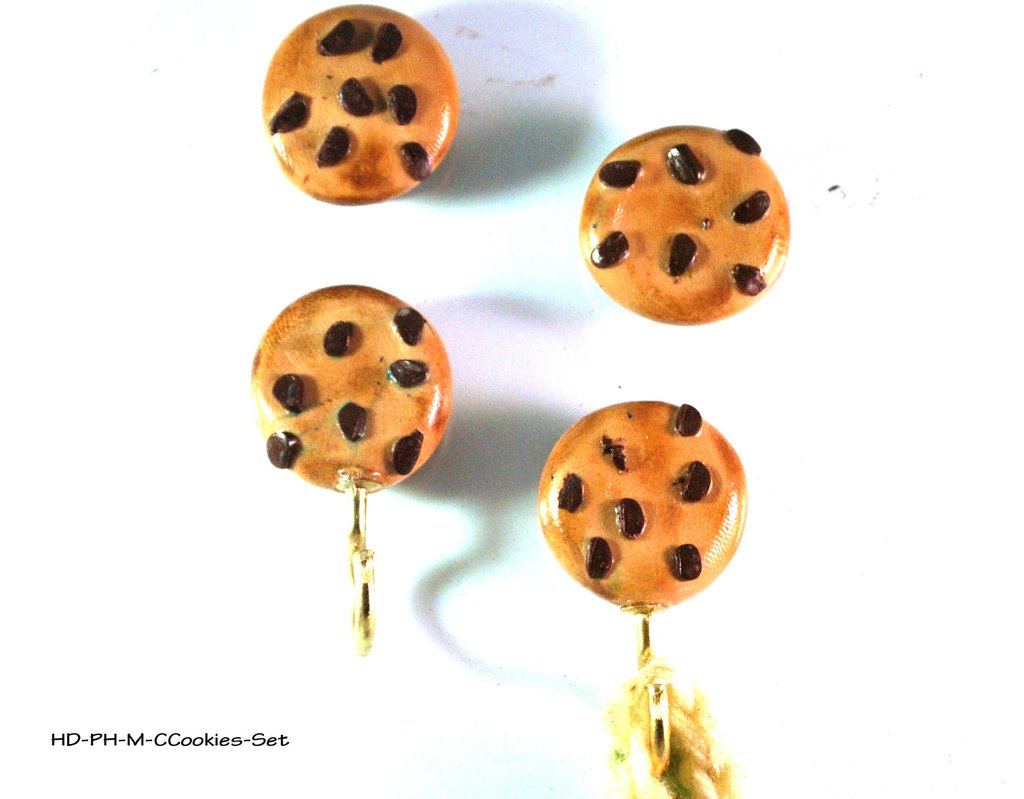 Chocolate Chip Cookie Potholder Magnets Handmade by Juie and Blu of Blue Morning Expressions
Shop owners on Indiemade, ArtFire, Zibbet, Etsy, SupaDupa, stand alone websites and the like are welcome to share up to three gift items on the Countdown between Friday afternoon at 12:00 p.m. (Eastern time) and Sunday night at 11:59 p.m. Then a new collection of gift items will begin again the next Friday. This will continue until the second week in December. The items shared need to be G-rated.
Reversible Holiday Mommy and Me or Grandma and Me Apron Set Handmade by Mary of SimpleEmbroiderySew
If you share items on the Countdown to Christmas you MUST promote the collection and EACH item on at least one social network site, preferably Pinterest where the items can be easily seen and then saved again. It's only fair to promote each of the participants who have promoted you!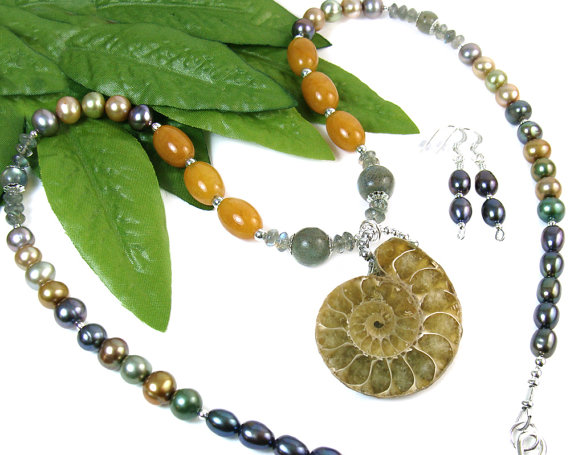 Fossil Ammonite Neckace Pendant Necklace with Labradorite and Jasper Handmade by Mary of PrettyGonzo
In addition to saving each item from the Countdown collection to my Pinterest board and Wanelo collection, I decided to share one item from each of the artists who participated. Here are the rest of the items I'm featuring this week, in an order that was arranged by assigning each item a number and then drawing numbers from my trusty "numbers" bowl. Enjoy!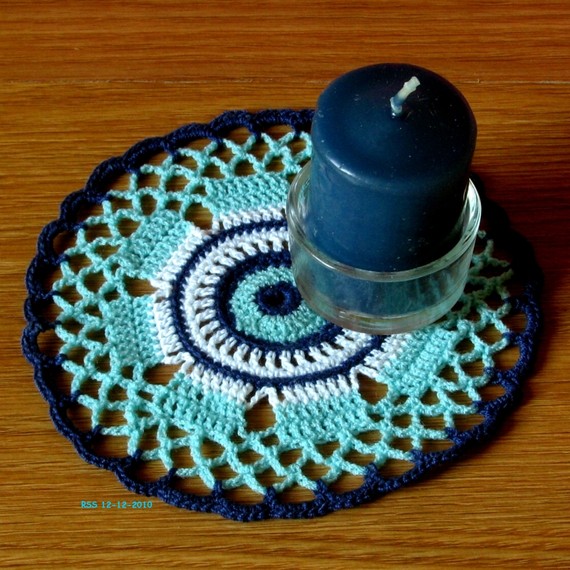 Set of 4 Navy & Turquoise Crochet Lace Coasters Handmade by Ruth of RSSDesignsInFiber
Green and Pink Floral Suncatcher Handmade by Barbara of SolanaKaiDesigns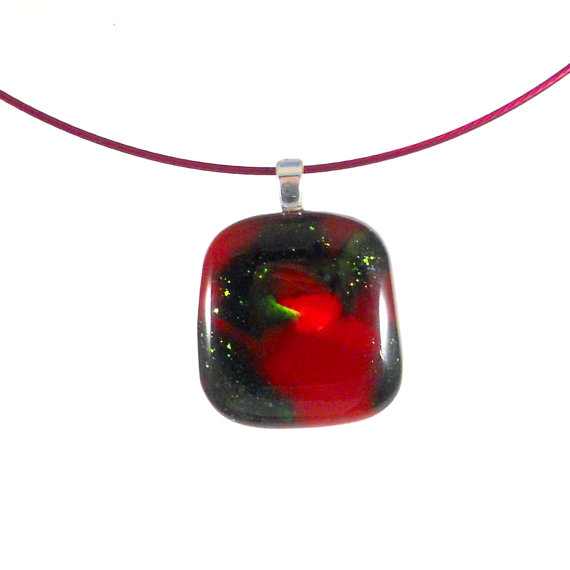 Red and Green Fused Glass Christmas Pendant Necklace Handmade by Kellie of ResetarGlassArt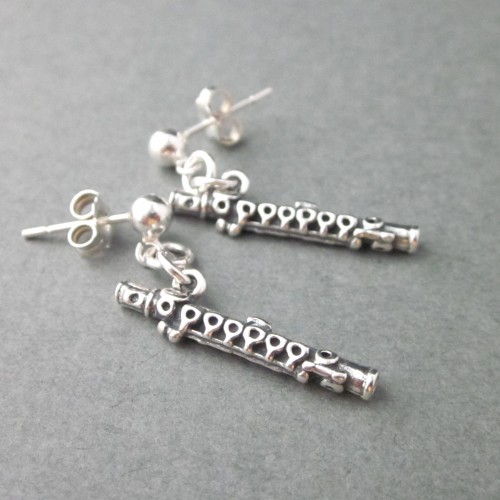 Sterling Silver Flute Charm Ball Post Earrings Music Themed Jewelry Handmade by Connie of TheSingingBeader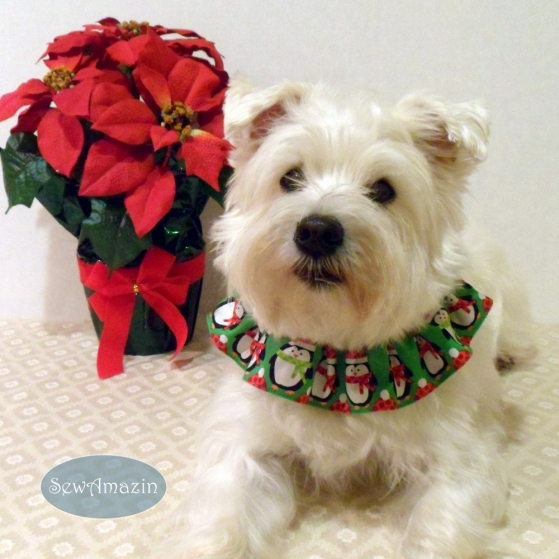 Perky Penguins with Scarves Dog or Cat Scrunchie Neck Ruffle Handmade by Donna of SewAmazin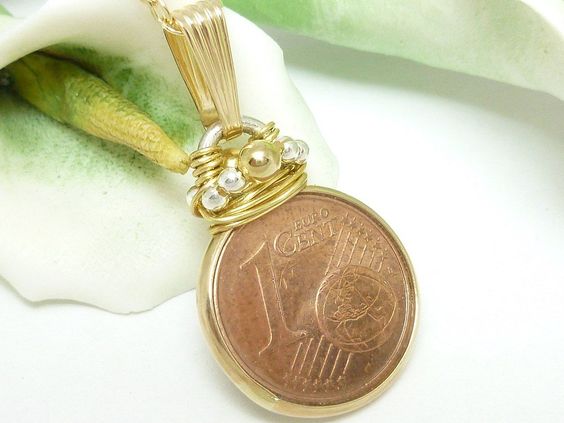 German One Cent Euro Coin Pendant Mounted 14 kt Gold Filled Handmade by Diane of beadsouk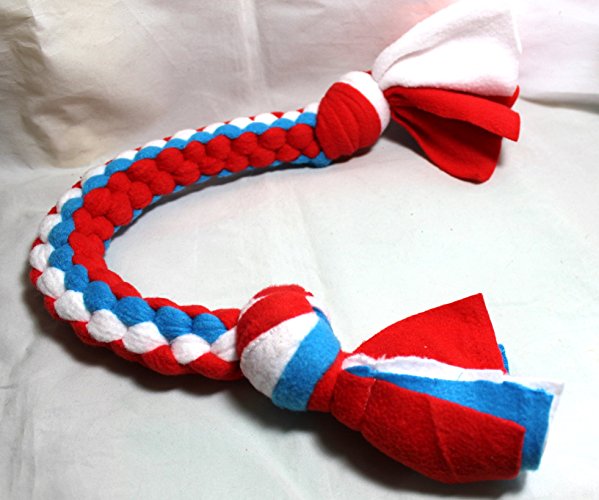 Woven Fleece Tug Toy Handmade by Nancy of Wyvern Designs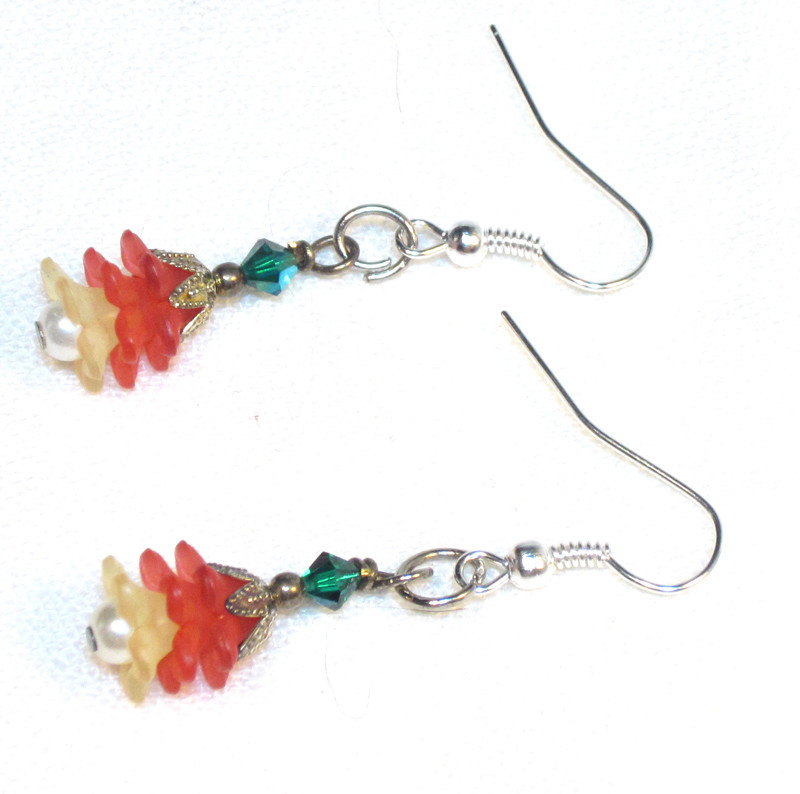 Flower Christmas Earrings Handmade by Linda of Linor Store Jewelry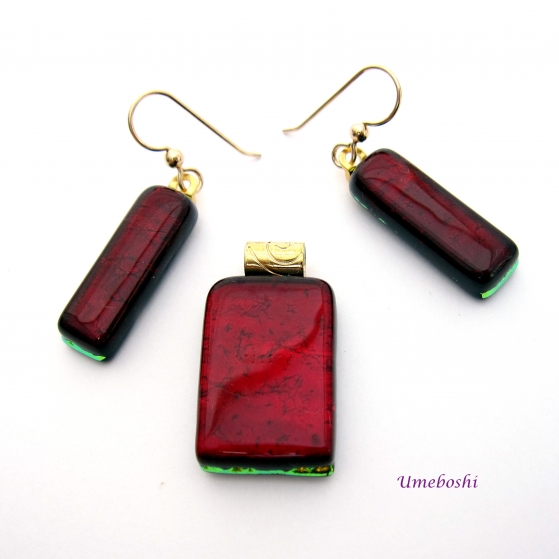 Candy Apple Red Dichroic Glass Jewelry Set, Pendant and Dangle Earrings, Handmade by Jo of Umeboshi Jewelry Designs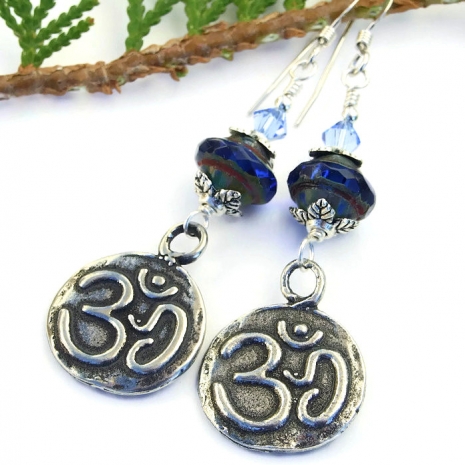 OM and Lotus Zen Yoga Earrings with Blue Czech Glass and Crystals Handmade by Catherine of Shadow Dog Designs
I hope you have enjoyed this sampling of some of the handmade gift items that can be found in the Countdown collection hosted by Julie and Blu of Blue Morning Expressions. To see all the items in the collection, please click here: Countdown to Christmas 2016 - Week 10. I hope that at least one, maybe more, items piqued your interest and made its way to your shopping list.
What will week 11 bring? MORE handmade and vintage beauties! I, for one, am looking forward to it!
If you are so inclined, please make my day and leave a comment (: Also any promotion will be greatly appreciated by everyone featured in this post. Thank you!
---
In case you missed the posts from the past weeks, here are links to take you there:
Countdown to Christmas - Week 1 - Norway
Countdown to Christmas - Week 2 - Italy
Countdown to Christmas - Week 3 - Ukraine
Countdown to Christmas - Week 4 - Kenya
Countdown to Christmas - Week 5 - Portugal
Countdown to Christmas - Week 6 - Iceland
Countdown to Christmas - Week 7 - Peru
Countdown to Christmas - Week 8 - Luxembourg
Countdown to Christmas - Week 9 - Fiji
---
My contact information:
Indiemade shop: ShadowDogDesigns
Indiemade blog: ShadowDogDesigns' Blog
Artfire studio: ShadowDogDesigns
ArtFire Blog: ShadowDogDesigns' Blog
Google+: Catherine W
Facebook: ShadowDogDesigns - Jewelry
Twitter: ShadowDogDesign
Pinterest: Shadow Dog Designs
Wanelo: ShadowDog
Amazine: ShadowDogDesigns
Rebelmouse: ShadowDogDesigns
Flickr: Shadow Dog Designs' Photostream
Beautifully Unique Handmade Jewelry
» Tagged:
Blue Morning Expressions
,
BlueMorningExpressions
,
Christmas
,
Countdown
,
gift ideas
,
gifts
,
handmade
,
holiday shopping
,
holidays
,
Indiemade
,
Latvia
,
Shadow Dog Designs
,
ShadowDogDesigns
,
shopping
» Share: