Countdown to Christmas 2016 - Week 1 - Norway
Posted September 20, 2016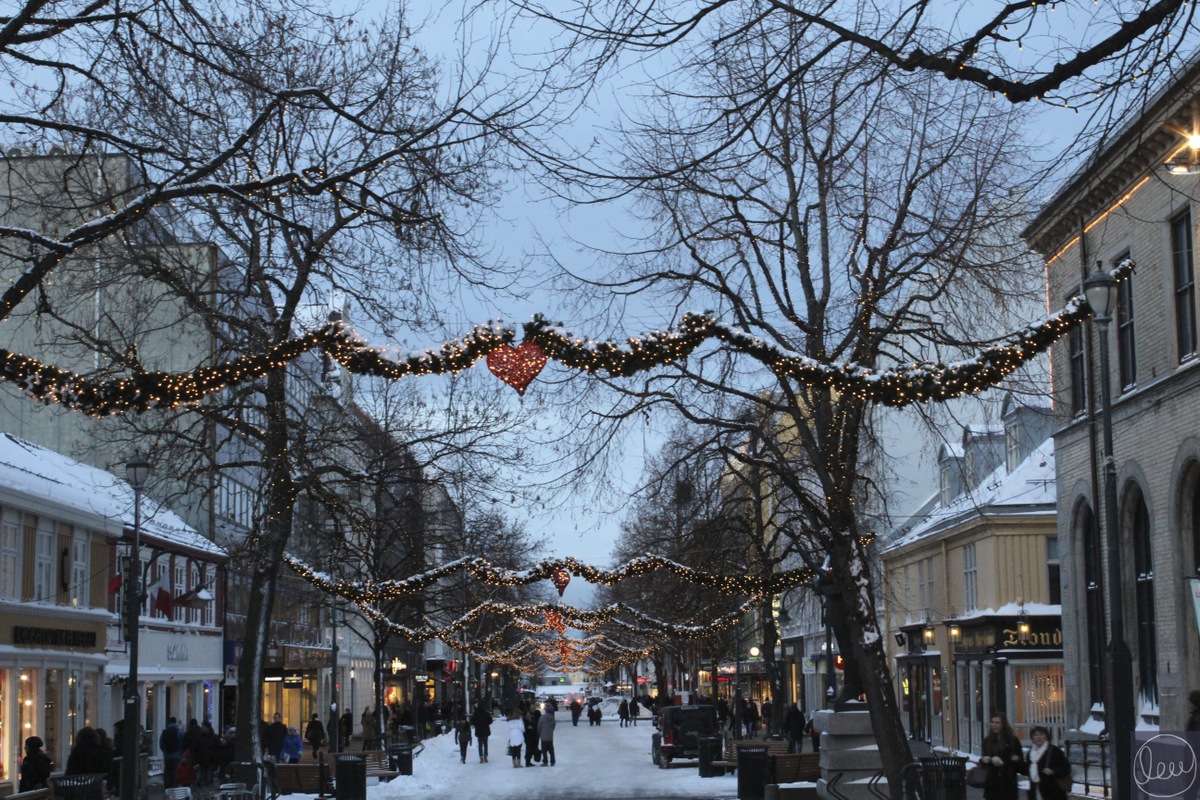 Christmas in Trondheim, Norway; photo by PLANET LEW
This past weekend started the fifth annual "Countdown to Christmas 2016" collection hosted each year by Julie and Blu of Blue Morning Expressions. It is a way for handmade artisan and vintage sellers to share three of their items each week, each one perfect for Christmas gift giving. I will pick my favorite item each week and share them here in this blog.

Also, I plan on sharing a bit about how different countries around the world celebrate Christmas. This week, Norway is highlighted: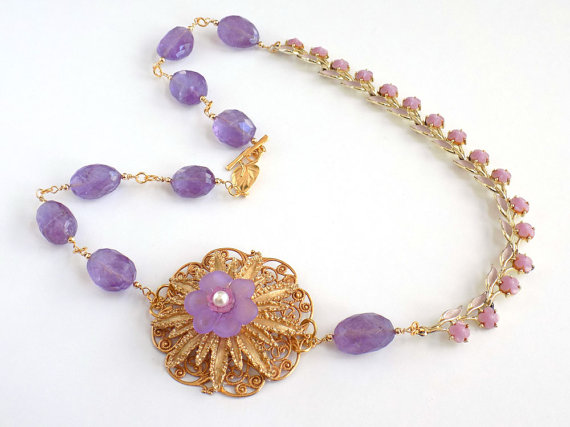 Repurposed Necklace with Vintage Flower Focal and Amethyst Gemstones Handmade by Sharon of BlondePeachJewelry
Christmas wasn't celebrated in Norway until about 1000 or 1100 when Christianity first came to the area. Before this people celebrated jul or jòl in the middle of winter. It was a celebration of the having finished and stored the harvest and a way of looking forward to the spring. Lots of juleol (beer) was brewed and drunk in honour of the old pagan Scandinavian gods.

Today, Christmas Eve is the time when gifts are are exchanged. The gifts are sometimes brought by Santa Claus (called Julenissen in Norway). Presents can also be brought by small gnomes, called Nisse, and a rice porridge is sometimes left out for them since they are believed to safely guard farm animals. A sheaf of wheat is often left out for the birds to eat over Christmas. In parts of Norway, families light a candle every night from Christmas Eve to New Year's Day.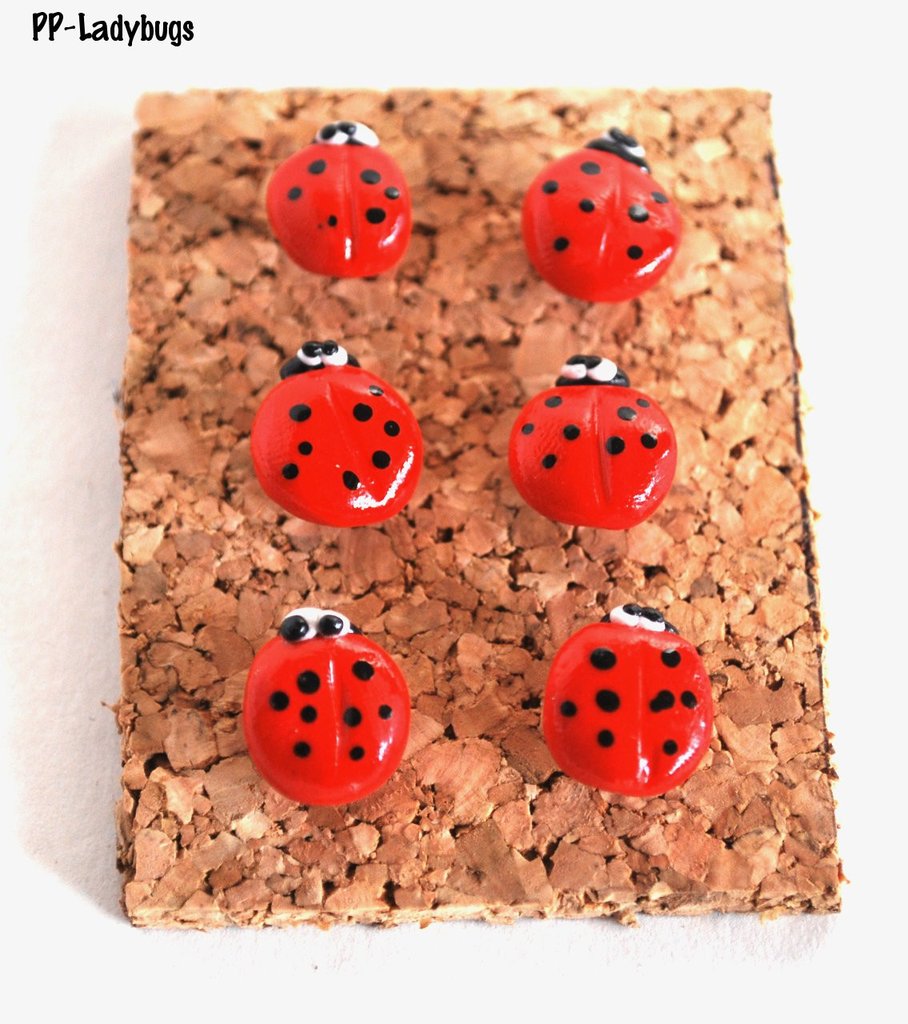 Giant Ladybug Pushpins Thumbtacks for Bulletin and Cork Boards Handmade by Julie of BlueMorningExpressions
The main Christmas meal is normally pork or mutton ribs served with surkal (white or red cabbage, finely chopped and cooked with caraway seeds and vinegar) and potatoes. Many different types of cakes and biscuits are eaten over the Christmas holidays. One of the most popular is a special bread called Julekake that has raisins, candied peel and cardamom in it. Rice porridge is eaten on Christmas Eve either as a meal at lunchtime (served with butter, sugar and cinnamon) or as a dessert to the main evening meal (with whipped cream mixed in). If you find an almond in your portion you're traditionally given a pink or white marzipan pig.

Maybe the most famous Norwegian Christmas custom is the huge Christmas tree that Norway gives to the United Kingdom every year. The tree is given as a tusen takk (thank you very much) for the help that the people of the UK gave to Norway during World War II. The tree stands in Trafalgar Square in the middle of London and often hundreds of people come to watch when the lights are turned on.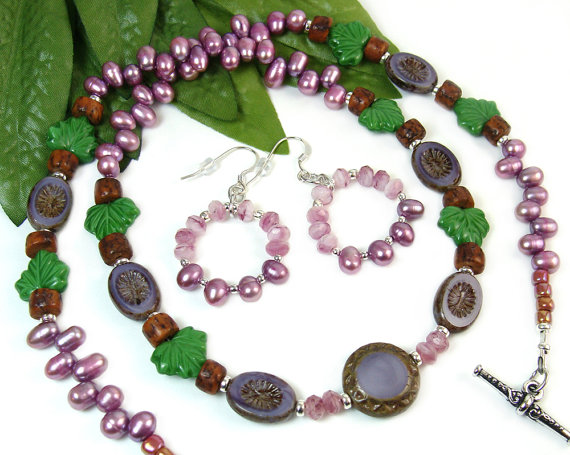 Versatile Boho Wrap Bracelet / Necklace with Freshwater Pearl Hoop Earrings Handmade by Mary of PrettyGonzo
Now, on to the Countdown to Christmas:

With the fast approaching gift giving season in mind, Julie and Blu of Blue Morning Expressions are hosting a twelve-week Countdown to Christmas 2016 on their BluPrint blog. The twelve week time period was chosen to correspond with the Christmas carol "The Twelve Days of Christmas." This week, there were 54 shares by artists of a wide range of handmade gift ideas: jewelry of all types, knitted shawls and wash cloths, pet themed gifts, crocheted beauties, gift tags, Jewish gifts, fused glass plates, lampwork beads and a whole host of other items.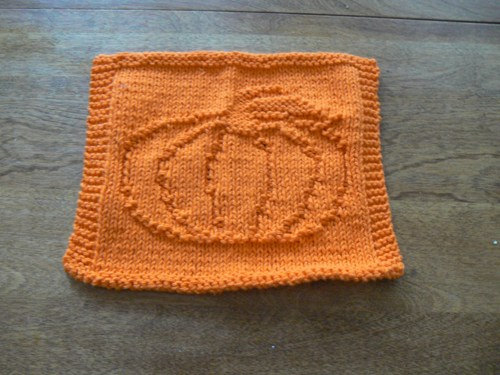 Hand Knit Orange Pumped Up Pumpkin Wash Cloth or Dish Cloth Handmade by Sharon of HollyknitterCreation
Shop owners on Indiemade, ArtFire, Zibbet, Etsy, SupaDupa, a stand alone website and the like are welcome to share up to three gift items on the Countdown between Friday afternoon at 12:00 p.m. (Eastern time) and Sunday night at 11:59 p.m. Then a new collection of gift items will begin again the next Friday. This will continue until the second week in December. The items shared need to be G-rated.

If you share items on the Countdown to Christmas, you MUST promote the collection and EACH item on at least one social network site, preferably Pinterest where the items can be easily seen and then saved again. It's only fair to promote each of the participants who have promoted you!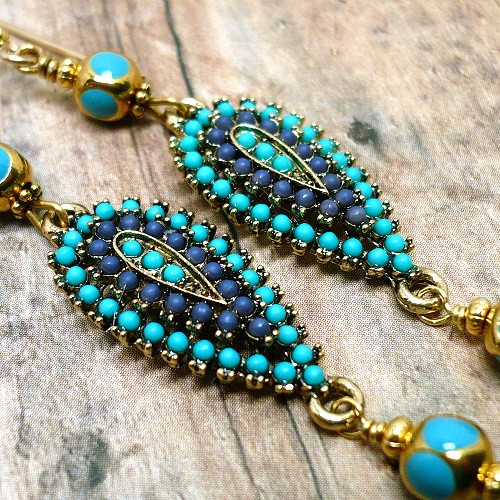 Turquoise and Navy Blue Beaded Gold-Filled Dangle Earrings Handmade by Kathy of KatsAllThat
In addition to saving each item from the Countdown collection to my Pinterest board and Wanelo collection, I decided to share one item from each of the artists who participated. Here are the rest of the items I'm featuring this week, in an order that was arranged by assigning each item a number and then drawing numbers from my trusty "numbers" bowl: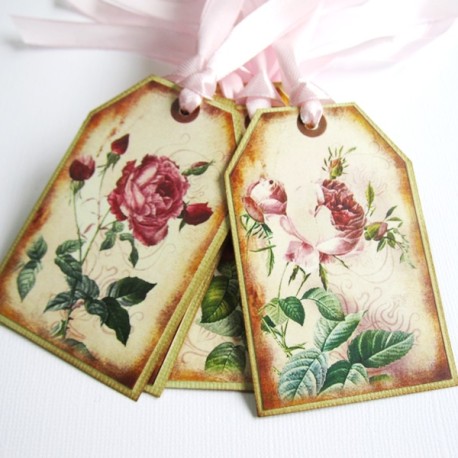 Vintage Inspired Rose Gift Tags, Set of 12 with Different Images, Handmade by Nat of Adore by Nat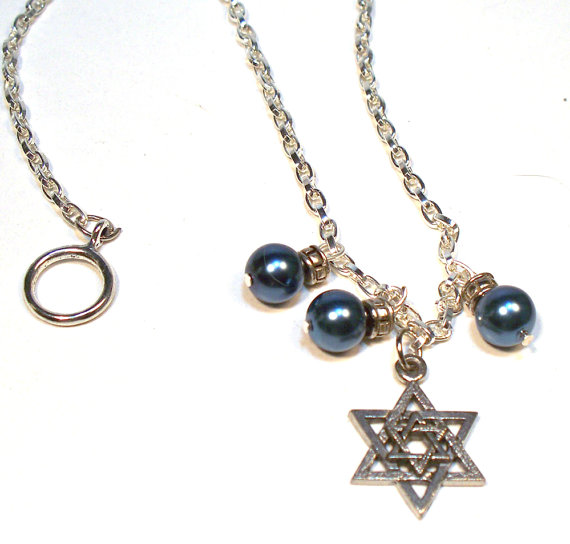 Jewish Star of David and Blue Pearl Necklace Handmade by Linda of lindab142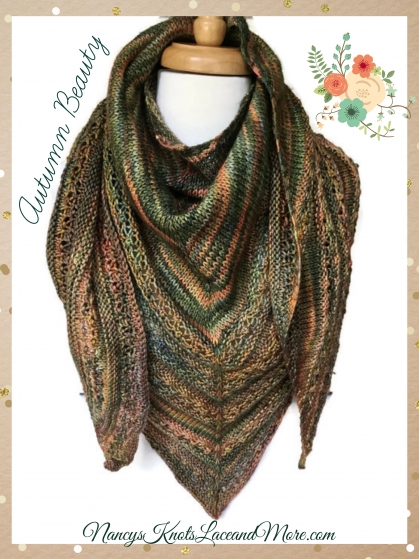 Large Size Triangle Lace Shawl in Autumn Merino Wool Blend Malabrigo Rios Primavera Handmade by Nancy of Nancy's Knots, Lace and More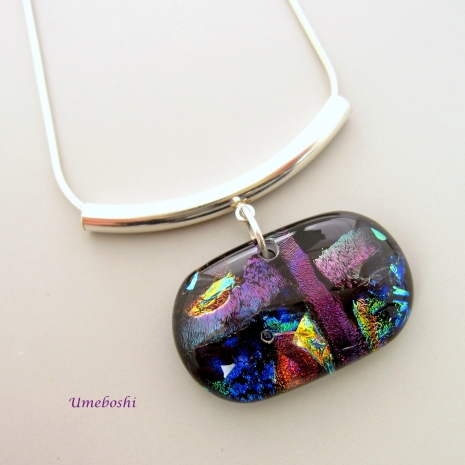 "Color Symphony" Dichroic Fused Glass Pendant with Curved Silver Tube Bail Handmade by Jo of Umeboshi Jewelry Designs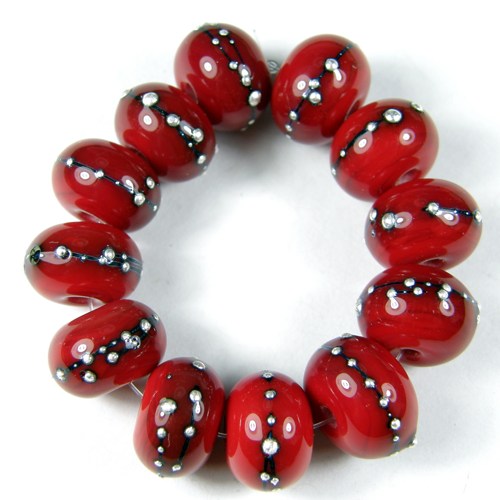 10mm Medium Red Lampwork Glass Beads with Shiny Silver Handmade by Charlotte of Covergirlbeads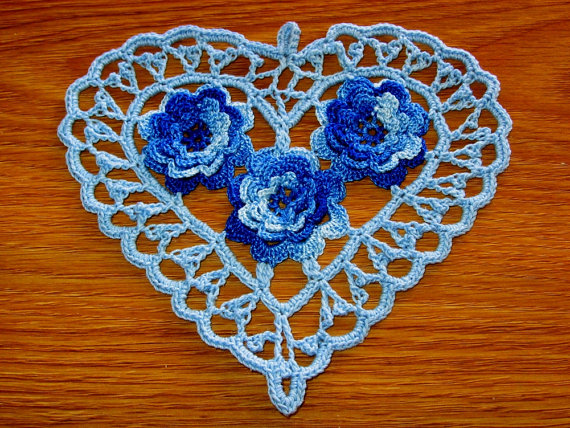 Irish Crochet Baby Blue Heart with 3D Blue Roses Handmade by Ruth of RSSDesignsinFiber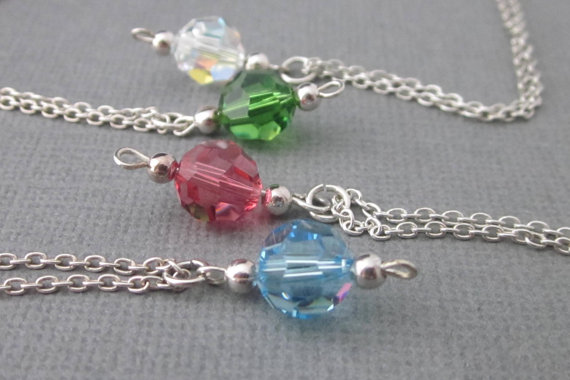 Pink, Green or AB Clear Swarovski Crystal and Sterling Silver Chain Necklace Handmade by Connie of Thesingingbeader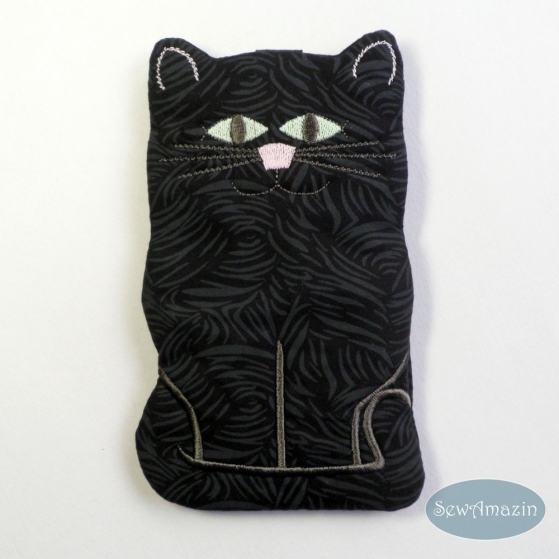 Black Cat with Glow in the Dark Eyes Sunglass Case or Cell Phone Case Handmade by Donna of SewAmazin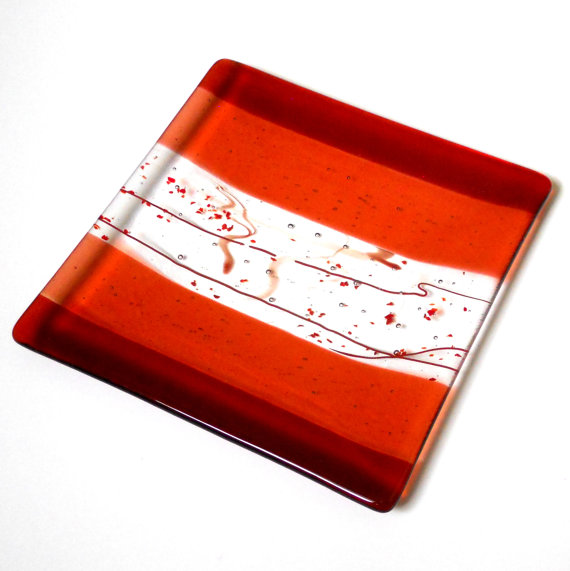 Coral and Orange 8" Fused Art Glass Plate with Stringer Accents Handmade by Kelli of ResetarGlassArt
Porcelain Butterfly Pendant Necklace with Czech Glass Beads Handmade by Barbara of SolanaKaiDesigns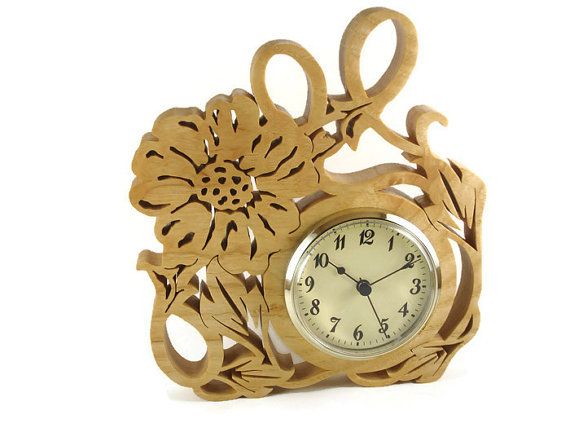 Wood Flower Wall Hanging Clock Handmade by Kevin of KevsKrafts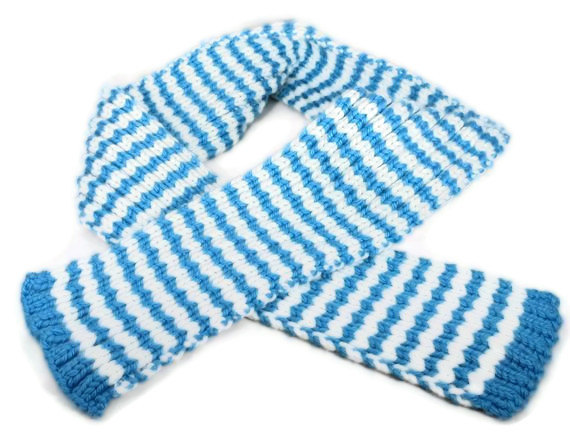 Hand Knitted Super Bulky Blue and White Stripped Scarf Handmade by Cathy of CraftingMemories1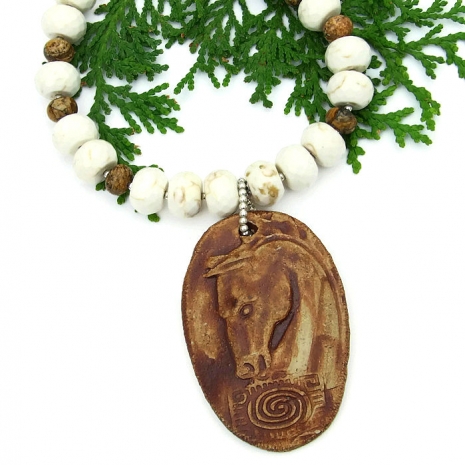 Ceramic Spirit Horse Totem Necklace with Magnesite and Picture Jasper Handmade by Catherine of Shadow Dog Designs
I hope you have enjoyed this sampling of some of the handmade gift items that can be found in the Countdown collection hosted by Julie and Blu of Blue Morning Expressions. To see all the items in the collection, please click here: Countdown to Christmas 2016 - Week 1. I hope that at least one, maybe more, items piqued your interest and made its way to your shopping list.
What will week 2 bring? MORE handmade and vintage beauties! I, for one, am looking forward to it!
If you are so inclined, please make my day and leave a comment (: Also any promotion will be greatly appreciated by everyone featured in this post. Thank you!
My contact information:
Indiemade shop: ShadowDogDesigns
Indiemade blog: ShadowDogDesigns' Blog
Artfire studio: ShadowDogDesigns
ArtFire Blog: ShadowDogDesigns' Blog
Google+: Catherine W
Facebook: ShadowDogDesigns - Jewelry
Twitter: ShadowDogDesign
Pinterest: Shadow Dog Designs
Wanelo: ShadowDog
Amazine: ShadowDogDesigns
Rebelmouse: ShadowDogDesigns
Flickr: Shadow Dog Designs' Photostream
Beautifully Unique Handmade Jewelry
» Tagged:
Blue Morning Expressions
,
BlueMorningExpressions
,
Christmas
,
Countdown
,
gift ideas
,
gifts
,
handmade
,
Indiemade
,
Norway
,
Shadow Dog Designs
,
ShadowDogDesigns
,
shopping
» Share: