Captivating Czech Glass - A Short History
Posted April 27, 2016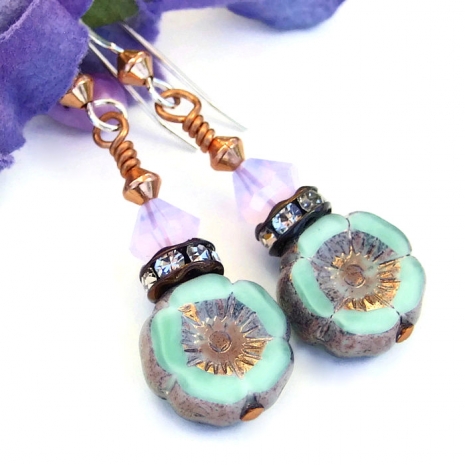 Czech glass is so much fun to use in handmade jewelry designs due to the extremely large choice of shapes, sizes, colors and finishes. I have to admit . . . I have become addicted to the beauties. I enjoy using Czech glass mainly for earrings, but many people use the glass beads for necklaces, bracelets and many other projects. Czech glass has a long, rich history which I find extremely fascinating. I thought I would share a short history of Czech glass and some handmade jewelry designs from artists using Czech glass as a main design component.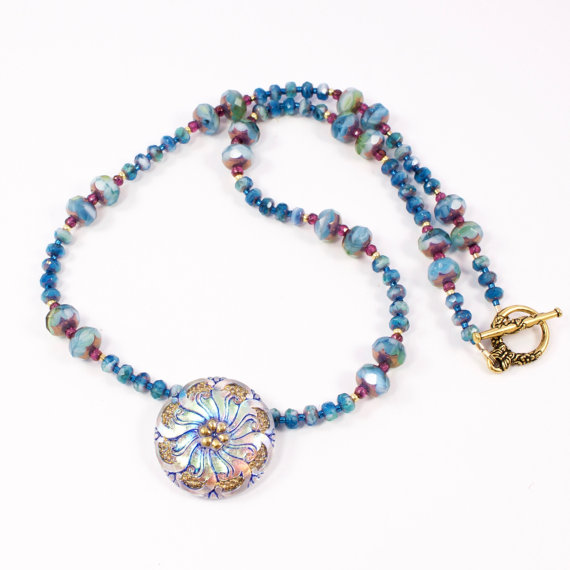 Blue and Gold Czech Glass button and Faceted Czech Glass Bead Necklace Handmade by Barbara of SolanaKaiDesigns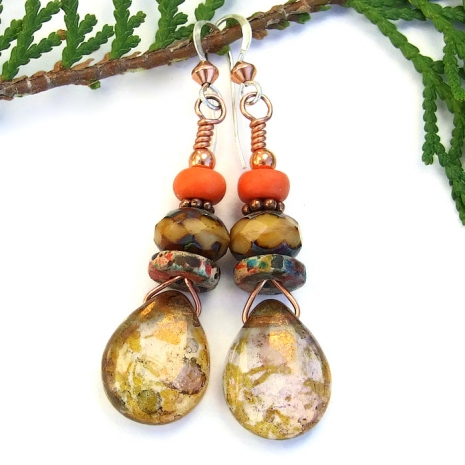 Metallic Czech Glass Teardrop Earrings with Hand-painted Mykonos Wafers, Beige Faceted Czech Glass Rondelles and Tangerine Magnesite Handmade by Catherine of Shadow Dog Designs
The countries that now make up the Czech Republic (Moravia and Bohemia) possess a long a tradition of glass beadmaking. Three things came together in this area to help make glassmaking an important piece of history: (1) silica was found in Bohemia' mountains; (2) numerous streams provided water power; and, (3) abundant forests provided the wood that was necessary for the hot fires that allowed glassmaking to happen. The oldest discovery of glass beads within the Czech Republic dates from the early Bronze Age (app. 8th century BCE). Celts lived in the area and were very adept at many forms of decorative art, including glassmaking and enamelwork. Archeological remains confirm that glass beads were very popular in those times; numerous troves have been found, mostly in tombs.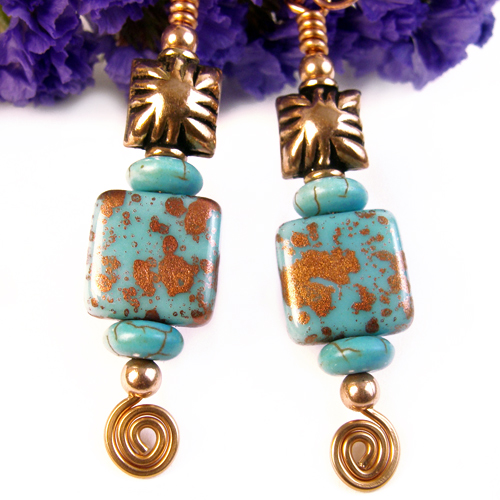 Copper Splashed Turquoise Czech Glass Tile Bead Earrings with, Copper Beads, Turquoise Magnesite and Copper Spirals Handmade by Mary of PrettyGonzo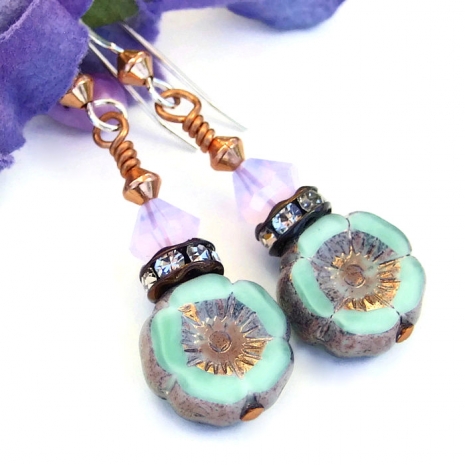 Mint Green Pansy Flower Earrings with Czech Crystal Rondelles and "Lavender Opal" Swarovski Crystals Handmade by Catherine of Shadow Dog Designs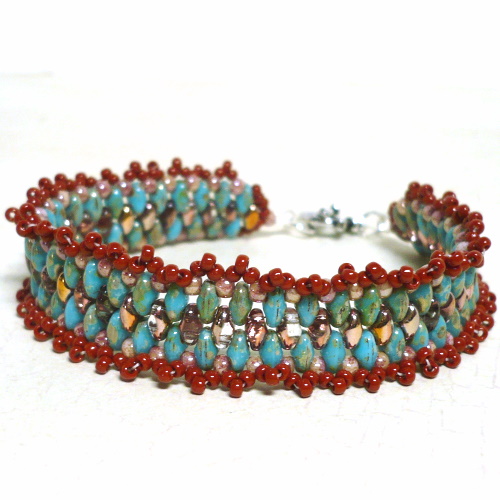 Czech Glass Blue Turquoise and Gold Superduo Beadwoven Bracelet with Japanese TOHO Beads Accents Handmade by Kathy of KatsAllThat
By the 1200's glass factories were turning out a variety of glass products, mostly household wares, although several small factories made beads for rosaries. It wasn't until the 1550's that a major bead making industry was founded when beaded costume jewelry became fashionable mainly around the towns of Jablonec, Stanovsko and Bedrichov. Glassmakers were mostly decentralized cottage crafters making beads for use in larger, centralized, jewelry factories. With the Industrial Revolution in the 1800's, new machines were developed that could produce a vast variety of beads. This process was one of pressing molten glass into a heated mold where thousands of identical beads could be created quickly and rather inexpensively. The only limiting factor was manufacturing the molds, which was difficult and precise.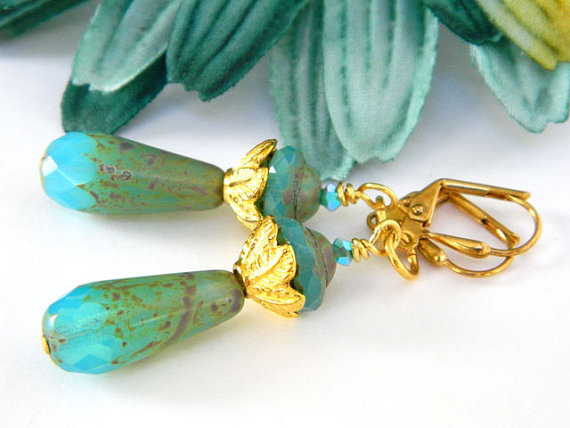 Turquoise Czech Glass Teardrop Earrings with Czech Glass Saturn Beads, Swarovski Crystals and Gold Plate Handmade by Sharon of BlondePeachJewelry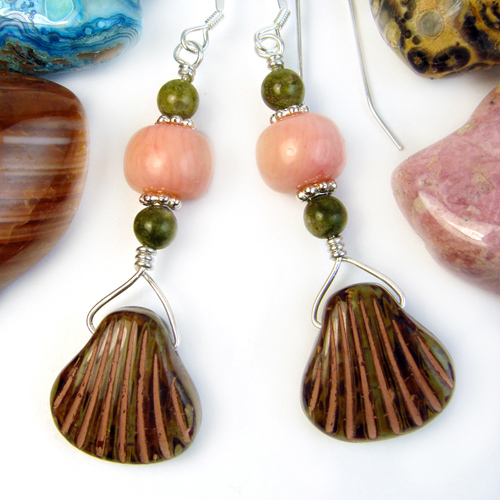 Czech Glass Scallop-shaped Seashell Earrings with Pink Coral, Green Unakite Gemstones and Sterling Silver Handmade by Mary of PrettyGonzo
Competition between the Czech bead makers and the ones in Venice became even more fierce. To expand their markets worldwide, Czech bead makers tried a novel approach: Czech "sample men" traveled from country to country (even Africa, Japan and Tibet) asking merchants what kind of beads they wanted. When they returned to with sketches and descriptions, new beads would be designed. It was a huge success and bead demand grew and production increased. Venetian beadmakers still focused on producing handmade glass beads while the Czechs became masters of pressed glass.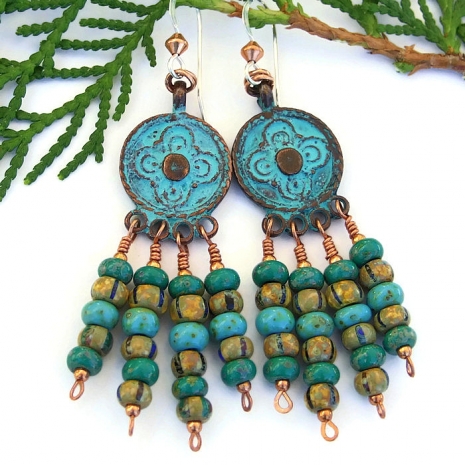 Rustic, Picasso Finish Czech Glass Bead Dangles in Turquoise, Teal and Striped Brown with Verdigris Mykonos Chandelier Charms Handmade by Catherine of Shadow Dog Designs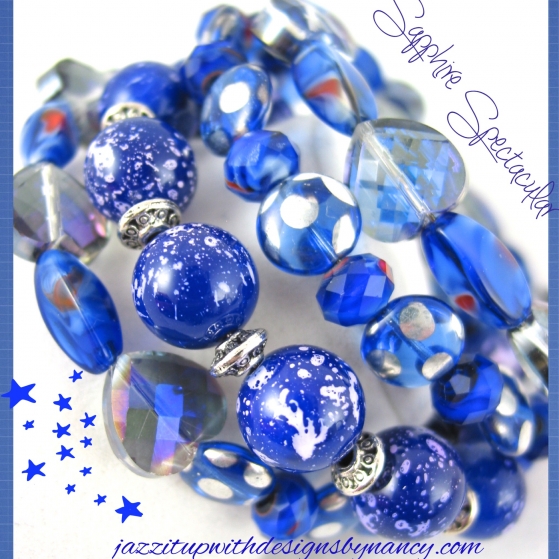 Sapphire Blue and Silver Spotted Czech Glass Bead Wrap Bracelet with a Mixture of Other Glass Beads Handmade by Nancy of Jazz it Up with Designs by Nancy
Bead production was a see-saw affair in the first half of the 20th century. World War I (1914-1918) nearly collapsed the bead making industry. At the end of the war, Bohemia became part of the new state of Czechoslovakia, the industry ramped up and, by 1928, the Czechs were the largest exporters of beads in the world. Then came the Great Depression (1929-1939) which was soon followed by World War II (1939-1945). Czechoslovakia was taken over by the Communists in 1948 and the entire glass making industry was nationalized. Costume jewelry and beads were not part of the official party line so that part of the industry came to a virtual standstill. However, in 1958, five years after the death of Stalin, the bead making industry was restarted in an effort to sell beads in return for hard currency to support the faltering economy. Huge nationalised factories were built and a single state run monopoly, Jablonex, controlled all exports involving glass and glass beads. Although not widely publicised, penal labour, including political prisoners, was used extensively in the bead making production and jewellery assembly in Communist Czechoslovakia.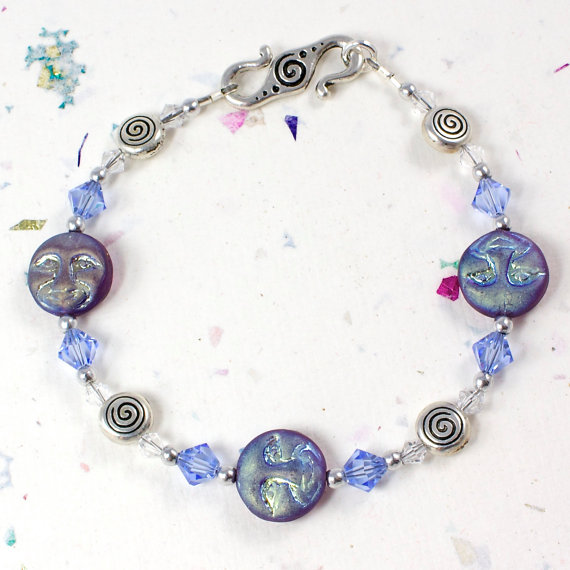 Purple Pressed Czech Glass Moon Bracelet with Spiral Beads and Sapphire Blue and Clear Swarovski Crystals Handmade by Barbara of SolanaKaiBeads
Amethyst, Fuchsia and Teal Fire-Polished Czech Glass Beaded Memory Wire Wrap Bracelet Handmade by Diane of dianesdangles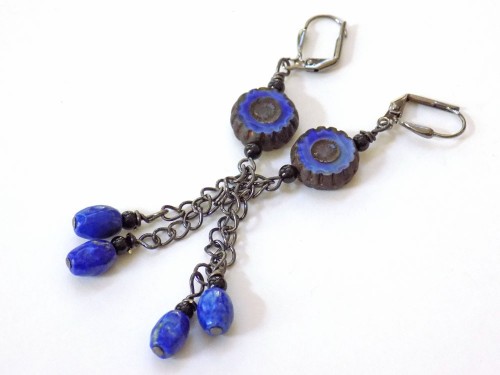 Cobalt Blue and Black Czech Glass Flower Beads with Lapis Lazuli Dangles Handmade by Sharon of DoubleSJewelry

The Velvet Revolution of 1989 saw the end of Communist control. Czechoslovakia split into two countries, the Czech Republic and Slovakia, with the region that once was North Bohemia becoming part of the Czech Republic. The bead making industry has revived in the Czech Republic and high quality beads are once again being manufactured. A return to small scale production with individuals supplying local factories has happened, using machine methods very similar to those employed in the 19th century, but with improved technology. However, in the last five to ten years the historic cottage style of bead making has been hard hit by the emergence of the large scale producers, such as Preciosa, alongside direct competition from India, China and Japan. Unfortunately, unemployment amongst artisan bead makers and factory glass workers in the Czech Republic runs high.
For your enjoyment, here are some more beautiful handmade jewelry using various Czech glass beads: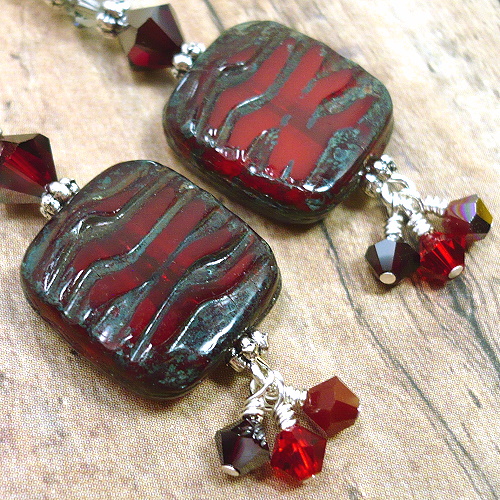 Ruby Travertine Czech Glass Bead Earrings with Swarovski Crystals and Sterling Silver Handmade by Kathy of KatsAllThat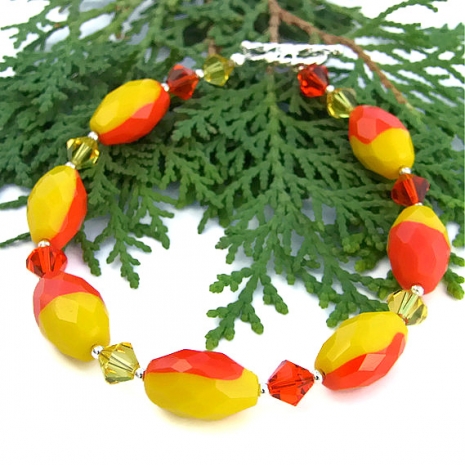 Vintage Lemon Yellow and Tangerine Orange Faceted Czech Glass Bracelet with Orange and Yellow Swarovski Crystals Handmade by Catherine of Shadow Dog Designs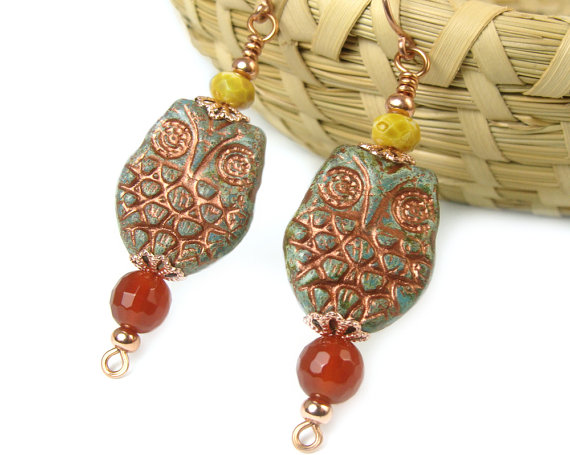 Earthy Czech Glass Owl Earrings with Carnelian, Honey Yellow Czech Glass Beads and Copper Handmade by Mary of PrettyGonzo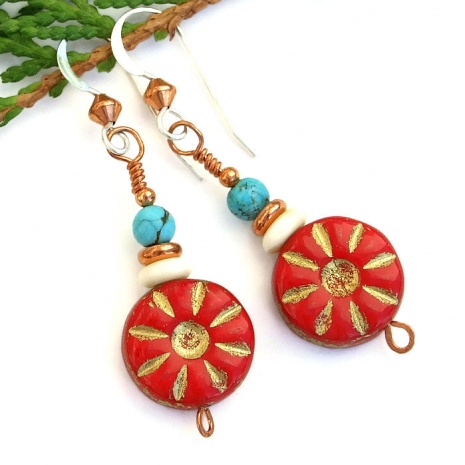 Czech Glass Red Flower Bead Earrings with Bone, Turquoise and Copper Handmade by Catherine of Shadow Dog Designs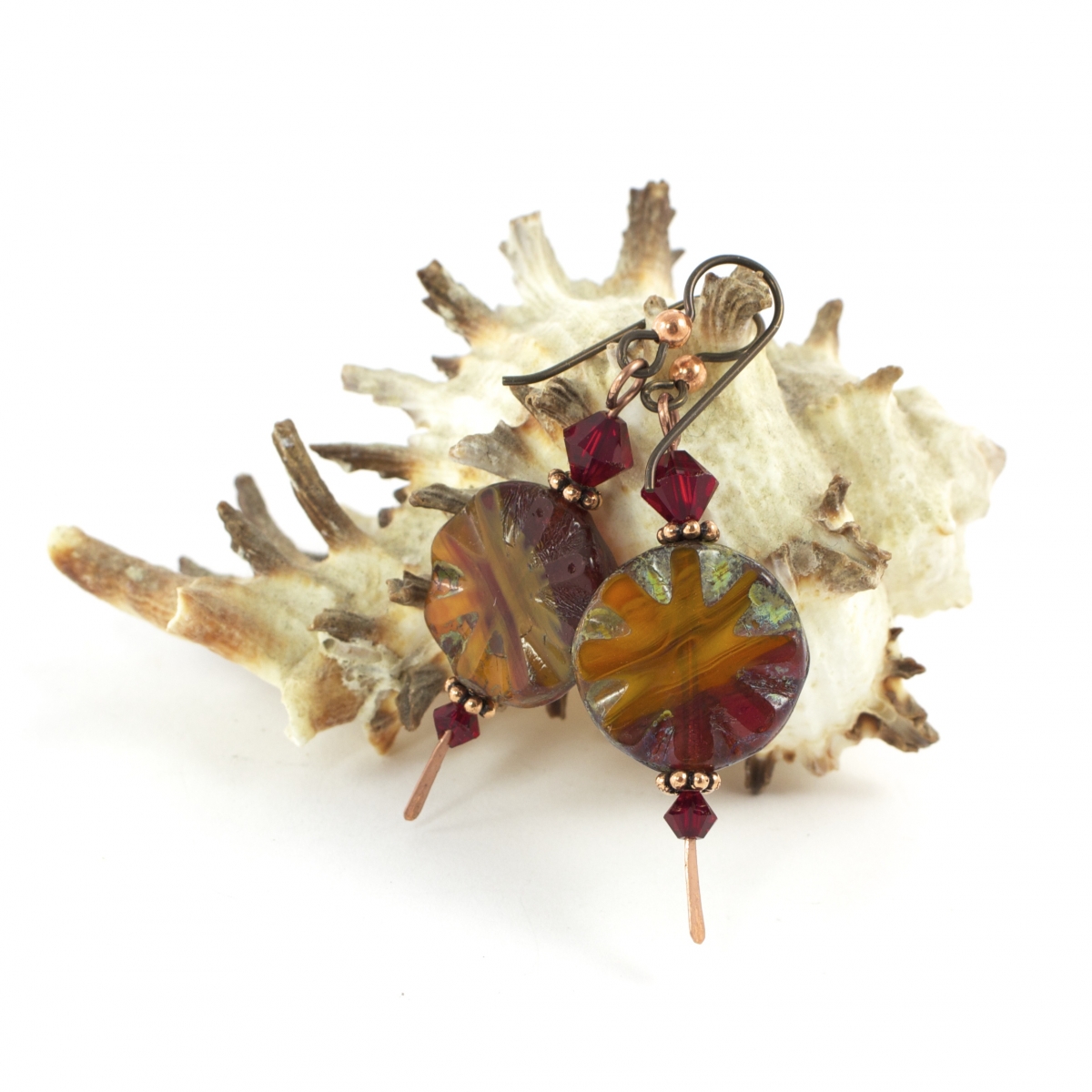 Red and Orange Czech Glass Bead Earrings with Swarovski Crystals Handmade by Barbara of Solana Kai Designs
I hope you enjoyed this short history of Czech glass beads and the wide ranging handmade jewelry designs that highlight Czech glass. If you would like to make my day and the day of the artists featured, please leave a comment. And any promotion you can do will be greatly appreciated. Thanks!
My contact information:
Indiemade shop: ShadowDogDesigns
Indiemade blog: ShadowDogDesigns' Blog
Artfire studio: ShadowDogDesigns
ArtFire Blog: ShadowDogDesigns' Blog
Google+: Catherine W
Facebook: ShadowDogDesigns - Jewelry
Twitter: ShadowDogDesign
Pinterest: Shadow Dog Designs
Wanelo: ShadowDog
Amazine: ShadowDogDesigns
Rebelmouse: ShadowDogDesigns
Flickr: Shadow Dog Designs' Photostream
Beautifully Unique Handmade Jewelry
» Tagged:
artisan
,
bracelets
,
Czech glass
,
Czech Republic
,
earrings
,
handmade
,
history
,
Indiemade
,
jewelry
,
one of a kind
,
Shadow Dog Designs
,
ShadowDogDesigns
» Share: