The Autumn Wind is a Pirate - Wonderful Handmade Wednesday on Indiemade
Posted October 5, 2016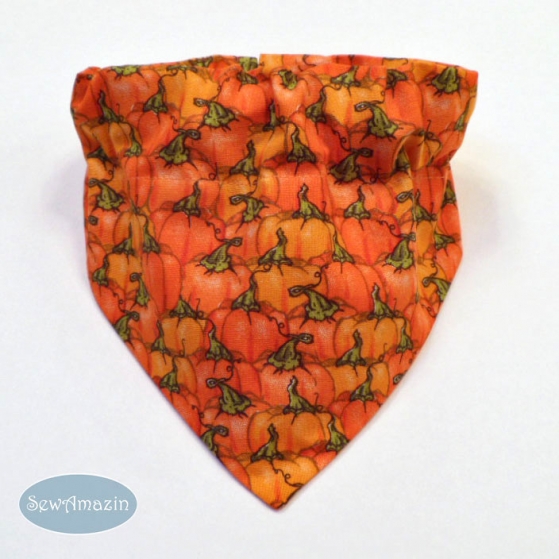 Since I live in the Desert Southwest, autumn comes creeping slowly in with cooler temperatures. Most of the trees here are evergreen so there isn't much color change. This time of the year, I always think about the forest we lived in for 10 years in Northern Virginia. Oh, the glorious colors as the leaves on the trees changed.!!! Sometimes almost blinding color combinations. Then sometimes, the wind would hit and the leaves became a carpet of color on the forest floor. I ran across this great quote about autumn wind from Steve Sabol: "The autumn wind is a pirate. Blustering in from sea with a rollicking song he sweeps along swaggering boisterously. His face is weather beaten, he wears a hooded sash with a silver hat about his head . . . The autumn wind is a raider, pillaging just for fun." A pillaging wind playing with and swirling the colorful leaves!
I hope the handmade items from Indiemade artist friends shared here sing that rollicking autumn song to you as you browse through these beautiful choices: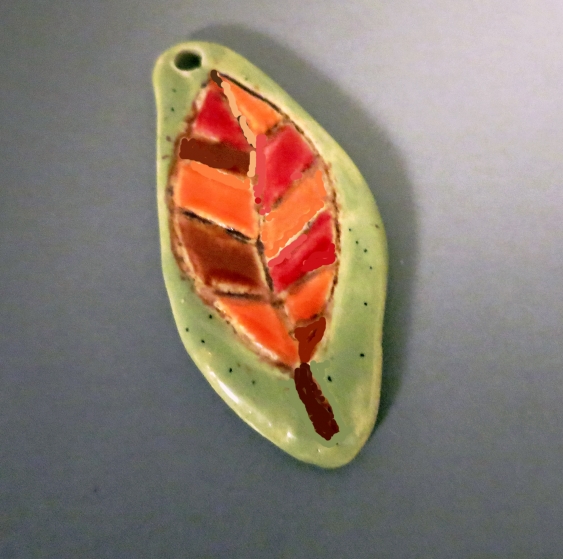 Ceramic Autumn Leaf Pendant Fall Art Bead Handmade by LInda of Linda Landig Jewelry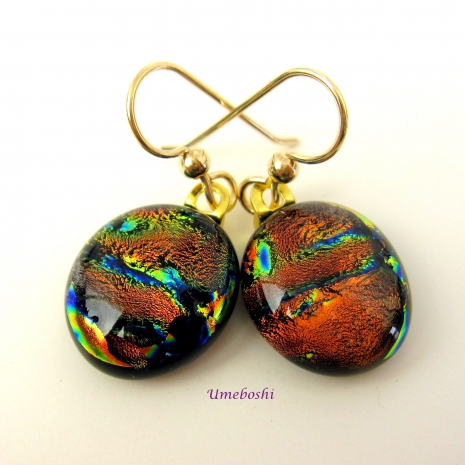 "Copper Beauties" Dichroic Fused Glass Dangle Earrings Handmade by Jo of Umeboshi Jewelry Designs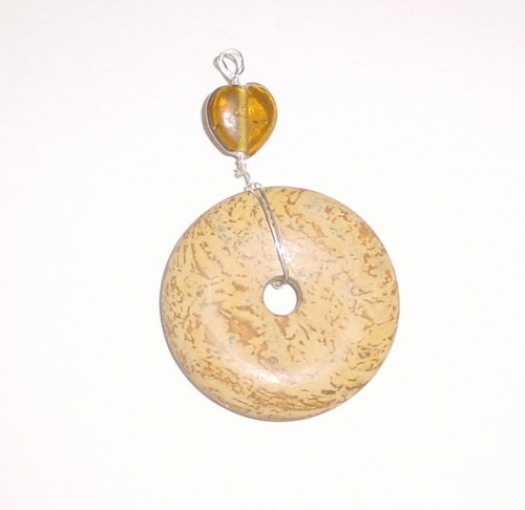 Wire Wrapped Tiger Jasper Pendant with Glass Heart Handmade by Jacki of Christie Cottage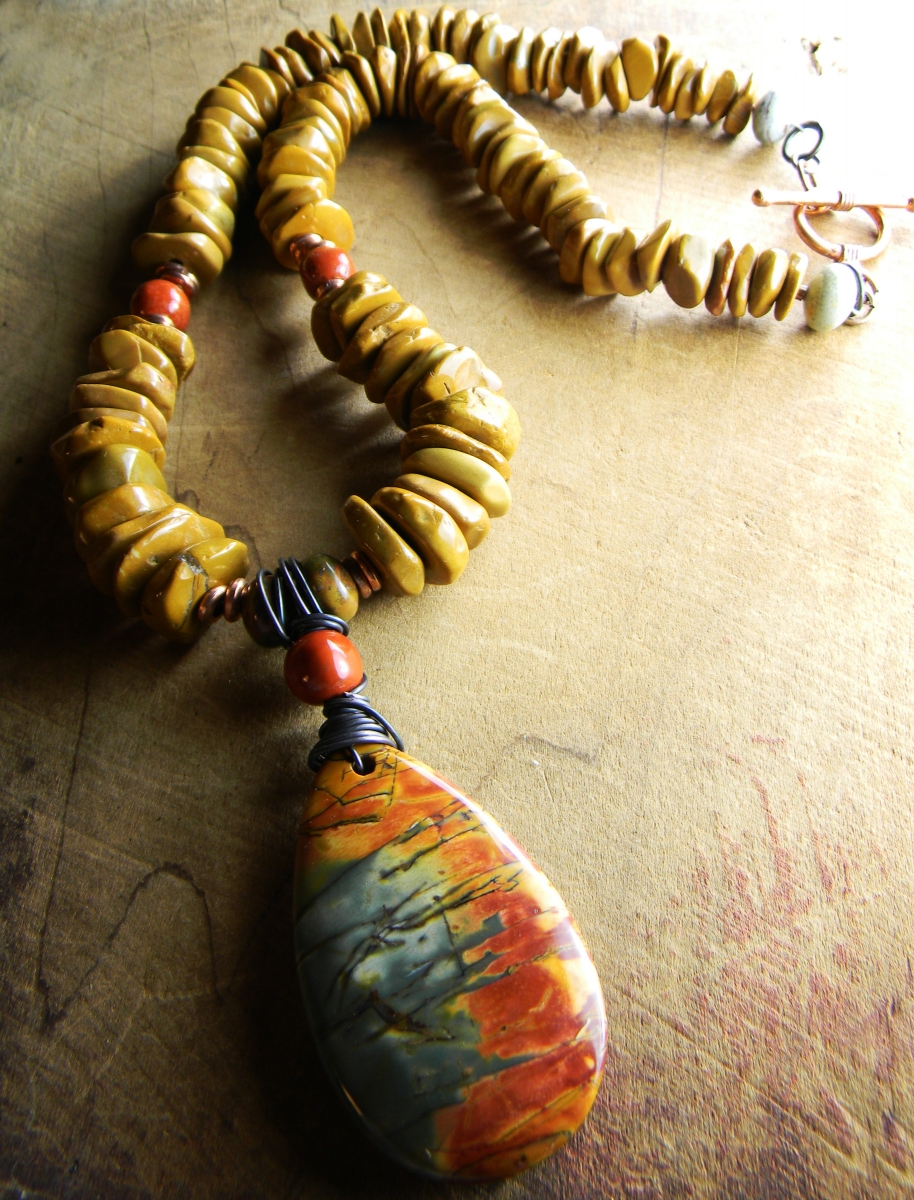 Red Yellow and Ochre Tribal Creek Jasper Pendant Necklace Handmade by Gloria of Chysalis Tribal Jewelry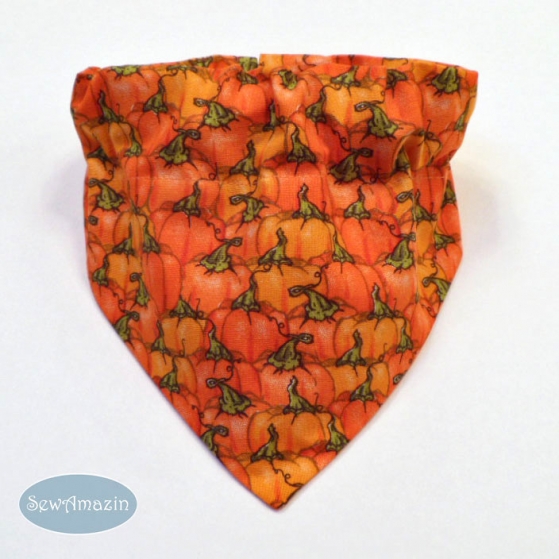 Pumpkin Patch Autumn Dog Bandana, Collar Slipcover or Scrunchie Style, Handmade by Donna of SewAmazin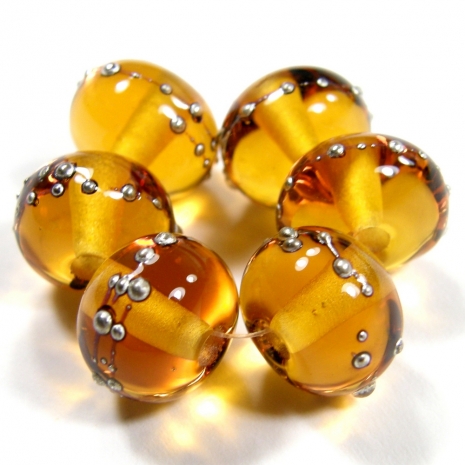 Transparent Light Amber Topaz Lampwork Glass Beads with Fine Silver Handmade by Charlotte of Covergirlbeads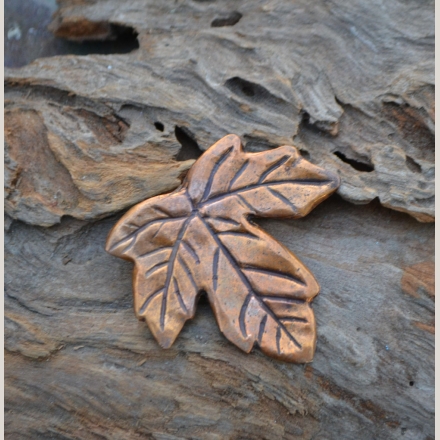 Copper Maple Leaf Focal with Hidden Bail Handmade by Kristi of KristiBowmanDesign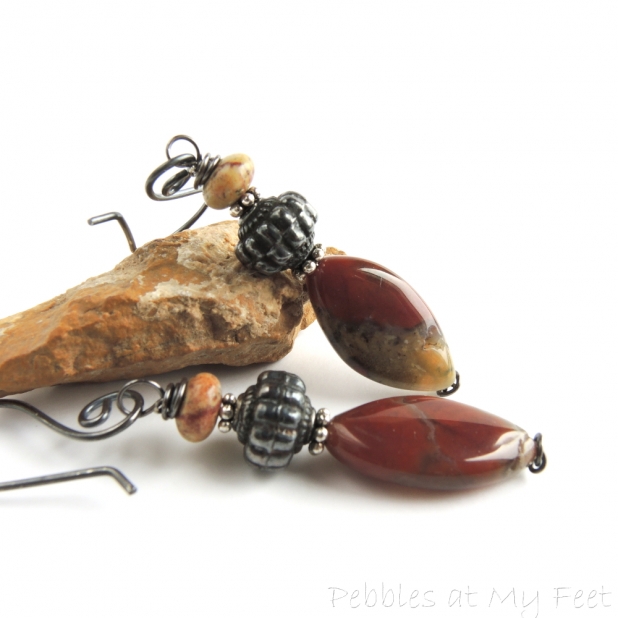 Earthy Red and Brown Natural Jasper and Chalcedony Earrings Handmade by Pamela of Pebbles at My Feet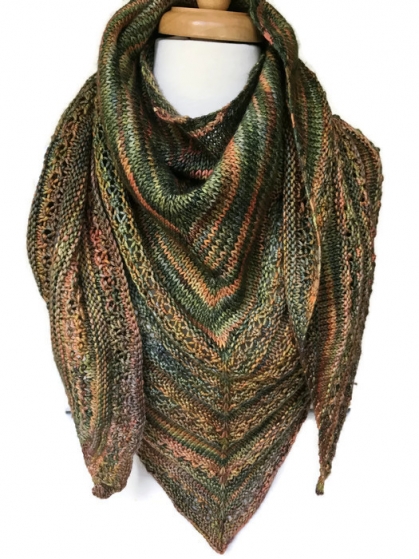 Hand Knit Triangle Lace Shawl in Autumn Merino Wool Blend Malabrigo Rios Primavera Handmade by Nancy of Nancy's Knots, Lace and More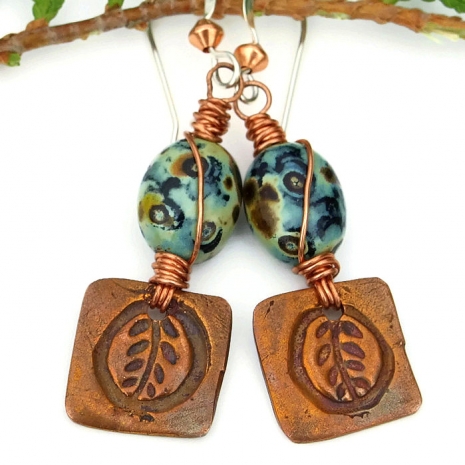 Copper Leaf and Organic Czech Glass Earrings Handmade by Catherine of Shadow Dog Designs
I hope you enjoyed these autumn wind inspired selections! If you would like to make my day and the day of the artists featured, please leave a comment. And any promotion you can do will be greatly appreciated. Thanks!
My contact information:
Indiemade shop: ShadowDogDesigns
Indiemade blog: ShadowDogDesigns' Blog
Artfire studio: ShadowDogDesigns
ArtFire Blog: ShadowDogDesigns' Blog
Google+: Catherine W
Facebook: ShadowDogDesigns - Jewelry
Twitter: ShadowDogDesign
Pinterest: Shadow Dog Designs
Wanelo: ShadowDog
Amazine: ShadowDogDesigns
Rebelmouse: ShadowDogDesigns
Flickr: Shadow Dog Designs' Photostream
Beautifully Unique Handmade Jewelry
» Tagged:
artisan
,
autumn
,
bandana
,
ceramic
,
dichroic
,
dog
,
earrings
,
gemstones
,
hand knit
,
handmade
,
Indiemade
,
jewelry
,
lampwork
,
leaves
,
necklaces
,
pendant
,
pumpkin
,
Shadow Dog Designs
,
ShadowDogDesigns
,
shawl
,
wind
,
winds
» Share: