Ancient Symbols in a Modern World - Wonderful Handmade Wednesday on Indiemade
Posted November 22, 2016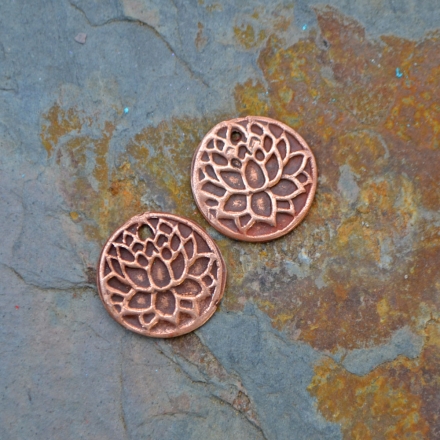 Symbols have always had a great significance in the lives of humans, from pre-historic times to modern man. Since ancient symbols are ingrained into our lives, most people don't realize these symbols are everywhere. From the logos of modern companies (Starbucks with their mermaid), to television shows (spirals in True Detective) and movies (Legendary Pictures with their Celtic knot logo) from religious books and texts (The Bible, The Koran) to decorations on buildings (sunbursts and dolphins), ancient symbols are everywhere.
With this in mind, I browsed the shops of artist friends and found many handmade creations that use ancient symbols in a modern way. I hope you enjoy these selections: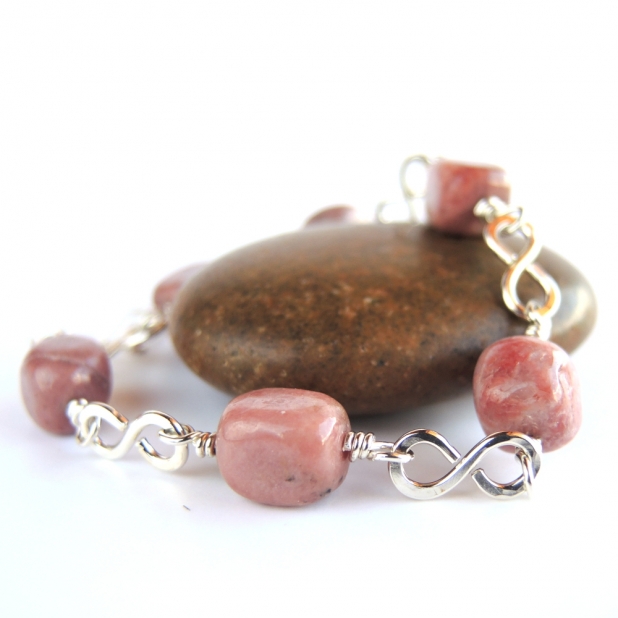 Pink Rhodonite Natural Stone and Sterling Silver Infinity Link Bracelet Handmade by Pamela of PebblesatMyFeet
*** Since the INFINITY SYMBOL is a never ending loop, it signifies forever, always, limitless or never ending possibilities.
Neckwarmer Irish Celtic Knot Trinity You Choose Handknit Caron Simply Handmade by Nancy of Nancy's Knots, Lace and More
*** CELTIC KNOTS are a form of sacred geometry that symbolize the interconnectedness of all things, representing the eternal web and the continuous cycling of existence.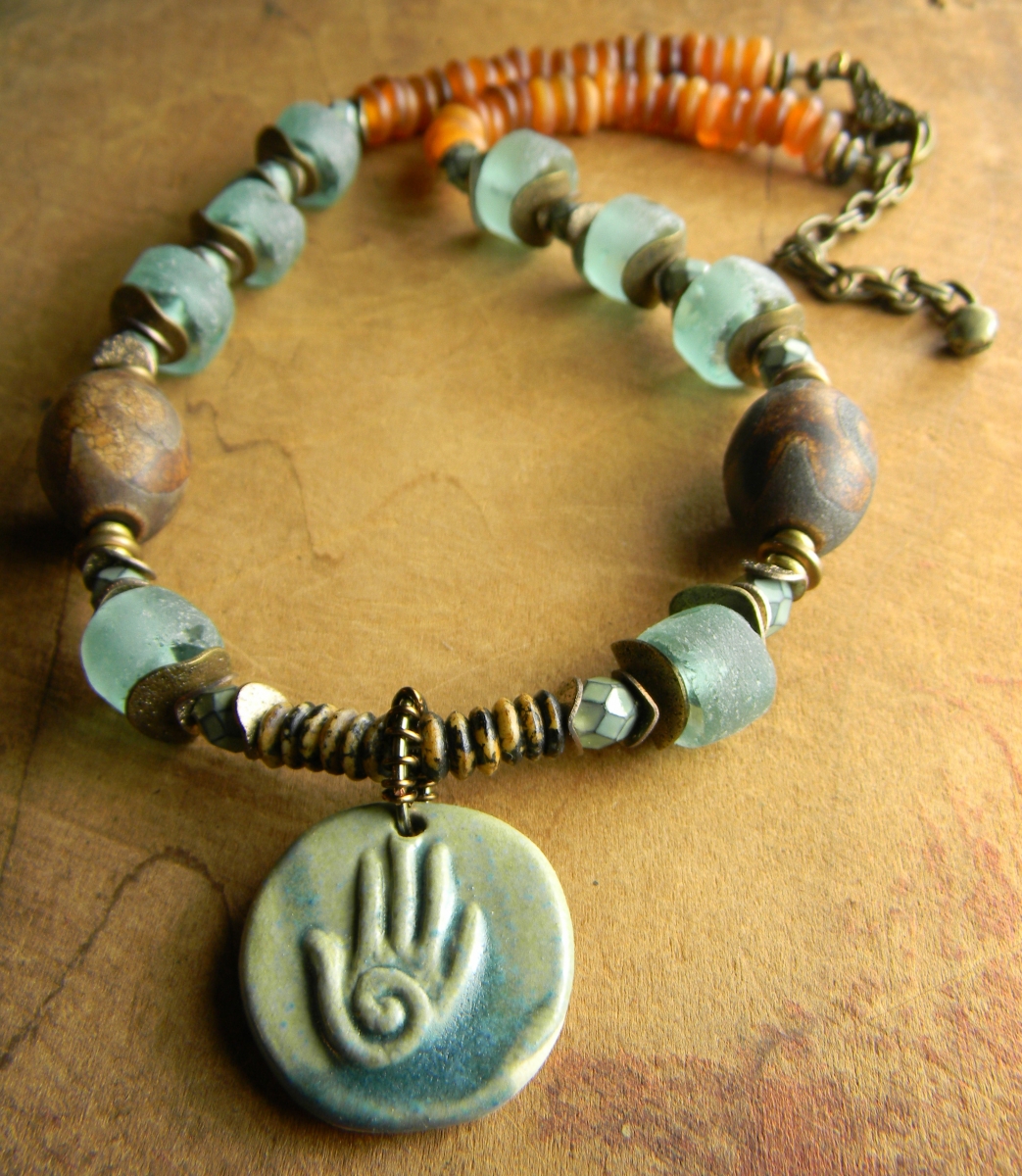 Blue Ceramic Hamsa Pendant Necklace with Recycled Glass and Horn Handmade by Gloria of Chrysalis Tribal Jewelry
*** The HAMSA hand is an ancient Middle Eastern amulet symbolizing the Hand of God. It is a protective sign and is thought to bring its owner happiness, luck, health, and good fortune.
Blue Patriotic Paisley Dog Bandana, Scrunchie style, Handmade by Donna of SewAmazin
*** Resembling a twisted tear-drop, the PAISLEY design is of Persian and Indian origin, representing fertility, creation and abundance, the totality of life within a drop.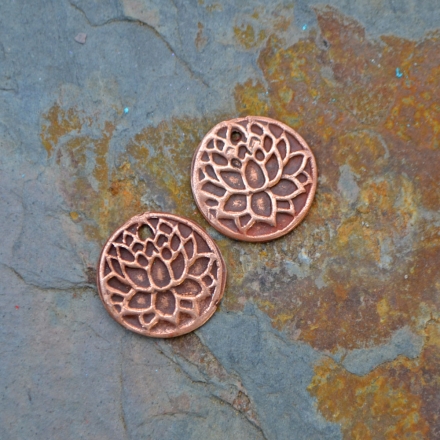 Copper Lotus Flower Component, 1 Pair, Handmade by Kristi of KristiBowmanDesign
*** The LOTUS is symbolic of purity of the body, speech, and mind - while rooted in mud, the flowers blossom on long stalks above the muddy waters of attachment and desire.
Christian Comfort / Prayer / Palm Wooden Cross Handmade by Jacki of Christie Cottage
*** In ancient times, the CROSS was associated with astronomical or cosmological symbology involving the "four elements." In contemporary Christianity, the cross is a symbol of the atonement and reminds Christians of God's love in sacrificing his own son for humanity.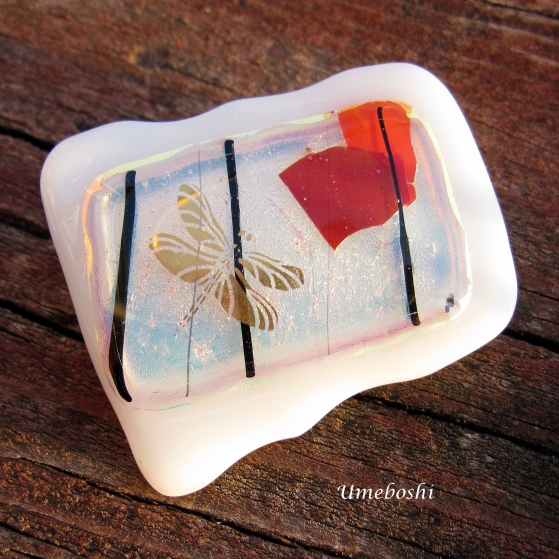 Fall Dragonfly Dichroic Glass One-of-a-kind Brooch Handmade by Jo of Umeboshi
*** A DRAGONFLY symbolizes the wisdom of transformation and adaptability in life through change, self realization and maturity.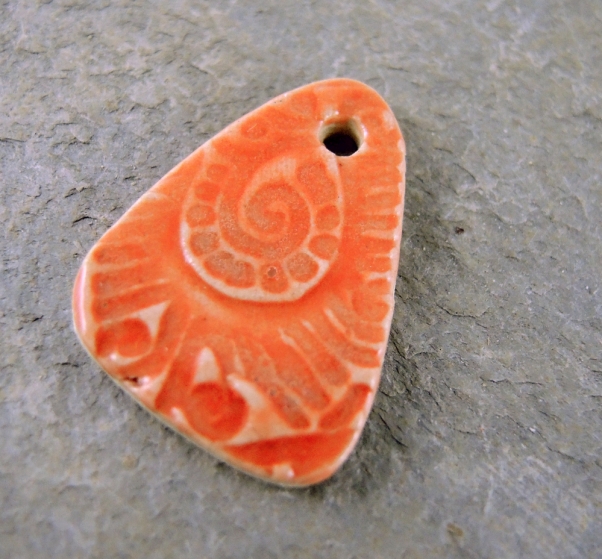 Spiral Fossil Pattern Ceramic Pendant in Coral Orange Handmade by LInda of LindaLandigJewelry
*** SPIRALS, through the eons, have been associated with the cycles of time, the seasons, the cycle of birth, growth, death, and then rebirth.
Tiny Rose Gold Leaf Earrings Handmade by Lin of Flaunt Designs Jewelry
*** A LEAF, when green, depicts hope, renewal, and revival; when brown it represents decay and sadness. Leaves are symbolic of fertility and growth, and, on the Cosmic Tree, all of the beings in the universe.
Rustic Ceramic Evil Eye Boho Earrings with Aquamarine and Red Garnet Handmade by Catherine of Shadow Dog Designs
*** The EVIL EYE symbol, first recorded in Mesopotamia about 5,000 years, is said to protect the wearer from misfortune, bad luck or injury by sending the evil intent back to the person who wants to cause harm.
I hope you enjoyed these pieces of modern art that use ancient symbols in their designs! If you would like to make my day and the day of the artists featured, please leave a comment. And any promotion you can do will be greatly appreciated. Thanks!
My contact information:
Indiemade shop: ShadowDogDesigns
Indiemade blog: ShadowDogDesigns' Blog
Artfire studio: ShadowDogDesigns
ArtFire Blog: ShadowDogDesigns' Blog
Google+: Catherine W
Facebook: ShadowDogDesigns - Jewelry
Twitter: ShadowDogDesign
Pinterest: Shadow Dog Designs
Wanelo: ShadowDog
Amazine: ShadowDogDesigns
Rebelmouse: ShadowDogDesigns
Flickr: Shadow Dog Designs' Photostream
Beautifully Unique Handmade Jewelry
» Tagged:
ancient symbols
,
bandana
,
bracelets
,
brooch
,
Celtic knot
,
copper
,
cross
,
dogs
,
dragonfly
,
earrings
,
evil eye
,
Hamsa
,
handmade artisan
,
infinity symbol
,
jewelry
,
knitting
,
leaf
,
lotus
,
necklace
,
neckwarmer
,
paisley
,
pendant
,
Shadow Dog Designs
,
ShadowDogDesigns
,
spiral
,
wood
» Share: