Star Stuff Harvesting Star Light - Wonderful Handmade Wednesday on Indiemade
Posted April 26, 2017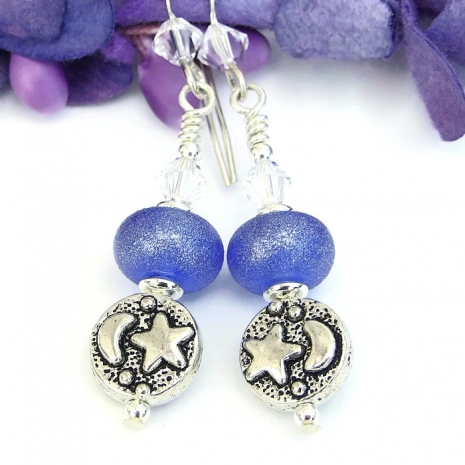 Dr. Carl Sagan is a major hero of mine. As Wikipedia explains he "was an American astronomer, cosmologist, astrophysicist, astrobiologist, author, science popularizer, and science communicator in astronomy and other natural sciences." he was often called "the astronomer for the people." Quite the Renaissance man! I remember being glued to the TV when the groundbreaking TV series Cosmos: A Personal Voyage was first aired. Dr. Sagan was able to explain complex ideas in a simple way that a layperson could understand. Being a science geek, especially when it comes to space, my mind sailed on its own voyage of personal discovery each week (and with the reruns that I always managed to watch). I still remember vividly and muse over certain parts of certain episodes that particularly touched me. Unfortunately Dr. Sagan died in 1996 at the young age of 62. I still miss him and all he had to offer. He returned to the star dust he so loved.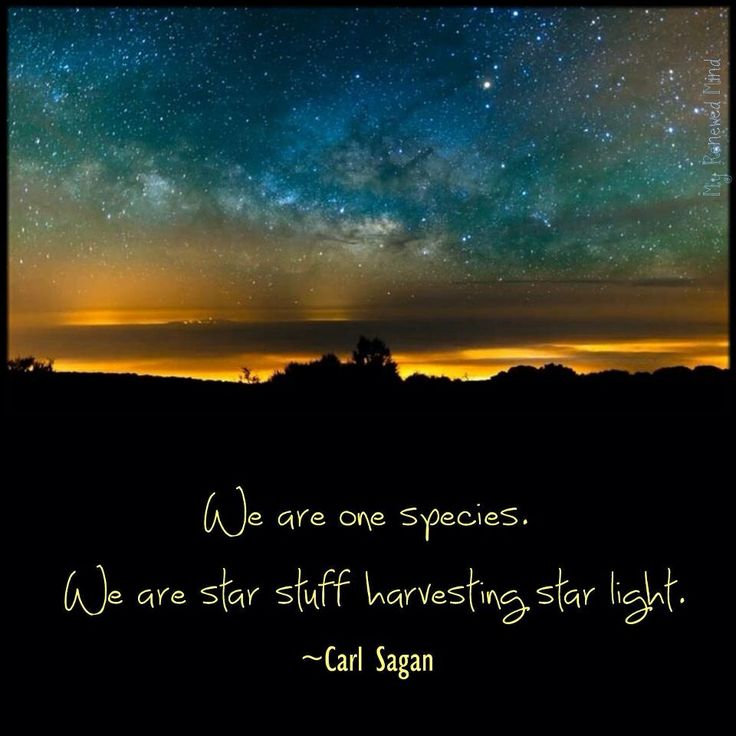 One of my favorite Carl Sagan quotes (and there are MANY) is this: "We are one species. We are star stuff harvesting star light." So incredibly beautiful and so true! With that in mind, my newest Wonderful Handmade Wednesday on Indiemade is titled Star Stuff Harvesting Star Light. All of the artisan handmade items remind me of moons, stars, planets, the sky - all celestially radiant. I hope you enjoy these picks. If something catches your eye, be sure to click on the photo or the link below the photo to be taken to the listing.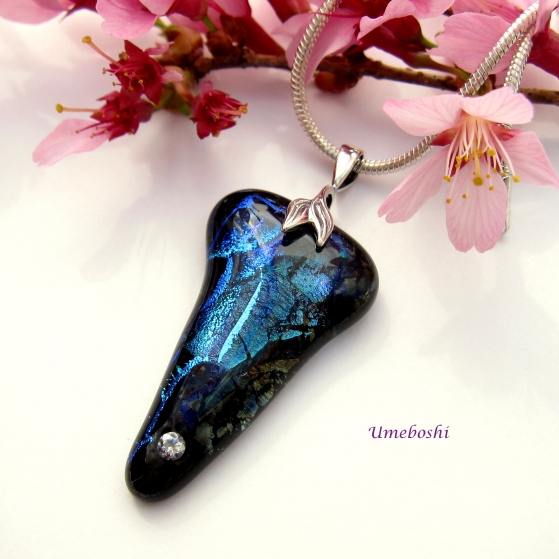 North Star Dichroic Fused Glass Pendant with Cubic Zirconia Handmade by Jo of Umeboshi Jewelry Designs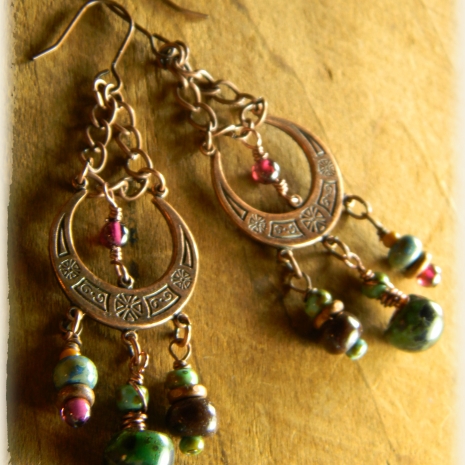 Crescent Moon Boho Earrings with Garnet and Copper Handmade by Gloria of Chrysalis Tribal Jewelry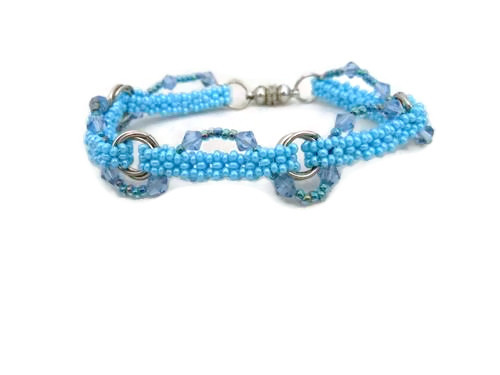 Sky Blue Beaded Bracelet with Mobius Rings Handmade by Cathy of CraftingMemories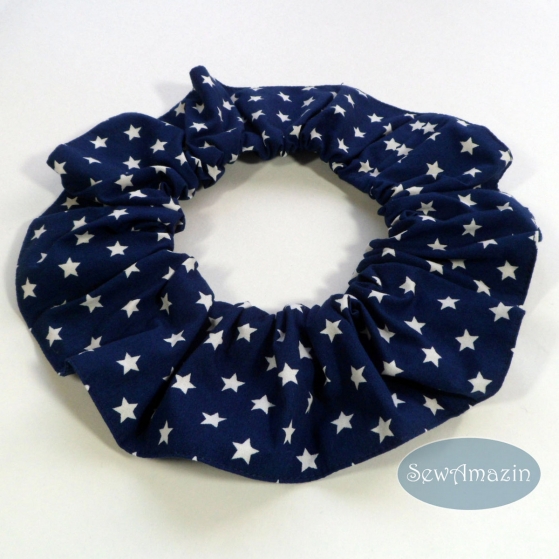 Blue and White Stars Patriotic Dog Scrunchie Neck Ruffle, 16" Neck, Handmade by Donna of SewAmazin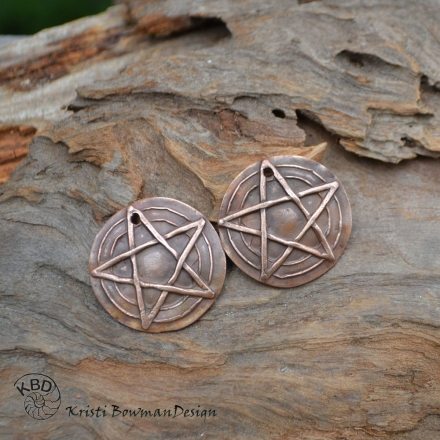 Copper 5-pointed Star / Pentagram Earring Components, 1 Pair, Handmade by Kristi of KristiBowmanDesign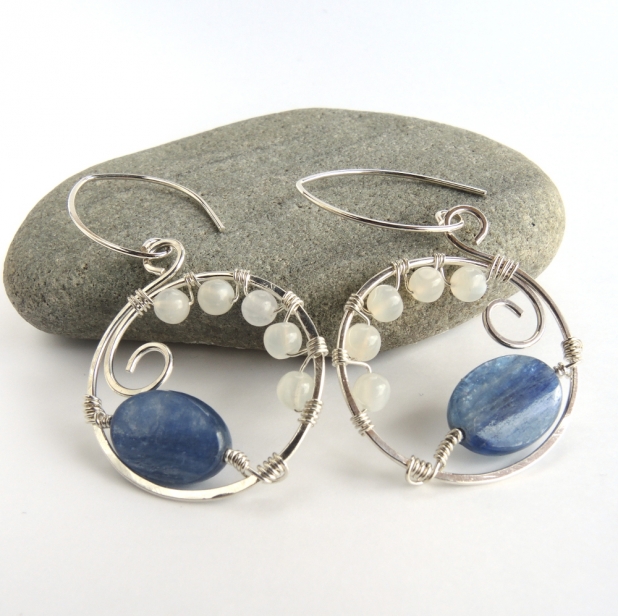 Shimmering Moonstone and Blue Kyanite Sterling Silver Wire Wrapped Earrings Handmade by Pamela of Pebbles at My Feet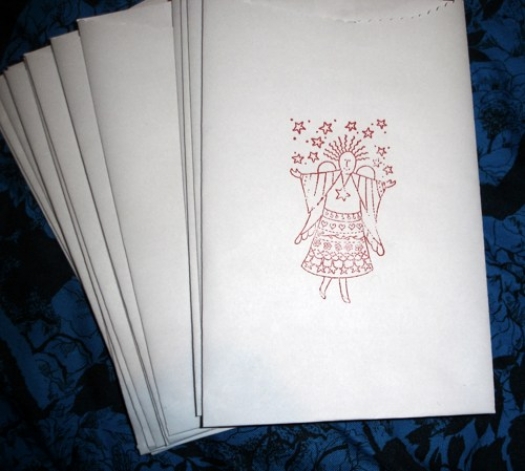 Angel and Stars Hand Printed Paper Jewelry Bags, Set of 48, 5" x 8' Handmade by Jacki of Christie Cottage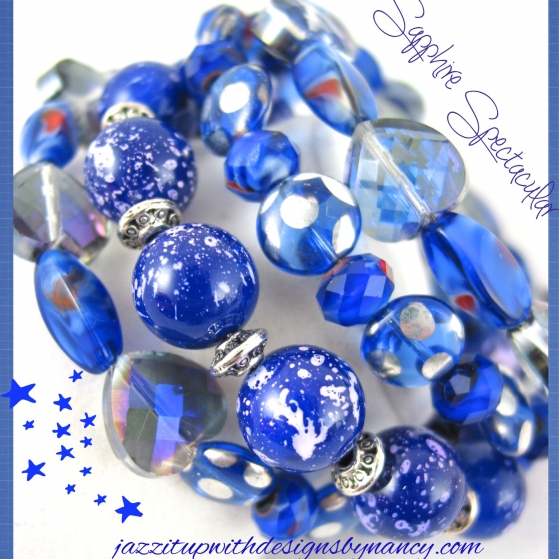 Celestial Sapphire Blue and Silver Wrap Bracelet Handmade by Nancy of Nancy's Knots, Lace and More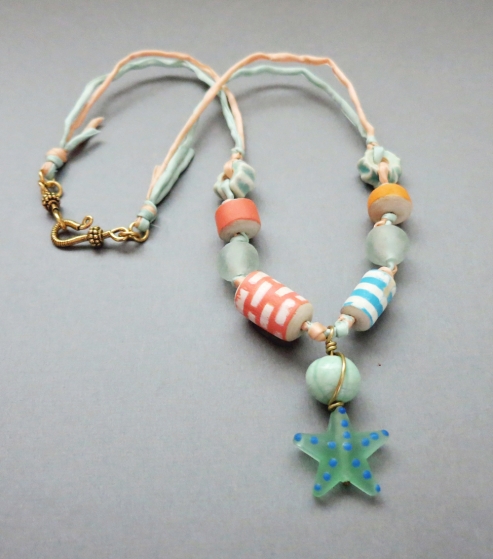 Sea Star Green Starfish Necklace with Painted Driftwood Handmade by Linda of Linda Landig Jewelry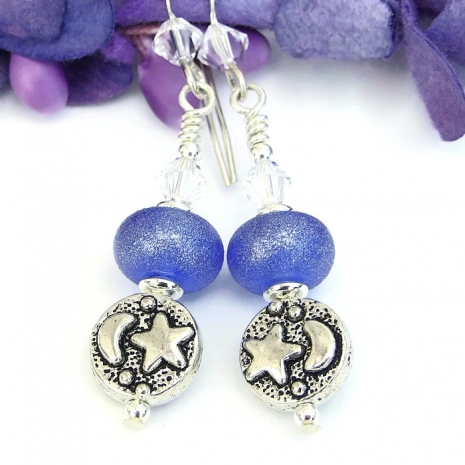 Moon and Stars Earrings with Pearlized Blue Lampwork Beads and Swarovski Crystals Handmade by Catherine of Shadow Dog Designs
I hope you have enjoyed each and every one of these unique "star stuff" artisan handmade creations! If you would like to make my day and the day of the talented artists featured, please leave a comment. And any promotion you can do will be greatly appreciated. Thanks!
My contact information:
Indiemade shop: ShadowDogDesigns
Indiemade blog: ShadowDogDesigns' Blog
Artfire studio: ShadowDogDesigns
ArtFire Blog: ShadowDogDesigns' Blog
Google+: Catherine ShadowDog
Facebook: ShadowDogDesigns - Jewelry
Twitter: ShadowDogDesign
Pinterest: Shadow Dog Designs
Wanelo: ShadowDog
Rebelmouse: ShadowDogDesigns
Flickr: Shadow Dog Designs' Photostream
Beautifully Unique Handmade Jewelry
» Tagged:
angel
,
bracelets
,
celestial
,
copper
,
dichroic
,
dog neck ruffle
,
earrings
,
gemstones
,
handmade
,
jewelry
,
jewelry bags
,
mobius rings
,
moons
,
pendants
,
pentagram
,
stars
» Share: