For the
CHRISTMAS HOLIDAY SEASON
Use Coupon Code
HOLIDAYS10
for
10% Off
at Checkout
and
FREE SHIPPING
!
Orders $60.00 or more are automatically upgraded to Priority Mail at no extra charge
(Free Shipping U.S. Only)
New Handmade Jewelry at Shadow Dog Designs!
Posted February 4, 2016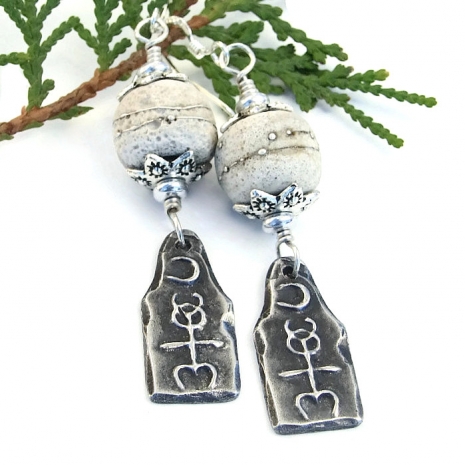 The last two weeks had been very busy creating and listing new handmade earrings and necklaces in my Shadow Dog Designs jewelry shop. It seems the new jewelry listed have more of an eclectic, boho vibe. Loving where the Muses have been taking me! I hope you enjoy these new pieces with one oldie but goodie, the last pair of pink lampwork earrings.
I hope you enjoy the new jewelry. If one piques your interest, be sure to click on the link under the photo for more pictures and information.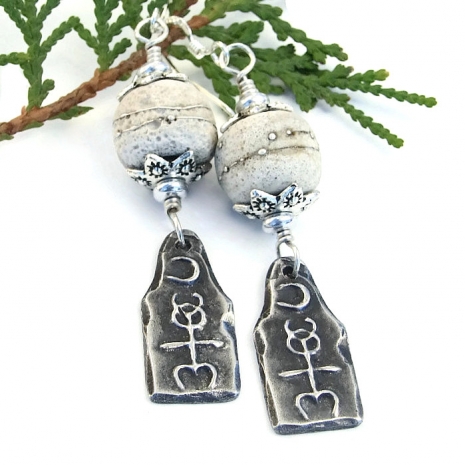 MOON OVER MONAD - Mystical Monad and Rustic Lampwork Earrings, Handmade Pewter Glyph Sterling Artisan Beaded Jewelry - $40.00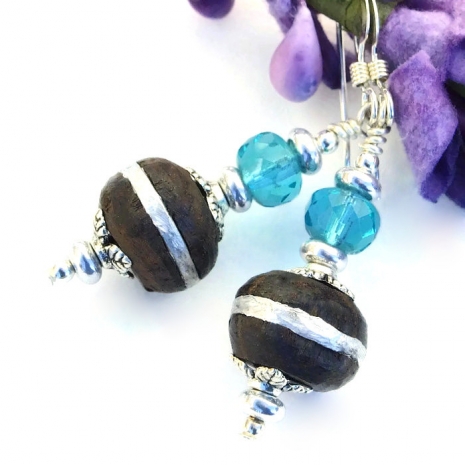 ELEMENTAL RHYTHM - Mali Ebony Wood and Silver Earrings, Handmade Aqua Glass Tribal Beaded Dangle Jewelry - $25.00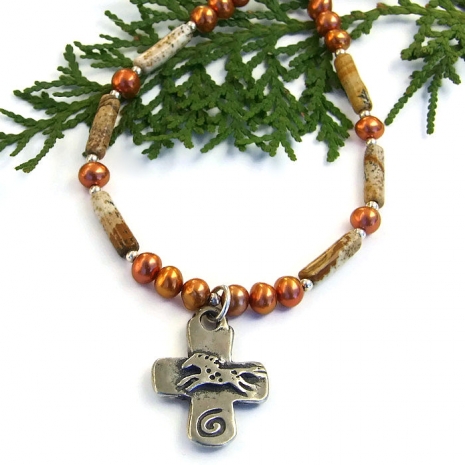 FREE IN HIS LOVE - Horse, Heart, Spiral Rustic Cross Necklace, Picture Jasper Pearls Southwest Handmade Jewelry - $45.00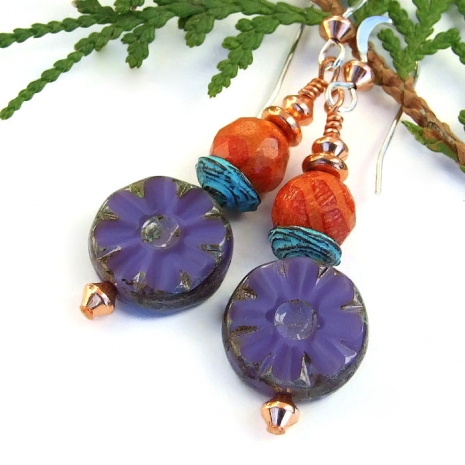 PURPLE POSIES - Purple Flower and Orange Coral Handmade Earrings, Turquoise Mykonos Dangle Boho Jewelry - $20.00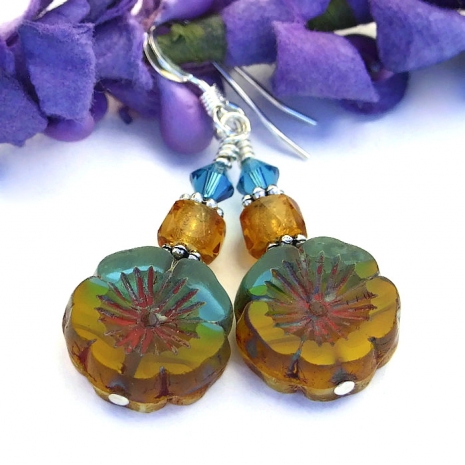 PRETTY PANSIES (one side) - Pansy Flower Earrings, Amber Aqua and White Boho Handmade Artisan Floral Jewelry - $25.00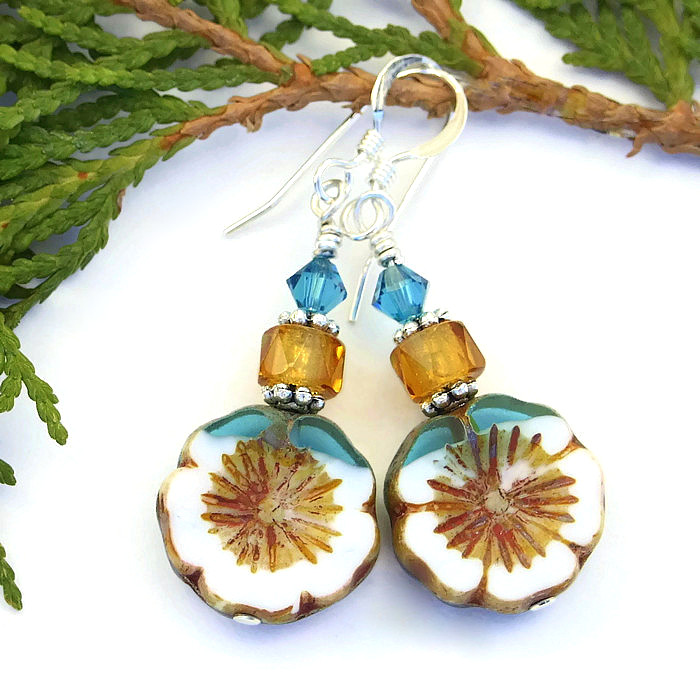 PRETTY PANSIES (opposite side) - Pansy Flower Earrings, Amber Aqua and White Boho Handmade Artisan Floral Jewelry - $25.00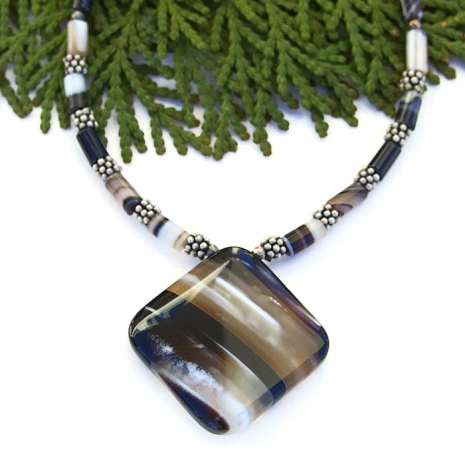 GANYMEDE - Banded Black Agate Pendant Necklace, Handmade Artisan Gemstone Jewelry - $45.00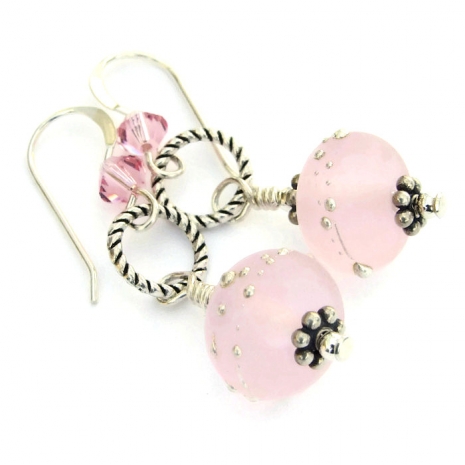 PERFECTLY PINK - Artisan Handmade Pink Lampwork Earrings, Sterling Dangles, Beach Glass Inspired Jewelry - $25.00
I hope you enjoyed these new necklace and earrings creations. Maybe one or more have caught your eye! To see the entire collection of my handmade jewelry, please click here: SHADOW DOG DESIGNS
My contact information:
Indiemade shop: ShadowDogDesigns
Indiemade blog: ShadowDogDesigns' Blog
Artfire studio: ShadowDogDesigns
ArtFire Blog: ShadowDogDesigns' Blog
Google+: Catherine W
Facebook: ShadowDogDesigns - Jewelry
Twitter: ShadowDogDesign
Pinterest: Shadow Dog Designs
Wanelo: ShadowDog
Amazine: ShadowDogDesigns
Rebelmouse: ShadowDogDesigns
Flickr: Shadow Dog Designs' Photostream
Beautifully Unique Handmade Jewelry
» Tagged:
boho
,
earrings
,
handmade
,
hearts
,
Indiemade
,
jewelry
,
necklaces
,
one of a kind
,
Shadow Dog Designs
,
ShadowDogDesigns
,
unique
,
Valentine's Day
,
Valentines
» Share: