Modern Symbols that are Ancient - Wonderful Handmade Wednesday on Indiemade - May 25, 2016
Posted May 25, 2016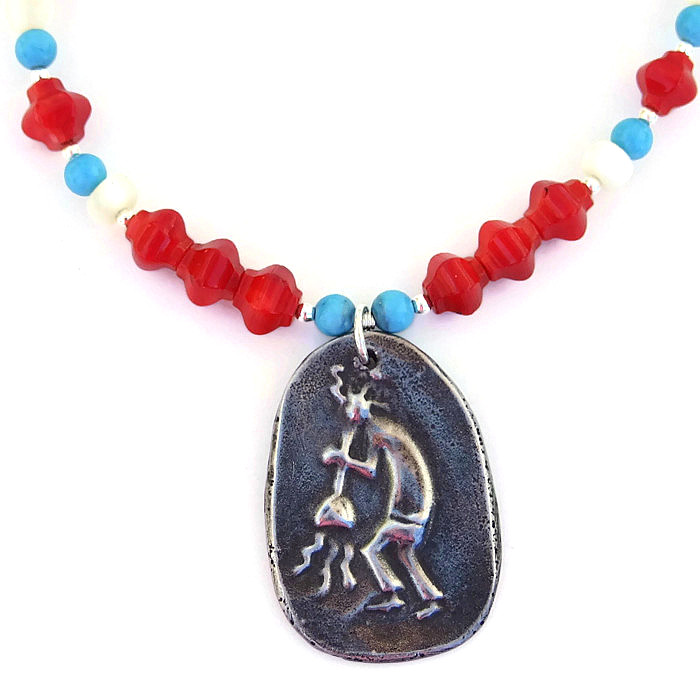 Even though we live in modern times, ancient symbols are found everywhere. Many people do not even recognize them as being ancient. Think of spirals, the Zia symbol on the New Mexico flag, the Hamsa, the cross, flowers and many other symbols in their various forms . . . all ancient but still in use today.
Since I have always been fascinated with the history and meaning of ancient symbols, I decided that would be the theme of today's blog post. Browsing through the handmade shops of Indiemade artist friends, I found a wealth of symbols. It was hard to choose just one from each shop! I hope you enjoy the handmade items below and a very brief explanation of the symbology. Please note, many of the symbols have multiple interpretations - I chose the ones that resonate the most with me.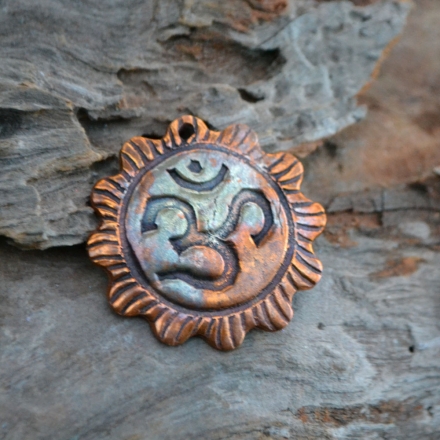 Scalloped Edge Copper OHM Pendant with Heat Patina Handmade by Kristi of KristiBowmanDesign
*** OHM represents the sound of cosmic manifestation; it is the beginning, middle and end and the past, present and future. It is found in most ancient layers of the Vedic texts, such as the Rig Veda, dated to the 2nd millennium BCE.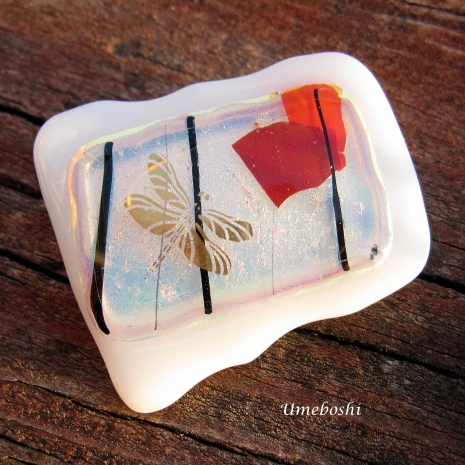 One of a Kind Fall Dragonfly Dichroic Glass Brooch Handmade by Jo of Umeboshi Jewelry Designs
*** Dragonflies are said to carry the wisdom of transformation and adaptability in life. Some of the earliest depictions of dragonflies are found engraved on Late Bronze Age Cretan seal-stones, dating from around 1500 BC.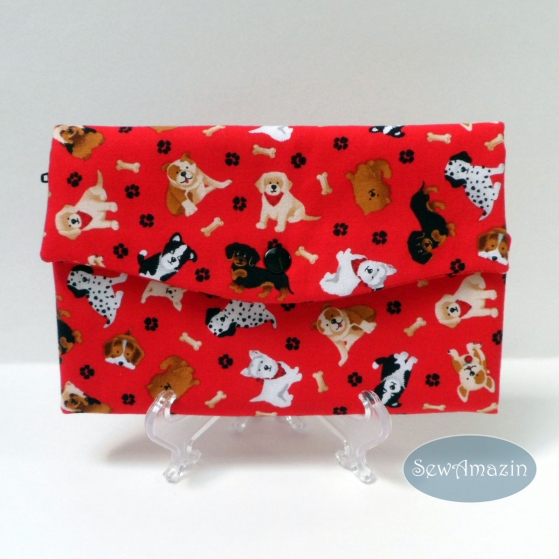 Dog Lovers Tri-fold Fabric Wallet / Clutch Handmade by Donna of SewAmazin
*** Dogs are symbols of loyalty, friendship and unconditional love. The ancient temple of Gobekli-Tepe in Turkey, dated to at least 12,000 years BCE, has provided archaeologists with artistic evidence of domesticated dogs.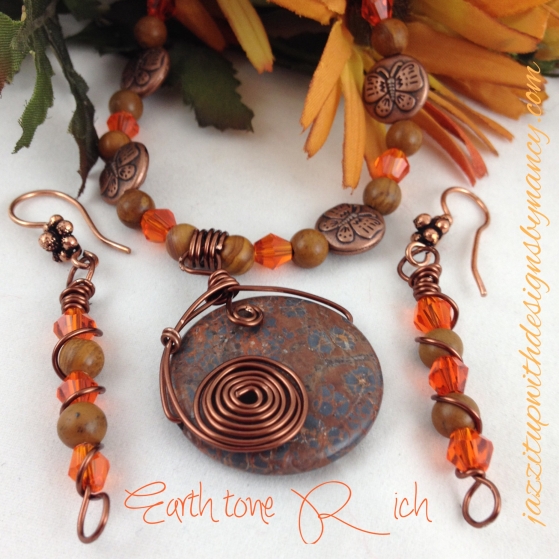 Spiral Wire Wrapped Necklace and Earrings Set with Leopard Jasper, Agate and Swarovski Crystals Handmade by Nancy of Jazz it Up with Designs by Nancy
*** Spirals are one of the oldest symbols, representing life's energy, power and strength; they also symbolize the journey of life, either inwardly or outwardly. The Tarxien spirals found on Malta date to 3000-3500 B.C. and are considered some of the oldest.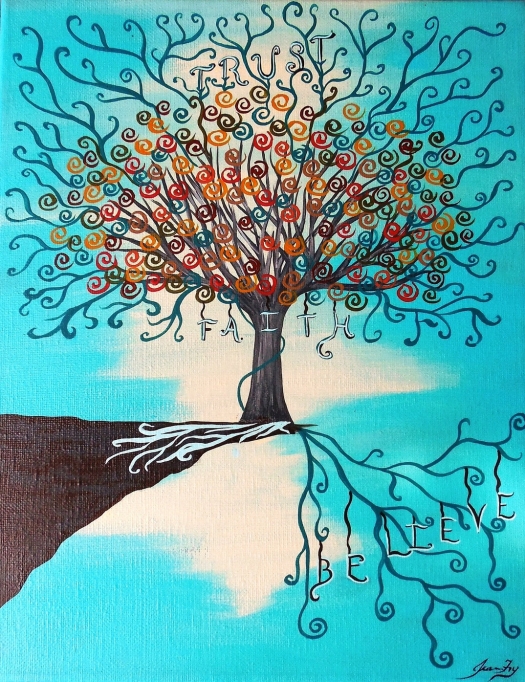 Original "Believe" Tree of Life with Spirals Canvas Painting 11x14 Painted by Jeanne of Jeanne Fry Art
*** A tree of life symbolizes the world center, where heaven and earth converge, and the cycle of life. One of the earliest tree of life depictions (about 2500 B.C) comes from Sumeria.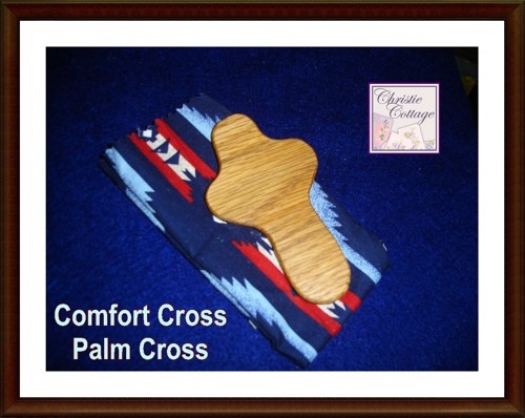 Comfort Palm Cross for Prayer and Meditation Handmade from Oak by Jacki of Christie Cottage
*** Crosses are very ancient symbols, traced back to Babylon and Egypt over 2000 B.C. Today, crosses are symbols of atonement to remind Christians of God's love in sacrificing his own son for humanity.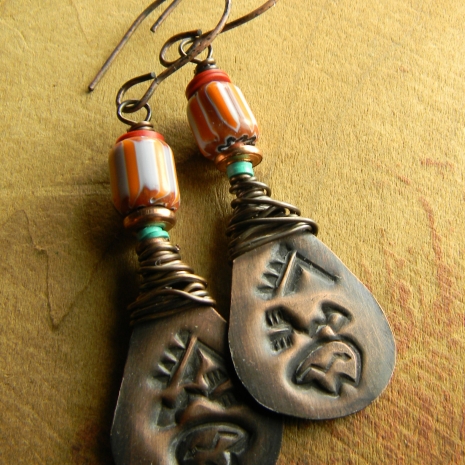 Rustic Copper Southwest Heartline Bears and Venetian Glass Earrings Handmade by Gloria of Chrysalis Jewelry
*** In the Zuni culture, the bear is considered the most powerful animal and is believed to be the guardian of the west. The heartline symbol is an arrow starting from the mouth of the bear to its stomach and tail, signifying the bear's great life force.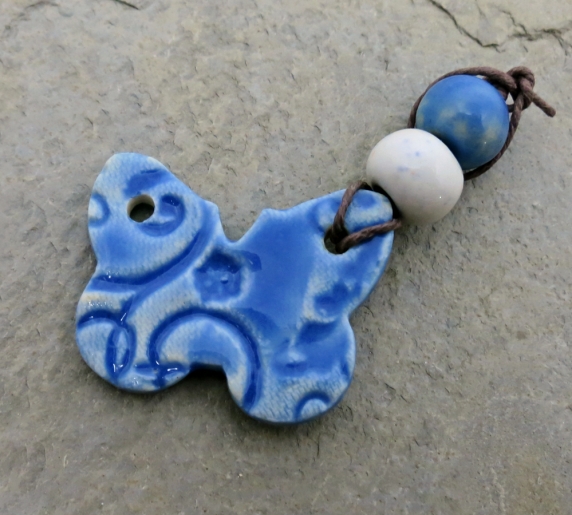 Blue Butterfly Pendant Set, Textured Ceramic Art Beads Handmade by LInda of Linda Landig Jewelry
*** Butterflies are believed to be the embodiment of spiritual growth because of their magical transformation from a caterpillar to a butterfly. Butterflies have appeared in art from 3500 years ago in Ancient Egypt.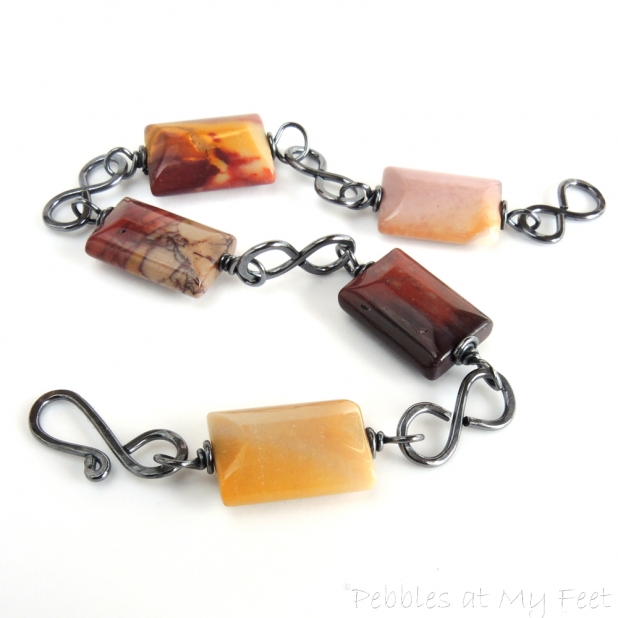 Multicolored Mookaite Jasper Bracelet and Earrings Set with Antiqued Copper Infinity Links Handmade by Pamela of Pebbles at My Feet
*** The infinity symbol refers to something without limit and represents the endless cycle of existence: birth, death and rebirth. The earliest found accounts of mathematical infinity comes from a Greek philosopher, Zeno of Elea (ca. 490 BC), although the actual symbol was not introduced until 1655 by John Wallis in his De Sectionibus Conicis.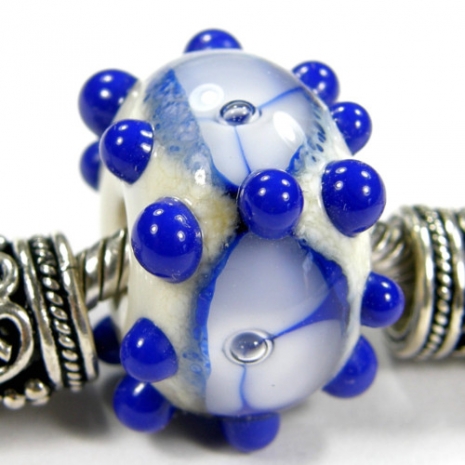 Large Hole Ivory Bead with White Flowers, Trapped Air Bubbles and Raised Cobalt Dots Handmade by Charlotte of Covergirlbeads
*** Flowers are a symbol of spiritual awakening; also they are symbols of generosity and love when given away. But because they fade quickly, flowers are also linked with death, especially the death of the young. The ancient Egyptians depicted the first flower in art: a lotus.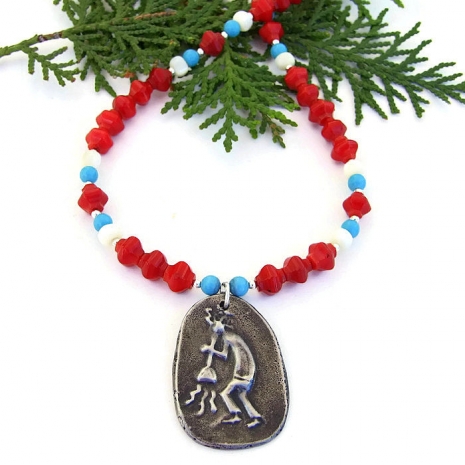 Kokopelli Southwest Necklace, Red Coral Turquoise Magnesite Mother of Pearl Jewelry Handmade by Catherine of Shadow Dog Designs
*** To many Southwest Native Americans, Kokopelli is sacred and is said to be the harbringer of spring with an increase in fertility. Rock carvings and cave paintings depicting Kokpelli date back over 3000 years.
I hope you enjoyed these handmade ancient / modern selections from Indiemade artists! If you would like to make my day and the day of the artists featured, please leave a comment. And any promotion you can do will be greatly appreciated. Thanks!
My contact information:
Indiemade shop: ShadowDogDesigns
Indiemade blog: ShadowDogDesigns' Blog
Artfire studio: ShadowDogDesigns
ArtFire Blog: ShadowDogDesigns' Blog
Google+: Catherine W
Facebook: ShadowDogDesigns - Jewelry
Twitter: ShadowDogDesign
Pinterest: Shadow Dog Designs
Wanelo: ShadowDog
Amazine: ShadowDogDesigns
Rebelmouse: ShadowDogDesigns
Flickr: Shadow Dog Designs' Photostream
Beautifully Unique Handmade Jewelry
» Tagged:
ancient symbols
,
art
,
bears
,
butterflies
,
crosses
,
dogs
,
dragonflies
,
flowers
,
heartline bears
,
Indiemade
,
infinity symbols
,
jewelry
,
Kokopelli
,
modern symbols
,
ohm
,
pendant
,
Shadow Dog Designs
,
ShadowDogDesigns
,
spirals
,
Tree of Life
» Share: