For the
CHRISTMAS HOLIDAY SEASON
Use Coupon Code
HOLIDAYS10
for
10% Off
at Checkout
and
FREE SHIPPING
!
Orders $60.00 or more are automatically upgraded to Priority Mail at no extra charge
(Free Shipping U.S. Only)
Christmas Jewelry Gift Ideas from Shadow Dog Designs
Posted December 10, 2016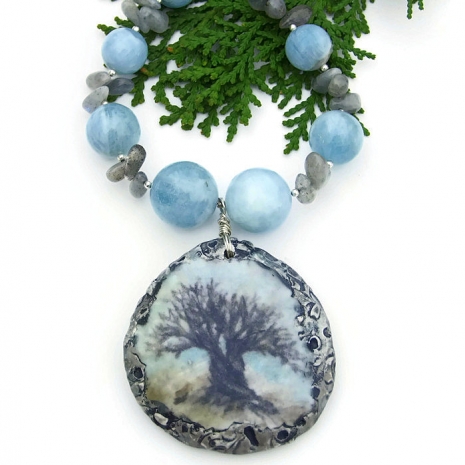 Christmas is almost here . . . but there is still time to check off those special gifts on your list. Artisan handmade jewelry is always a welcome treat, somethign that is not mass produced. Most handmade jewelry are one of a kind necklace and earring designs that come from the artist's heart and soul, such as the beauties featured below. All of the jewelry below are unique - the wearer would be the only one with that design - except for the snowmen earrings with Swarovski emerald crystals. Seven new designs can be found in my Indiemade shop since the last post sharing my jewelry. The last three featured are oldies but goodies that are still looking for a loving home.
If one of the pieces catches your eye, be sure to click on the live link below the photograph for more information and pictures. I hope you enjoy these necklaces and earrings: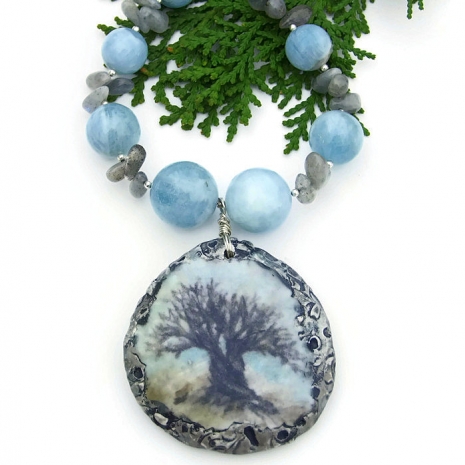 LAIDIR CRAOBH - Tree of Life Handmade Necklace, Aquamarine Labradorite Gemstone Art Statement Jewelry - $145.00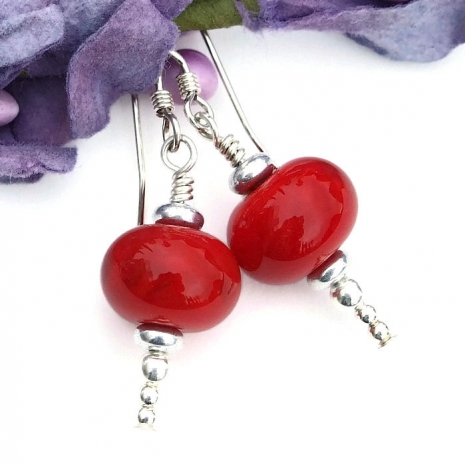 RED ICICLES - Christmas Red and Silver Icicle Earrings, Lampwork Sterling Artisan Dangle Jewelry - $20.00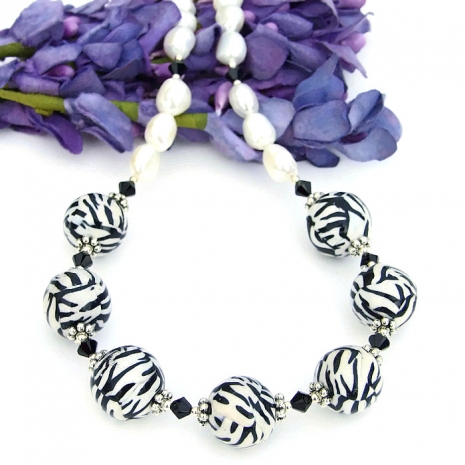 WILD THING - Zebra Stripe Bead Necklace, Black White Polymer Clay Pearls Swarovski Handmade Jewelry - $60.00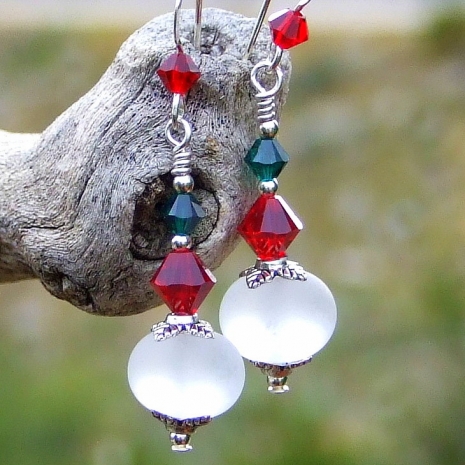 FROSTED CHRISTMAS - Christmas White, Red and Green Earrings, Frosted Lampwork Swarovski Handmade Holiday Jewelry - $25.00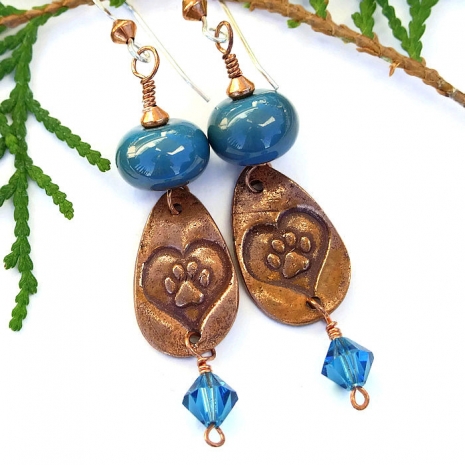 HEART OF A DOG - Heart and Paw Print Dog Rescue Earrings, Turquoise Lampwork Swarovski Artisan Jewelry - $40.00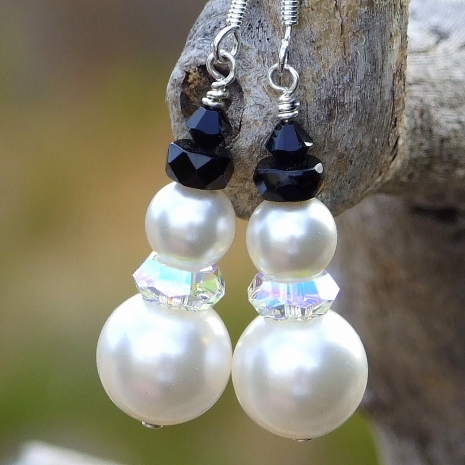 ELEGANT SNOWMEN - Elegant Snowman Christmas Earrings, Swarovski Pearls Crystals Holiday Fashion Jewelry - $25.00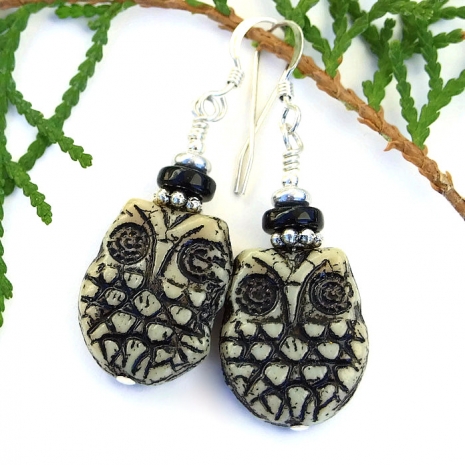 SWEET HOOTIES - Owl Earrings, Cream and Black Czech Glass Black Onyx Handmade Designer Jewelry - $20.00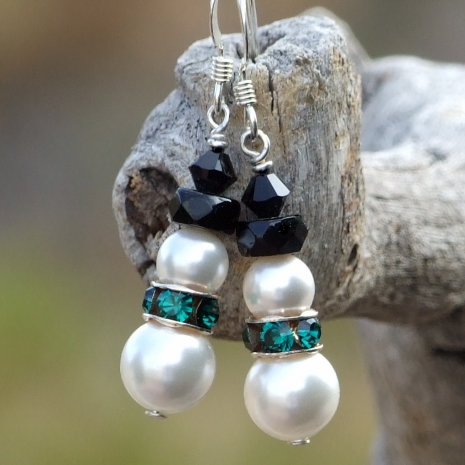 SNOWMEN IN EMERALD - Christmas Snowmen Holiday Earrings, Pearls and Green Swarovski Handmade Beaded Jewelry - $20.00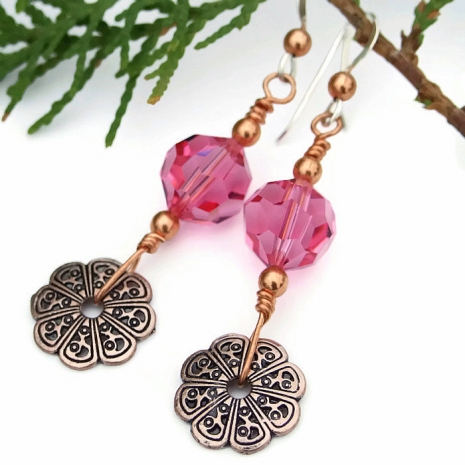 IRRESISTABLE - Copper Filigree Flower Artisan Earrings, Pink Swarovski, Handmade Spring Summer Jewelry - $25.00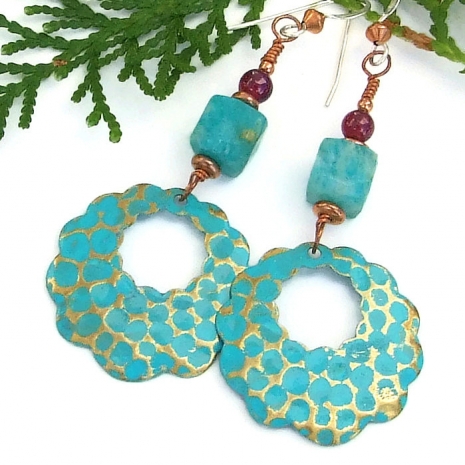 CARIBBEAN CALM - Turquoise Scalloped Brass Hoop Earrings, Amazonite Garnet Gemstone Boho Handmade Jewelry - $35.00
I hope you enjoyed these necklaces and earrings shown above, any of which would make a lovely Christmas gift for a favorite woman - or even yourself! If you would like to make my day and the day of the artists featured, please leave a comment. And any promotion you can do will be greatly appreciated. Thanks!
My contact information:
Indiemade shop: ShadowDogDesigns
Indiemade blog: ShadowDogDesigns' Blog
Artfire studio: ShadowDogDesigns
ArtFire Blog: ShadowDogDesigns' Blog
Google+: Catherine W
Facebook: ShadowDogDesigns - Jewelry
Twitter: ShadowDogDesign
Pinterest: Shadow Dog Designs
Wanelo: ShadowDog
Amazine: ShadowDogDesigns
Rebelmouse: ShadowDogDesigns
Flickr: Shadow Dog Designs' Photostream
Beautifully Unique Handmade Jewelry
» Tagged:
boho
,
Christmas
,
Christmas gift ideas
,
Christmas jewelry
,
earrings
,
fashion
,
gemstones
,
handmade
,
jewelry
,
lampwork
,
necklaces
,
polymer clay
,
Shadow Dog Designs
,
ShadowDogDesigns
,
Swarovski crystals
,
Tree of Life
» Share: