Enjoy
*** FREE SHIPPING ***
for the Holiday Season!
(First Class Ground Advantage - U.S. Only)
St Christopher Dog Head Necklace, Religious Gemstone Handmade Necklace
Item Description
St. Christopher, the patron saint of travelers, is a much beloved saint, not only in the Catholic church but also for many other believers. But did you know that in times past, he was often portrayed in ancient texts and on icons with a dog head and holding a cross? The handmade ST. CHRISTOPHER necklace beautifully shows this! The one of a kind, religious necklace features an artisan made dog-head St. Christopher pendant along with black agate rounds, black onyx teardrops and sterling silver. The eye-catching pendant is artisan designed and hand poured from lead and cadmium free Britannia pewter, an ancient type pewter that can be mistaken for heirloom sterling silver due to its brilliant silver sheen. The exquisite design is very detailed: a haloed, dog-head St. Christopher looking to one side wearing armor and holding a cross. Since St. Christopher is raised against the background, the pewter pendant has a gorgeous texture. It has been lightly patinated and then polished to a mirror-like shine to bring out the fine detailing of the intricate design. The back of the pendant is smooth and is stamped with the artist's maker mark. Two heavy duty sterling silver jump rings securely fastens the pendant to the main body of the necklace. *** For more about the legend of the dog-headed St. Christopher, including some links to articles, please scroll down.
To perfectly complement the St. Christopher pendant, black agate rounds and black onyx teardrops were used. As its name implies, black agate (also called banded black agate) is mainly a black gemstone. But the beautiful translucent stones also naturally contain shades of warm browns and clear tones, often with dots, stripes and blotches. As you can see in the photos, the gorgeous strand of agate ranges from jet black to almost clear, with many shades of brown in-between. When held up to the light, the translucent agates glow. To add unique texture, black onyx teardrops are found between the first seven agate rounds in the front of the necklace, separated by small sterling silver beads, and then between each group of three agate beads at the back. A sterling silver hook clasp set securely finishes the necklace. Carefully designed and handmade by Catherine of Shadow dog Designs, the ST. CHRISTOPHER pendant necklace was created for the woman who loves wearing one of a kind jewelry designs. And this necklace is a perfect gift for the woman who loves her dog(s), to help protect her pawed companions as the journey through life is traveled!
---
Dog headed St. Christopher Britannia pewter pendant: app. 48 mm x 27 mm (1.89" x 1.06"); artisan handmade by Mark Krehbiel

Black agate rounds: app. 8 mm (0.31")

Black onyx teardrops: app. 8 mm x 6 mm at widest (0.31" x 0.24")

Metal: Britannia pewter and sterling silver

Clasp: sterling silver hook clasp set

Length: app. 19" / 48.3 cm

Pendant drop: app. 2" / 5.1 cm including the jump ring bails
---
*** For a better understanding of the relative size of the pendant and gemstones used to create the ST. CHRISTOPHER artisan necklace, please be sure to check out photo # 6 for a size comparison with a quarter.
*** St. Christopher, who lived in either the 3rd or 4th century A.D, was said to be a descendent of the Cynocephali, a legendary race of giants with human bodies and canine heads. In real life, he was said to be from Canaan, was quite tall and (of course), did not have a dog head (dog-headed men were described in some travel tales of the time). Because he converted to Christianity, he was beheaded, becomong a Christian martyr. Many pictures of St. Christopher in medeival illuminared manuscripst show him with a dog head. Most Perhaps the most famous story of St. Christopher was when he carried a small child, who got heavier and heavier, across a deep river. With great effort, he finally made it across the river, only to find out he had been carrying the Christ Child. If you would like more information about the history of the dog-headed St. Christopher with many photos, here are two links: https://weirdcatholic.com/2018/08/10/the-strange-legend-of-st-christopher-and-whether-or-not-he-had-the-head-of-a-dog/ and https://russianicons.wordpress.com/tag/christopher-dog-head/
---
St. Christopher is the patron saint of travelers. Black agate is believed to bring the wearer health, prosperity and security. Black Onyx is believed to be a powerful protective stone and helps bring balance to mind and body. Pewter is believed to be very grounding, bringing the wearer back to reality. Silver is a metal of love and healing; it is a mirror to the soul, helping us to see ourselves as others see us.
The one of a kind ST. CHRISTOPHER necklace was carefully designed and handmade in a dog friendly, smoke free studio. The necklace will come with two informational drop tags: one with the piece's name; the other lists the materials used in the necklace and the language of the stones and metals. It will be carefully packed in an organza jewelry bag, perfect for gift giving to a loved one . . . or to yourself!
*** Each piece of the beautiful jewelry found in my shop is photographed outside in natural light. Please be aware that not all computer monitors show colors exactly the same. The colors of the components used to create each piece of jewelry are extremely close to the actual color on my own monitor. They may appear lighter or darker on yours.
https://bit.ly/StChristopherSD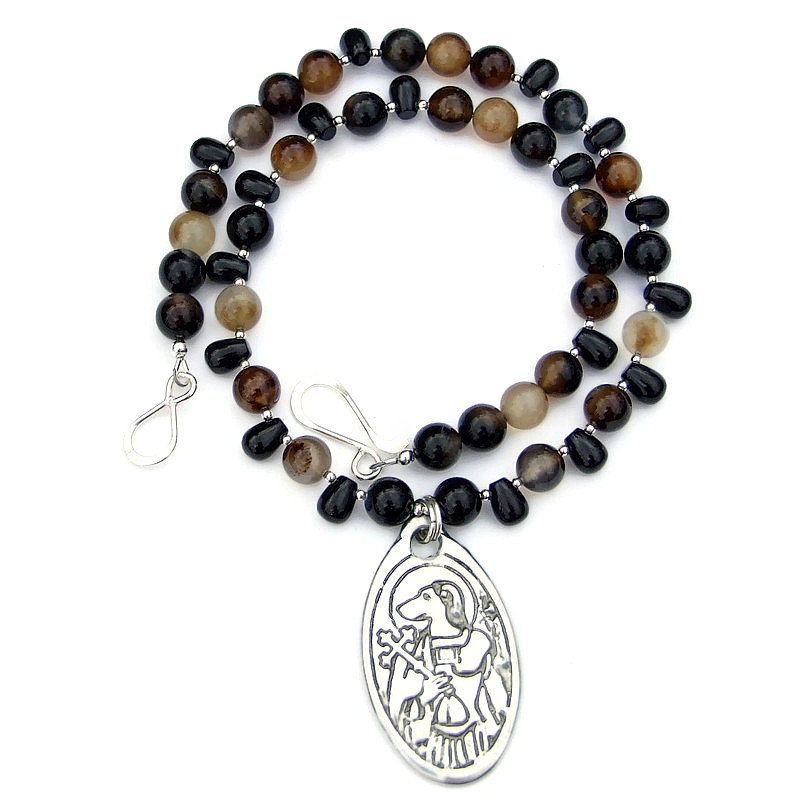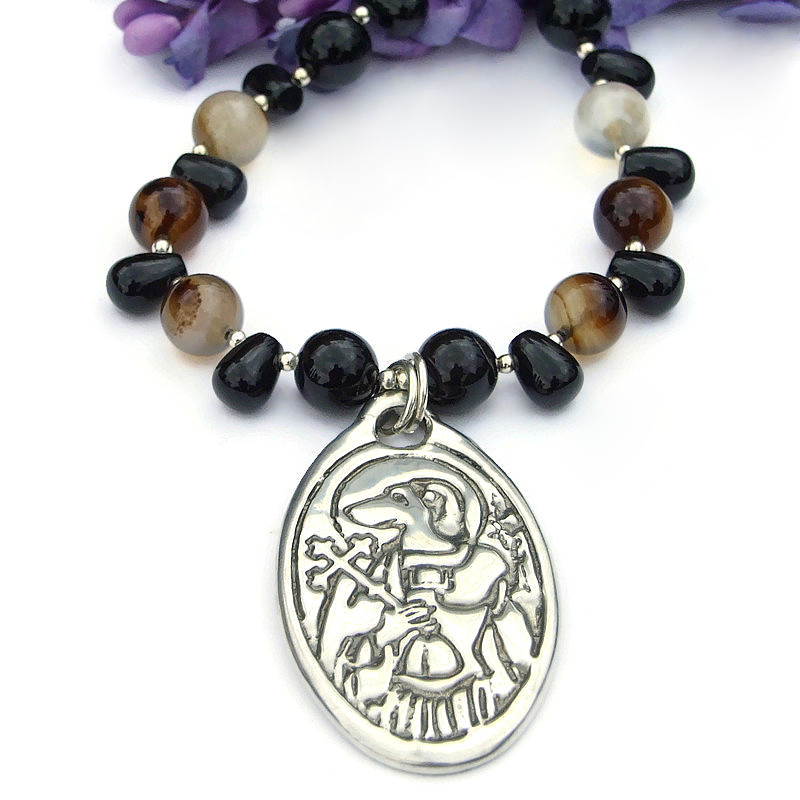 » Share: