I am taking a break from Monday, May 22 through Saturday, May 26. Any items purchased during that time will be mailed out on Tuesday, May 30. As a thank you for your patience, purchases will be upgraded to Priority Mail at no extra cost to you.
Christmas Snowmen Holiday Earrings, Pearls and Green Swarovski Handmade Beaded Jewelry
Item Description
Handsome snowmen earrings are such joyous jewelry to wear for the Christmas holiday season . . . and well beyond into the depths of winter. These handmade lovelies, named SNOWMEN IN EMERALD, were created with glowing Swarovski crystal pearls, sparkling emerald green Swarovski crystal "collars", black Swarovski crystals and sterling silver. You will want to flaunt these snowmen earrings at your fancy Christmas parties, at work or during a casual weekend with good friends. Whimsical and fun at the same time, the SNOWMEN IN EMERALD earrings were carefully designed and handmade by Catherine of Shadow Dog Designs in the Borderlands region where snow is rarely seen but is often wished for.
---
Large Swarovski crystal pearl: 8mm

Small Swarovski crystal pearl: 6 mm

Swarovski roundelle collar: app. 7 mm; emerald crystals; silver plated brass

Swarovski crystals for hat: 6 mm faceted rondelles and 4 mm faceted bicones

Metal: sterling silver and silver-plated brass ("collars")

Earwires: sterling silver French hooks

Length: a little over 1.5" / 3.8 cm from the top curve of the earwires
---
To make the body of the sparkling SNOWMEN IN EMERALD earrings, I used two different sizes of Swarovski crystal pearls: 6 mm for the head and 8 mm for the lower section. Swarovski crystal pearls are a manmade pearl, but, unlike many synthetic pearls that use a hard plastic core, Swarovski crystals have a lead crystal core. Because of the crystal core, the pearls mimic the weight of real pearls and, as real pearls do, warm to the skin when worn. To give the look and feel of famous South Sea pearls, multiple layers of pearlescence (crushed pearls) are added one layer at a time. That is why you get the luminous quality that you can see in the photos. And if they are that gorgeous in the photos, just imagine how more beautiful they are in real life hanging from your ears!
All well dressed snowmen need a fancy collar, these cuties included! A Swarovski crystal encrusted silver plated brass roundelle was added to each snowman between the head and body of the snowmen. The six faceted emerald green that add sparkly goodness to the collars might be small at 4 mm but they sure twinkle up a storm when the light hits them! Its too bad the photos don't allow the famous Swarovski sparkle to show!
Snowmen need top hat and these have one! To create the top hats, two different types of Swarovski crystals in jet black were used. Faceted Swarovski crystal rondelles make up the brim of the hat. The crowns were created with 4 mm faceted Swarovski crystal bicones. Sparkle aplenty!

The body of the earrings were strung on sterling silver head pins. The top end of the headpin was carefully wire wrapped into a loop. The loop was then then connected to sterling silver French hook earwire, a perfect finish to a fun pair of snowmen earrings.
For a better understanding of the relative size of the SNOWMEN IN EMERALD earrings, please be sure to check out photo #5 for a size comparison with a dime.
---
Glass (manmade crystal)) carries the energies of transformation, rebirth and communication. Silver is a metal of love and healing; it is a mirror to the soul, helping us to see ourselves as others see us.
---
The SNOWMEN IN EMERALD earrings will be carefully packed in an organza jewelry bag, perfect for gift giving to a loved one . . . or to yourself!
***Please be aware that not all monitors show colors exactly the same. The colors of the items used to create my jewelry are extremely close to the actual color on my monitor. The colors may appear lighter or darker on your monitor.
Shadow Dog Designs
Unique Handmade Jewelry
for the Discerning Woman
SnowmanGreen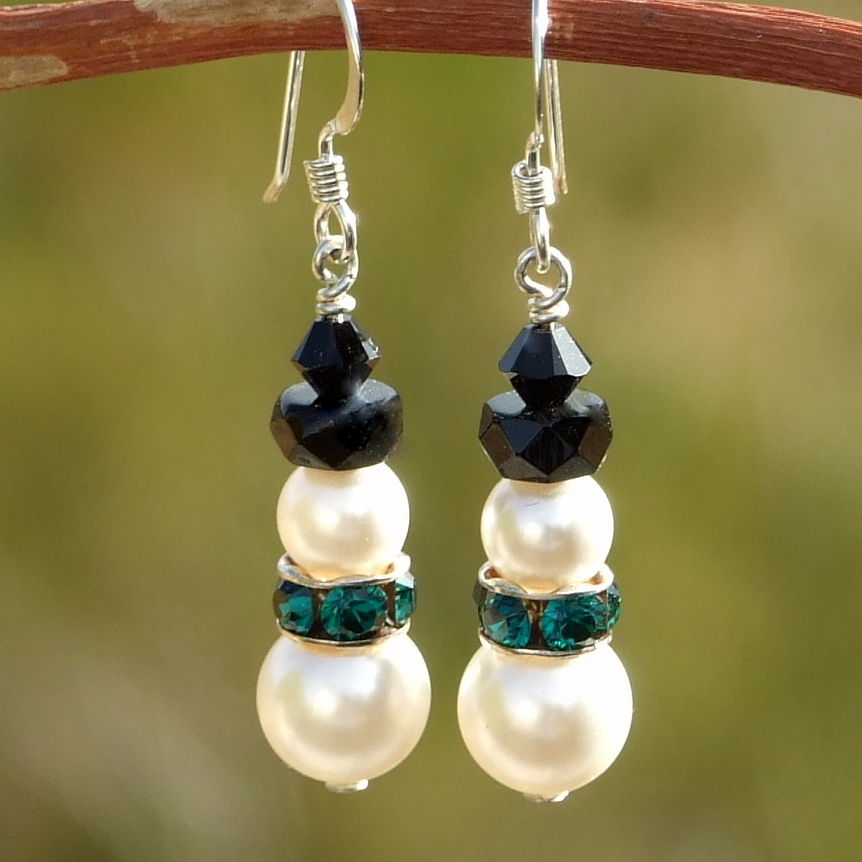 » Share: