Zuni Black Bear Earrings, Turquoise Coral Handmade Southwest Jewelry
Item Description
The unique Zuni inspired fetish bear earrings certainly contain a hearty dose of Southwest splendor. The handmade dangle earrings, named K'WINNA AYNSHE, feature Czech glass black bear fetish beads with a marbled Picasso finish for an ancient, worn look. Genuine faceted blue turquoise, red coral rounds and patterned sterling silver chain add great charm to the black bears. The earrings are perfect to wear with your casual blue jeans and t-shirt, but they also will be radiant with your little black dress. Created for the woman who adores one of a kind, artisan jewelry, the K'WINNA AYNSHE bear earrings were carefully designed and handmade by Catherine of Shadow Dog Designs. "K'winna Aynshe" is Zuni for "black bear."
---
Czech glass Zuni bear beads: app. 17 mm x 11 mm x 5 mm; Picasso finish

Faceted turquoise rondelles: app. 6 mm x 4 mm

Red coral rounds: app. 4 mm

Chain: patterned sterling silver box chain

Earwires: sterling silver French hooks

Length: app. 2" / 5.1 cm measured from the top curve of the earwires
---
*** For a better understanding of the relative size of the K'WINNA AYNSHE Zuni black bear fetish earrings, please be sure to check out photo # 6 for a size comparison with a dime.
The Zuni are a native people who have lived in the same area of western New Mexico for approximately 3000-4000 years. Traditionally, Zuni fetishes are small carvings made from various materials, especially turquoise, depicting animals and icons important to their culture. The carvings served ceremonial purposes, each animal believed to have powers or qualities that aid the owner. They also were traded with neighboring tribes, such as the Navajo who especially treasured figures of horses, sheep, cattle or goats, using them to protect their herd from disease and to ensure fertility.
The eye catchers of the K'WINNA AYNSHE handmade earrings are the Zuni inspired Czech glass black bear beads. The beads started out with an opaque black glass base. To give a look of oldness to the bears, a mottled Picasso finish of mainly amber and cream was applied with pale hints of red here and there. The bear beads are two sided, each side looking different because of the Picasso finish. Be sure to look at all the photos and you'll see all four sides. A glowing daisy spacer was added to the top of each Czech glass black bear bead.
To add more than a bit of Southwest feel to the unique earrings, faceted turquoise and red coral rounds were added above each bear. The turquoise is a lovely sky blue color, and because of the facets, adds subtle sparkle. The red coral rounds help highlight the bits of red from the Picasso finish. The gemstones are separated by a sterling silver daisy spacer. The red coral is capped with a small sterling silver bead.
The bears, turquoise, coral and silver beads were strung on sterling silver headpins. The top of each headpin was carefully wire wrapped into a loop and connected to a link of patterned sterling box chain. The chain, which adds great movement to the earrings design, was connected to sterling silver French hook earwires.
---
Zuni fetish bears symbolize courage, physical strength and leadership. Turquoise, a gemstone sacred to the Navajo, Zuni and other Native American tribes, is a stone of wholeness, promoting a sense of unity with all that surrounds us; it is believed to bring peace of mind, a soothing energy and healing of the spirit. Red Coral is said to calm life, to restore harmony in the event of an emotional conflict. Silver is a metal of love and healing; it is a mirror to the soul, helping us to see ourselves as others see us.
---
The K'WINNA AYNSHE Southwest bear earrings will be carefully packed in an organza jewelry bag, perfect for gift giving to a loved one . . . or to yourself!
***Please be aware that not all monitors exhibit colors exactly the same. The colors of the items used to create my jewelry are extremely close to the actual color on my monitor. The colors may appear lighter or darker on your monitor.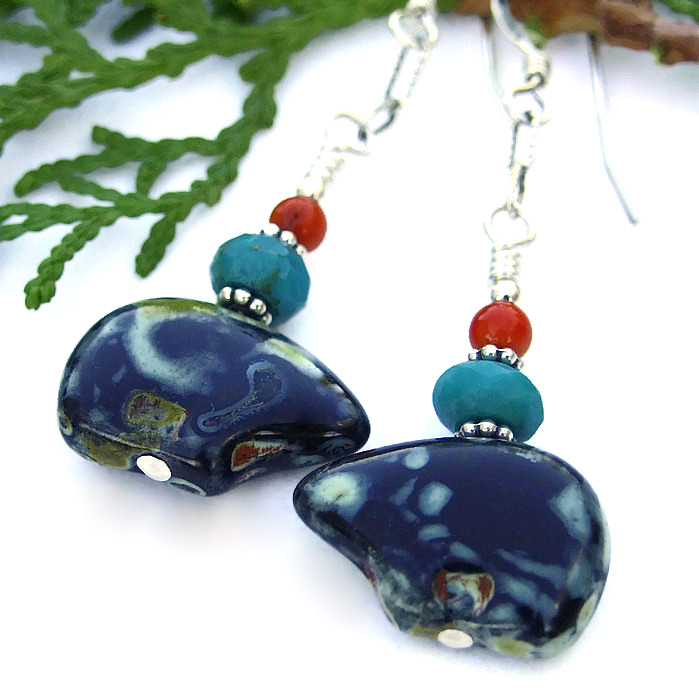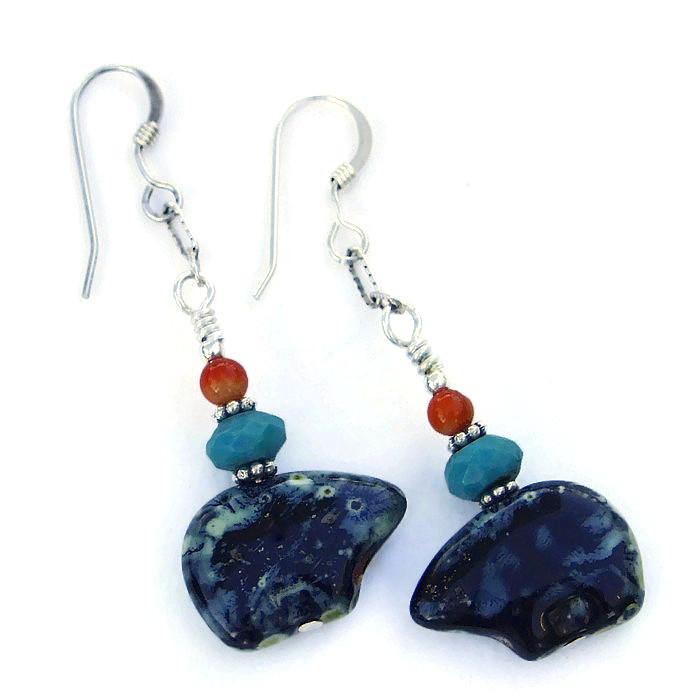 » Share: