Just in time for MOTHER'S DAY:
*** FREE SHIPPING ***
at SHADOW DOG DESIGNS
Wedding Bride White Stick Pearl Necklace, Handmade Elegant Jewelry
Item Description
Radiating extreme elegance, the ELEGANTE handmade pearl collar necklace is so very well named! Perfect jewelry for a bride on her wedding day or stylish with a little black dress for a night out on the town, the one of a kind necklace was created with top quality Biwa stick pearls and glowing sterling silver. Just what are Biwa stick pearls? Biwa pearls were originally only found in a specific species of freshwater mussels in Lake Biwa, Japan. But due to pollution, the mussels have almost all died out there. Now the term "Biwa" is used to describe the shape and quality of stick pearls: long, narrow and flat with a luminous luster.
The Biwa stick pearls used in the ELEGANTE necklace exude an incredible radiance, something that the photos have a hard time showing. Depending on the way the light shines on them, they gleam with subtle purple, pink, green, gold and copper highlights. Most Biwa pearls are center drilled, rarely top drilled. But these pearls are drilled both ways, adding unique texture and eye catching beauty. Center drilled pearls are alternated with top drilled pearls throughout the whole necklace, each pearl separated by small sterling silver beads for a sinuous drape when worn. If you look closely at the photos, you'll notice that each pearl is somewhat flat on one end but has a "drip" on the other end. Amazing! Each stick pearl used in the necklace is unique and definitely has its own personality. The pearls range in size from about 1" (2.54 cm) to .75" (1.9 cm),with the top drilled pearls being the longest.
***Please note: The Biwa pearls are a snow white color, very hard to photograph. Photo #3, the necklace on the jewelry bust, best represents the color of the pearls.
To finish the beauty, a flowing, textured sterling silver hook clasp set was connected to the necklace with sterling wire protectors for added security. Carefully designed and handmade by Catherine of Shadow Dog designs, the ELEGANTE necklace was created for the women who appreciates fine, high quality pearls and a one of a kind jewelry design.
---
Top drilled Biwa pearls: app. 2.54 cm / 1", some a bit shorter, some a bit longer

Center drilled Biwa pearls: app. 1.9 cm / .75", some a bit shorter, some a bit longer.

Metal: sterling silver

Clasp: textured sterling silver hook clasp set

Length: app. 18.25" / 46.4 cm
---
For a better understanding of the relative size of the Biwa stick pearls used to create the ELEGANTE handmade necklace, please be sure to check out photo #6 for a size comparison with a quarter.
---
Pearls are used to spread loving vibrations; they are said promote sincerity, truth and loyalty. Silver is a metal of love and healing; it is a mirror to the soul, helping us to see ourselves as others see us.
---
The ELEGANTE artisan necklace was carefully designed and handmade in a dog friendly, smoke free studio. The necklace will come with two informational drop tags: one with the piece's name; the other lists the materials used in the necklace and the language of the stones and metals. It will be carefully packed in an organza jewelry bag, perfect for gift giving to a loved one . . . or to yourself!

***Please be aware that not all computer monitors show colors exactly the same. The colors of the components used to create each piece of jewelry are extremely close to the actual color on my monitor. They may appear lighter or darker on yours.

SHADOW DOG DESIGNS
Beautifully Unique Handmade Jewelry
for the Discerning Woman

N2162 - 06-16-17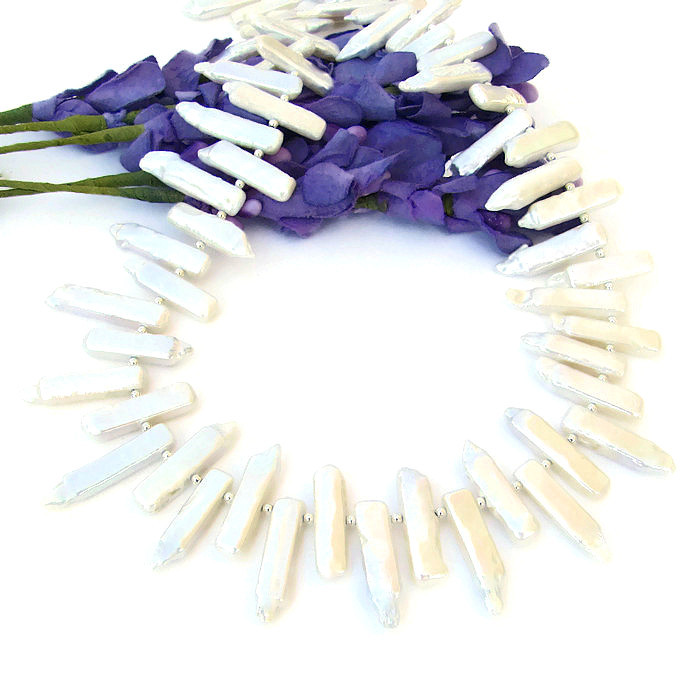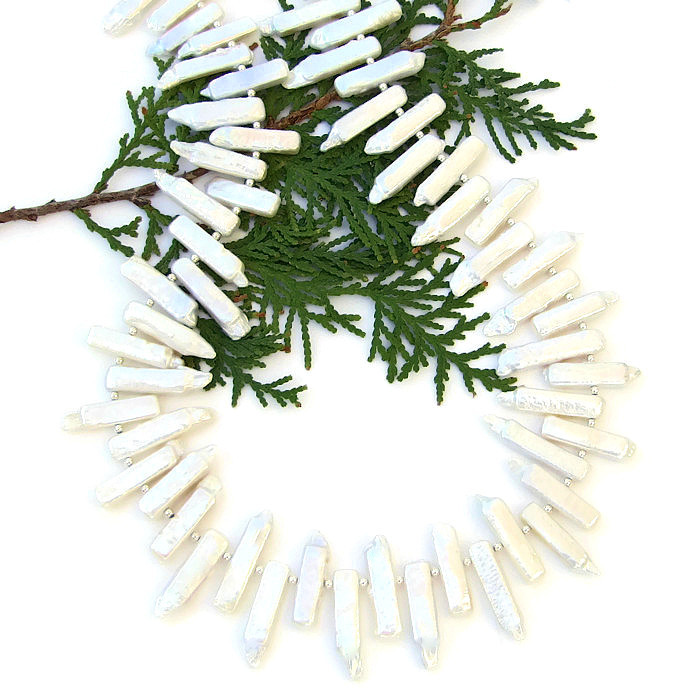 » Share: