Valentines Heart Necklace, Handmade Lampwork Gemstone Jewelry Gift
Item Description
The MI CORAZON handmade lampwork glass heart and mixed gemstone necklace is a truly unique gift for Valentines Day, Mothers Day, a birthday . . . or just because. Filled with earthy goodness, the lovely necklace features a one of a kind, artisan lampwork heart pendant with a glittering ribbon of goldstone glass. To complement the heart pendant, mixed amethyst, green aventurine and brown agate nuggets were used along with sterling silver beads and a sterling s-clasp. Carefully designed and handmade by Catherine of Shadow Dog Designs, this is a piece of heart jewelry that will be treasured and can be worn year around with casual, office and dress up clothes. MI CORAZON means "My Heart" in Spanish, a term of loving endearment.
---
Lampwork heart: app. 28 mm x 22 mm (at widest point) x 11 mm

Mixed gemstone nuggets: on average, app. 6 mm x 6 mm, some a bit bigger, some a bit smaller

Metal: sterling silver

Clasp: sterling silver s-clasp set with dot

Length: app. 18" / 45.7 cm long

Pendant drop, including bail and spiral: app. 1.5" / 3.8 cm
---
The centerpiece of the MI CORAZON necklace is surely the handmade lampwork glass heart. It was crafted by Terry of Silverfishdesigns in her glass studio in Virginia. I have been buying special lampwork pieces from Terry for years now and am always amazed at the intricate beauty of her pieces - this heart included. Terry started off with a black base that she rolled in silver foil and then decorated with ribbons of plum, silvered plum, silvered ivory and goldstone. A black, silver plum and khaki twistie was also incorporated. The earth colored heart was finished off on the front side with a black and white handmade murrini flower (which looks purple and white) encased in a clear bubble and three glowing amber dots. Not only do you get swirls of gorgeous color, but there is also fabulous texture! Please see photo #2 above for a close up photo. I only wish the photo did the heart justice because you surely do not see the glitter of the goldstone ribbons - but they are there.
The back side of the heart is smooth. The bottom of the heart was framed with a sterling silver daisy spacer and 3 mm sterling bead. The heart was topped off with a single 3 mm sterling silver bead. Everything was placed on a handmade (by me) sterling silver head pin with a hand hammered spiral at the bottom. The top of the wire was carefully wire wrapped into a loop to act as a bail to connect the heart to the necklace.
The main body of the MI CORAZON necklace was created with mixed gemstone nuggets, a perfect color complement to the browns, plums and goldstone of the lampwork heart. The gemstones are comprised of more than a generous amount of purple amethyst and green aventurine with some brown agate. The shape of the nuggets are more of a rounded square, but since they are nuggets, each one is a bit different. I love texture in designs and the nuggets definitely give MI CORAZON that! The nuggets were placed in groups of three with each grouping separated by a single 3 mm sterling silver bead. The last grouping of gemstones at the back of the necklace has 5 stones.
A dot patterned sterling silver s-clasp set was chosen to finish the necklace. It was connected to the necklace with sterling wire protectors. The necklace was crimped with sterling tubes which had silver crimp covers placed over them to mimic 3 mm sterling beads.
For a better understanding of the relative size of the MI CORAZON lampwork pendant and gemstone necklace, please be sure to check out photo #5 for a size comparison with a quarter.
---
Glass carries the energies of transformation, rebirth and communication. Amethyst helps calm fears and reduces stress; it is known as the "stone of peace" and helps increase spirituality and contentment. Green Aventurine, because of its color, is said to lend itself to prosperity. Brown Agate is used to help ease stressful situations, protect against danger and promote strength and healing. Silver is a metal of love and healing; it is a mirror to the soul, helping us to see ourselves as others see us.
---
The MI CORAZON handmade necklace will come with two informational drop tags: one with the piece's name; the other lists the materials used in the necklace and the language of the stones and metals. It will be carefully packed in an organza jewelry bag, perfect for gift giving to a loved one . . . or to yourself!
***Please be aware that not all monitors exhibit colors exactly the same. The colors of the items used to create my jewelry are extremely close to the actual color on my monitor. The colors may appear lighter or darker on your monitor.
Shadow Dog Designs
Beautifully Unique Handmade Jewelry
for the Discerning Woman
N1098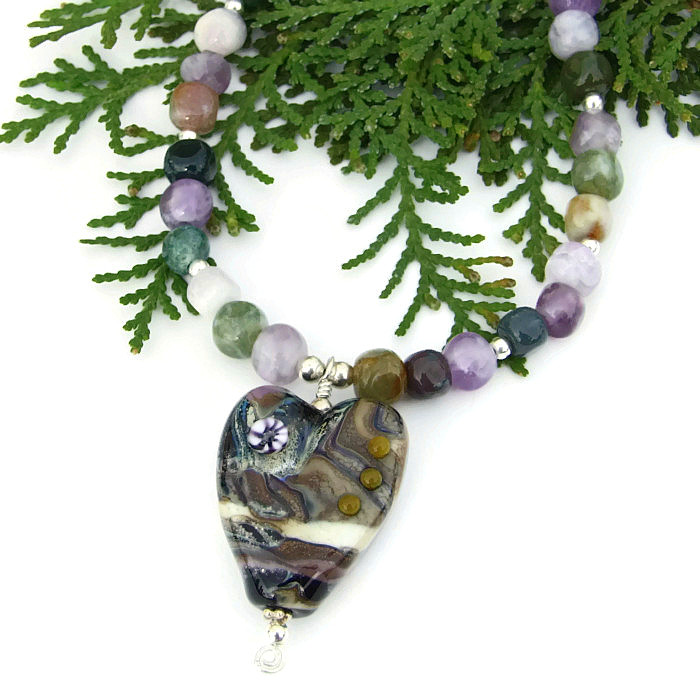 » Share: