African Bone Star Necklace, Black White Jewelry Handmade Boho Tribal
Item Description
The bold and beautiful, one of a kind NZURI necklace feeds into your boho side of life but also has a sphisticated flair. Created with two types of black and white African batik bone beads, the chunky, ethnic necklace will definitely show your sense of style and fashion each and every time you wear it. In the front of the necklace are beautiful tribal bone discs, each with a white, seven pointed star design on both sides. The discs are thicker in the middle and thinner on the edges. Sterling silver beads separate individual discs and groupings of three discs. Since these disc beads, and the other set of bone beads used in the necklace, are individually hand crafted, they are not exactly the same in size and design.
The back of the necklace is finished with small lozenge shaped beads that are somewhat flattened. What is interesting about these beads is that when you look one way at them, you can see a six pointed star design; but look another way and you see a sinuous "s" design. They are separated by small sterling silver beads. The necklace is finished with a sterling silver hook clasp set with a hammered look. Created for the woman who loves statement jewelry, the NZURI batik bone bead necklace was carefully designed and handmade by Catherine of Shadow Dog Designs. "Nzuri" is Swahili for "beautiful."
---
Batik bone disc beads: on average, app. 24 mm x 6 mm (at thickest); some a bit bigger, some a bit smaller

Batik bone lozenge beads: on average, app. 10 mm x 10 mm x 6 mm; some a bit bigger, some a bit smaller

Metal: sterling silver

Clasp: hammered sterling silver hook clasp set

Length: app. 19" / 48.3 cm
---
+++ Just what are batik bone beads? Today, most batik bone beads come from Kenya or Ghana often from a coop of artists making beads to sell so they can feed their families. With a "waste not, want not" mind set, when an agricultural animal, such as a cow, water buffalo or camel dies or is killed for food, all parts of the animal is used in some way, including the bones. Some bones are are bleached while others are allowed to darken with age prior to designs being applied. To get a batik design, a wax-resistance process is used, beeswax being the favorite to use. A design is painted onto the bone with hot beeswax and is allowed to dry. The beeswax will sink into the bone and develops an almost lacquer like finish. When the bones are soaked in a dye (mostly natural from tree bark, sap, flowers, etc.) the places coated with beeswax resists the dye. After the dyeing process, the beads are then polished, strung and put up for sale.
For a better understanding of the relative size of the African batik bone beads used to create the NZURI artisan necklace, please be sure to check out photo #6 for a size comparison with a quarter.
---
Bone is said to bring good fortune and strength. Silver is a metal of love and healing; it is a mirror to the soul, helping us to see ourselves as others see us.
---
The NZURI tribal necklace was carefully designed and handmade in a dog friendly, smoke free studio. The necklace will come with two informational drop tags: one with the piece's name; the other lists the materials used in the necklace and the language of the stones and metals. It will be carefully packed in an organza jewelry bag, perfect for gift giving to a loved one . . . or to yourself!

***Please be aware that not all computer monitors show colors exactly the same. The colors of the components used to create each piece of jewelry are extremely close to the actual color on my monitor. They may appear lighter or darker on yours.

SHADOW DOG DESIGNS
Beautifully Unique Handmade Jewelry
for the Discerning Woman

N2155 - 03-23-17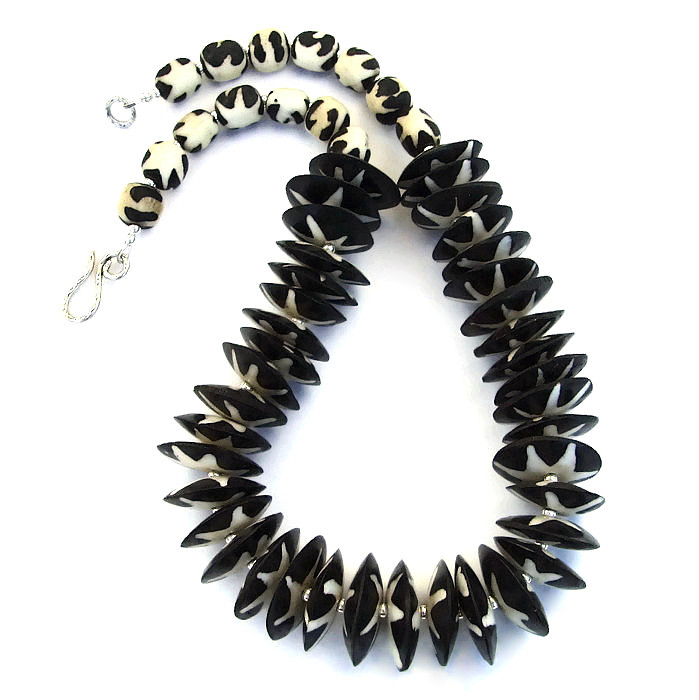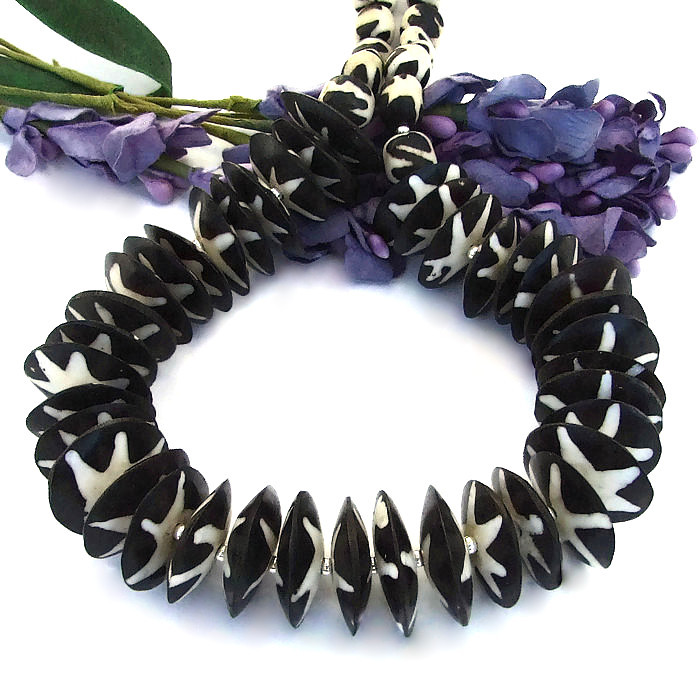 » Share: