Silver Druzy Necklace, Jewelry for Women Black Jasper Handmade
Item Description
If you love unique, eye catching handmade jewelry that is also extremely elegant, you will absolutely love the METEORITES necklace! Looking as if they finished a long journey from outer space, sparkling silver titanium agate druzy rounds with plenty of crystal filled inclusions is featured in the one of a kind necklace. Shiny black jasper and sterling silver highlight the glittering druzy perfectly. Created for the woman who adores captivating artisan created jewelry, the METEORITES druzy necklace was carefully designed and handmade by Catherine of Shadow Dog Designs.
---
Silver agate druzy: app. 10 mm; filled with crystal inclusions
Black jasper: app. 6 mm
Metal: sterling silver
Clasp: patterned sterling silver toggle clasp set
Length: app.18" / 45.7 cm
---
***For a better understanding of the relative size of the druzy rounds and the black jasper used to create the unique METEORITES necklace, please be sure to check out photo # 6 for a size comparison with a quarter.
First of all, just what is druzy (drusy, druse)? Druzy is composed of "micro-crystals" that slowly formed, over the course of millions of years, on rock fracture surfaces, in vein fractures or geodes. Water collected and evaporated, each time leaving traces of minerals that eventually formed into druzy crystals. These tiny crystals are known for their extreme sparkle since light is reflected off a cluster of druzy from many different angles. Most druzy is quartz on a host rock, such as agate, but garnet, pyrite, calcite and other gemstones have formed as druzy crystals. Druzy beads can be found in its natural state, dyed or coated with various metal oxides.
Eleven dazzling agate druzy gemstones make up the front of the METEORITES necklace. These rounds are druzy quartz on agate that were exposed to the metal oxide silver titanium in a vacuum chamber. The permanent coating is a brilliant silver color and is very shiny, ramping up the natural sparkle of the druzy crystals. Each of the eleven rounds were chosen for their sparkling inclusions and interesting shape. As you can see in the photos, most of the beads have at least one deep crevice with crystalline growth, some have more. A few have a smattering of crystals on the surface. A grouping of five druzy rounds are found in the front of the necklace, separated by sterling silver beads and sterling silver daisy spacers. Black jasper gemstones and sterling silver separate the last three on each side.
To contrast perfectly with the bright silver color of the druzy rounds, black jasper gemstones were chosen. The finish of the black jasper is very shiny, catching the light easily, a perfect complement to the sparkling crystals. Between each grouping of three jasper beads are small sterling silver beads that add their own glow to the overall design. A sterling silver toggle clasp with a rope design finishes the METEORITES necklace perfectly.
---
Druzy is said to bring inner peace and to increase one's ability to give and receive love. Black Jasper is believed to be a stone with highly protective and healing energy. Silver is a metal of love and healing; it is a mirror to the soul, helping us to see ourselves as others see us.
---
The METEORITES druzy and black jasper necklace will come with two informational drop tags: one with the piece's name; the other lists the materials used in the necklace and the language of the stones and metals. It will be carefully packed in an organza jewelry bag, perfect for gift giving to a loved one . . . or to yourself!
***Please be aware that not all computer monitors exhibit colors exactly the same. The colors of the stones are extremely close to the actual color on my monitor. They may appear lighter or darker on yours.
Shadow Dog Designs
Unique Handmade Jewelry
for the Discerning Woman
N2210 - 02-06-18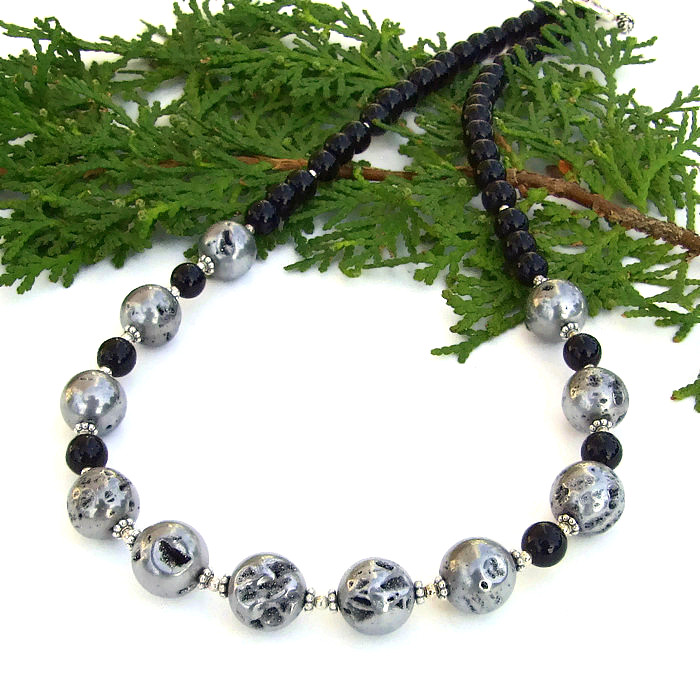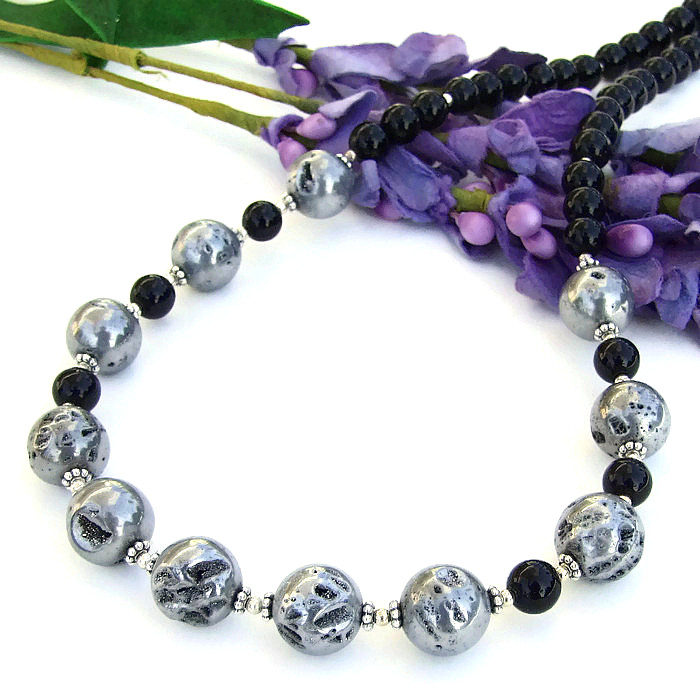 » Share: