Rustic Tree of Life Necklace, Ceramic Amazonite Czech Glass Copper Handmade Jewelry for Women
Item Description
Featuring a symbol that has been important in nearly every culture throughout the history of mankind, the meaningful ALBERO DELLA VITA Tree of Life necklace certainly catches the eye with its rustic beauty. The focal is an artisan created, ceramic Tree of Life pendant in an earthy style with a single dangle hanging below. To perfectly complement the lovely pale green, rust brown and beige glazes of the tree pendant, brown amazonite gemstone heishe, faceted mottled brown Czech glass heishe and copper were used in the main body of the necklace. The one of a kind ALBERO DELLA VITA pendant necklace was carefully designed and handmade by Catherine of Shadow Dog Designs for the woman who loves unique tree jewelry. "Albero della Vita" is Italian for "Tree of Life."
---
Tree of Life ceramic pendant: app. 40 mm x 31 mm x 4 mm; artisan handmade

Brown amazonite heishe: app. 5 mm x 5 mm

Mottle brown Czech glass heishe: app. 5 mm x 4 mm

Metal: copper

Clasp: copper toggle clasp set with rope detailing

Length: app. 18.5" / 46.9 cm

Pendant drop, including the dangle: app. 2.25" / 5.7 cm
---
*** For a better understanding of the relative size of the Tree of Life pendant and other elements used to create the ALBERO DELLA VITA artisan necklace, please be sure to check out photo # 6 for a size comparison with a quarter.
As was mentioned above, the ancient Tree of Life symbol has had an important place in the cultural mythology of mankind. With its branches reaching into the sky, and roots deep in the earth, it dwells in three worlds. It is a link between heaven, the earth, and the underworld, uniting above and below. In the Judeo-Christian tradition, the Tree of Heaven sits at the center of creation and is the source of the primordial rivers that water the earth. The Tooba Tree of the Koran has a similar idea, milk, honey and wine springs from its roots. The Norse cosmic World Ash, Ygdrassil, has its roots in the underworld while its branches support the home of the Gods. The Egyptian's Holy Sycamore stood on the threshold of life and death, connecting the two worlds. To the Mayan peoples, the branches of Yaxche supported the heavens.
The earthy artisan made Tree of Life pendant used in the ALBERO DELLA VITA necklace was artisan handmade by Suzie of suzieqbeads. The pendant is high fired ceramic which is tough and durable (but can be shipped or broken if hit hard) with glossy glazes of beige, rust brown and pale green for the spiraling crown of the tree. The tree itself is raised from the background creating great texture to the design. The back of the pendant is also glazed but with a matte, crackled glaze. A single Czech glass heishe dangle was wire wrapped to the bottom of the pendant.
To bring out the colors of the Tree of Life pendant, brown amazonite heishe, Czech glass heishe and copper were used. Brown Amazonite is a soothing, peaceful green color, usually ranging from very pale to a medium green, with some brown showing up here and there. It is perfect to highlight the green of the crown of the tree. Between each grouping of amazonite is a single faceted Czech glass heishe that is mottled from darker rust brown to pale beige. To add interest, three Czech heishe finish the back of the necklace Since the glass is faceted, the necklace has a subtle sparkle. Separating the amazonite from the Czech glass are glowing 3 mm copper beads. The ALBERO DELLA VITA necklace is finished with a sleek copper toggle clasp set with a wrapped rope design.
---
Since ancient days, trees have always been a symbol of strength and perseverance and the joining the heavens with the underworld. Amazonite is thought to improve clarity of thought and social interactions; it is thought to bestow truth, integrity and honor to its wearer. Even though man made, glass carries the energies of transformation, rebirth and communication. Copper is said to allow the wearer to recognize barriers in the path of personal development.
---

The ALBERO DELLA VITA artisan Tree of Life necklace was carefully designed and handmade in a dog friendly, smoke free studio. The necklace will come with two informational drop tags: one with the piece's name; the other lists the materials used in the necklace and the language of the stones and metals. It will be carefully packed in an organza jewelry bag, perfect for gift giving to a loved one . . . or to yourself!

***Please be aware that not all computer monitors show colors exactly the same. The colors of the components used to create each piece of jewelry are extremely close to the actual color on my monitor. They may appear lighter or darker on yours.

SHADOW DOG DESIGNS
Beautifully Unique Handmade Jewelry
for the Discerning Woman

N2187 - 07-26-17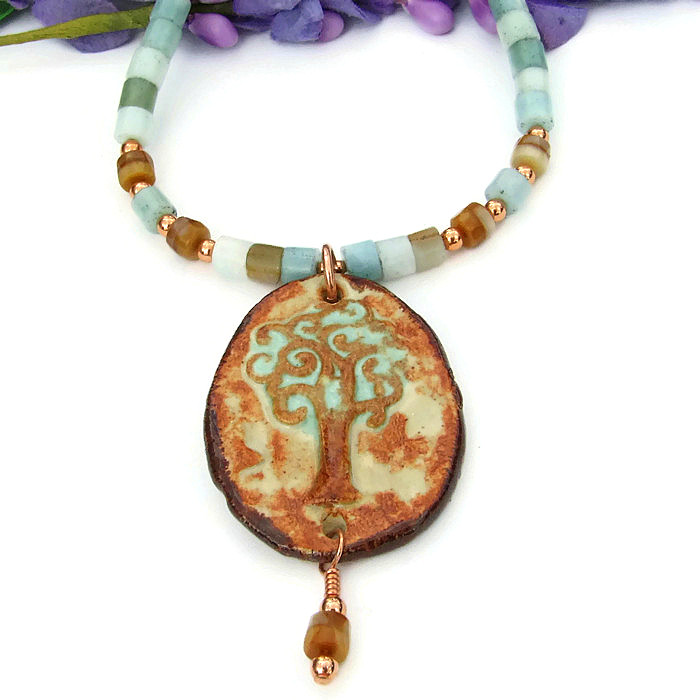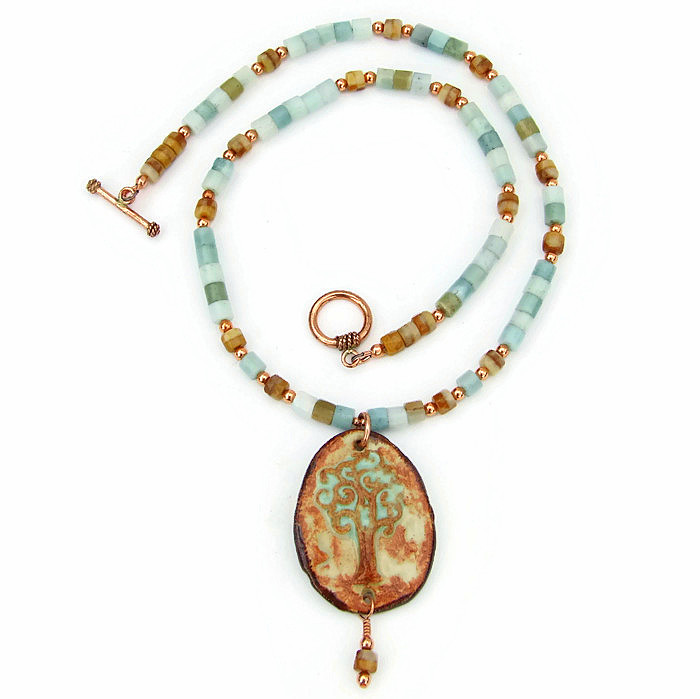 » Share: