Gold Texas Star Earrings, Rustic Hand Painted Handmade Jewelry for Women
Item Description
Have a "star" in your life? Then they need to wear the STARS IN YOUR EYES handmade earrings, a perfect gift for anyone who loves artisan celestial jewelry. With rustic brass Texas stars hand painted in gold and silver, and sparkling "topaz" Swarovski crystals, the earrings will be real eye catchers as they swing from your ears. As an added bonus the STARS IN YOUR EYES earrings are two sided and 3-D! Who can resist? One of a kind beauties, the earrings were carefully designed and handmade by Catherine of Shadow Dog Designs for the woman who adores unique, one of a kind jewelry.
---
Hand painted Texas stars: app. 25 mm long x 24 mm wide x 8 mm; gold and silver

Swarovski crystals: 6 mm faceted "topaz" bicones

Metal: brass, copper and sterling silver

Earwires: sterling silver French hoops with copper bead accent

Length: app. 2.25" / 5.7 cm from the top curve of the earwires
---
The "stars" of the earrings (pun intended) are the lovely Texas star charms that dance at the end of the STARS IN YOUR EYES earrings. The stars started out as raw brass charms. But artist friend, Sharyl of SharylsJewelry, altered the stars by painting them with yellow gold patina inks with fleck of silver and light teal. After the ink dried, she lightly buffed them to reveal some of the brass underneath for a rustic, antiqued look. The stars were then sealed for color permanence. The stars are two-sided and 3-D, thicker in the middle than on the edges. Despite the stars being somewhat large, they are light in weight because they have a holow core.
This type of 3-D star can be found all over Texas, used as decoration on houses and furniture, as decals and, of course, jewelry. The Texas lone star was originally used to symbolize solidarity in declaring independence from Mexico on March 2, 1836 and is still seen today as a symbol of the Texan independent spirit.
All stars need sparkle so I decided to pair faceted Swarovski crystal 6 mm bicones with the gold stars. The color chosen is called "topaz", a perfect complement to the color of the stars. The crystal are framed on the top and bottom with 2 mm copper beads. Swarovski crystals, made in Austria since 1892, are world famous for their amazing sparkle - which you undoubtedly will notice when these earrings are put on.
To finish the STARS IN YOUR EYES earrings, the gold stars were carefully wire wrapped onto one end of a length of copper wire. Then the copper beads and Swarovski crystal "topaz" bicones were placed and the top end of the wire was wrapped into a loop. The loop was then connected to sterling silver French hook earwires. I added two 2 mm copper bead to each earwire for a professional finish.
For a better understanding of the relative size of the gold Texas stars and the Swarovski crystals used to created the STARS IN YOUR EYES earrings, please be sure to check photo #5 for a size comparison with a dime.
---
A five pointed star has been a powerful symbol throughout the history of man, meaning many things but especially the five elements that were thought to make man: fire, water, air, earth and psyche. Brass is said to help develop strength of spirit. Glass (manmade crystal) carries the energies of transformation, rebirth and communication. Copper is said to allow the wearer to recognize barriers in the path of personal development. Silver is a metal of love and healing; it is a mirror to the soul, helping us to see ourselves as others see us.
---
The STARS IN YOUR EYES earrings will be carefully packed in an organza jewelry bag, perfect for gift giving to a loved one . . . or to yourself!
***Please be aware that not all monitors show colors exactly the same. The colors of the items used to create my jewelry are extremely close to the actual color on my monitor. The colors may appear lighter or darker on your monitor.
Shadow Dog Designs
Unique Handmade Jewelry
for the Discerning Woman
E779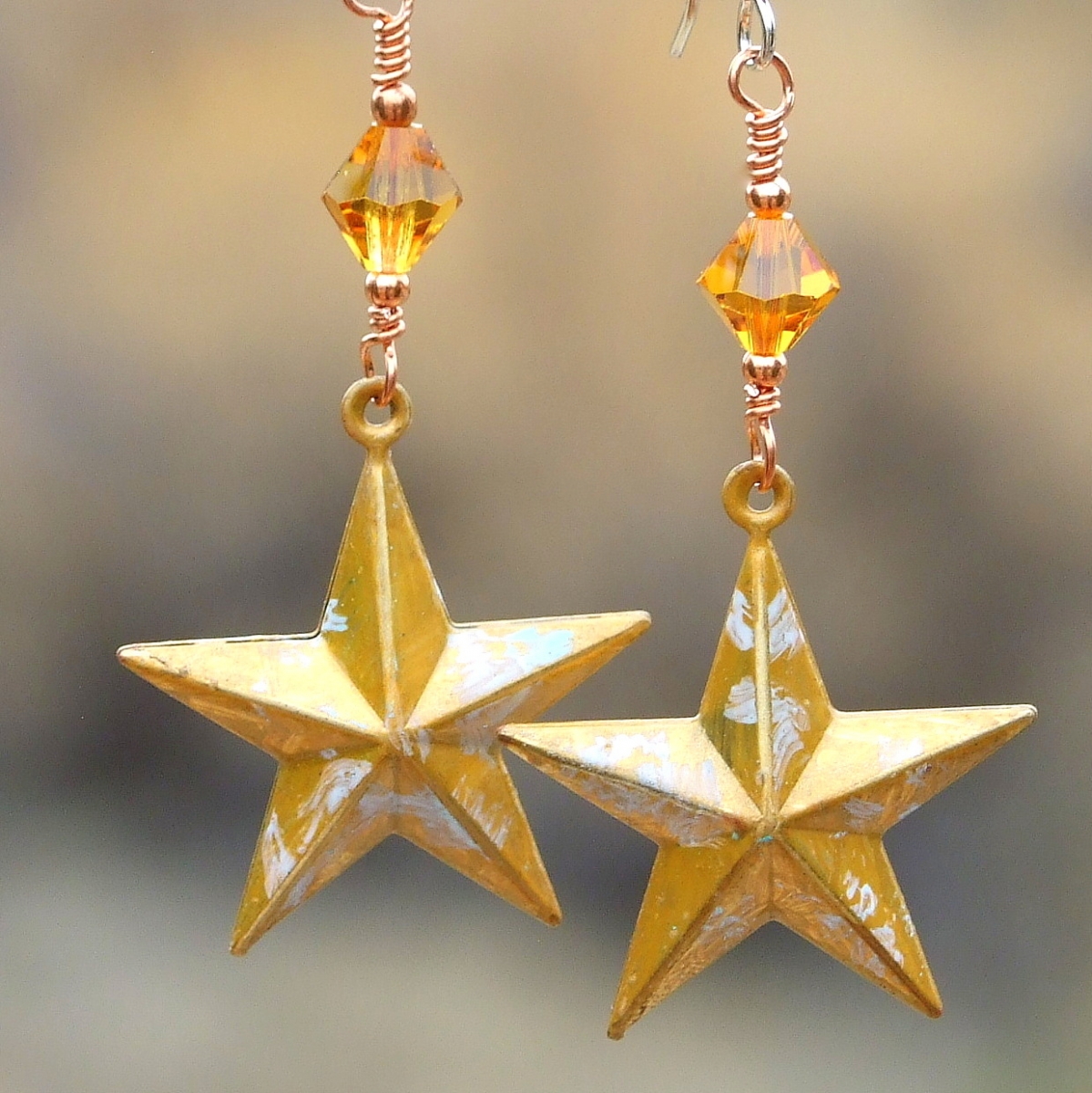 » Share: