Just in time for MOTHER'S DAY:
*** FREE SHIPPING ***
at SHADOW DOG DESIGNS
Rosetta Lace Agate Necklace, Gemstone Jewelry Flake Jasper Handmade
Item Description
Looking almost surreal with their swirls of earthy, reddish brown colors, the rosetta lace agate cubes used in the TIME STANDS STILL gemstone necklace are simply stunning. And then when they are complemented with gorgeous red flake jasper and sterling silver, the natural beauties stand out front and center. Don't they remind you of the timelessness of red rock canyons in the Desert Southwest or the Australian Outback? An artisan designed necklace for the woman who adores one of a kind jewelry, the TIME STANDS STILL necklace was carefully designed and handmade by Catherine of Shadow Dog Designs.
---
Rosetta lace agate cubes: app. 16 mm x 6 mm

Red flake jasper rounds: app. 10 mm

Metal: sterling silver

Clasp: sterling silver hook clasp set

Extender chain: sterling silver box chain, app. 2" / 5.1 cm long; wire wrapped 6 mm red flake agate at the end

Length: app. 18.25" / 46.5 cm - 20.25" / 51.4 cm
---
The pattern of the rosetta lace agate is extremely beautiful; each cube has it own personality of swirling and undulating lines of rich, earthy color. Rosetta lace agate is a color variation of crazy lace agate, a banded chalcedony, and is found mainly in Mexico. The gemstone normally has a base of white with layers of terracotta reds, browns, and grays. Some stones are so highly patterned that you can hardly see the white base stone - several cubes in the necklace are like this. Please see photo #6 for a close up of the cubes. Each of the nine agate cubes was framed with a sterling silver daisy spacer and 2 mm sterling silver bead. I named the necklace TIME STANDS STILL because the stones reminded me of the geological formations of canyons, arches and hoodoos in the Desert Southwest - a perfect name!
To complement the rosetta lace agate used in the TIME STANDS STILL necklace, I decided to use beautiful red flake jasper rounds, a gemstone found only in Australia. Red flake jasper is deep red with lacy bandings of white quartz, cream colored inclusions and black matrix. A single shiny round was placed between the front five rosetta lace agate cubes. Then three rounds were grouped between the last two cubes on either side of the necklace. Five red flake jasper rounds finish off the back of the necklace.
A sterling silver hook clasp and a 2" / 5.1 cm sterling extender chain finishes the stunning necklace. As you can see in the photo #9, the hook clasp has a flowing design with two "knobs" of decorative silver. The extender chain is a flat box chain and adds flexibility to the length of the necklace. A 6 mm red flake jasper round was carefully wire wrapped to the end of the extender chain for a professional finish.
For a better understanding of the relative size of the rosetta lace agate and red flake jasper gemstones used to create the TIME STANDS STILL necklace, please be sure to check out photo #5 for a size comparison with a quarter.
---
Rosetta Lace Agate is said to facilitate the ability to discern truth and accept circumstances; it is believed to be very soothing and relaxing. Red Flake Jasper is believed to promote balanced emotions and good health; it also stimulates courage and honesty. Silver is a metal of love and healing; it is a mirror to the soul, helping us to see ourselves as others see us.
---
The TIME STANDS STILL handmade necklace will come with two informational drop tags: one with the piece's name; the other lists the materials used in the necklace and the language of the stones and metals. It will be carefully packed in an organza jewelry bag, perfect for gift giving to a loved one . . . or to yourself!
***Please be aware that not all monitors show colors exactly the same. The colors of the items used to create my jewelry are extremely close to the actual color on my monitor. The colors may appear lighter or darker on your monitor.
Shadow Dog Designs
Unique Handmade Jewelry
for the Discerning Woman
N1197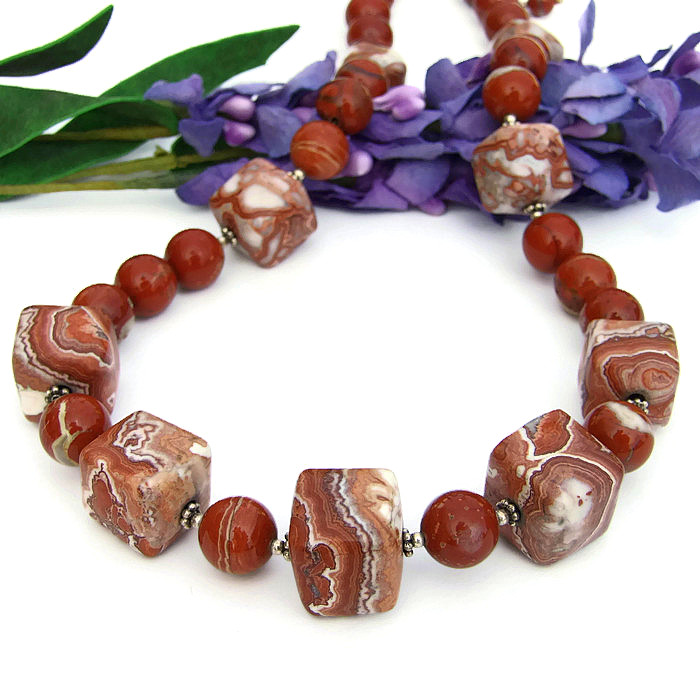 » Share: