CHRISTMAS IN JULY
+++ FREE SHIPPING +++
(U.S. Only)
Pink Brown Earrings, Jewelry Gift Smoky Quartz Czech Glass Handmade
Item Description
Pink and brown is such a rich combination, complementing each other perfectly. As do the Czech glass, gemstones and Swarovski crystals used in the unique CIAO, BELLA! handmade dangle earrings. Fluted pink Czech glass with a metallic Picasso finish and smoky quartz were paired with Swarovski crystals and sterling silver for a pair of sweet beaded beauties. The artisan earrings might be on the small side, but they definitely pack a powerful stylish punch. Lovely jewelry to wear for dress up or dress down, the CIAO, BELLA! earrings were carefully designed and handmade by Catherine of Shadow Dog Designs. "Ciao, bella" is an Italian phrase that roughly translates to "Hello, beautiful" - it also is used to say "goodbye".
---
Czech glass fluted bicones: app. 8mm x 9mm; Picasso and metallic luster finish

Smoky quartz: 4 mm

Swarovski crystals: faceted 4mm "rose" bicones

Metal: sterling silver

Earwires: French hooks; sterling silver

Length: app. 1.5" / 3.8 cm from the top curve of the earwires
---
First, I want to share a bit about Czech glass. Made for hundreds of years in what is now the Czech Republic, Czech glass is world renowned for its beautiful colors, designs and finishes. Czech glass beads are made in small batches and may have slight variations in colors and designs from one batch to the next. Some Czech glass beads are given an additional Picasso finish to give added beauty and a bit of an "aged" look to the beads.
The fluted Czech glass beads used as the focals at the bottom of the CIAO, BELLA! earrings are extremely lovely as you can see in the photos. The base glass of the bicones is a creamy opaque white. Then a Picasso finish was applied to the top and bottom of the bicones in shades of pink, salmon and coral, leaving the middle equator white. To add even more beauty, a light golden/brass luster finish was added which, unfortunately doesn't show up well in the photos. But it's there and lends a gorgeous glow to the Czech glass. Sterling silver 2mm sterling beads were placed at the bottom of the bicones and sterling silver daisy spacers were placed at the top.
Pink and brown are a wonderful color combination, so I decided to use smoky quartz rounds above the sterling daisy spacers to complement the Czech glass bicones. As the name of the quartz suggests, the color is a rich smoked brown, a gemstone that is wonderfully translucent and adds powerful visual appeal to the CIAO, BELLA! earrings.
In addition, I added sparkly, faceted 4 mm Swarovski crystal bicones above the smoky quartz in a color called "rose". Swarovski crystals are considered the premier manmade crystals - their brilliant sparkle is due to their high lead content such as used in fine lead crystal wine glasses and other high quality items. Can you imagine the sparkle of these CIAO, BELLA! earrings as they sway when you move your head? Stunning! Sterling silver 2mm beads cap each crystal.
To finish the CIAO, BELLA! earrings, everything was strung on handmade (by me) sterling silver headpins with a hand hammered loop at the lower end. The top of the headpins were carefully wire wrapped into a loop and then connected to sterling silver French hook earwires for a perfect finish.
For a better understanding of the relative size of the pink and brown CIAO, BELLA! earrings, please be sure to check photo #5 for a size comparison with a dime.
---
Although man made, glass and crystal are said to carry the energies of transformation, rebirth and communication. Silver is believed to be a metal of love and healing; it is a mirror to the soul, helping us to see ourselves as others see us.
---
The CIAO, BELLA! earrings will be carefully packed in an organza jewelry bag, perfect for gift giving to a loved one . . . or to yourself!
***Please be aware that not all monitors exhibit colors exactly the same. The colors of the items used to create my jewelry are extremely close to the actual color on my monitor. The colors may appear lighter or darker on your monitor.
Shadow Dog Designs
Beautifully Unique Handmade Jewelry
for the Discerning Woman
E677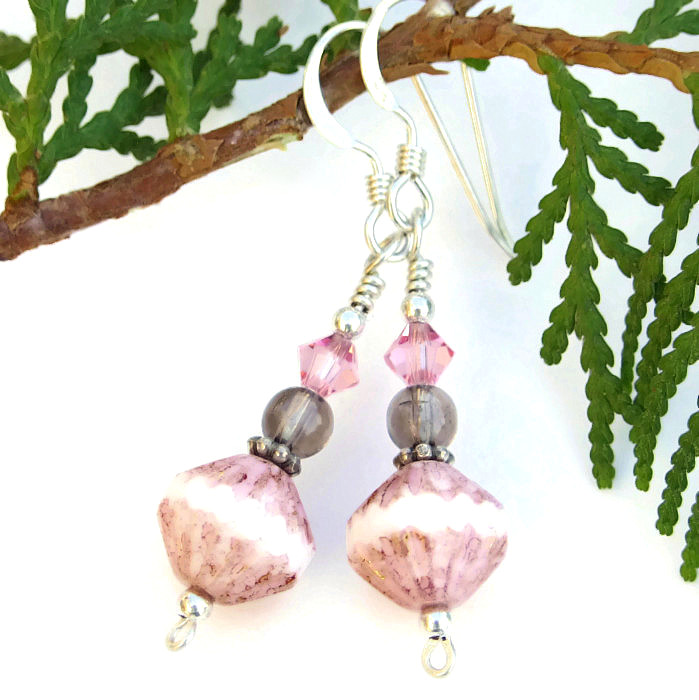 » Share: