CHRISTMAS CHEER!!!
ENJOY FREE SHIPPING WITH A FREE UPGRADE TO PRIORITY MAIL (U.S. ONLY) AT
*** SHADOW DOG DESIGNS - JEWELRY ***
Milagro Heart Earrings, Crown of Thorns Sacred Fire Pink Handmade Dangle Valentines Jewelry
Item Description
Are you looking for a unique pair of handmade heart earrings, earrings that combine religious symbols with a trendy design? The MIRACLES earrings feature hand cast sterling silver milagros in a heart, crown of thorns and sacred fire design. To complement the milagros, faceted raspberry pink Czech glass rondelles with frosted sea glass look and an aurora borealis finish were added above the charms and on the sterling silver earwires. The earrings are a perfect gift for a woman of faith or as a lovely Valentine's Day / "just because" present. The MIRACLES artisan earrings were carefully designed and created by Catherine of Shadow Dog designs for the woman who loves to wear one of a kind jewelry. "Milagros" is Spanish for "miracles."
---
Heart and crown of thorn milagros: 17 mm x 10 mm x 2 mm; sterling silver

Raspberry pink Czech glass: app. 5 mm x 3 mm; faceted, frosted, aurora borealis finish

Metal: sterling silver

Earwires: sterling silver French hooks

Length: app. 2" / 5.1 cm measured from the top curve of the earwires
---
You might be wondering: what is a "milagro?" Typically, milagros are small religious folk charms, usually made out of metal. They are found in many Latin American countries, especially in Mexico and Peru. The charms often depict arms, legs, farm animals, hearts, praying people and a wide range of other subjects. Traditionally used for healing purposes, they also are used as votive offerings or carried for good luck. Milagros are often nailed or pinned to altars, shrines and sacred objects, offered as a reminder of a particular need, based on the type of charm used, or in gratitude for a prayer answered.
The heart, crown of thorns and sacred fire milagros used in the MIRACLES earrings was designed by artisan Cathy Dailey using the lost wax method and then cast in sterling silver. It was then oxidized and polished to bring out the beautiful detail. It is very similar to the Sacred Heart of Jesus but is lacking the cross at the top. Heart milagros normally represent the human heart, and are often connected to the worries over a heart condition or it might represent the love a person feels for another. They can also represent the Sacred Heart of Jesus or of Mary.
To beautifully complement the heart milagros, faceted raspberry pink Czech glass rondelles were used. The glass is translucent with a frosted sea glass look. To add even more interest a bit of an aurora borealis finish was applied. When the light hits the finish just right, lavenders, blues and silvers can be seen. Two of the pink Czech beads were stacked above the heart milagros, framed on the top and bottom with sterling silver daisy spacers. A single 2 mm sterling bead was used to cap the daisy spacers.
The milagro charms were carefully wire wrapped onto sterling silver wire. The Czech glass and other components used to created the MIRACLES earrings were strung on the wire. The top of the wire was then wire wrapped into a loop and connected to sterling silver French hook earwires. A single raspberry pink bead was added to each earwire for a professional finish.
For a better understanding of the relative size of the MIRACLES hearts milagro earrings, please be sure to check out photo #5 for a size comparison with a dime.
---
Silver is a metal of love and healing; it is a mirror to the soul, helping us to see ourselves as others see us. Even though man made, crystal (glass) carries the energies of transformation, rebirth and communication.
---
The MIRACLES hearts milagro charm earrings will be carefully packed in an organza jewelry bag, perfect for gift giving to a loved one . . . or to yourself!
***Please be aware that not all monitors exhibit colors exactly the same. The colors of the items used to create my jewelry are extremely close to the actual color on my monitor. The colors may appear lighter or darker on your monitor.
Shadow Dog Designs
Beautifully Unique Handmade Jewelry
for the Discerning Woman
E994 - 02-08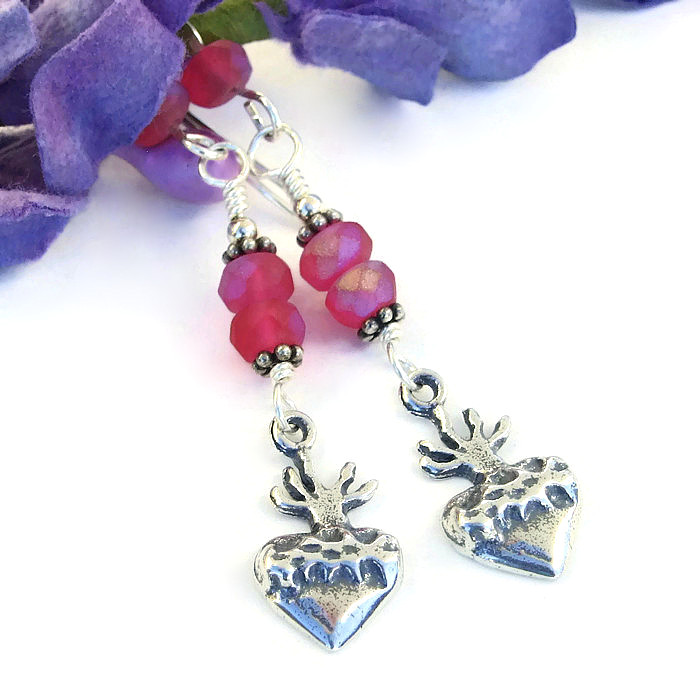 » Share: