Horse Friends Handmade Necklace, Turquoise Magnesite Mother of Pearl Red Coral Gemstone Jewelry
Item Description
A whimsical double horse head pewter pendant was combined with gemstones, shell and coral to create the beautiful FOREVER FRIENDS artisan necklace. A perfect gift for the woman who has a horse in her life (or wishes she did) or for a best friend, the necklace was handmade with a two sided, lead free pewter pendant, turquoise magnesite, mother of pearl heishe, red coral and sterling silver. Southwest inspired in color palette, the one of a kind FOREVER FRIENDS beaded necklace was carefully designed and handmade by Catherine of Shadow Dog Designs for the woman who loves unique jewelry . . . and adores horses.
---
Pewter horse pendant: app. 24 mm x 22 mm x 2 mm; lead free; two-sided

Turquoise magnesite: app. 14mm x 4 mm

Mother of pearl heishe: app. 6 mm x 4 mm

Red coral: app. 4 mm

Metal: lead free pewter and sterling silver

Clasp: leaf patterned sterling silver s-clasp

Length: app. 19" / 49.5 cm

Pendant drop: just a little over 1" / 2.54 cm, including bail
---
The incredibly beautiful horse heads pendant was designed by artist Renee Martig and hand cast from high quality, lead free pewter right here in the United States. As can be seen in most of the photos above, the detail in the rustic pendant is superb, featuring 2 horses facing each other, head to head. The design is raised and very shiny, like fine old silver, a perfect complement against the darker, oxidized background. On the backside of the pendant (see photo #2) the saying "Forever Friends" (the inspiration for name of the necklace) and a heart were inscribed. It has a lovely hammered look to it. A heavy duty sterling silver jump ring connects the pendant to the main body of the necklace.
Just what is pewter? Pewter is an alloy metal, a combination of tin, copper and antimony. All modern pewter made in the United States and Europe contains no lead. The alloy has a long history, used mainly for kitchenware, tableware, jewelry and other items, especially during Colonial times, although old pewter often contained lead. Pewter is a lovely alternative to sterling silver and is prized because it does not tarnish. The look of silver is achieved without paying silver prices!
Because of the rustic, hammered look of the pewter horse pendant, I decided to use a Southwest color scheme. Turquoise magnesite, a dyed gemstone in a squared tube shape, adds rich blue and texture to the design. A natural dark matrix runs through the stones, some pieces having more than others. To add a huge amount of shimmer to the FOREVER FRIENDS necklace, white mother of pearl shell heishe was used in groups of three. Separating the turquoise magnesite and mother of pearl shell, red coral rounds and 2 mm sterling silver beads were placed. At the back of the necklace, red coral and sterling beads only were used to separate the turquoise magnesite.
To finish the FOREVER FRIENDS necklace, a lovely sterling silver s-clasp with a raised leaf design on one side was used. The clasp was connected to the main body of the necklace with sterling silver wire protectors and then crimped for security. Sterling crimp covers were added to mimic 3 mm silver beads and to add a professional finish to the beautiful necklace.
For a better understanding of the relative size of the horse pendant, agate and pearls used in the FOREVER FRIENDS necklace, please be sure to check out photo #5 for a size comparison with a quarter.
---
Horses have long been symbols of power to most cultures and are linked as an emblem of a strong life-force; they are believed to help overcome obstacles in life to pursue goals no matter what may stand on the way. Pewter is believed to be very grounding, bringing the wearer back to reality. Turquoise Magnesite is said to help turn dreams into realities and instills peace during meditation. Mother-of-pearl is believed to stimulate intuition, sensitivity and imagination. Red Coral is said to calm life, to restore harmony in the event of an emotional conflict. Silver is a metal of love and healing; it is a mirror to the soul, helping us to see ourselves as others see us.
---
The FOREVER FRIENDS necklace will come with two informational drop tags: one with the piece's name; the other lists the materials used in the necklace and the language of the stones and metals. It will be carefully packed in an organza jewelry bag, perfect for gift giving to a loved one . . . or to yourself!
***Please be aware that not all computer monitors show colors exactly the same. The colors of the stones are extremely close to the actual color on my monitor. They may appear lighter or darker on yours.
Shadow Dog Designs
Beautifully Unique Handmade Jewelry
for the Discerning Woman
N2006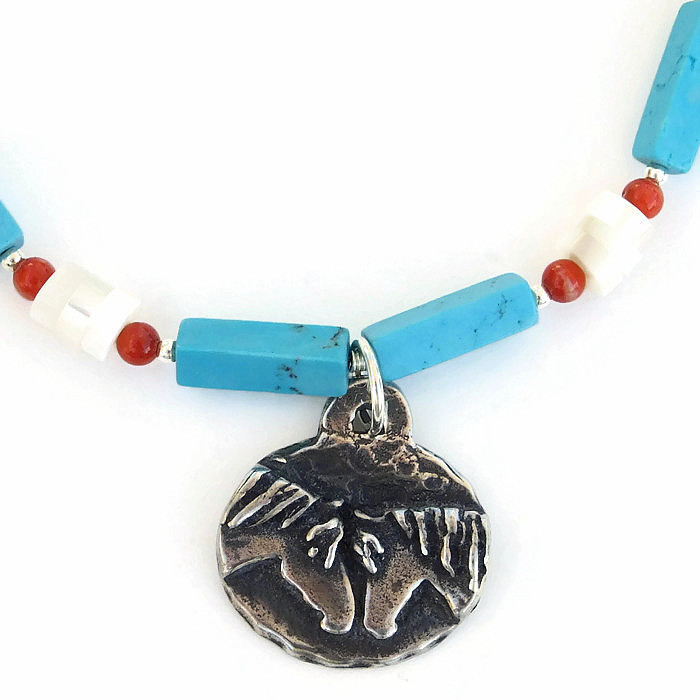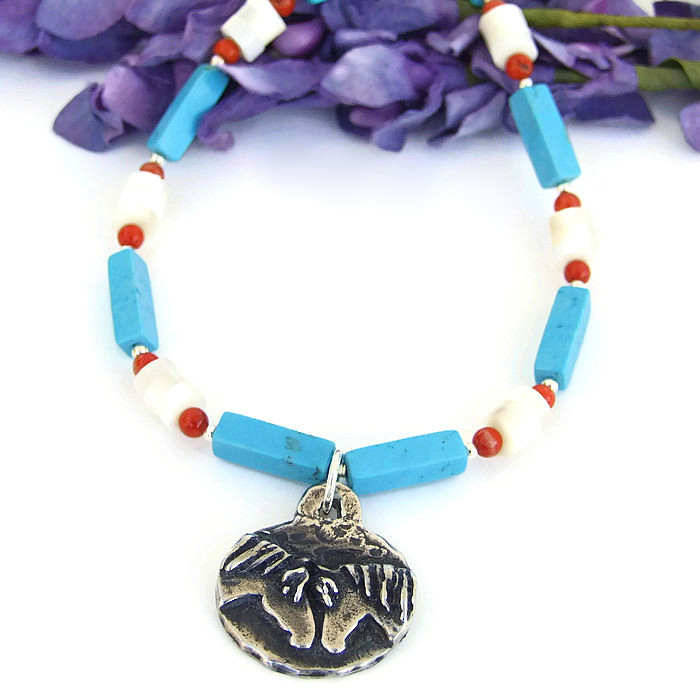 » Share: