Amber Necklace, Gemstone Jewelry Cognac Honey Pale Yellow Handmade
Item Description
Ancient people believed that amber was captured sunlight - what a whimsical and cheerful thought that is! You can see why captured sunlight is a perfect description when you wear the SUN DANCE artisan necklace. Created with pressed amber barrels in three sparkling colors (cognac brown, honey yellow and pale yellow), the handmade necklace also features sterling silver beads and a twisted sterling silver toggle clasp. A classic design that will radiate goodness every time it is worn, the SUN DANCE necklace will quickly become a favorite piece of jewelry. A one of a kind, beaded gemstone necklace, the beauty was carefully designed and handmade by Catherine of Shadow Dog Designs.
---
Amber barrels: app. 15 mm x 9 mm

Metal: sterling silver

Sterling silver beads: 3 mm

Clasp: sterling silver toggle clasp set with a twisted design

Length: app. 19" / 48.3 cm
---
Before I start describing the necklace, let me tell you a bit about amber. Actually fossilized tree resin (not sap as is commnly thought), amber is between 30 - 90 million years old and is one of the few gemstones that is not a "rock". It comes in a variety of colors, from almost black to white, but the most common colors are shades of yellow. Most people don't realize it, but a huge majority of amber is not "natural". To be called "natural" amber, the amber cannot have any processes done to it other than carving, sanding and polishing. Most amber today has been heat treated to change its color and/or melted and reformed. These are still considered real amber but are not "natural". Unfortunately, there are many resin and plastic amber beads today that are being passed off as natural or real amber.
The amber used in the SUN DANCE handmade necklace was melted, had tiny air bubbles injected and then pressed (reformed) into barrels. The amber is real, but is NOT natural amber. Three glorious colors make up the necklace: cognac brown, honey yellow and pale yellow, providing a sunny, earthy quality to the piece. As mentioned earlier, air bubbles were injected as the amber was still warm. Once the amber solidified, the bubbles were trapped. Because of the bubbles, the pressed amber glistens as the light refracts when passing through each piece. There is a constant sparkle as the angle of the light changes. Please see photo #6 for a close up of the pressed amber barrels.
A single cognac brown amber barrel was placed at the front of the necklace. To add more glow to the necklace, a 3 mm sterling silver bead was placed on each side and then a pale yellow barrel and a honey yellow barrel, each separated by a 3 mm bead. This pattern continues until the end of the necklace.
To perfectly finish the SUN DANCE necklace, I chose a sterling silver toggle clasp set, a lovely twisted design. It was connected to the main body of the necklace with sterling wire protectors and then crimped for security. A sterling silver crimp cover was added to mimic a 3 mm silver bead.
For a better understanding of the relative size of the pressed amber barrels used in the SUN DANCE necklace, please be sure to check out photo #5 for a size comparison with a quarter.
---
Amber is used as a good luck and protective stone; it is said to bring wisdom, energy and balance to life. Silver is a metal of love and healing; it is a mirror to the soul, helping us to see ourselves as others see us.
---
The SUN DANCE amber and sterling silver necklace will come with two informational drop tags: one with the piece's name; the other lists the materials used in the necklace and the language of the stones and metals. It will be carefully packed in an organza jewelry bag, perfect for gift giving to a loved one . . . or to yourself!
***Please be aware that not all computer monitors show colors exactly the same. The colors of the stones are extremely close to the actual color on my monitor. They may appear lighter or darker on yours.
Shadow Dog Designs
Beautifully Unique Handmade Jewelry
for the Discerning Woman
N1139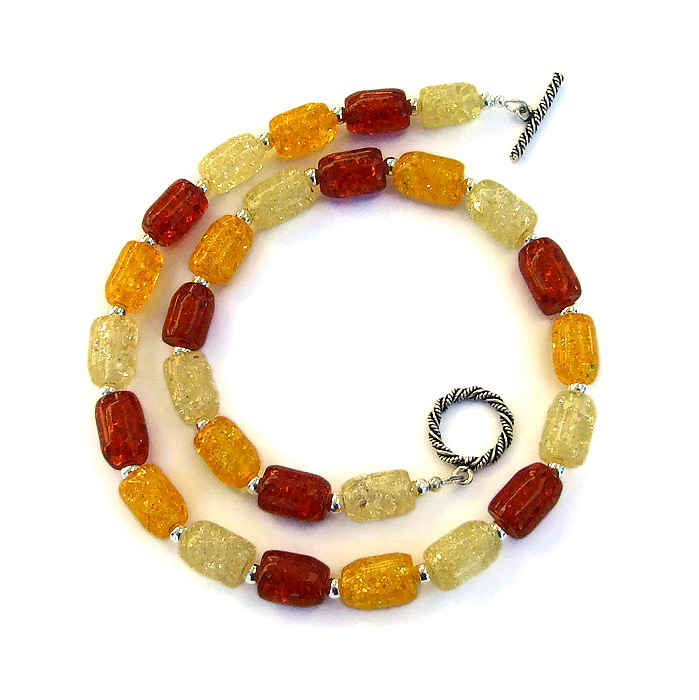 » Share: