Dichroic Glass Dragonfly Necklace, Green Gemstones Handmade Necklace
Item Description
Amazing in its color shifting beauty, the one of a kind DRAGONFLY DAZE handmade necklace with delight anyone who loves unique jewelry, especially with a dragonfly theme. The necklace features a dichroic glass dragonfly pendant, green silver leaf jasper round gemstones, pale green Czech glass beads and sterling silver. The eye-catching, diamond-shaped pendant is artisan created from three layers of glass that were fused together at very high heat in a kiln. The first glass layer is a swirled medium green. On top of that is black glass with a slim layer of beige on top, laser cut out with a tree and leaf design, all framed by the green glass. The top layer is a piece of black glass with a tin layer of matte, silky finish dichroic coating in a dragonfly shape. The dragonfly color shifts from a glowing dark teal to a rich purple, sometimes both at the same time, depending on how the light hits the glass. As the pendant is turned, you can watch the colors shift - sometimes a bit of the black glass shows through. Please be aware that it is VERY difficult to photograph dichroic glass and get the colors just right. The colors of the dragonfly are much richer and somewhat darker in real life than the photos show. A sterling silver bail with a flower design on the back securely attaches the dragonfly pendant to the main body of the necklace. To find out more about dichroic glass, please scroll down to near the bottom of the page.
To perfectly complement the dragonfly pendant, green silver leaf jasper and pale green faceted Czech glass beads were used. Silver leaf jasper is normally a silvery gray gemstone with darker and lighter streaks. The gemstones used in this necklace have been dyed a rich grass green. Many of the jasper stones have a band of glowing chatoyancy that adds amazing depth and beauty (which the photos don't do justice to at all). As the correct angle of the light hits the stones, the chatoyant bands glow almost magically.. Pale green Czech glass rondelle beads add even more loveliness to the necklace design. Since the Czech beads are micro faceted, they add subtle sparkle. Small sterling silver beads separate each gemstone and glass bead and add a silver sheen. A textured sterling silver hook clasp set finishes the necklace securely. Carefully designed and handmade by Catherine of Shadow Dog Designs, the gorgeous DRAGONFLY DAZE necklace was created for the woman who adores wearing one of a kind designer jewelry.
---
Dichroic glass dragonfly pendant: app. 76 cm with the bail x 62 mm x 7 mm (2.8" x 2.4")

Green silver leaf jasper rounds: 12 mm

Faceted pale green Czech glass rondelles: app. 5 mm x 3 mm

Metal: sterling silver

Clasp: textured sterling silver hook clasp set

Length: app. 18.25" / 46.4 cm

Pendant drop: app. 3" / 7.6 cm including the sterling bail
---
*** For a better understanding of the relative size of the dichroic dragonfly pendant and green silver leaf jasper used to create the DRAGONFLY DAZE artisan necklace, please be sure to check out photo # 6 for a size comparison with a quarter.
---
Dragonflies are said to carry the wisdom of transformation and adaptability in life; they are often viewed as messengers between the gods and humans. Silver Leaf Jasper is believed to be a protective stone for all types of travel; it is also said to bring mental clarity and a sense of wholeness into your life. Although man made, glass carries the energies of transformation, rebirth and communication. Silver is a metal of love and healing; it is a mirror to the soul, helping us to see ourselves as others see us.
---
*** What is dichroic glass? Dichroic glass (pronounced dye-crow-ick) is a type of glass that has amazing multi-colored, reflective properties, especially when viewed at different angles. Extreme color shifts can often be seen. NASA originally developed dichroic glass for use in satellite mirrors and it was also used on re-entry tiles of the Space Shuttles. Sheets of glass have a special coating applied to it that involves vaporizing various metal oxides into a fine dust with an electro-gun. The oxide dust settles on and coats hot glass inside an airless vacuum chamber. Needless to say, because of the complex, expensive procedure, only a handful of companies produce dichroic glass for artists to use for their designs.
The DRAGONFLY DAZE artisan pendant necklace was carefully designed and handmade in a dog friendly, smoke free studio. The necklace will come with two informational drop tags: one with the piece's name; the other lists the materials used in the necklace and the language of the stones and metals. It will be carefully packed in an organza jewelry bag, perfect for gift giving to a loved one . . . or to yourself!
*** The jewelry in my shop is photographed outside in natural light. Please be aware that not all computer monitors show colors exactly the same way. The colors of the components used to create each piece of jewelry are extremely close to the actual color on my own monitor. They may appear lighter or darker on yours.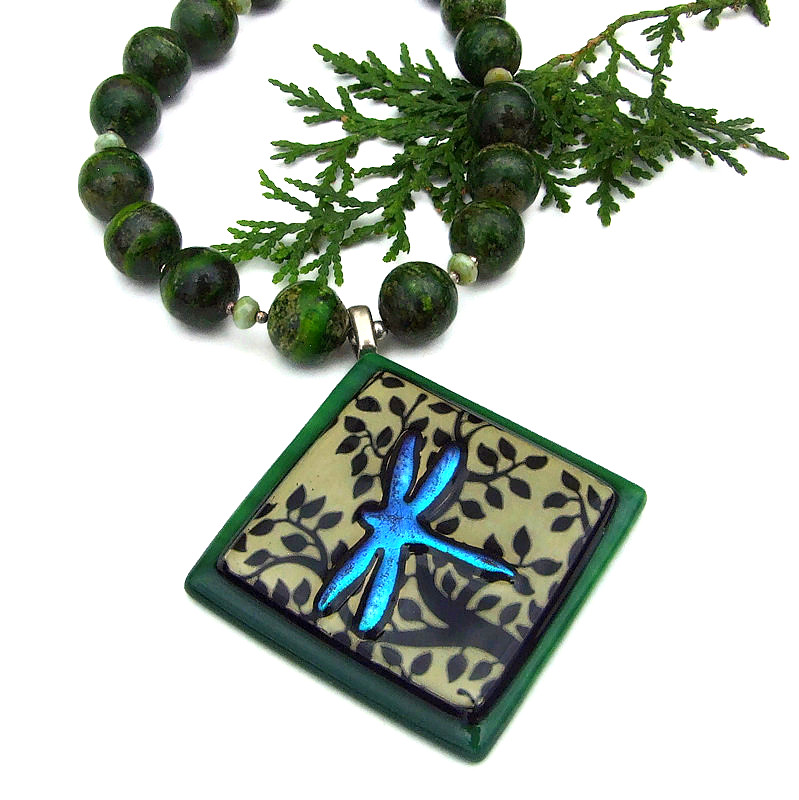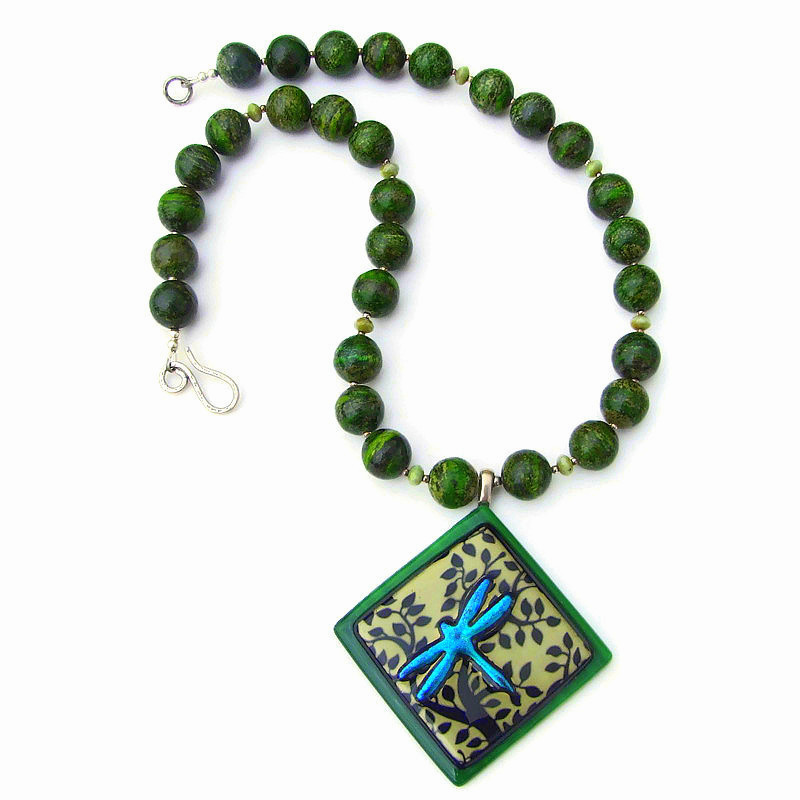 » Share: