Cat Necklace, Orange Kitty Agate Turquoise Handmade Jewelry Gift Women
Item Description
The one of a kind, artisan created cat pendant used as the focal of the WISE KITTY handmade necklace is such a cheerful representation of a thoughtful-looking, lovable tabby cat you have to smile when you look at it! Two shapes of natural agate gemstones, genuine turquoise heishe and glowing copper all come together to perfectly highlight the unique cat pendant. The rounded, somewhat triangular-shaped pendant is lightweight but durable, created with a base of white polymer clay. A flowing, stylistic cat design was hand carved into the clay which was then painted in cayenne red ochre and turquoise acrylic glazes with several dashes of gold ochre. For a soft sheen, a thin coat of crystal fixative was applied. The back is also painted with the pigments and features the artist's mark, a raised spiraling "P." A copper grommet was added at the top for easy connection to the main body of a necklace.
Natural agate and real turquoise complement the kitty cat pendant beautifully. Two shapes of agate is used: a rounded rectangular shape and hand cut cubes. The colors of the agates range from almost clear to deep orange, some translucent and some opaque - often both on the same gemstone. Both have a high gloss finish that catches and reflects the light. Since the agate cubes were hand cut, they are a bit more rustic in feel, not all exactly the same shape and size, although very similar. Rich turquoise heishe separates each grouping of agate, adding pops of lovely blue/green color to the necklace design. Small copper beads separate each gemstone, adding their own gorgeous glow. A copper toggle clasp set finishes the necklace. Carefully designed and handmade by Catherine of Shadow Dog Designs, the WISE KITTY handmade necklace was created for the woman who adores unique artisan jewelry and adores cats.
*** Please note: Since this necklace is part of my dog / cat rescue jewelry line, when sold one half (1/2) of the purchase price of the WISE KITTY necklace will be donated to an animal rescue group to care for the four footed souls waiting for their furever home
---
Polymer clay kitty cat pendant: app. 48 mm (at longest) x 48 mm (at widest) x 2 mm; artisan created by Pati Bannister
Agate rectangles: app. 12 mm x 8 mm x 4 mm
Agate cubes: app. 5 mm x 5 mm
Turquoise heishe: app. 4 mm x 3 mm
Metal: copper
Clasp: copper toggle clasp set
Length: app. 18.25" / 46.36 cm
Pendant drop: app. 1.86" / 4.8 cm
*** For a better understanding of the relative size of the cat pendant and gemstones used to create the WISE KITTY artisan necklace, please be sure to check out photo # 6 for a size comparison with a quarter.
---
Cats represent patience and independence. Agate is used to help ease stressful situations, protect against danger and promote strength and healing. Turquoise, a gemstone sacred to the Navajo, Zuni and other Native Americans, is a stone of wholeness, promoting a sense of unity with all that surrounds us; it is believed to bring peace of mind, a soothing energy and healing of the spirit. Copper is said to allow the wearer to recognize barriers in the path of personal development.
---
The one of a kind WISE KITTY necklace was carefully designed and handmade in a dog friendly, smoke free studio. The necklace will come with two informational drop tags: one with the piece's name; the other lists the materials used in the necklace and the language of the stones and metals. It will be carefully packed in an organza jewelry bag, perfect for gift giving to a loved one . . . or to yourself!
*** Photos of my jewelry are taken outside in natural light. The colors of the items used to create the jewelry are extremely close to the actual color on my own computer's monitor. Please be aware that not all monitors show colors exactly the same. The colors may appear lighter or darker on your monitor.
N2310
30219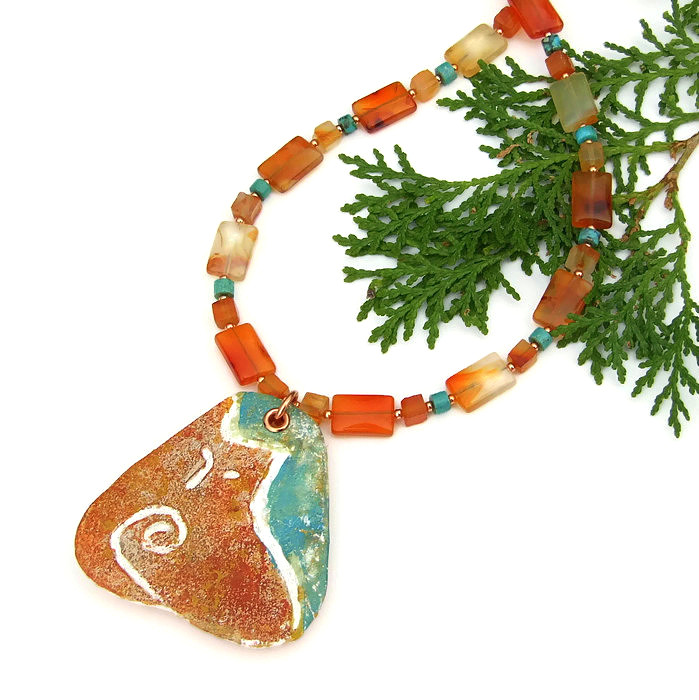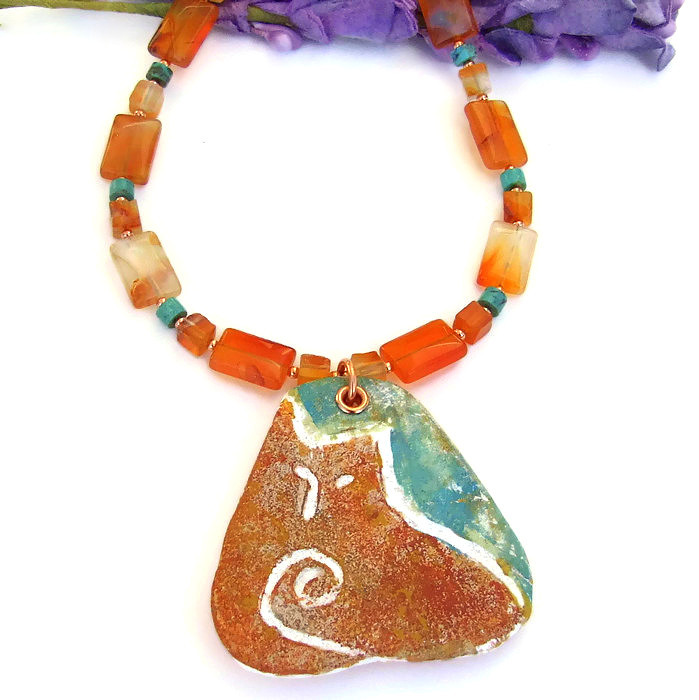 » Share:
Only 1 left in stock
$70.00