I will be out of town from Monday, December 9 until Thursday, December 12. Any orders placed then won't be mailed until Friday, December 13. As a thank you for your patience, all orders placed during that time will be automatically upgraded to Priority Mail at no extra charge to you.
Use Coupon Code
HOLIDAYS10
for
10% Off
at Checkout
with
FREE SHIPPING
!
(Free Shipping U.S. Only)
Elephant Necklace, Animal Jewelry Gift Carved Pendant Red Creek Jasper
Item Description
If you happen to have a deep, abiding love for the majesty of elephants, the stunning LORD OF THE SAVANNAH pendant necklace is perfect for you! A true beauty, the handmade necklace features a hand carved, red malachite elephant pendant filled with great detail and raised texture. To complement the exquisite pendant, earthy red creek jasper rondelles and rounds were used along with sterling silver beads and a sterling hook clasp. A one of a kind necklace, the LORD OF THE SAVANNAH necklace was carefully designed and handmade by Catherine of Shadow Dog Designs for the woman who adores unique, animal inspired gemstone jewelry.
---
Red malachite elephant pendant: app. 48 mm x 33 mm x 12 mm (at thickest part)

Red creek jasper rondelles: app 10 mm x 6 mm

Red creek jasper rounds: app. 4 mm

Metal: sterling silver

Clasp: sterling silver hook clasp

Length: app. 18.5" / 46.9 cm

Pendant drop: app. 2.25" / 5.7 cm, including sterling jump ring bail
---
The elephant pendant used as the focal of the LORD OF THE SAVANNAH necklace is superb. Hand carved from one piece of creamy red malachite, it has a matte finish with various shades and bands of pale red and orange with a bit of gray. What makes this pendant so eye-catching is the amazing carved detail, 3-D layer effect and texture. The elephant actually looks as if it is emerging from the background! The back side of the pendant is smooth. *** Please note: red malachite is not related to the more well-known green malachite. Red malachite, which is a trade name, is actually a banded jasper.
To perfectly complement the carved elephant pendant, earthy red creek jasper was chosen in two different shapes: larger rondelles and smaller rounds. As you can see in the photos above, the gemstones have bands and swirls of red, brown, green, gray and orange, each stone with its own banding, pattern and colors. Groupings of five and three make up the necklace with the smaller rounds and sterling silver beads separating each group adding more texture to the overall necklace design.
A textured sterling silver hook clasp set finishes the LORD OF THE SAVANNAH elephant pendant necklace. Each piece of the clasp set was connected to the main body of the necklace with sterling silver wire protectors to extend the life of the necklace and to add a professional finish.
For a better understanding of the relative size of the orange coral discs used in the LORD OF THE SAVANNAH necklace, please be sure to check out photo #5 for a size comparison with a quarter.
---
Elephants have been revered throughout history; they are symbols of strength, royalty, connection to ancient wisdom, commitment and wisdom. Red Malachite is said to bring internal peace and harmony to the wearer. Red Creek Jasper is said to be a stone of protection and grounding and helps gives the wearer the courage to speak out for things they believe in. Silver is a metal of love and healing; it is a mirror to the soul, helping us to see ourselves as others see us.
---
The LORD OF THE SAVANNAH handmade elephant inpsired necklace will come with two informational drop tags: one with the piece's name; the other lists the materials used in the necklace and the language of the stones and metals. It will be carefully packed in an organza jewelry bag, perfect for gift giving to a loved one . . . or to yourself!
***Please be aware that not all monitors show colors exactly the same. The colors of the items used to create my jewelry are extremely close to the actual color on my monitor. The colors may appear lighter or darker on your monitor.
Beautifully Unique Handmade Jewelry
N2071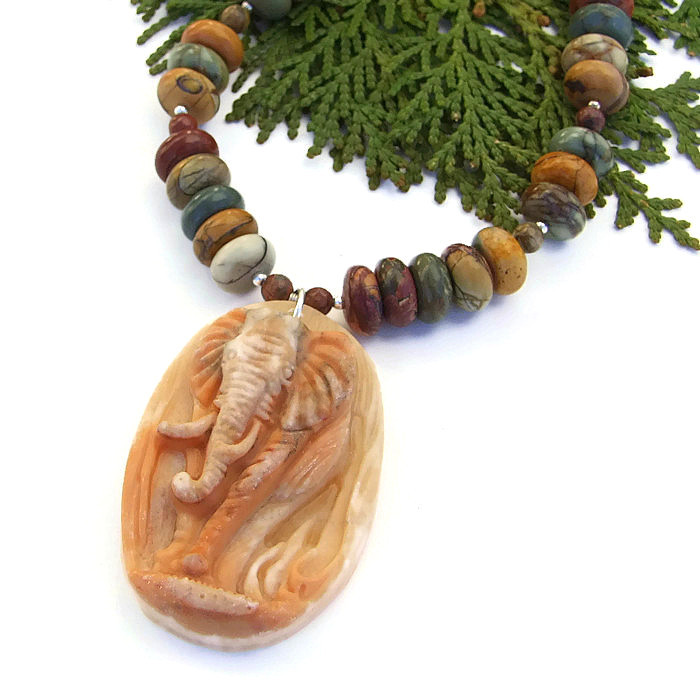 » Share: