Birds Lotus Flower Pendant Necklace, Red Czech Glass Handmade Jewelry
Item Description
Looking like an ancient Mesopotamian artefact, the pendant used as the focal of the BIRDS AND LOTUS handmade necklace is exquisite. Combined with two shapes and sizes of dark oxblood red fire polished Czech glass, the one of a kind necklace is one you'll want to wear time and time again! The pendant was cast in glowing, lead free pewter here in the U.S. It has a unique shield shape and features two birds, probably ibises, facing a lotus blossom, all raised against the background for beautiful texture. A raised ornamental border with a palm design runs along the two long curved sides of the beautiful pendant. The bail used to connect the piece to the necklace was created with two four petaled flowers. The back of the pendant is smooth and shiny.
Since historians believe glassmaking was discovered about 4000 years ago in Mesopotamia, rustic looking Czech glass was used to perfectly highlight the pendant. The fire polished glass beads (see below to find out more about fire polishing) are primarily a rich, dark oxblood red but also have streaks of jet black and light to dark gray running through them for an aged look. Because of this, each bead is uniquely colored. Two shapes of red Czech glass were used: larger faceted rounds and smaller rice shaped beads. Five faceted beads, which add an amazing amount of sparkle, were used on each side at the front of the necklace, separated by a single rice shaped bead and sterling silver beads. The back of the necklace is finished with groups of three rice shaped beads, each group separated by a small sterling bead. A beautifully textured lead free pewter toggle clasp set finishes the necklace perfectly. Created for the woman who loves one of a kind jewelry with an interesting "story" inspired from ancient times, the unique BIRDS AND LOTUS necklace was carefully designed and handmade by Catherine of Shadow Dog Designs.
***What is "fire polishing?" A technique used for thousands of years, each bead was cut from a glass rod or tube which left sharp, rough edges and/or ends. To smooth the rough edges, the beads were "flamed" to the glass softening point, the sharp edges are "fire polished" to a smooth, glassy finish.
---
Birds and lotus shield pendant: app. 32 mm x 28 mm (at widest) x 2 mm; lead free pewter
Faceted Czech glass beads: app. 8 mm
Rice shaped Czech glass beads: app. 6 mm x 5 mm
Metal: lead free pewter and sterling silver
Clasp: textured pewter toggle clasp set
Length: app. 18.5" / 47.0 cm
Pendant drop: app. 1.25" / 3.2 cm
***For a better understanding of the relative size of the pewter pendant and Czech glass used in the BIRDS AND LOTUS necklace, please be sure to check out photo # 6 for a size comparison with a quarter.
---
An ibis has long been a symbol of feminine gracefulness and balance. The lotus symbolizes enlightenment, purity and rebirth in many cultures and religions. Pewter is believed to be very grounding, bringing the wearer back to reality. Even though man made, glass carries the energies of transformation, rebirth and communication. Silver is a metal of love and healing; it is a mirror to the soul, helping us to see ourselves as others see us.
---
The BIRDS AND LOTUS shield pendant necklace will come with two informational drop tags: one with the piece's name; the other lists the materials used in the necklace and the language of the stones and metals. It will be carefully packed in an organza jewelry bag, perfect for gift giving to a loved one . . . or to yourself!
***Please be aware that not all computer monitors exhibit colors exactly the same. The colors of the stones are extremely close to the actual color on my monitor. They may appear lighter or darker on yours.
Shadow Dog Designs
Unique Handmade Jewelry
for the Discerning Woman
N2285
123018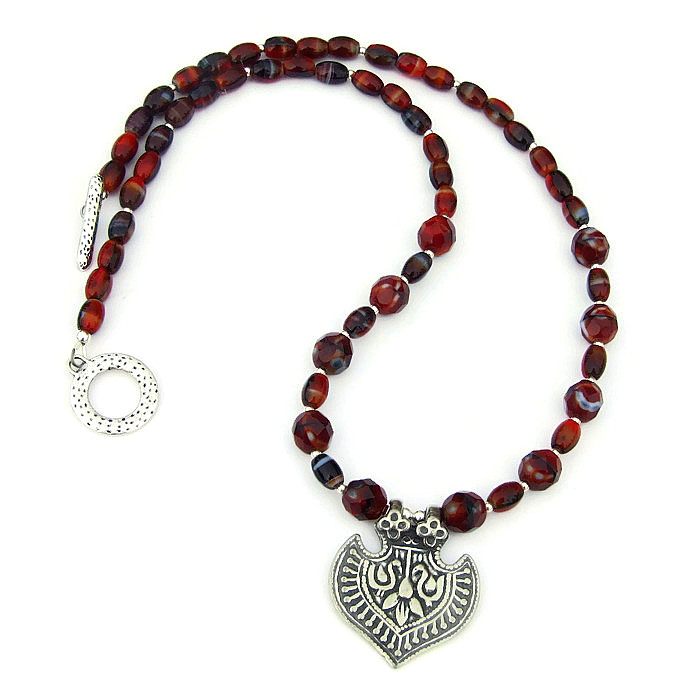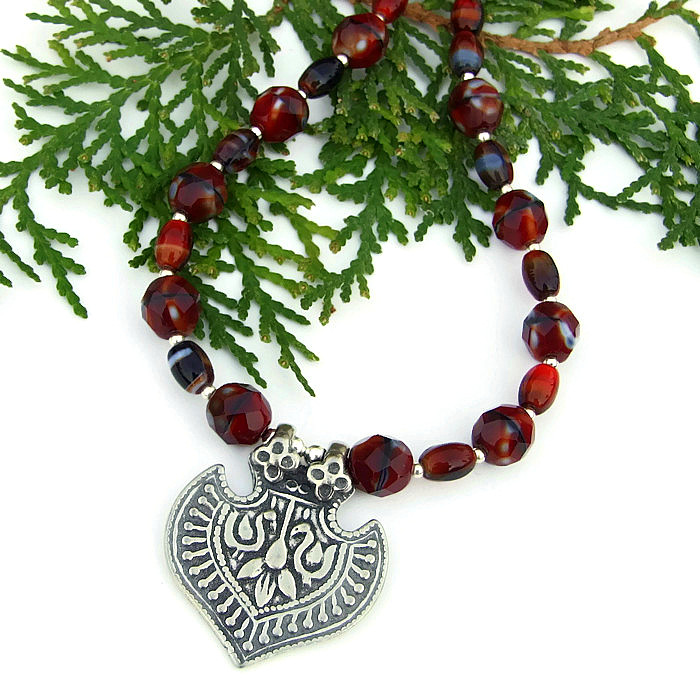 » Share: