Amber Garnet Bib Necklace, Chunky Boho Handmade Jewelry Golden Red
Item Description
All eyes will be on you when you walk into a room wearing the glowing AMBER DREAMS necklace. Big, bold and boho, but light in weight, the one of a kind handmade necklace features breathtaking genuine golden amber sticks with natural inclusions (plant and mineral) that positively radiate goodness in the light. The graduated sticks are rustic - each one being different in size, shape and inclusions. To finish the back of artisan necklace, Bali sterling silver double daisy spacer beads separate rich mine cut red garnet gemstone nuggets from the amber. Each piece of red garnet has large flat facets so they reflect the light. Carefully designed and handmade by Catherine of Shadow Dog Designs, the gorgeous AMBER DREAMS necklace was created for the woman who is not afraid to show her dramatic, boho side and adores eclectic jewelry
---
Golden amber sticks: from app. 51 mm x 10 mm to 35 mm x 8 mm; each different
Mine cut red garnet: app. 14 mm x 11 mm; some a bit bigger, some a bit smaller
Bali double daisy spacer beads: app 12 mm x 5 mm
Metal: sterling silver
Clasp: sterling silver textured hook clasp
Length: app. 19" / 48.3 cm
Drop of longest amber stick: app 2" / 5.1 cm
---
*** For a better understanding of the relative size of the amber sticks and garnet used to create the AMBER DREAMS boho necklace, please be sure to check out photo # 6 for a size comparison with a quarter.
What beauties the natural amber sticks used in the AMBER DREAMS necklace are! The amber is from the Dominican Republic and is estimated to be anywhere from 20-30 million years old. Dominican amber is fossilized tree resin (not tree sap as many people believe), formed from extinct algarrobo trees that were growing when dinosaurs roamed the earth. This amber is natural, not treated by heat, chemicals or other processes like much amber is subjected to today. It was only hand cut and semi polished, leaving a rustic, natural shape. Amber is one of the few organic gemstones that originally originated from living organisms, jet, coral and pearls being three others.
The golden amber used as the focal of the AMBER DREAMS necklace is exquisite. Each glowing piece has its own personality, each different from its neighbor. As you can see in the photos, there are some natural inclusions in the sticks, some dark brown and some reddish. The dark inclusions are more than likely plant material that had been encased in the tree sap before fossilization began. The red inclusions are probably from the oxidation of iron. The amber sticks are graduated in size, the longest being in front of the necklace, the shorter ones to the back. So that the amber lays beautifully when worn, 4 mm sterling silver beads separate each stick. Since the necklace is primarily made of amber, it is lightweight to wear while presenting a bold, striking look.
To separate the amber from the red garnet nuggets, artisan handmade double daisy spacer beads from the island of Bali were used. A single 4 mm sterling silver bead can be found on each side of the Bali spacers.
The boho necklace is finished in the back with mine cut red garnet nuggets. Mine cut means the gemstones were cut by hand, traditionally at the mine where the garnet was found. The garnet has large, flat facets, all the better to reflect light. Since the garnets are nuggets, they are similar in size, shape and faceting, but are not exactly the same. The slightly larger gemstones are closer to the amber, while the smaller are closer to the clasp.
To finish the AMBER DREAMS necklace perfectly, a textured hook clasp set was used. The texture is a hammered look, again capturing and reflecting the light.
---
Amber is used as a good luck and protective stone; it is said to bring romantic love, wisdom, energy and balance. Red Garnet is worn close to the body to bring peaceful energy and symbolizes faith, courage, truth and compassion. Silver is a metal of love and healing; it is a mirror to the soul, helping us to see ourselves as others see us.
---

The AMBER DREAMS artisan necklace was carefully designed and handmade in a dog friendly, smoke free studio. The necklace will come with two informational drop tags: one with the piece's name; the other lists the materials used in the necklace and the language of the stones and metals. It will be carefully packed in an organza jewelry bag, perfect for gift giving to a loved one . . . or to yourself!

***Please be aware that not all computer monitors show colors exactly the same. The colors of the components used to create each piece of jewelry are extremely close to the actual color on my monitor. They may appear lighter or darker on yours.

SHADOW DOG DESIGNS
Beautifully Unique Handmade Jewelry
for the Discerning Woman

N2193 - 11-27-17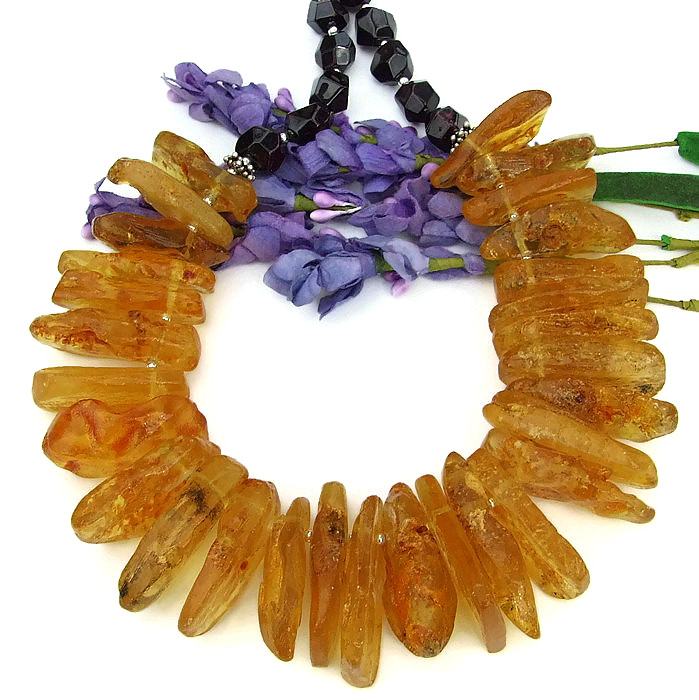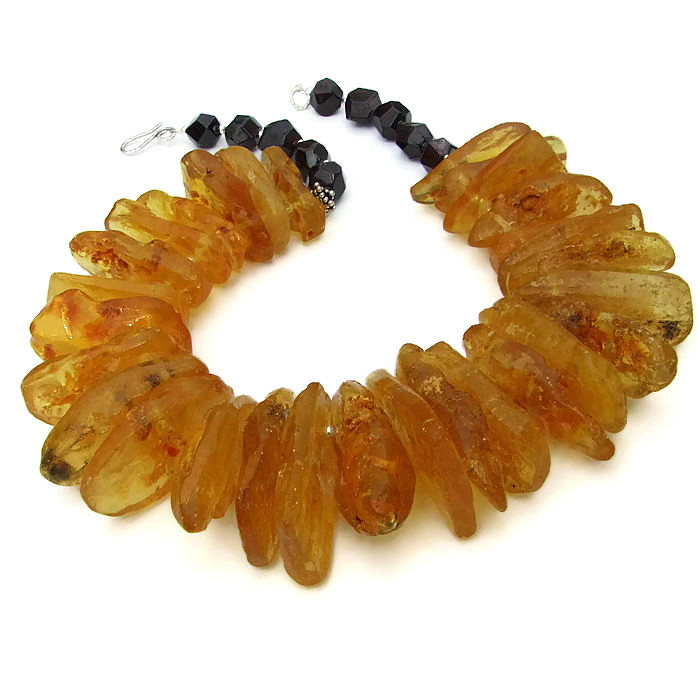 » Share: