Tickled Pink - Wonderful Handmade Wednesday on Indiemade - June 3, 2015
Posted June 3, 2015
I will be the first to admit that for a long, long time, I pretty much hated the softer shades of pink. I won't go into the reason why I felt this revulsion besides to say I saw way too much of it for several years at a job I had. Waaaay. Tooooo. Muuuuuch! Now I still adored the strong pinks, such as hot pinks and especially fuchsias, but not the softer "girlie" pinks. Today, however, I have made my peace with the softer side of pink. While it won't become anywhere near my favorite color, I have come to tolerate and somewhat admire it (in smaller doses) and even wear it on occasion or two.
Pink blossoming friendship tree any occasion card handmade by Lisa of Cards by Li Be!
Pink is seen as being a soft, feminine color today and is a well known for breast cancer awareness. Pink bombards us on the much too long lead-up to Valentine's Day. As I sat musing, as I am wont to do, I wondered about the history of pink. Was it as interesting as many other colors? Yes, as it turns out! I wanted to share a bit of what I found about the color, along with handmade selections from artist friends on Indiemade.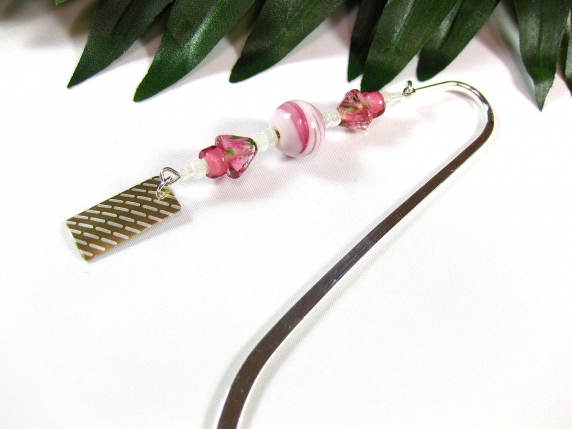 Pink and white beaded artisan bookmark with etched silver charm handmade by Mary Beth of The Twisted Redhead
Since pink is nothing more than a toned down version of red, pink replaces the heat and physical passion of red with gentle, loving energy, romance and charm. According to surveys in Europe and the United States, pink is positively associated with love, beauty, charm, politeness, sensitivity, tenderness, sweetness, childhood, femininity, and the romantic. However, when combined with violet or black, it is associated with eroticism and seduction, a la Marilyn Monroe in a long violet dress surrounded by black suited men in Gentlemen Prefer Blondes.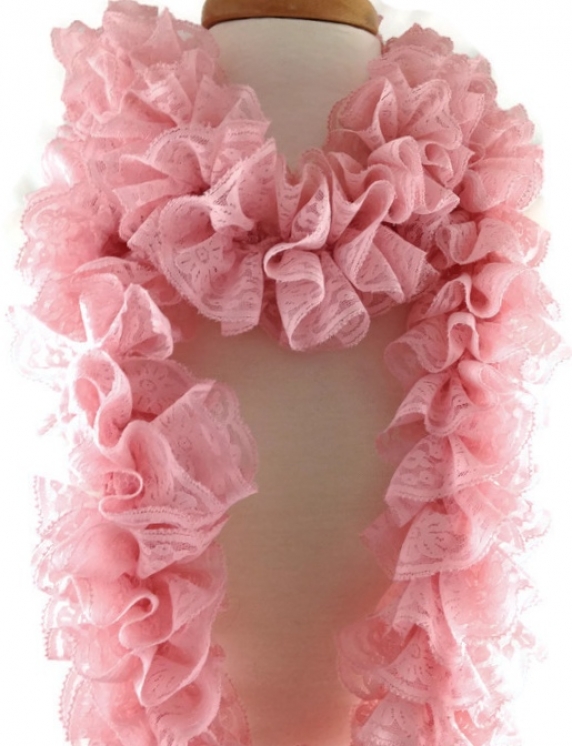 Pink is named after the flowers called pinks, flower plants in the genus Dianthus. The name derives from the frilled edge of the flowers—the verb "to pink" dates from the 14th century and means "to decorate with a perforated or punched pattern" (maybe from the German word "pinken" which means "to peck"). While the word "pink" was first used as a noun to refer to a color in the 17th century, the verb "pink" continues to be reflected today in the name of those hand-held scissors that cut a zig-zagged line referred to as pinking shears.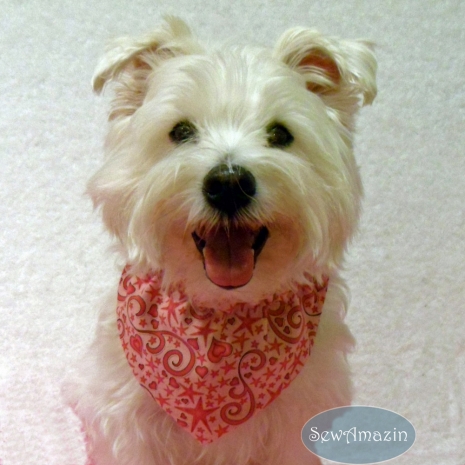 Pink or blue hearts and stars dog bandana handmade by Donna of SewAmazin
The color pink, mostly described as "rosy," has been described in literature since ancient times. In the "Odyssey", written in approximately 800 BCE, Homer wrote "Then, when the child of morning, rosy-fingered dawn appeared . . ." Roman poets also used the color in their works, "roseus" being the Latin word for "pink". Pink was not a common color in fashion, however, all the way through the Middles Ages (app. 5-15th centuries). Nobles usually preferred brighter reds, such as crimson. The color did appear in some religious art of the time, usually associated with the dress of the Christ child.
Faceted pink rhinestone pendant necklace with pink crackle resin and rose quartz handmade by Anna of Anna's Faire
The golden age for the color pink was the Rococo Period (1720–1777). Pastel colors, especially pink, became very fashionable in all the courts of Europe. Pink was particularly loved by Madame de Pompadour, the mistress of King Louis XV of France, who who wore combinations of pale blue and pink. She even had a particular tint of pink made for her by the Sevres porcelain factory!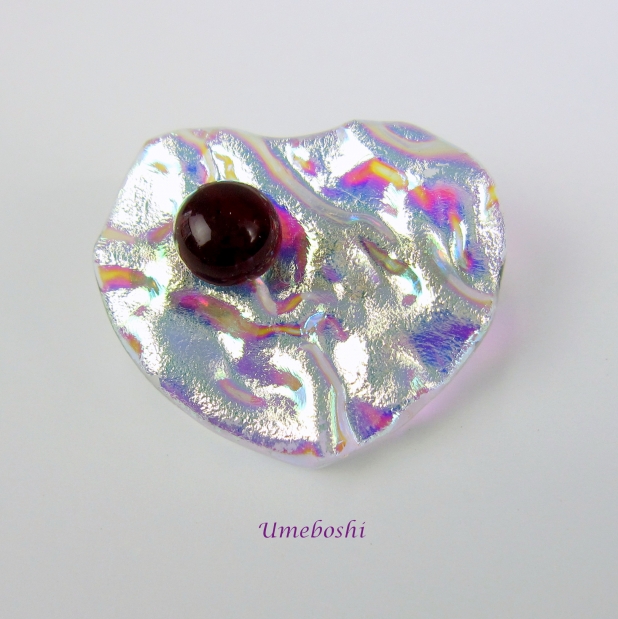 Iridescent pink, blue and violet textured dichroic fused glass heart brooch handmade by Jo of Umeboshi
In 19th century England, pink ribbons or decorations were often worn by young boys. Boys were considered small men, and since men in England wore red uniforms, boys wore pink, the toned down version of red. Queen Victoria was painted in 1850 with her seventh child and third son, Prince Arthur, who wore white and pink. Interestingly, the June 1918 issue of the children's market trade publication "Earnshaw's Infants' Department" stated "the generally accepted rule is pink for the boys, and blue for the girls. The reason is that pink, being a more decided and stronger color, is more suitable for the boy, while blue, which is more delicate and dainty, is prettier for the girl." This changed around the 1940's and "blue for boys" and "pink for girls" have been closely linked ever since. Today, the pink ribbon is the international symbol of breast cancer awareness; pink was chosen partially because it is so strongly associated in modern times with femininity.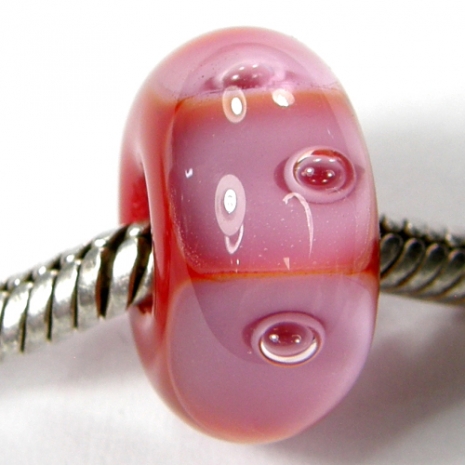 Red large hole lampwork glass slider bead with pink dots and air bubbles handmade by Charlotte of Covergirlbeads
In color psychology, pink is a positive color, a sign of hope. It calms and reassures our emotional energies and helps to alleviate feelings of anger, aggression, resentment and neglect. In fact, studies have shown that exposure to a room painted pink has a calming effect on the nerves and can actually create a physical weakness in people, especially a shade of pink known as Baker-Miller pink or Schauss pink (named after color researchers). Violent and aggressive people have been successfully calmed by placing them in a pink room for a specified period of time. The color can be found covering the walls of some "drunk tanks" and jail cells, including those at the United States Naval Correctional Facility in Seattle. Some football teams have even painted the opposing team's locker room in pink! Research has been found, however, that if a person is exposed for too long to pink, the color can have the opposite effect and cause agitation.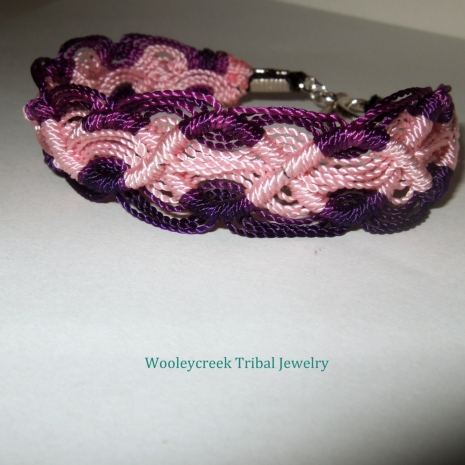 Pink and purple Peruvian double wave woven friendship bracelet handmade by Carmon of Wooleycreek Tribal Jewelry
Of course there are several idioms and expressions dealing with the color pink. Here are a few:
In the pink: to be in top form, in good health or in good condition. In Shakespeare's Romeo and Juliet, Mercutio says, "I am the very pink of courtesy" meaning he was a model of extreme courtesy.
To see pink elephants (or spiders): hallucinating from alchoholism. The expression was first used in 1913 by novelist Jack London his book John Barleycorn.
To be given a pink slip: to be fired or dismissed from a job. It was first recorded in 1915 in the United States.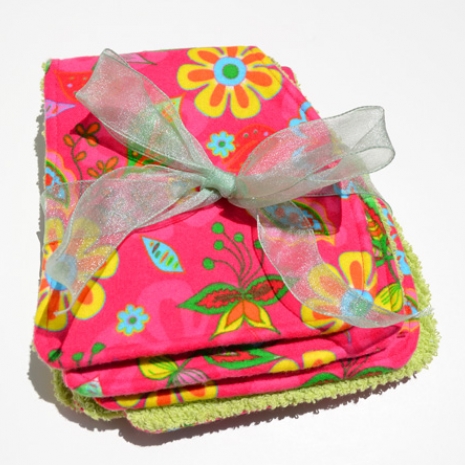 Bright flowers on a hot pink flannel burp cloths, set of 3, handmade by Teri of Charming Elegance Gifts
Pink collar worker:

refers to people (mainly women) working in jobs, usually low paying, conventionally regarded as "women's work".
Tickled pink: extremely pleased or amused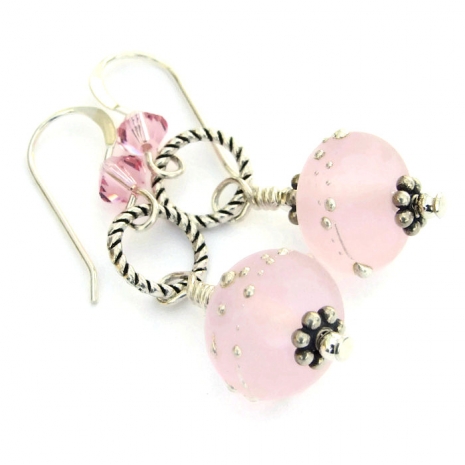 Etched pink lampwork glass, Swarovski crystal and sterling silver handmade dangle earrings by Catherine of Shadow Dog Designs
I hope you enjoyed this short history of the color pink. Please visit the shops of the Indiemade artists featured above. And if you would love to make my day and the day of the artist's featured above, please leave a comment. Any and all promotion for the blog will also be greatly appreciated by all. Thank you!
» Tagged:
baby
,
bookmarks
,
bracelets
,
cards
,
dog bandanas
,
earrings
,
handmade
,
history
,
Indiemade
,
jewelry
,
knitting
,
lampwork
,
necklaces
,
pink
,
Shadow Dog Designs
,
ShadowDogDesigns
» Share: