Tantalizing Turquoise and Teal - Wonderful Handmade Wednesday on Indiemade - September 23, 2015
Posted September 23, 2015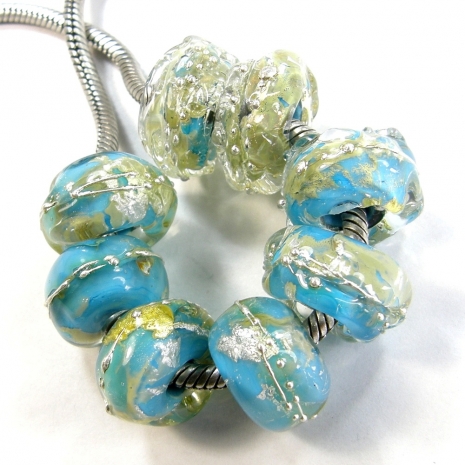 I don't know about you but the colors of turquoise and teal always seem so calming and yet invigorating to me - yin and yang colors, it seems. Wondering about that, I decided to do a bit of brief research about the psychology of the two colors.
A combination of blue and a small amount of yellow, turquoise fits in on the color scale between green and blue. The color radiates the peace, calm and tranquility of blue and the balance and growth of green with the uplifting energy of yellow. It presents as a friendly and happy color, enjoying life. Believed to control and heal the emotions, turquoise is said to create emotional balance and stability. However in the process it can appear to be on an emotional roller coaster, up and down, until it balances itself.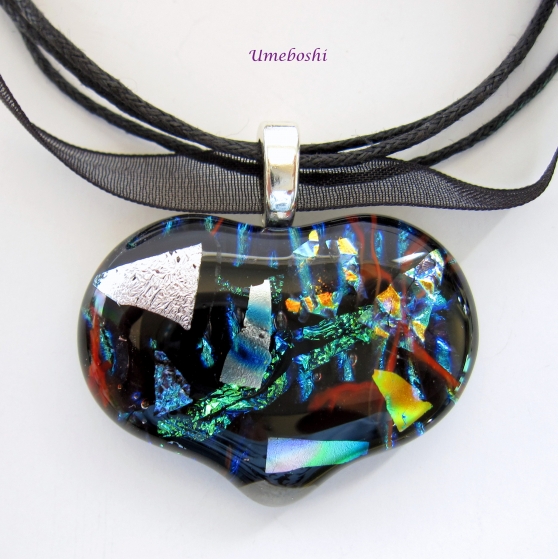 "Heart of Space" multi colored dichroic glass pendant handmade by Jo of Umeboshi
Teal is said to be a more "sophisticated" version of turquoise, signifying trustworthiness and reliability. It promotes spiritual advancement and is believed to transmute negative energies into positive ones. Since the color transmutes Karma, it provides general healing.
Now I know why I love the two colors! That being said, I decided to use tantalizing turquoise and teal as the theme for this week's "Wonderful Handmade Wednesday on Indiemade." I prowled through the shops of 12 Indiemade artists and found these beautiful handmade and antique creations that use more than a bit of turquoise and /or teal in their color scheme: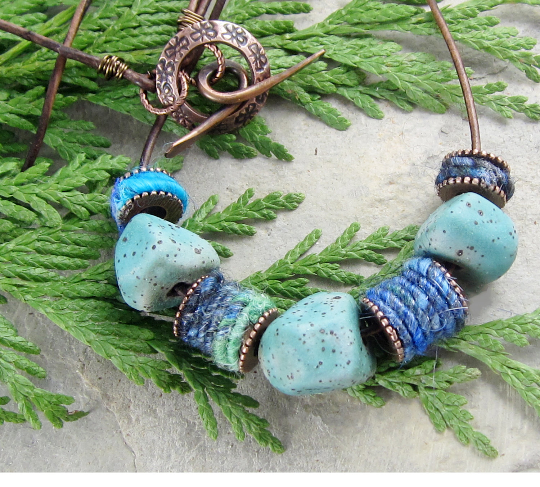 Turquoise and blue ceramic and fiber boho necklace handmade by Linda of Linda Landig Jewelry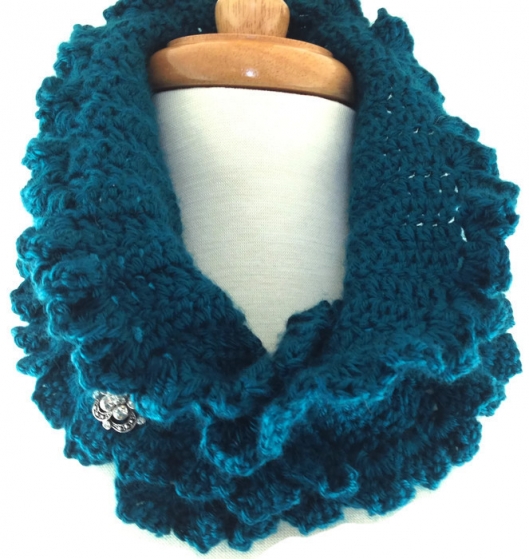 Hand crocheted Victorian style neck warmer with rhinestone button handmade by Nancy of Jazz it Up with Designs by Nancy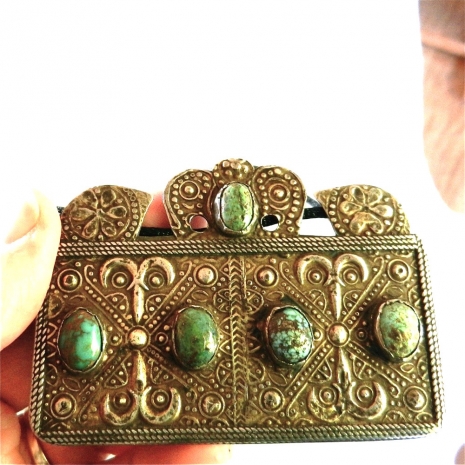 Antique Turkmen western Gomud gilded and embossed amulet with turquoise and containing prayers offered by Anna of Anna's Faire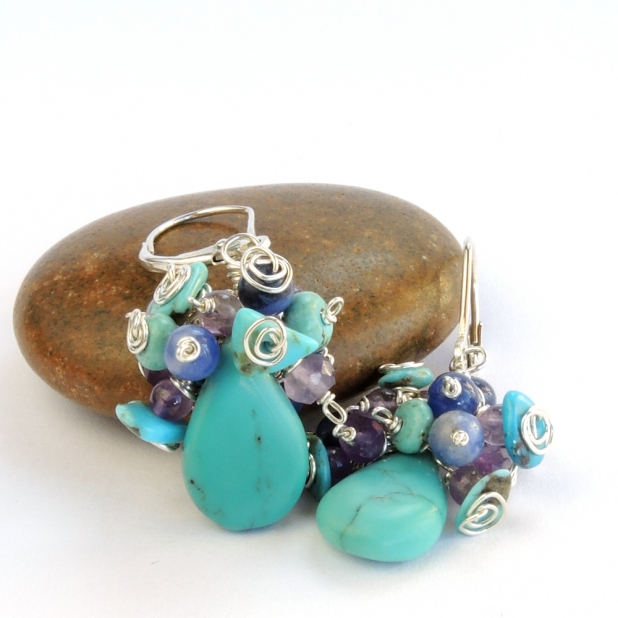 Turquoise, amethyst and sodalite gemstone cluster earrings handmade by Pamela of Pebbles at my Feet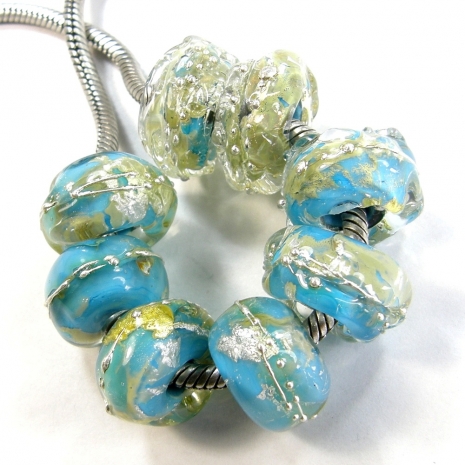 Opaque dark turquoise large hole nugget lampwork glass bead with silver leaf and fine silver handmade by Charlotte of Covergirlbeads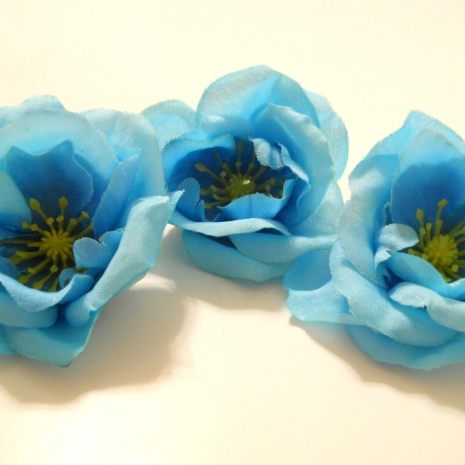 Set of of 3 turquoise blue rose bobby hair clips handmade by Michele of MicheleMyFairy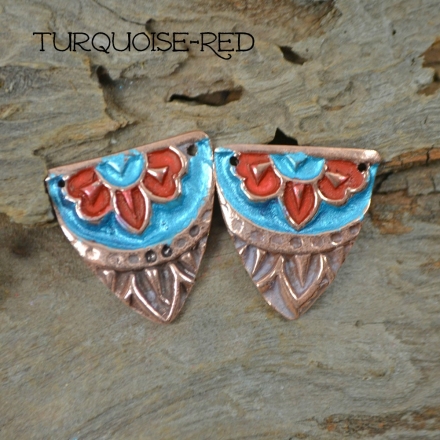 Set of 2 turquoise blue and red copper woodblock shield pair handmade by Kristi of KristiBowmanDesign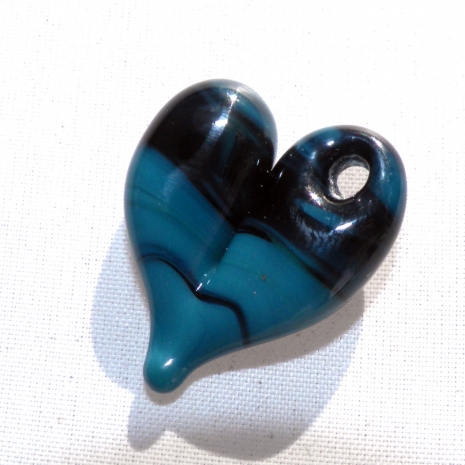 Teal and black hand blown boro glass Southwest heart pedant handmade by Breanna of Untamed Rose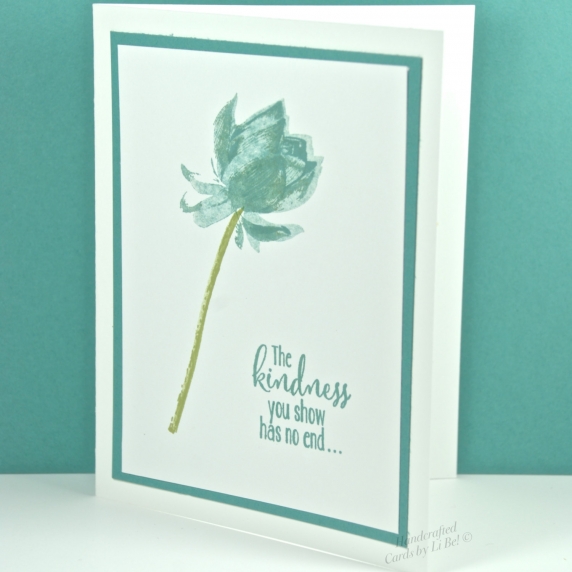 Teal lotus blossom hand stamped thank you card handmade by Lisa of Cards by Li Be!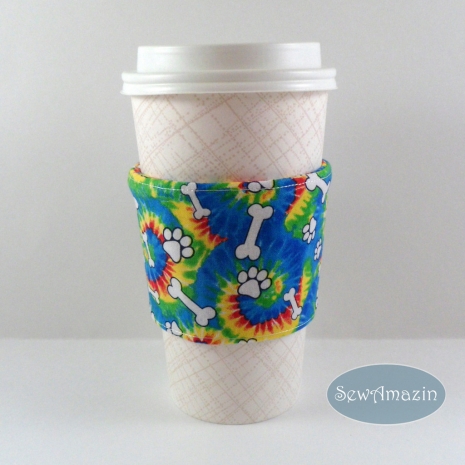 Eco friendly tie dye dog bone and paw print coffee cup or cold beverage sleeve handmade by Donna of SewAmazin
"Southwest Dreaming" turquoise and Thai Hill Tribes fine silver necklace handmade by Catherine of Shadow Dog Designs
I hope you enjoyed these tantalizing turquoise and teal selections! If you would like to make my day and the day of the artists featured, please leave a comment. And any promotion you can do will be greatly appreciated. Thank you so much!
My contact information:
Indiemade shop: ShadowDogDesigns
Indiemade blog: ShadowDogDesigns' Blog
Artfire studio: ShadowDogDesigns
ArtFire Blog: ShadowDogDesigns' Blog
Google+: Catherine W
Facebook: ShadowDogDesigns - Jewelry
Twitter: ShadowDogDesign
Pinterest: Shadow Dog Designs
Wanelo: ShadowDog
Amazine: ShadowDogDesigns
Rebelmouse: ShadowDogDesigns
Flickr: Shadow Dog Designs' Photostream
Shadow Dog Designs
Beautifully Unique Handmade Jewelry
for the Discerning Woman
» Tagged:
amulet
,
antique
,
beverage sleeve
,
cards
,
copper
,
earrings
,
flowers
,
gemstones
,
handmade
,
hearts
,
Indiemade
,
jewelry
,
lampwork
,
necklaces
,
neckwarmer
,
pendant
,
Shadow Dog Designs
,
ShadowDogDesigns
,
teal
,
turquoise
» Share: