CHRISTMAS IN JULY
+++ FREE SHIPPING +++
(U.S. Only)
Mother's Day Handmade Gift Ideas
Posted April 1, 2015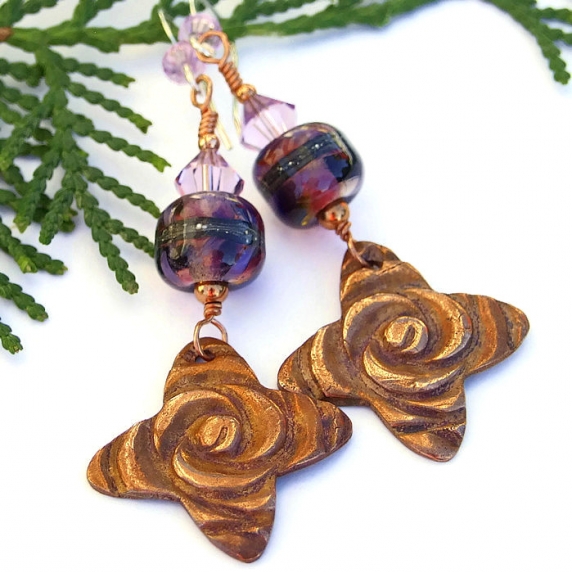 Although celebrations to honor motherhood have occurred throughout the world for thousands of years, Mother's Day is a relatively new holiday in the United States and many other countries. The Greeks honored Cybele, who was originally an even older Anatolian mother goddess, starting somewhere in the 6th century BCE. The Romans stole the worship of Cybele to hold their own festival of Hilaria Matris Deum. It was held the day after the vernal equinox, when days are finally longer than nights, to much rejoicing and competitive games to honor "the mother of the gods". In the lands of the Celts, the goddess Brigid (and later her Christianized successor, St. Brigid) was honored with a spring Mother's Day just about the time ewes gave their first milk.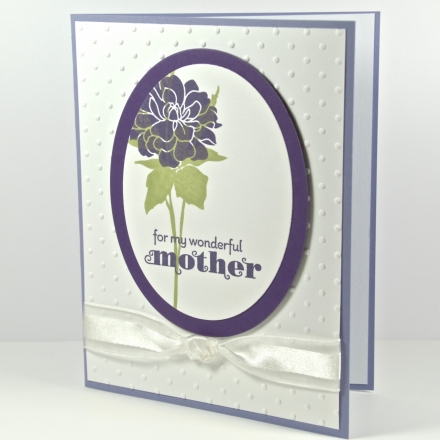 Handmade Mother's Day card with purple flowers by Lisa of Cards by Li Be!
The first unofficial service in the U.S. honoring mothers was held at St. Andrew's Methodist Episcopal Church in Grafton, West Virginia, on May 10, 1908, pioneered by Anna Jarvis in memory of her mother who had died in 1905. The first Congressional bill to officially establish a Mother's Day was killed in 1908. However, by 1909, Mother's Day services were held in 46 states plus Canada and Mexico. Anna Jarvis kept lobbying for the holiday and in 1912, West Virginia became the first state to adopt an official Mother's Day. A joint resolution was passed in 1914 by Congress and President Wilson signed it to establish a holiday emphasizing women's roles in the family.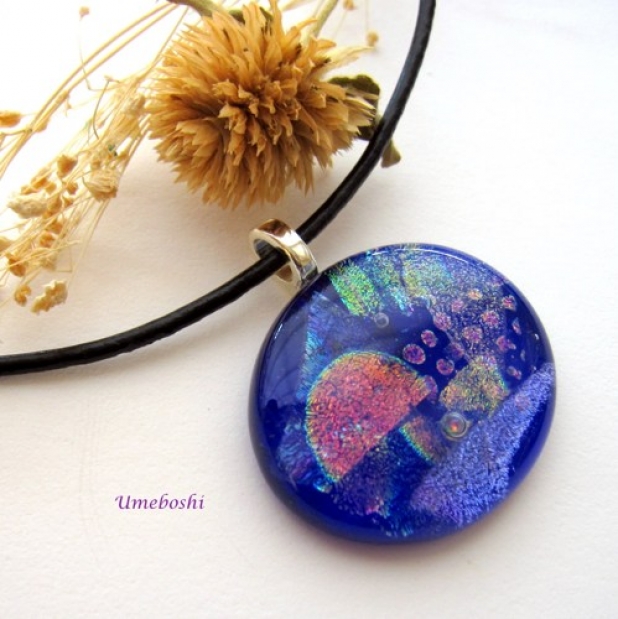 "Contemplation in Blue" handmade dichroic glass fused glass pendant by Jo of Umeboshi
By 1920, however, Anna Jarvis was becoming increasingly outspoken about the rampant commercialization of Mother's Day, wanting the it to be a day of sentiment and not of profit. She opposed the selling of flowers and the use of greeting cards, "a poor excuse for the letter you are too lazy to write". She sued the Governor of New York and criticized Eleanor Roosevelt about their handling of Mother's Day activities. Sadly, Anna Jarvis never had children, and died blind and penniless. She is buried next to her mother in Grafton, West Virginia.
Knit pink raspberry lace soft wrap handmade by Nancy of Jazz it Up with Designs by Nancy
Despite the sad end story of Anna Jarvis, many countries adopted her holiday and it is now celebrated through most of the world, usually in the spring. The tradition has grown to where usually a gift or card is given to mothers, grandmothers or other maternal figures. In the United States, according to the National Restaurant Association, Mother's Day is the busiest day of the year to eat out.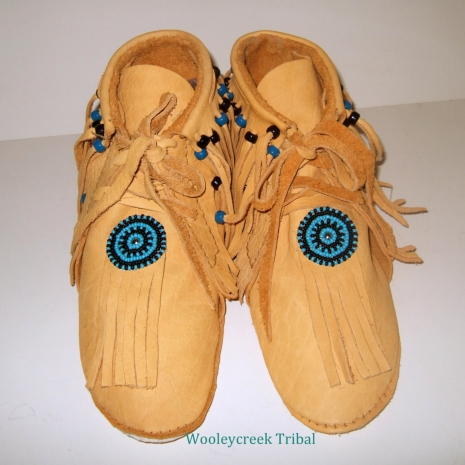 Adult tibal fringe moccasins in elk skin leather with hard soles handmade by Carmon of Wooleycreek Tribal Jewelry
With all that in mind, I decided to share a few Mother's Day items from artist friends here on Indiemade, handmade items that any Mother, Grandmother or loved one will treasure: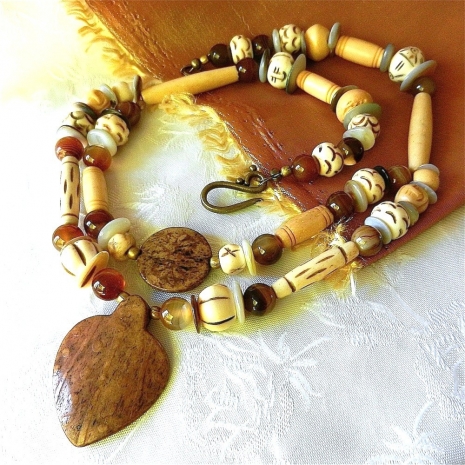 Two strand carved bone and shell ethnic necklace handmade by Anna of Anna's Faire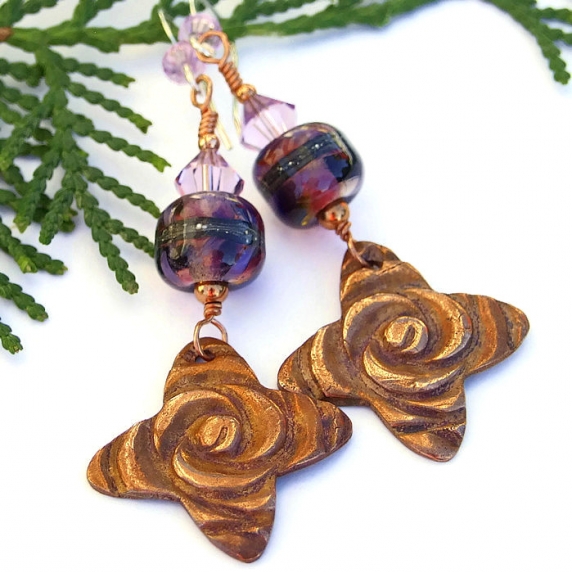 Copper rose crosses, purple lampwork and light amethyst Swarovski crystals handmade artisan earrings by Catherine of Shadow Dog Designs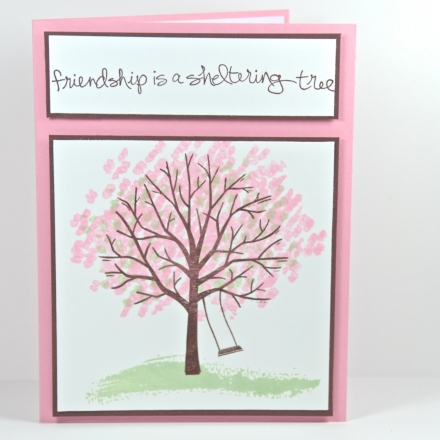 Handstamped thank you greeting card with pink blossoming tree handmade by Lisa of Cards by Li Be!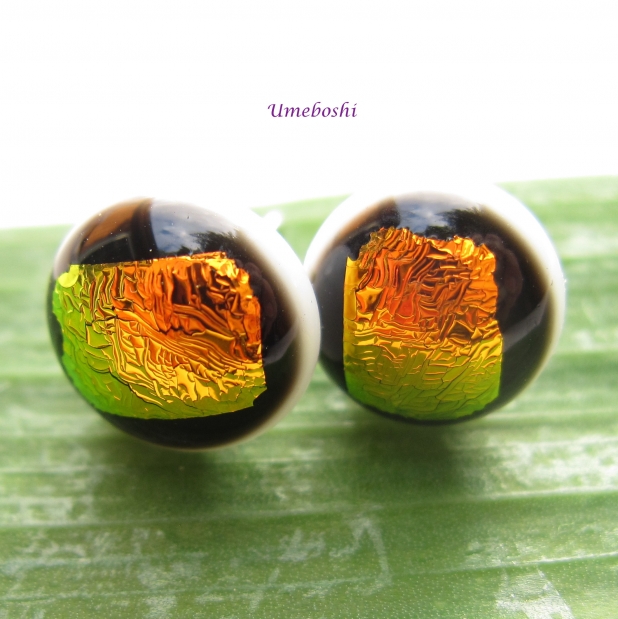 "Brilliant Sunset" round dichroic glass post earrings handmade by Jo of Umeboshi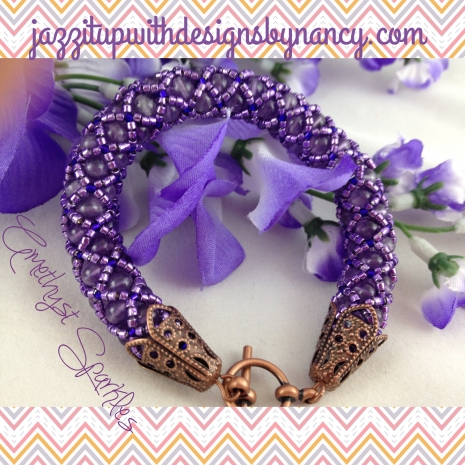 Amethyst, purple and lavender beaded rope bracelet with copper handmade by Nancy of Jazz it Up with Designs by Nancy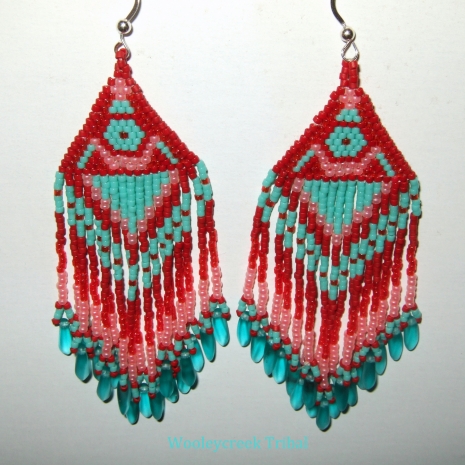 Tribal style turquoise and rose beaded chandelier earrings handmade by Carmon of Wooleycreek Tribal Jewelry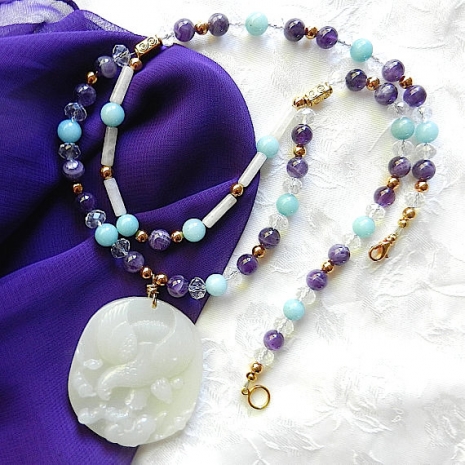 Ancient totem inspired white Hetian jade phoenix pendant necklace handmade by Anna of Anna's Faire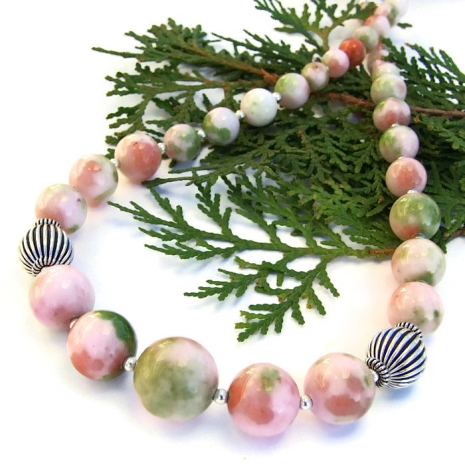 Pink and green candy jade necklace with sterling silver handmade by Catherine of Shadow Dog Designs
Thank you for taking a look through these beautiful gift ideas for Mother's Day. Please visit the artists' shops for more ideas that will make that perfect gift that will be treasured for a log time.
Thank you for stopping by and browsing. If you would love to make my day and the day of the artists featured in a post, please leave a comment. And any promotion on social media sites is GREATLY appreciated.
---
---
Beautifully Unique Handmade Jewelry
for the Discerning Woman
» Share: